When I first went back to the Amish, I was a goody-two-shoes and tried so hard to be Amish that I didn't allow my photos to be taken. But about a year into being there, I started allowing them. This first one was taken of me when I was a tour guide at the local Historical Society. I was in the schoolhouse, giving a tour when this was taken.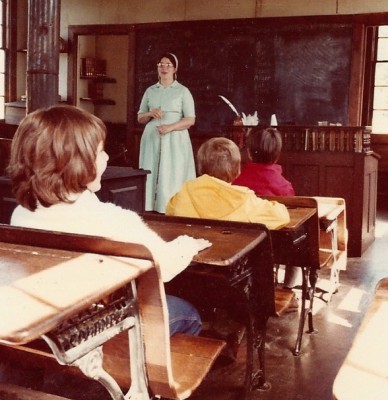 My sister, Sarah, and I took a trip to Vermont the summer of 1979. I celebrated my 22nd. birthday on the top of Mount Mansfield. Sarah and I had camped in a lean-to at Underhill State Park, and then climbed the mountain in our Amish attire (minus the covering). I don't have any photos of us climbing the mountain, but I do have several of us fishing with a friend. We were wearing kerchiefs instead of our Amish head coverings.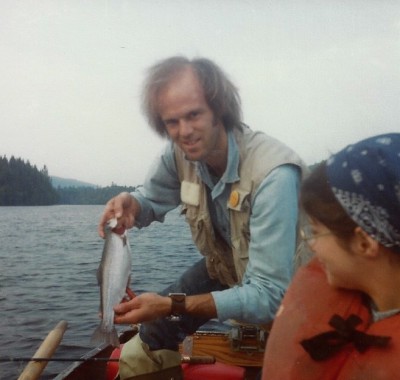 Happy to see Michael hold that fish, thank you very much!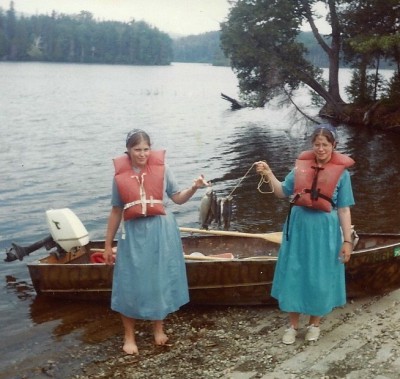 David loves this photo of me – he thinks it's funny how I lean away from the fish.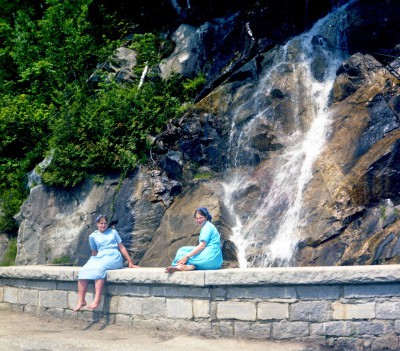 Sarah and me by a waterfall on Lake Willoughby in Vermont
In my next post, I will be writing about another time when I was wearing Amish but not feeling very Amish. All these photos were taken when I was betwixt and between — trying to decide if I wanted to stay Amish or not. I call these my transition photos.