I don't remember where David and I got the idea of traveling to the Canadian Rockies for our honeymoon, but I do remember what a great decision it was. I will show photos of some of the sights we saw, though most were not taken by us. There are only a few of our photos that are worth posting, for they have faded so much over the years. For those not taken by David or me, I give links to the website or blog where I found them.
On our wedding day, we drove to Montreal and caught a plane to Calgary. Our destination was Banff in Alberta, Canada.I always thought fear of flying was something that happened to people before they got in the plane, not in the plane. I had never flown before our honeymoon. David so kindly let me have the window seat. I loved the fast ride down the runway, and then came the takeoff. As soon as the plane started rising into the sky, I got really scared. I grabbed David's hand and said, "But we are so vulnerable up here!" The floor of the plane seemed like very inadequate protection from falling out of the sky. Before long I was in tears, and David had the job of talking me through it. We exchanged seats as soon as we were allowed. I don't think I relaxed for the five hours we were in the air. David got me to smile (barely) for the camera. We landed in Calgary around sunset, which was around 11:30 ET. By the time we got to our hotel, we were pretty tired. It had been a long, but incredible day for us. We had gone to a whole new world in beginning our life journeys together, and we had done so physically by flying to Calgary.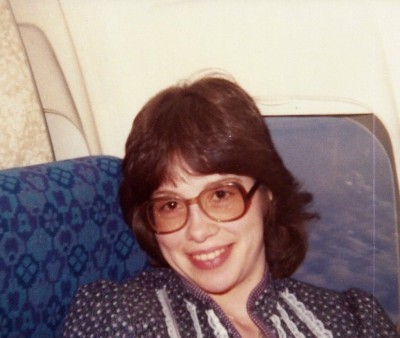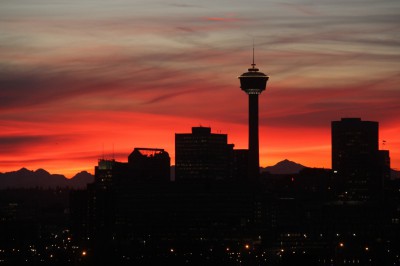 Landing in Calgary at sunset looked like this. Photo from Alex Robinson. 

The next morning, David got up before me (the start of a life-long pattern) and went outside. He came back in and said, "Saloma, there is this really cool bird with this very long tail outside. You've got to come see it!" I did, and I wasn't sorry. We soon found out it was a magpie…  that bird in folklore known for stealing shiny objects. In case you've never seen a magpie, this is what they look like.
David and I had breakfast, and then we took a bus to Banff. While we were at the local bus stop, we saw three young girls sitting on the curb, also waiting for the bus. David wanted me to ask them if we could take their picture. The littlest one squinted up at us and said, "If it's not a water camera!" I assured them it was not, and here they are.
Waiting for the bus in Calgary, Alberta, Canada
Calgary is still in the prairie. You can see the Rockies silhouetted in the background in the sunset photo above. It was a seventy-mile bus ride from Calgary to Banff. I don't recall how many miles away the mountains started, but what I do remember is that the mountains seemed to grow right out of the prairie without any foothills. Here is a photo to show what I mean:
And then we arrived at our destination… town of Banff, Alberta, Canada that looked like something out of a fairy tale.
For the next seven days we hiked, we biked, we canoed, we discovered so many new birds, we took the train to Lake Louise, and just had the time of our lives. We hiked up to Sulphur Mountain and took a gondola ride to the top of the mountain. I did not like the gondola much more than I liked the plane. But at the top, there was a breathtaking view, where we took some pictures.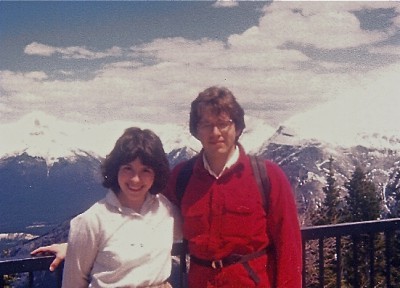 On top of the world…
When we were planning our honeymoon, we found out about Via Rail's "Train Across Canada." The descriptions of the 17-hour trip between Banff and Vancouver made me really want to book train tickets and take that trip. However, David felt we would be cramming too much into the 10-day trip with that, so I didn't book it. Then, the very last day we could possibly do it and be back in Banff in time, David decided we should do it. I am SO happy we did. That was truly the most amazing part of our honeymoon.
The vistas were absolutely beyond words. It was sometimes too much to take in. Here are a few photos that begin to give you the idea, but you really have to be there to see and feel the beauty:
On the way out to Vancouver, we slept in our seats, rather than pay for a berth. We were short on funds by then. We were only in Vancouver for a few hours before we caught the train back, which was another night train. We found out that the berth was only eight dollars, even though at the Vancouver station they told us it was forty-something. It was eight dollars well spent! I slept like a baby, even though we could hear the brakes grinding through the night. We shared a berth, which was the width of  a single bed (oh, for those days!). We had a shade we could pull for privacy when we arrived at stations. In the morning, we opened up the shade to the most beautiful vistas we had ever seen. We got dressed, and went into the dining car and had breakfast. It was like riding through the land of the hobbits.
The "train across Canada" now goes up to Jasper National Park and then down to Vancouver, so it no longer takes the route it used to. That ended a few years after our adventure. There was a show on television that commemorated it called, "The Last Train Across Canada." I remember there were Amish people on that train. Some of the highlights of the ride were the five-mile spiral tunnel through a mountain, the tall trestles — the kind that you look down on one side of the train and you say, "I hope we don't tip over," and then you look down on the other side and say the same thing, and a second story dome car, where you could go and see all the vistas. The other thing I remember is that freight trains had precedence over the passenger trains. We sometimes had to get off on a side track and wait for a freight train to go by. But when you are having the ride of your life, there is no reason to hurry.
Here is my advice: if you ever get a chance to take the train through Alberta and British Columbia, go for it. You will not be sorry. It is the experience of a lifetime.
What are some of your favorite travel memories? What was the occasion? Where did you go?
Have you taken the train through the U.S. Rockies? What was that like?