My house smells like autumn right now. I made my first pumpkin pie of the season today. I took the recipe off my own website and realized when I tasted the pie filling that I had adapted a two-pie recipe to one, all except for the molasses — Drats! When everything is right, pumpkin pie can be so good, but the wrong proportions or a missing ingredient can make such a difference… in the past I've forgotten the salt a few times, and then it tastes so flat.
So, I added some more pumpkin and made an extra little dish of pumpkin custard with the extra filling. I've also corrected the recipe online (at the bottom of the recipe page), so you can make the perfect pumpkin pie I didn't.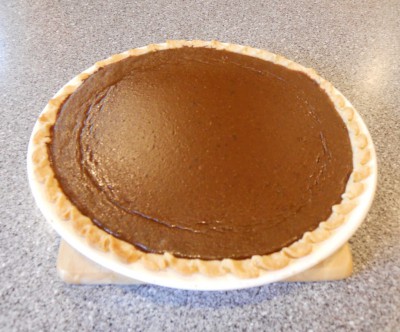 Here is a photo of the pie I made today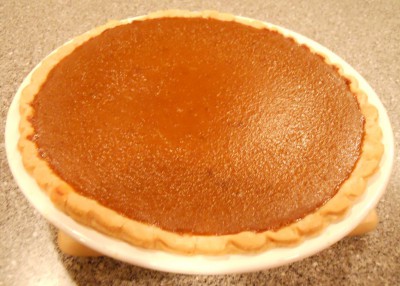 And here is a photo of what it should look like with the right amount of molasses.
I have a funny relationship with pumpkin pie. I used to hate it as a child… the mushiness was just too much for me. I didn't eat it for many years as I was growing up. Then one autumn day, Mem had made a pumpkin pie and I decided to taste it and found that I loved it! My tastes had changed.
Autumn is a time of reflection for me, especially on rainy days like yesterday and today. Just like the weather, it is often a time of transition for me. As a child it was a happy transition as I went off on my first day of whatever grade I was going into. Then, the fall when I had turned fourteen, I had to watch my younger siblings go back to school and I had to stay home and work. It seems every fall since then, there is a restlessness that is hard to describe. I find myself remembering where I was a year ago, five years ago, or what autumn was like in my childhood.
It was at this time of year when I first began planning to leave the Amish. That was in 1977. After my return to the community, I felt the most ambivalent about my Amish life, and yet I stayed in the community for two more. Three years after the time I first left, I left again.
Our older son, Paul, was born on November 6, 1983. So twenty-nine years ago, I found myself transitioning into being a mother for the first time. When both our boys were school aged, I found myself reflecting on my own school days, but mostly I was doing my best at my primary job of being a mother to Paul and Tim.
Then one autumn it was finally my turn to go to school. I enrolled in Community College in Vermont in 2002. I continued taking courses there for two years, and then I transitioned into Smith College. What a wonderful transition that was!
So, many good transitions have taken place in my life in autumn. If I think of it as an opportunity for change, I find myself thinking about what I want in my life next year at this time, or five or ten years from now.
Throughout all this, I love the fall rituals. Transitioning from summer food to winter food; picking apples at an orchard, making pumpkin pie and apple pie; driving through Vermont to see the glorious autumn colors; biking through the cool, crisp air before winter sets in; preparing a Thanksgiving meal; and giving thanks from whence I have come and think about where I want to go. And I need to keep in mind that tastes can change. The extra molasses might taste really good in that pie tonight.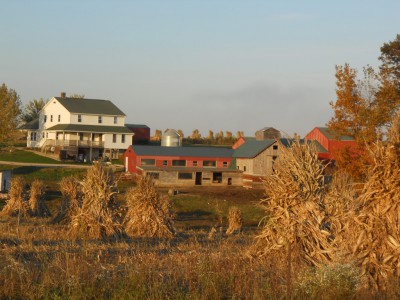 Photo taken by me in October of last year in Cashton, Wisconsin