There is no surer sign of the seasons changing than that of birds migrating. David and I have had the privilege of living in homes on migratory routes. Once, while we were living in Fairfax, Vermont, we had our windows open for the first time in early June. At supper, I heard birds that were different. I said, "David, those are not robins I'm hearing." Armed with binoculars, we headed outside, and there in the trees all around us were at least a dozen pairs of scarlet tanagers! I don't know how many of you've seen one of those, but if you have, I bet you've never forgotten it. Here is what the males look like:
Now we are again living in a place that seems to be a migratory route for many birds. It makes sense, given we live a stone's throw away from the Connecticut River.
Sunday was a pretty day here in the Pioneer Valley. Here is a photo of what Sugarloaf Mountain looked like from our backyard.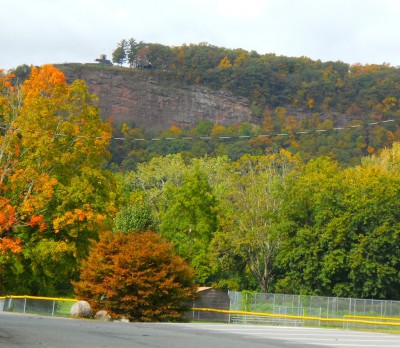 Photo by Saloma Furlong
There is a crabapple tree on the town property right next to our backyard that was attracting lots of birds.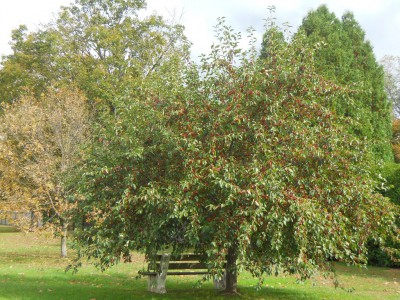 Photo by Saloma Furlong
There was lots of active nature in our backyard on Sunday. We were blessed with some volunteer morning glories. I know they're invasive, but they sure are pretty.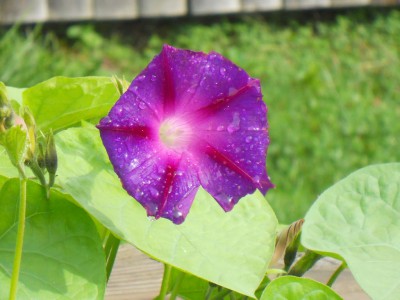 Photo by David Furlong
There were several species of birds flocking around our house. Grackles were among them.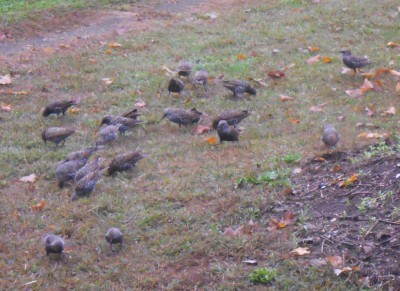 Photo by David Furlong
And so were a bunch of chipping sparrows. They were scratching in the ground around the compost.  I only got one in the birch tree outside our bedroom window.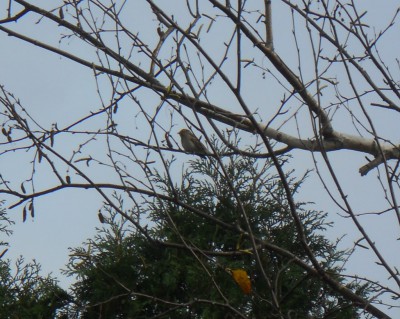 Photo by Saloma Furlong
And so were these birds that were just preening and preening, but I could not identify them, even with a pair of binoculars. More chipping sparrows?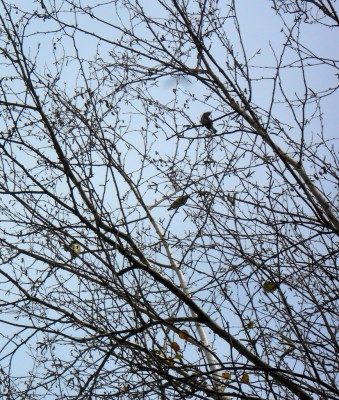 Photo by Saloma Furlong
Photo by Saloma Furlong
Flying in and among the chipping sparrows were bluebirds. David and I feel like we are being blessed by them when we have a chance to see them. They are so beautiful. David took a shot of one on a fence post, but it was too blurry to share.
While I was out there with my camera, our resident squirrel, the one we call "Rascal" wanted to be noticed, so I took a few pictures of him. Doesn't he deserve that name? He had a mighty fight with a pair of robins one day, and the next day there was an upside down nest in our yard. David asked me, "Who do you think won that fight?" Poor baby robins, if there were any.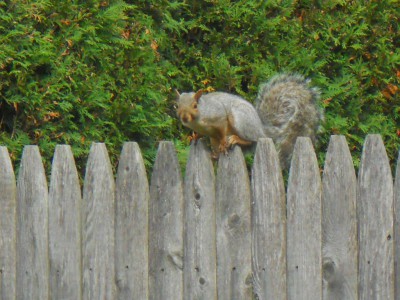 Photo by Saloma Furlong
So, this was all happening in our backyard on Sunday. Then, today we had a whole lot of pairs of bluebirds flying in and around our yard. David got these photos.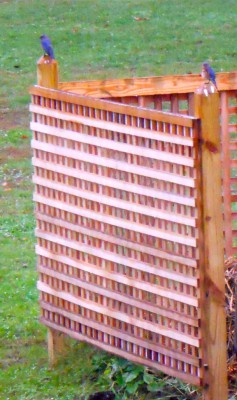 Photo by David Furlong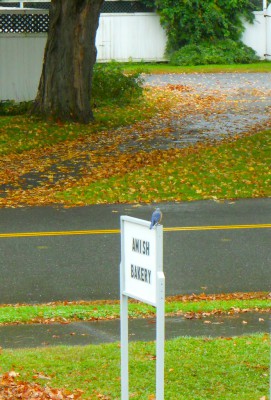 Photo by David Furlong
I would say that Rebecca's bakery has been blessed. What a great shot… nice going, David! I appreciate these bright spots in this transition between summer and winter, especially on a rainy day.