Lately I've been realizing that it is time to reach out to others who are embarking on the journey of leaving the Amish, which I made more than thirty years ago. I am especially moved to do so when a young woman, who just left her very strict community, stepped into my life.
The gap between an eighth grade education and a high school education with technology training has grown. The retention rate in Amish communities overall has grown to around 90 percent. I hope this is because young people want to join their communities, but my concern is that they don't believe they can make it on their own — this education gap can feel just too daunting.
Just when I was trying to figure out how to reach out, along came this vivacious, intelligent, committed young woman named Emma Miller who conceived of the idea of an Amish Descendent Scholarship Fundon the day of her graduation. Since then she has garnered the support of two other young former Amish people — Naomi Kramer and William Troyer — to help implement the idea.  Allow me to introduce Emma Miller.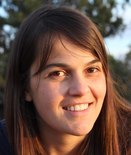 Emma Miller
I speak from personal experience when I say leaving the Amish community is frightening. I left at the age of 16: young, vulnerable and completely naïve to the ways of the world outside of my sheltered upbringing. Of course at that age, I thought I knew everything but today I look back with a thankful heart, clearly seeing some of the dangerous situations that I sidestepped.
  Initially, I just focused on staying afloat, working in a restaurant and cleaning houses. I had dreams of getting my GED and going to college, but they were quickly swept under the carpet with the sheer effort of making ends meet. After a few years, I managed to get my GED, but even then it was almost impossible to squeeze college into my schedule. Three years after I left the Amish, I finally started taking classes part time at the community college, working all day and going to class at night.
It took me almost 6 years to get my Bachelors degree, but I appreciated the opportunity every step of the way. My education empowered me and became my source of confidence in a world without parental guidance. It taught me to think for myself and to make good choices. It was in the classroom where I learned to value myself and every other human being on the planet.
On my graduation day, I experienced the most bittersweet moment of my life. I was so proud and so happy, but I saw all the families together and mine wasn't there. When they asked us to stand up and give a special thank you to our families who had supported us along the way, I started sobbing. I looked up in the audience and saw that some of my friends were crying with me.  My parents didn't even know I was graduating.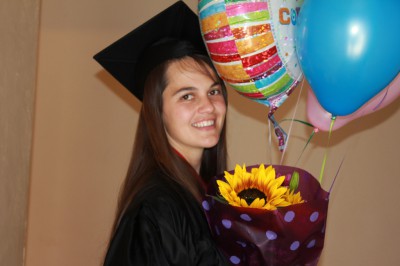 Emma's graduation day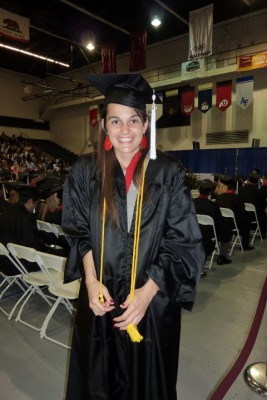 I'm very grateful that I managed to go to college, but it's not fair that it is so hard for those of us who leave the Amish. Even getting financial aid or government loans is a challenge for any former Amish student under the age of 24. While filling out the FAFSA, students are required to provide their parents' financial information and signatures, but Amish parents aren't likely to provide it since they don't agree with their choice to go to college.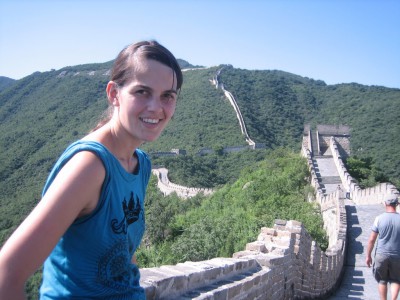 Emma in China
We live in a country where education is supposed to be available to everyone, yet I was forbidden to go to high school when I was 13. A 16-year-old Amish boy contacted me recently and said he has just left the Amish and he decided to go to high school. He lives with a few other former Amish boys who decided that they're too old to go, but they would help him since he's the youngest. They contacted the local high school and were told that he can't enroll without his parents' permission. That story broke my heart. By the time he turns 18 and is allowed to start school, he will have been out of school and working full time for almost 5 years.
Please help us right this inequality. I've teamed up with some other former Amish to start the Amish Descendant Scholarship Fund (ADSF) to offer emotional and financial support to those with an Amish background who wish to further their education. The media has been having a field day with the plight of Amish youth, but no one has reached out to help them. Please donate what you can and help us spread the word; the donations are tax-deductible and every dollar you donate will go towards a scholarship for someone in need. We have just awarded our first scholarships to Ruth and Marietta who are both struggling to get their education. You can read about their stories here.  
To learn more about ADSF and its founders, please visit our website or send me an email at emmamiller.adsfund@gmail.com. If you are from the Amish and are interested in going to college, please send me an email with any questions or concerns you might have. You are not alone!
I would like to offer a special thanks to Saloma for joining us in our effort and for the help she has extended to other former Amish people in need. No one knows the challenges these young people face when choosing a life away from the Amish community better than she does. And there is no better guide through turbulent waters, than someone who has already been there. Thank you for your strength and your help, Saloma. We're excited to welcome you to ADSF.