Thirty-five years ago tonight my life changed irrevocably. At this time of the night that many years ago, I had just donned my first "English" clothes, had the first haircut in my life; and I was about to be driven to the train station to take a night train out of Cleveland.
Thirty-two years ago tonight, David had just arrived in Ohio and he'd come to my house to pack my belongings into his little yellow Datsun pickup truck. After David met my family members, we bought them pizza for dinner and then we headed to Cleveland to his sister's house where we would spend the night before making the 600-mile trip to Burlington, Vermont. This was the night I was leaving for a second time.
Twenty-nine years ago tonight, our firstborn son, Paul, was not yet twenty-four hours old. We were staying at David's parents home, so that his mother could help me adjust to motherhood. My own mother was 600 miles away.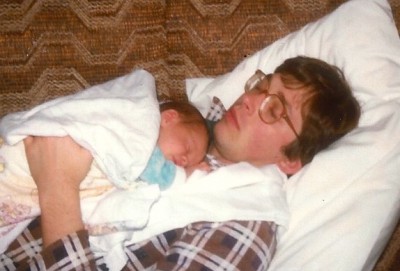 David with Baby Paul at one week old
Twenty-six years ago tonight, our little family was adjusting to a new person. Our younger son, Timothy was four months old at the time. I was realizing that going from no children to one was so much easier than going from one to two children.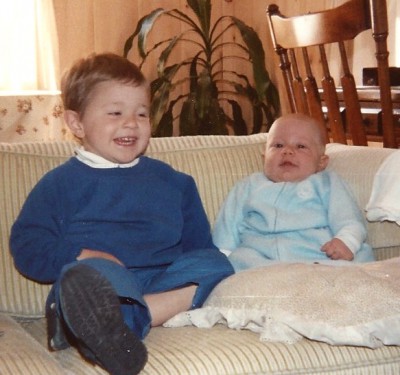 Paul at three and Tim at four months
There are many other transitions in my life that happened in November. It seems when autumn is turning into winter, my life changes, too. I've noticed especially big ones about every three years, as outlined above. Not all of them have been life-altering, and some have not been positive changes. Consequently, November often leaves me with an unsettled feeling. I have to wonder what is just around the corner.
Do any of you have a time of the year when you find yourself adjusting to a transition or major change in your life? Do you look forward to what changes these might be with a sense of adventure, or do you find yourself dreading whatever changes are ahead?