Please visit the Amish Descendent Scholarship for a story of "
An Irrepressible Spirit
." This is the story of Emma Gingerich's educational journey. She left her Amish community when she was eighteen. Before she left, she did not know what a college is, yet she was enrolled in one less than a year after she entering the "English" world.
My life has been crazy the last two weeks since I last posted to this blog. The first baking day after the newspaper article came out in the Sunday Republican about Anna, I got up with her early in the morning to help out because we anticipated that we would get quite a strong response. But we could never have anticipated the response we actually got. We opened at 8:30 and we were immediately overwhelmed with crowds. And they kept coming. At first when we ran out of stuff, we told people they needed to come back later. It took us less than an hour to realize that we would not have enough for all who wanted baked goods. So then we started taking orders — both for that day and for the day after and the following week. We also realized that our one little oven could not bake enough in two days, so Anna decided to add a baking day to her schedule.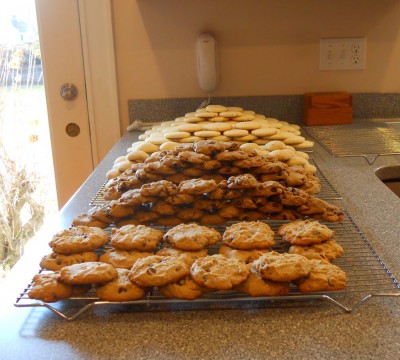 Cookie pyramids: a small sample of the baking Anna did this week.
Anna did bake three days… and three nights, pretty much. She was getting up at 2:00 AM and sometimes staying up until late at night. Her nice little business went through the roof. We are holding our breath through this week, and then we'll need to reassess what to do from there. It may slow down after the holidays, but if not, then we'll need to think about what to do. She may need to expand into a different location.
Not only were people coming to buy baked goods, but people have told us the people in their offices, the retirement homes, the neighborhoods, and the social circles are talking about the article. Clearly Anna's story has touched many people. Two weeks ago, she had nearly fifty baskets. Right now she has one basket that is not sold. She will have a full week ahead, with basket weaving and baking before the holidays.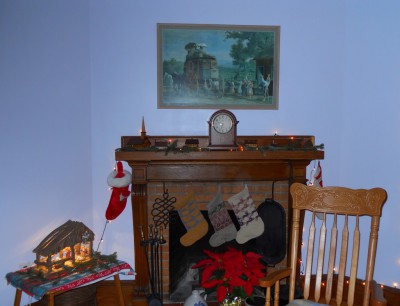 Early last week we did find some time to decorate our house for Christmas. This was Anna's first Christmas tree. She helped us find the right tree and cut it. She and I made popcorn and cranberry strings for the tree, and then she and I decorated the tree. It is one of my favorite traditions since I left the Amish, so it was fun sharing it with Anna on her first holiday away from her family.
Now I like to sit in my living room at night with nothing but the Christmas lights on. I love the cheery feeling of the festive celebration of light at the darkest time of the year. I also love that there are other traditions at this time of the year that celebrate light besides Christmas. The need for light is as universal as the need for love.
My heart is heavy when I think about the families in Newtown, Connecticut who are surviving a sorrow I can hardly imagine. The bucolic descriptions of Newtown are accurate… it is a picturesque New England village. I did a book talk at their library and was very much charmed by the town and its people. Imagining the deep sorrow that the people in this beautiful town are facing tonight reminds me of what it was like when I was visiting the castle Thun in Switzerland — life is filled with beauty and horror, sometimes in the same place. As humans we have such enormous potential for doing good in our world, just as we have the potential for doing incredible evil. It is sad beyond words when the innocents among us are the ones who suffer at the hands of someone who chose evil over good.
So my thoughts and prayers are with everyone who has been affected by the tragedy. I mourn with them from where I am. I hope that the acts of one troubled soul will not cancel out our faith in humanity. For as long as there is empathy; as long as there is love; as long as there is kindness — then there is also hope. In the words of Martin Luther King, "If you lose hope, somehow you lose the vitality that keeps life moving, you lose that courage to be, that quality that helps you go on in spite of it all." I pray that all those who lost loved ones will find the hope that will help them go on in spite of it all.
May your Christmas be filled with love, light, warmth, and hope.