In a culture full of Amish novels and bogus reality television about Amish youth "breaking out," it is often disheartening to those of us former Amish to see what "sells" in the media. Some of us have well-written stories to share with the world, yet we keep getting rejections from mainstream publishers. Meanwhile, writers of bonnet fiction have contracts for writing books for the next five to ten years. Perhaps we cannot get the big contracts, but that does not keep us from telling our stories.
There is a story that I am very happy and proud to see in print. The young woman who lives with us, who I've so far named "Rebecca" on my blog has decided to go public with her identity. Her real name is Anna Miller. Several weeks ago, Anna told her story to Cori Urban of the Springfield Republican. Today, it was printed on the front page of the Sunday paper. Cori did a beautiful job with both the story and the photos.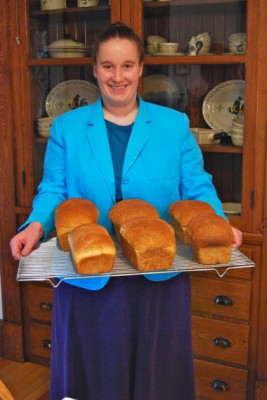 Anna Miller — photo courtesy of Cori Urban
This story came about because Cori Urban had bought a loaf of bread from Anna. Cori had written several stories about my book, and so she wrote to me and asked if I know about the Amish bakery in Sunderland, where she bought the bread. I wrote back, "You were at my house!" Cori asked if Anna would let her write a story for the Springfield Republican. After pondering it for a while, Anna decided to say yes. Cori and I had a phone conversation about it, during which she mentioned that she'd bought a basket in upstate New York, near where Anna was raised. I asked Cori to bring her basket (which is not signed) and see if Anna can tell her who made it. Sure enough, Anna identified the basket as one that was made by her neighbor. What a small world!
As I collect stories for the Amish Descendent Scholarship Fund blog, I am noticing a common thread in the education stories of those people who left the Amish and sought (or are seeking) higher education. That common thread that runs through all our stories is our dogged persistence in pursuing education. It was impossible to acquire a higher education in the culture in which we were raised. Now that we live in a culture in which that is possible, no obstacle is too big for us to find our way around, through, up over, down under. In some cases, we simply push those obstacles out of our way.
Today we have another one of those stories, this one from Laura Miller Burress called "My Dream of Being a Nurse." Please click on over to the ADSFund blog to read her inspiring story.
So I hope the authentic stories continue to flow from those who've left the Amish and are finding their niche in a foreign culture.
Have fun reading the stories of Laura Miller Burress and Anna Miller. Please leave us your comments.