Today was a rainy, drippy, sad day that fit my mood exactly. I am still reeling from this past weekend. I did something that I will probably wonder for the rest of my life whether it was the right thing or not.
For some time now, Anna has been planning to return to her community. She had in mind to return at the end of January. She could not be talked out of it, though many people tried. She was missing her nieces and nephews very much. She had 38 when she left, and 3 more have been born since she left. She also missed her mother and community life.
Rather than put Anna on a bus, David and I offered to drive her. Even though she had left with nothing but the clothes on her back, she now had accumulated enough material goods to fill our car.
We started out early on Saturday morning and drove to Ogdensburg, within ten miles of Anna's home, where we stayed at a hotel. We ate dinner there and turned in early for a good night's rest.
Sunday dawned clear and sunny up near the Canadian border. We had breakfast at the hotel, and then we lingered for a while. Anna got dressed in her Amish garb. It didn't seem real that we wouldn't be seeing Anna after she went back. We had someone take photos of us with her. Here is one: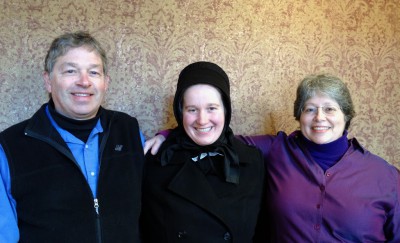 David, Anna, and myself
Anna looks so happy here. I will treasure this photo always, even though I look dorky. It shows Anna's wonderful smile.
Anna's plan was to go to her parents' house and be there when they got home from church. We discovered that church was at her parents' place, so we had to come up with an alternative plan. We went and had some lunch at the local diner. Anna mentioned during this meal that before leaving her community, she had never eaten at a restaurant before… her community didn't allow it.
Anna decided she wanted to go to her brother Jonas's family's house and wait for them to come home from the church service. We waited there for quite awhile, but Jonas did not come. Instead, a buggy approached us and Anna said it was the deacon of the church and her brother Andrew. David rolled down his window. One of the men said, "Hello, David!" David looked too shocked to answer, though he might have said, "Hello."
The two men suggested that Anna load her belongings onto the buggy and they would take her home. She mentioned that to me and I said, "No, that is not going to work… there is too much stuff. We are coming, too." They motioned for us to follow them, and then Anna disappeared onto the buggy. As soon as we got to her home, she was whisked away into the house. David and I were standing there, wondering what to do. Someone came and told us we could move the stuff into the shed. We unloaded the trunk. We both got the feeling that this was now clan property and not Anna property. I muttered under my breath to David, "If they think I'm going to leave without saying good-bye to Anna, they have another guess coming."
We hesitated when it was time to unload the food that we didn't want to put into the shed. Her brother Andrew came and helped us move it into a small shop that was heated. I asked him, "Would it be okay for us to meet her parents?"
He said, "I can ask. But you have to understand, she's been away for a very long time, and the family needs some time alone."
"Sure, I understand. We don't mind waiting, but we would like to meet them and say good-bye to Anna."
Andrew came out a few minutes later and said they would let us know when we could come in, which they did shortly.
When we got into the house, they ushered us into the living room, where we met the family. Anna was sitting on the far side of the room, with a bowl of milk soup on her lap and looking like she'd rather reverse the eating process than eat that soup. What a change in countenance from just a few hours before when the photo was taken at the hotel. She was not looking at us, and we could tell she'd been crying, as had others in her family. I took a seat in between Anna and her mother. We tried to visit, but all the conversations seemed strained. I asked Anna to introduce me to at least eight of her nieces and nephews, which she did. David talked to Anna's father about his property. Anna's mother and I exchanged a few pleasantries.
At some point, Andrew said, "So, David, were you surprised when I said your name when we came up to the car?"
"Yes, I was. How did you know my name?"
"When I saw the Massachusetts license plates, I took a chance that it was you." He gave a self-satisfied and hearty laugh. I'm sure under other circumstances, Andrew would have been fun to talk to. But I think everyone was feeling tense. I realized that we could be making things harder on Anna, so I asked her if she would walk us to the door. She got up, and she pressed her coat into my hands and asked me to take it with her. (This is a pea coat that she'd bought for herself. It was black and as plain as she could have gotten, but it was obviously not an Amish coat.) We walked out to the kitchen. When I turned around to give Anna a hug, she motioned and mouthed, "No hugs!" She shook my hand, and I mouthed, "Are you going to be okay?" She gave a determined nod. Then she shook David's hand. He told me later that she gave his hand a couple of hard squeezes, like she was saying, "I'm still here." The last thing I said to Anna was, "Please write." She did not indicate whether she would or not. I said, "I'll write you, too."
With that, we were dismissed. We left with heavy hearts, feeling for all the world like we'd just delivered Anna into the mouth of the dragon.
I have gone through a range of emotions since then. I've asked myself whether we did the right thing. Then I remember a conversation with Anna a few days before her return when I asked her if we didn't take her back, would she still return? She said something about all the stuff she'd accumulated and how she couldn't take it with her on a bus. Then she said, "Yes, I probably would write my parents to come and get me." I wondered at the time how she would get her things back if they came and got her… they are not allowed to ride in cars. But I didn't push it… I had my answer.
I have so many reminders of Anna in my house, even though it feels like she is a world away right now. I have a photo of her right by my computer, the one with her eating popcorn that I included with my last post. She loved cucumbers, red peppers and orange juice. My kitchen is all spic and span, because she made it so before she left. There is a spot on the couch where she would sit at night to do her reading, writing, drawing, or emailing on her iPod. Usually around 9:00 at night, she'll head up to her room and say, "Good-night." I miss that. But mostly I miss her sense of humor and her smile. Last week, when it was really cold out and Anna was leaving to go to her tutor, I said as she walked out the door, "Don't freeze your buns off."
"Maybe if I do, then I don't have to take so much back with me and we'll have more room in the car."
That made me laugh. That evening, Anna told David about that, and David laughed, of course. Anna added, "Then I came back and I almost froze my head off."
So, tonight as the rain drums on the roof of our house, my thoughts go to Anna. I hope that her clan isn't treating her terribly and that she is enjoying her nieces and nephews again. I hope my misgivings about her father are unfounded. Let's hope there are enough eyes watching that he doesn't dare dominate her completely. But in hearing Anna's stories, I cannot say that I trust him.
Oh, the sin of domination! I have asked myself over and over, "Why did she go back?" And then I remember the answer that she herself wrote when asked that question by her tutor. She wrote, "I have to go back and look how it is to be Amish again, before I can make a plain decision in which world I want to be." She also wrote, "When I go back even if I stay Amish I would be a whole different person."
I have to remember several things. Anna is a strong woman. If the people in her community are too overbearing, she will leave again. And no matter which world she chooses, she will always have the memories of her experiences in the outside world. No one can erase those.
I have no idea whether my letter will make it into her hands, but there is one going out in the mail tomorrow. I also don't know yet if I will get letters from her.
One thing I know — if Anna decides to leave again, she will be much more settled in her decision. I know I was when I left the second time. I just hope she doesn't put up with unhappiness for two years and eight months like I did when I went back and tried to make myself Amish again.
I still have to ask myself, "Did we do the right thing?" Right now it doesn't feel like we did. But then again, it was Anna's choice. To take that away from her would be to dominate her. One of her challenges while she was living with us was to have enough self-confidence to make her own choices. Now she's made one and we need to live with it.