Ever since I've gotten to know Anna Miller, the young woman who lives with us, I've said that the difference between her Swartzentruber community and the Amish community where I came from is about as great as the difference between my community and the outside world. In fact, Anna's group called anyone who is not Swartzentruber "sorta Amish." When I see Anna dressed in the clothes of her community, I completely agree.
On Sunday, we had company for brunch to get people together who know Anna. She at some point went and changed into her Amish clothing to show them what she looks like in them. When I saw her "kopp" or head covering, I was inspired to get out the one I've had ever since I left my Amish community in 1980. Once I had it starched and ironed, Anna and I took turns pleating it. Then Anna tried it on, and I was amazed how different she looks in my kopp compared to hers. You can see for yourself. (Of course the clothes in the second photo isn't quite fair… we don't actually have a Geauga County dress that fits her.) But the way her face is framed makes her look so different in these photos.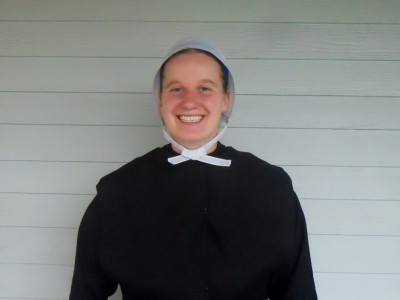 Anna in Swartzentruber clothes
Anna in a Geauga Amish kopp
And just to see another contrast, below is a photo of Anna without a kopp with that beautiful head of hair she has. Maybe it's just me, but she looks like three different people in these three photos.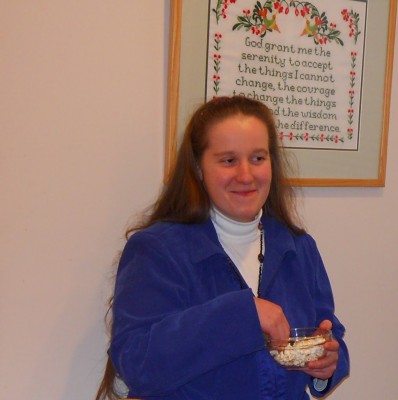 Anna in "English" clothes
This makes me realize how, given our natural inclination, clothing is an outward expression of who we are. I tend to be pretty plain and I don't pay much attention to the latest styles and fashions. I suppose I don't want to conform to the arbitrary fashions of the modern world any more than I wanted to conform to Amish dress when I was still in that culture. My clothing shows how I've not completely left behind the plain thinking I grew up with, and I also haven't fully embraced the "English" culture — at least not in terms of fashion. Perhaps this mirrors my constant search for how to bring together the two worlds in which I have lived.
Seeing Anna in clothing from the two worlds in which she's lived is helpful in showing the cultural divide that she traversed — it is pretty amazing. And she did it. She is a courageous woman.