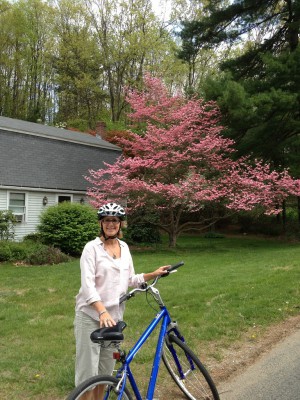 Candelin Wahl with a pink dogwood in the background
I am so grateful for friends. My friend, Candelin Wahl, came to visit me and stayed for two days. Our friendship goes back a long way. We met when we were going to the same church. We were twelve months pregnant between the two of us at the time. Then my son, Tim, and her daughter, Drew, were born within three days of one another. As our babies grew into toddlers, we would get together, often once a week, to let our them play with one another. She went on to have another daughter, Jamie. As our children grew, we adopted one another's children as our second family. I still proudly consider Drew and Jamie my surrogate daughters. You can click on their names to visit their blogs and discover why I am so proud of them.
Yesterday Candelin and I had a magical day, which started out with a bike ride through our little village. The smell and sight of all the blossoming trees and flowers was intoxicating. The temperature was perfect, spring was in full bloom… what was there not to love?
After our bike ride, we did our civic duty… we went next door to the library to sort books for the book sale that's coming up. Candelin wrote a message to me on the sidewalk outside the library, where there is sidewalk chalk for people to leave their art behind. What a friend!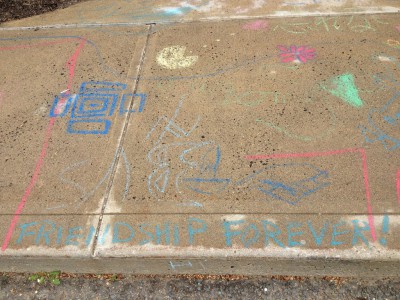 Friendship Forever!
After lunch, we headed off to "Magic Wings," a butterfly museum. When we walked in, all we could do was look around in awe at the magical fluttering of wings all around us. It was so incredible! For nearly two hours, we walked around and watched butterflies of all colors, shapes, and sizes. Candelin took more than 170 photos and several videos. Below is one of the more brightly-colored butterflies.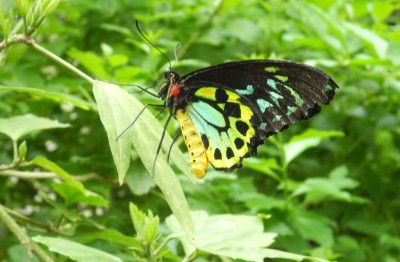 A male Cairns Birdwing
The Blue Morphos were the most amazing of them all, I thought. Below are several feeding on bananas. "Blue?" you might ask. What is so fascinating about these is that when they close their wings, they blend in with their surroundings, but when they open their wings, the "inside" of their wings are an iridescent blue. Beautiful!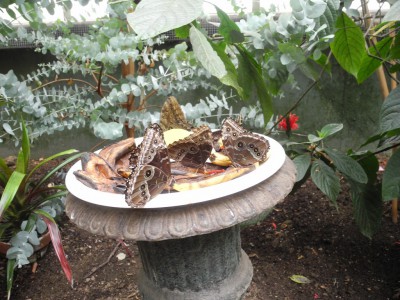 Several Blue Morphos.
While Candelin was taking a video, I walked down the path, and had no idea there was a "cloud" of butterflies following me. How cool! This is not as clear as it was, now that I've posted it to my blog, but you can still see the butterflies. This is no substitute for the real thing, but it offers a glimpse.
While we were in the conservatory, it clouded over and we heard rain on the roof. It got rather dark inside, much like dusk. We looked around, and many of the butterflies were hanging onto twigs and branches and folding their wings, like they were going to bed. We found out from someone who works there that that is exactly what was happening. Most of them go up into the high branches to perch, but there were plenty to see just above us. Don't let your eye fool you… these are not brown leaves, they are butterflies going to bed.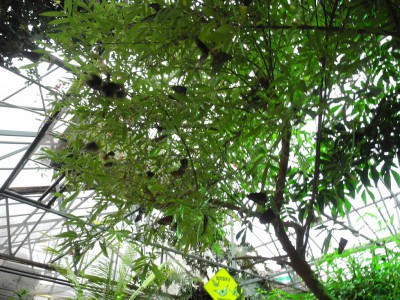 Butterflies retiring for the night
At closing time, Candelin and I returned home for a late afternoon nap, and then she treated David and me to dinner. Afterwards, the three of us had tea in our living room. Candelin regaled us with stories of her travels from the last three months, played us a few songs on her guitar, and shared a photo album with us. For more about her travels, you can visit her blog, named Sundialer.
We awoke to a washed world this morning. Here in the Pioneer Valley we've been having beautiful spring days, with hardly a cloud in the sky. So the rain we received yesterday and last night was welcome.
After breakfast, Candelin packed up her little car for the last leg of her trip. As she did so, she had me choose from a collection of stones she'd found in Fairystone State Park in Virginia. Then she said good-bye and headed home to Burlington, Vermont. I'm sure her husband, George, will be as happy to see her as she is to see him. She has been traveling for the last three months. I could tell she her mind was already with him, for she didn't see me waving from my front porch as she drove away.
Candelin left me reflecting on all things magical: friendships, butterflies, spring blossoms, bike rides, butterflies with "gossamer wings," and fairy stones. I feel blessed by her friendship.
I am grateful for the memories Candelin and I created over the last two days and I will cherish these memories always. They are enhanced by the photos and the videos.
Below is my favorite of the butterflies, and also my favorite photo that Candelin took yesterday.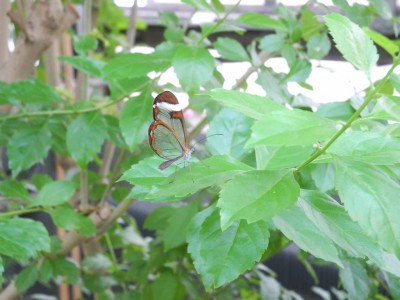 A "Glasswing." Candelin aptly renamed it "Gossamer Wings."