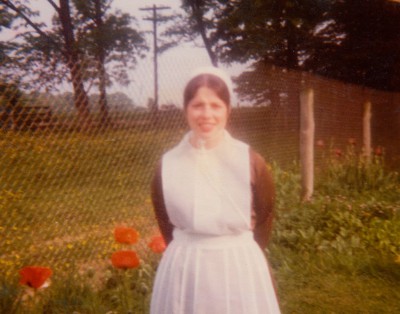 Wearing Amish the day of my sister's wedding
I have been writing my book lately, and so I have been remiss in posting new material here. I am happy to report that I have finished getting this part of my story on paper. Now three people are reading it and will give me their honest thoughts about it. I will likely be making revisions after receiving their suggestions and edits. I can hardly contain my excitement that I am this much closer to getting my book into print.
I will describe the book below. If you already know about Anna, then some of these details are most likely repetitive.
The book is so far entitled Wearing Amish and it begins where Why I Left the Amish ended. I was twenty years old and making my first exodus out of the Amish to Burlington, Vermont, a place where I knew no one. Once there, I reveled in my newfound freedom, established a social life, and began dating. I even found my dream job as a waitress at Pizza Hut!

My story is interwoven with Anna's. She had walked into my life as I was writing my tales of heartbreak in leaving family behind, exhilaration in the outside world, and the shock of returning to the fold. Though Anna's and my stories mirror one another in many ways, there are also key differences.
Anna was born the tenth of eleven children in her family and lived the typical life of a twenty-three-year-old unmarried woman in her Swartzentruber Amish community. The Ordnung in her church forbade her from riding in cars, so she never traveled further than fifty miles from her home.
One June morning before sunrise, Anna left home with nothing but the clothes on her back and found help from an "English" person to leave her community. She donned modern clothing and boarded a bus, leaving behind the only world she knew for a life she'd glimpsed from her perspective at the roadside stand.
Anna came to live with us and started a business baking and making baskets and selling her wares out of our house. She was receiving tutoring lessons to improve her English and she was also learning science, math, social studies, and art. She seemed to be thriving in many ways. Witnessing her delight in new experiences such as music concerts, a country fair, or cutting and decorating a Christmas tree, reminded me of that time when I had just left home. I loved making my own choices. I happily found new social outlets in which I could meet people my own age.
Making decisions bewildered Anna in her new world. She became a homebody and rarely went out without us. She missed her community, especially her forty nieces and nephews. Though she was doing well in her business, she was often overcome with homesickness.
This reminded me of that time when I felt torn between my two worlds. Then along came a welcome distraction when I met a Yankee toymaker and peddler, David, who was eager to learn everything he could about the Amish. He was imaginative, creative, understanding, and attractive. He seemed willing to help me sort out the complexities of my new world. I sometimes thought about returning to my community, but not seriously enough to make plans to do so. Then our budding romance came to an abrupt end, when a vanload of Amish — including the bishop — showed up at the front door of the YWCA, where I was living, to take me back to the community. I could not stand up to this show of force and so I returned.
Anna's people did not come to fetch her. Perhaps they knew that she would eventually return. And they were right — six months after she moved in with us, she decided to return. Rather than put her on a bus, David and I offered to drive her back. Thus, in an ironic twist of fate, we became her escorts back into her Amish world. Taking her back and seeing the change in her demeanor once she was with her people was another reminder of my own return.
I had allowed David to visit me "as a friend" in my Amish world. We parted with a handshake, though he had asked for a hug and a kiss. The Amish criticized the family I was living with for allowing David to visit and consequently I was sent to live under the supervision of my older brother, Joe. In an attempt at "making myself Amish," I stopped writing to David. Then one Saturday afternoon when I was canoeing with my sister, my two worlds collided. David had followed us out onto the waters of the Akron Reservoir in a rowboat. I delivered a thorough and devastating rejection and he left. I had an instant and overwhelming flash of regret as I watched his maroon-checkered shirt retreating off into the distance, as he rowed slowly away. I thought, "What have I done? There goes my future!"
Together, Anna's and my stories convey what it's like to be torn between two worlds. One world offers the familiar — a community steeped in obedience and tradition (one in which we'd promised we'd stay for the rest of our lives) and the other offers personal freedom.
At the end of the book, both of us are back in our respective communities. In an attempt to "fit in," we both rejected those who offered us a bridge back "into the world." I rejected David. Weeks after Anna's return, we received a letter from her, telling us that she has promised her preachers that she wants to forget everything about the outside world and not to expect any more letters from her.
I have the perspective of more than thirty years in telling my story. Anna's story is immediate and poignant. It remains to be seen in which world she will choose to live her life. Will she be tempted to leave again? Or will she stay in the world she knows best, content to have others making her choices for her? I faced the same difficult choice — enjoy personal freedom or continue "wearing Amish."