My head is bursting with the joy of the unknown. My heart is expanding a thousand fold. ~ Rumi
I have watched one gorgeous late-summer, early-autumn day go by my window after another. This is the time of year I love — these days when the temperature is perfect, and the air is crisp. I even like the slanted light of late afternoon. There is a sweet sadness about the waning light as we head towards winter.
There is still one indication that summer is not completely over. I hear it now — a lone katydid, still calling "Katy did! Katy! Did it! She did it! Did it!" outside my window. But the call is not nearly as peppy as it was this summer, and it seems to be all alone in its insistence that summer is not yet over.
Autumn is officially here for me because I have my refrigerator stocked with Cortland apples for eating fresh, making applesauce, and baking apple pies.
I'm sure I will someday think of this autumn as the one that passed me by. I've been writing so much, that the spacebar on my keyboard is starting to stick and my right wrist is hurting me. About a month ago, the editors at Herald Press and I made a joint decision that I should write the whole story of my young adult life when I was feeling so torn between my Amish world and my Vermont one. This also completes the story of how David and I were separated for nearly three years, and how we found our way back to each other, even though I was Amish and he was not. The reader will discover that it is only because of David's quiet persistence that our love survived and that he is the hero of this story.
This all means that I had to write more than a third of the book in a month. Lo and behold, I did it! Now I'm working with the editor who is just coming on board at Herald Press, Valerie Weaver-Zercher, author of Thrill of the Chaste: The Allure of Amish Romance Novels. I look forward to working with her to making this book the best it can be. I don't think I've ever been so focused for so long in any creative project.
One of the things that has been so interesting in this process is how it has involved going down memory lane. I have journals and letters from that time frame that helped me recall memories that have lain dormant for years. David and I have triggered memories for one another, and we find ourselves reliving many of these experiences. It is revitalizing to remember our young love now, as we're entering the early autumn of our lives. We realize the part of those vows we made "until death doeth us part"will be a reality someday. And that day is sooner than it was when we were so young and our lives were stretched out before us. Then we were in the spring of our lives, with all the optimism that comes with being young and in love.
I am so grateful for all the seasons of our lives — that David and I were able to share the spring and summer of our lives, and that we still have one another as we head into the waning days of our summer. We don't know what the new season will bring, but for however long we are meant to be together, we have each other. For that my heart is flooded with the joy of the unknown!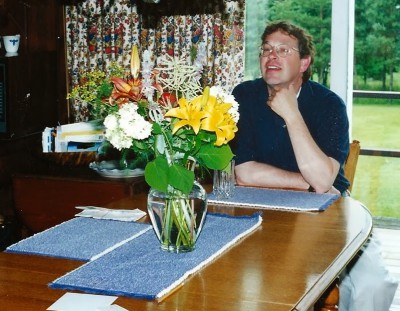 David in Summer