Welcome to my new blog!
Two days after the premiering of the PBS documentary, "The Amish: Shunned," I am looking out my window at the slanted afternoon sunlight shining on the white buildings across the street, I am taking a deep breath. I must have been stressed leading up to the launching of my book on Monday, followed by the film showing on Tuesday. I have a cold now, and it's making me slow down. I'm hoping to get better quickly because I have my first book talk coming up on Sunday, at the Sunderland Public Library. That's at 2 PM.
I've heard from lots of people who liked (in some cases, loved) the documentary. Many people have remarked about the beautiful cinematography, which I wholeheartedly agree with. Some of the scenes were actually breathtaking for me. As I thought would be the case, people are struck by Anna's story. The ending still evokes tears for me, and I've seen it at least a dozen times.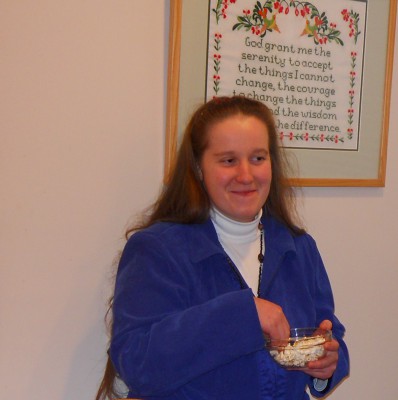 My favorite photo of Anna. She looks so happy.
I've heard from various people who wanted the sticky bun recipe, after seeing Anna and me making them. You're in luck! In the back of my new book, Bonnet Strings: An Amish Woman's Ties to Two Worlds, there is the recipe for sticky buns. I included the recipe in the book before I knew they would be featured in the film. After Anna left, I was asked for the recipe from people here in the Pioneer Valley, so I also published it on my website.
Back to the film. I found all the stories moving, but Naomi's story especially moves me. I really relate to her, because I think she and I had similar reasons for leaving. And I love her spirit. I am so proud to be on the Amish Descendant Scholarship Fund (ADSFund) with her and her cousin, Emma Miller.
Now there is an untold story. Emma conceived of the idea of the ADSFund on the day of her own graduation at San Diego University. She describes how on the day of her graduation, she was so proud and happy, and then she looked out over the auditorium and saw her friends with their family members. She said, "My family didn't even know I was graduating." The toughest moment came when students were asked to thank their parents for their support. All Emma could do was stand there and cry. She looked out over the audience, and found her friends were crying right along with her. Emma decided, that very day, that she would find a way to help others who've left the Amish to acquire an education. You can read more about that here. As I've said before, former Amish people who strive for an education have their very own Malala…. and her cousin, Naomi. I hope the ADSFund will be able to help all those Amish descendants who need it for earning their college degree. If you would like to donate, you can visit our website. Your support is very much appreciated.
If you missed seeing the documentary "The Amish: Shunned" on television, you can still see it on the American Experience website.
I just discovered that there were numerous comments I didn't know about. I just approved a whole bunch of them. I need to have my website guru set up an email prompt, so I know when I get comments.
That brings me to the question of who designed my blog and website. His name is Jason Woofenden, and he is very good. You can find a link to his own website at the very bottom of each page of my blog and website.
It seems several of you have read my book. I appreciate all your kind words about it and my part in the film. It really validates that my calling to write and tell my story is what I am meant to be doing at this time in my life. Stories bind us. And they help us find our place in the world. It is very gratifying to discover the ways in which people relate. Thank you for sharing those with me.
Who will be the first to leave a review of Bonnet Strings on Amazon? I eagerly await the reviews as they come in.
I am at that place of feeling like I cannot keep up with all my social media obligations. And so I've decided to limit my Facebook activities to my Author Saloma Miller Furlong page (there is a link to the right of this page that will take you there). If you haven't already, I hope you will "like" my page, which will allow you to receive updates. But I won't give up my blog. I enjoy interacting with all of you too much to give it up. And besides, I heard you when you asked me not to give it up.
If anyone has questions about my part in the film "The Amish: Shunned," or about my book, Bonnet Strings, I am open to answering them.