I am often asked at book talks what aspects of Amish life I miss. One of the first things I say is "the community." I describe how the Amish come together in times of need, women getting together for quiltings, people getting together for a "frolic," for weddings; for funerals; and of course for church services.
When I was young and had to sit through three-hour services, I didn't think they were so great. But here I am, thirty-four years later, still remembering what it was like to sit in church and hear the German singing, which is a chant. First came the opening song, usually chosen for the time of year. Then came the Loblied or "Praise Song" that was always the second song of every service, throughout all Amish districts. That song would almost always put me in a trance, where I felt connected to our ancestors from hundreds of years ago, who sang these same songs; to the people in all other Amish districts in our time zone who were singing the same song at the same time; and to the Amish people in future generations who would likely continue the tradition of singing these age-old German hymns.
To hear Amish church singing, you can go to the "Amish Customs" page on my website, where I have included three songs being sung in the Amish church chant style. I bought a CD in Indiana with these songs on them, and there was no copyright, so I'm taking that to mean I may share them.
When David and I were visiting with Katie Troyer in Pinecraft-Sarasota, Florida, we got a chance to see inside the Amish church house down there. I asked permission to take this photo, and it is such a picture of the simplicity of an Amish church setting. I also remember what it was like to sit on one of those backless bench for three hours.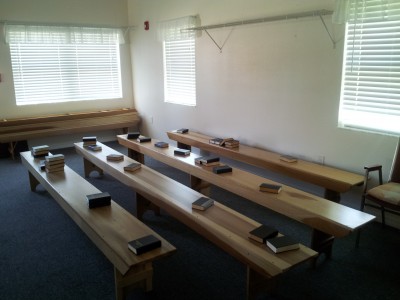 Just seeing copies of the Amish songbooks called the Ausbund on the benches, really gave me a longing to attend an Amish church service again. If I had been in the area long enough, I would have liked to attend one.
Not all people who grew up Amish still enjoy these songs. Some call them boring, and they don't see any meaning in droning on like that. Some even call them morbid. But for me, it represents the deep roots the Amish have. These songs were written by our ancestors who were among the first martyrs of the Anabaptist faith. Some were written while they were imprisoned. The story goes that they would sing together from their separate cells as a way of staying connected to one another. That sounds like resolute faith to me. For the most part, the Amish try to live out a deep and abiding faith to this day. I sometimes lament the fact that my personality could not fit into that culture. There is a part of me that will always be Amish.
And there is the part of me that was never Amish. It is the part of me that likes to look at the lining of things; question why things are they way they are; and I want to learn as much about our world as I possibly can. It is also the part of me that likes to ponder the mysteries in life. It isn't that I need to know the answers to the "why" questions that have always come up from within me – it is much more about asking and pondering these questions. If you are a "good" Old Order Amish person, you are satisfied with answers like, "That's just the way it is." I sometimes wish I could be one of those who are satisfied with such an answer, because after all the pondering, that is often the only answer there is.
Whenever I get nostalgic about that lifestyle, I remind myself what it was like the day I realized, at fourteen years old, that I was really done with school… for the rest of my life. Unless I left the Amish.
I am often asked if I would have stayed Amish if I had been born into a well-adjusted and happy family. I always say I don't know. Even the children of well-adjusted families are not educated beyond the eighth grade. I may have left for that reason alone.
So, since I cannot have it both ways, I now live the life I chose. And it really is a good life. It's just that I have been severed from my roots, and some days I feel that keenly. That's when I listen to Amish singing and let the memories wash over me.