Herald Press is offering a 25% discount on selected books (including Bonnet Strings) for a Mother's Day Sale at their online store. (Discount is taken at checkout.)
Kathy Pooler, writer of the blog Memoir Writer's Journal facilitates thoughtful discussions on many topics around memoir writing. This week she has posted a guest blog by me called "Your Story or Your Family?" The discussion is insightful and and relevant to all memoir writers and to anyone who appears in someone else's memoir. Kathy is offering a giveaway of a copy of Bonnet Strings. Feel free to join the discussion.
Bonnet Strings has received a 5-star review from San Francisco Book Review. I am so thrilled!
Reviews are coming in for Bonnet Strings on Amazon. As an author, I appreciate it so much when people take the time to let others know their thoughts after reading one of my books. I try to remember to review a book after I finish one, because I imagine it means something to other authors as well.
I'll be back for a regular post in the next few days, but in the meantime I wish everyone a meaningful Holy Week and a Happy Easter.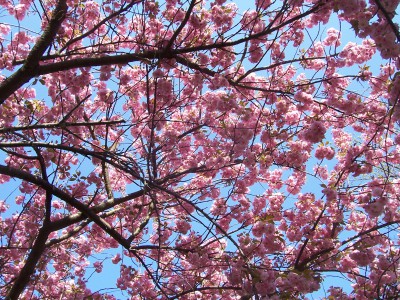 Cherry Blossoms in Northampton, Massachusetts
(Photo taken by me in 2008)