I was recently asked this question by a friend, who has observed hoarding behavior in others. I have too. David and I had to help deal with the aftermath of it when his father died, leaving a house full of stuff from attic to basement. Old pieces of sheetrock from when the house was built forty years before, useless pieces of old carpeting, clothing from that era, a boatload of IBM notebooks marked "confidential," a model train setup, old draperies and curtains that had seen their better days, and on and on and on. We ended up making numerous trips to the dump, having a salvage company come in and take out two truckloads of stuff, and then we still had four dumpsters of stuff taken out of the house. This was all in addition to the useful things his five sons and daughters inherited, including the woodworking machinery he liked to collect.
Perhaps it's the memory of how hard it was for everyone to deal with that motivated my recent commitment to do a house cleanout. But I think there is more to it than that. I've organized and culled every bin in our attic (leaving many empty bins). David has cleaned out from under the porches where we had been storing unwanted building materials, and we are sorting out the garage and the basement. Our dumpster is almost full.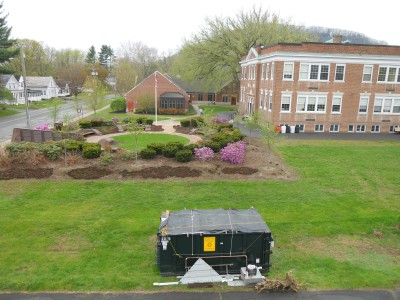 David and I are both determined to not leave our sons with a mess when we leave this earth. Now we just have to refrain from collecting things again, and then we'll have reached our goal.
We had a garage sale last weekend, but we made very little money. From now on, I am going to do what my friend, Candelin, said they did before they moved. When they cleaned out, they kept taking things out to the road and letting people have it for free. It disappeared really quickly, and they didn't have to deal with it any longer. From now on, that's what I'm going to do. Garage sales are not worth the time we put into them.
So my friend asked me the question of whether there are any Amish hoarders. She also asked me if I am a hoarder, just at the time I was so frenetically cleaning out my attic, closets, and organizing my photos from all over the house. Once I took a moment to take a breath, I answered her this way:
"I didn't know any Amish hoarders, but that doesn't mean there weren't any. They were pretty few and far between, if they did exist, I think. I really don't understand the psychology of hoarders, and so I actually went to one of those lectures at Smith College myself. It was very, very interesting. In my way of thinking, hoarders are very private people. You don't have the luxury of that kind of privacy in an Amish community, and so that could be why the psychology of a tightly-knit community and hoarding don't go together. But I would never have made this connection, had you not asked the question."
I've been pondering this question ever since it was posed. To understand the psychology of hoarders, I've examined my own psychology around its opposite – my drive to organize. I feel like it takes a great deal of clarity to determine what to keep, what to toss, what to give away. It takes even more clarity to find a home or place for everything I decide to keep. As I am sorting through the physical "baggage" of my life, I find myself also sorting through my emotional baggage. Especially of my most original relationship. I've always had a complicated relationship with my mother, and that persists, even though she died eight years ago. I am sorting through my memories of her, as I find reminders of the legacy she left me. Interesting that I remain undecided about the bins full of wool strips for braiding rugs that I inherited from her, while I've been so clear on so many other things.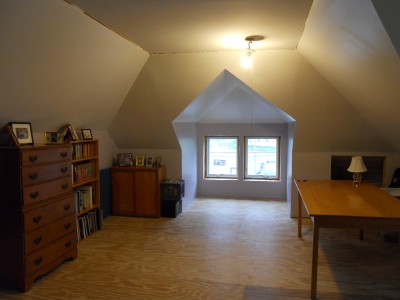 Our attic today
So could it be that hoarding has to do with ambiguity? And that organizing has to do with clarity? I think it does for me.
Do you consider yourself a collector of things? What do you think motivates your relationship with material things?