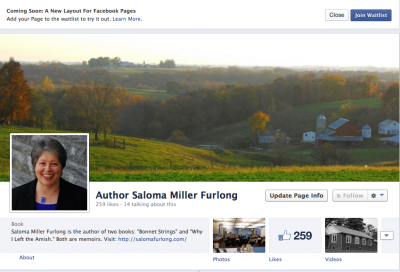 Are you a Facebook user? What is it you like about Facebook? Is there anything you don't like about it?
I reluctantly created a Facebook profile because so many people couldn't believe I was an author without one. Friends convinced me that once I got used to it, I would like it. Well, now I've given it my best shot for many months, not just a personal profile, but also an author page. And and I still don't like it. In fact, I hate it.
Call me old-fashioned, but I still prefer meeting in person, so I can read body language, hear the tone of voice, and feel empathy for my fellow humans who are struggling and triumphing in this journey we call life. I think the Amish have this one right. Fewer distractions with technology, and people will be more engaged with one another.
I still don't understand Facebook ettiquette after all these months. All the "cues" I mentioned above are missing, with the words on the page, emoticons and "liking" something, being the only elements to "read." I cannot find sufficient meaning in "liking" someone's posts or having them "like" mine. I feel like the creator, Mark Zuckerburg, of Facebook has made this social media into his own image, with all the controversy surrounding it. And if he can call the users of his own program derrogatory names, why should I stick around? I'm supposed to "like" that? Really?
I had a moment of clarity when I read this article by Jeff Bullas. I realized that the only reason I'm on Facebook (if I'm truly honest) is to get the word out about my books and hopefully boost sales. From this article, it seems like it's a rigged game, so it's hard to know if my Facebook activities affect book sales at all. And so I asked myself, "Why do it?" Several years ago, I was interviewed by Steve Dubner for Freakonomics Radio in a segment called "The Upside of Quitting." My advice to others was, "If you like what you're doing, then keep doing it. If not, then just quit."
Now it's time for me to take my own advice. I left the Amish culture because my personality didn't fit into it. I am leaving the Facebook culture for the same reason. It is another way of decluttering my life, and inviting more serenity into it.
I will continue to carry on with my blog and website. This is my social media of choice. If you like my blog posts, you can click on the "subscribe" button to receive emails when I post to the blog. (And you can unsubscribe anytime you want).
I will leave my Facebook profile and author page up until May 19, at which point both will go away.
Disclaimer: I am not saying that Facebook is wrong for you. I know many people who enjoy it. I am just saying it isn't right for me, at least at this time in my life.