This is an update on my original post published on August 8. This is to clear up some of my mistakes, and also to answer some questions I've gotten from readers. The updates are in bold.
One of the little known facts about me is that I love games. Mostly word games, but I like other games too. And you may also not know that I learned all about competition in my Amish community. It was a way to stand out from the crowd, something we didn't get a chance to do in other aspects of our lives. So I competed for the best grades in my class, and I competed in games of jumping rope on the playground. I got to the point that I could jump rope without tripping for two hundred jumps before I got too tired to go on. I also was able to scale a rope at waist level with my Amish dress on. Later, when I was a teenager, I learned to play volleyball and I often played frisbee out in the field with my friends. I enjoyed volleyball, but I was never that good at it. I could fling a pretty mean frisbee, though.
I also learned to play word games. Boggle, Probe, Dictionary (also called Balderdash or Fictionary), and Scrabble. Dictionary is that game in which you make up definitions for words you don't know. Even after I learned that I could not make up convincing definitions, I still loved the game because people come up with some pretty funny and creative definitions. Long after I left my community, I continued to the play the game. When David and I lived in Vermont, we would have "game nights" to dispel cabin fever and most of the time we'd end up playing Dictionary. I would often come in dead last, but I still enjoyed it. I learned some new words over the years, too. Plinth, zarf, feiereisen, bora, tor, teleman, dourine, and hame are the ones I remember at the moment. In some cases I even remember who chose the words from the dictionary.
I became a fairly competitive Boggle player. My Amish friends and I would often get together on Sunday nights and play one game after the other. I continued to play, even after I left the community.
Then about fifteen years ago, I found the game I'm the most passionate about — Scrabble (now officially called Scrabble Brand Crossword Game). I started playing online, and I became hooked. Before long, David claimed he would catch me babbling in the night, sounding out words. Then one night I awoke, and I heard myself babbling. I saw the Scrabble "grid" in my dream. I was trying to find the best play.
Here is a screenshot of one of my recent games on Internet Scrabble Club (ISC). I happened to win this game. I chose to play the kind of game in which you cannot play an invalid word. So that allows you to try different words in a particular spot, and it will tell you if it's invalid. That's how I found the word "umbo." My plays are the blue tiles and my title is Swan33.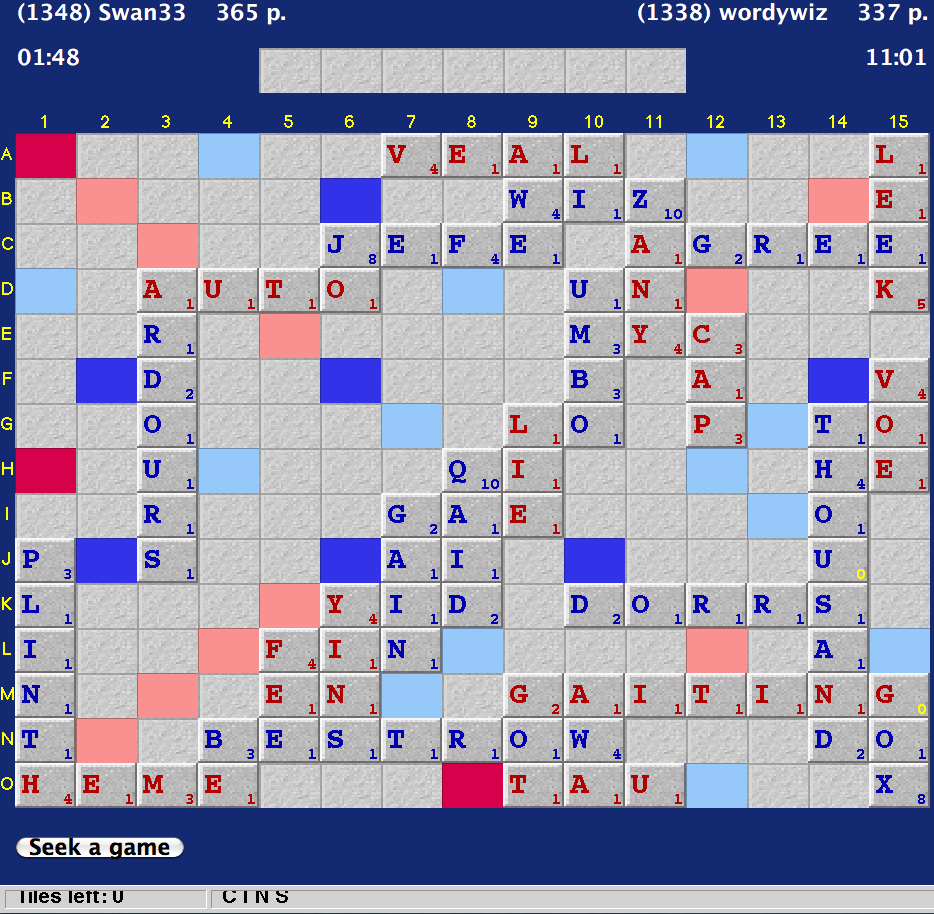 When I moved to the Pioneer Valley, I started going to Scrabble Club. That's when I learned how much I didn't know about Scrabble. Studying word lists. Looking for the "high probability" tiles. Balancing the rack. Thinking stratically whether to challenge a word I don't know. Opening or closing the board to my advantage. Pacing the game, so I don't go over my time on the clock and lose ten points for each minute or partial minute that I go over. I still struggle with certain aspects of the game. I am in the bottom half of the players who show up for Scrabble.
I've tried three tournaments, and I decided I don't like who I become. There is a great deal of pettiness that goes on at the lowest level at the tournaments. And I find myself right in there with the worst of them. So I decided to refrain from partaking in tournaments. At least not at this time in my life.
As I write this, several of my fellow players, both from the club in Northampton, Massachusetts, and the one on Brattleboro, Vermont, are traveling to Buffalo, New York for the 2014 National Scrabble Championship. I am wishing them all the best. I'm also happy I'm here and not there.
There is a huge change coming for Scrabble players nationwide. Merriam-Webster is putting out the fifth edition of "The Official Scrabble Players Dictionary." The championship games in Buffalo are using the fourth edition of the Scrabble Dictionary for their authority. From what I understand, tournaments nationwide are going to start using the new dictionary on December 1 of this year. Scratch that. It turns out that the Official Scrabble Players Dictionary is different from the authority used at the NASPA tournaments (NASPA is the administrator of competitive play in the United States and Canada). Here is what NASPA has to say to their members about the authority used at the tournaments:
When we play competitively at our official tournaments and clubs, though, we use the Official Tournament and Club Word List, which is also seeing the quieter release of a major new edition this week. Our new word reference is formally called the NASPA Official Tournament and Club Word List (2014 Edition), or for short, OTCWL2014, OWL2014 or TWL2014.
We are told that there are 5,000 new words in the fifth edition of the dictionary. I bought my paperback copy from my local Barnes and Noble bookstore the day before yesterday. It was hot off the press — they had just unpacked them that day. I'm having fun looking through it for the new two- and three-letter words. I'm familiar with the old list, so when a new word is added, it tends to pop out at me. I had already heard that the new two-letter words are da, gi, po, and te.
I'm not all the way through the dictionary yet, but I've found some surprises. It seems every utterance has made it into this new edition. This list seems a bit on the ludicrous side to me: eensy, doh, eew, eeew, foo, grr, grrr, hoo, jeesly, jeezly, jeeze, jeezely, grrrl. And these are just the utterances I've found so far. Then there are all the new "in" words that have found their way into our lexicon. You know the word "hottie" that young people use to describe an attractive person? That was already in the fourth edition. And now they've added "hotty." They've also added: dosh (money), eejit (an idiot), ixnay (no), emo (a style of rock music with emotional lyrics), bobo (a well-to-do person who holds bohemian values and leads a bourgeois life), jook (a tavern that has a jukebox), doob or doobie (a marijuana cigarette), griz (a grizzly), jobbie, juvie (a juvenile delinquent), jockdom (the world of athletes), jockish, jumpshot. In the debate between those who are appalled by these kinds of words becoming acceptable, and those who say language is ever-changing and alive, I think I'm somewhere in between. I think we have enough ways of making judgments about the intelligence of another person without adding eejit (and at the risk that we sound like one when we use it). I have no idea why ixnay made it in there. I know people use the word, but doesn't "no" suffice?
There were also a few surprises of words that weren't in there before, such as the word jumprope. It's only a noun so far… who knows whether it will be added as a verb sometime down the line. I'm honestly surprised it's not been in there all along. They've also added some other words I thought should have been included before. The word "bing" always seemed valid to me, or at list as valid as the word "ping." And I like that they added "banc" (a bench). I grew up using that word.
There is an online resource that helps me to compare what was in the last edition. It's called Zyzzava. (It's named after the last word in the dictionary. Um, excuse me, it WAS the last word in the dictionary… now it's "zzz.") A zyzzava is a tropical weevil.
Regardless of the "validity" of these words making their way into the English dictionaries, it will change the game of Scrabble a lot. When the word "qi" made it on the official list, it changed the game tremendously. Now there was a hook for the letter "q." No doubt the new two- and three-letter words will change the game again. I am up for the challenge.
Several of you asked what dictionary is used for deciding which are words are acceptable. I knew that there were several, and I did some research and found this from NASPA:
The four college level source dictionaries used to create the OSPD4 and the OWL2 were:

Merriam-Webster's Collegiate Dictionary, 11th edition
American Heritage College Dictionary, 4th edition
Webster's New World College Dictionary, 4th edition
Random-House Webster's College Dictionary, 2000 2nd revised and updated Random House edition

Also, for the original OSPD one other source dictionary (Funk & Wagnall's Standard College Dictionary, 1974) was one of five sources used, and some words from earlier editions of the OSPD have been grandfathered as explained in the Dictionary Committee page.
They are referring to the last edition. For this new word list, they also used the Oxford College Dictionary, second edition, and the Canadian Oxford Dictionary, second edition. Hence the 9,000 new words in the 2014 NASPA Official Word List.
Do you enjoy Scrabble? If not, is there a game or an activity you are passionate about? Will you share?
I enjoyed hearing from those who shared your interest in the game. I hope you continue to play. Have fun!