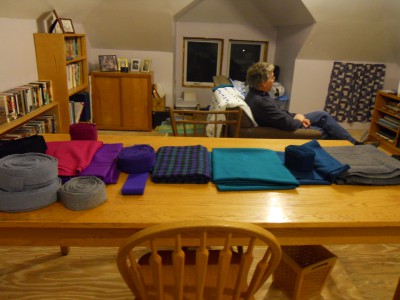 Where I grew up, purple was against the Amish Ordnung. I yearned for purple. When I got my first set of 64 crayons, the purple ones were the first ones to be worn down.
Most of all, I wanted to wear purple. But it was against the Amish Ordnung, and that was all there was to it. Or so I thought. Then one day I saw a photo of a woman from Lancaster County, Pennsylvania, who was wearing purple. I asked Mem why they could wear purple and we couldn't, and yet they were Amish. She gave me her stock non-answer, "That's just the way it is."
I never knew which reaction I would get from Mem… that of the submissive Amish woman, making statements like the one above, or that of her dropping her voice to a conspiratorial whisper saying, "I've often wondered that myself." Because Mem was of two minds when it came to the Amish rules. She chafed against the rules that women needed to be submissive to their husbands, and yet she was much more capable of making sound and intelligent decisions than her husband, and she knew it. And yet she allowed my brothers to lord their power over us sisters as we were growing up. She had me get up from the supper table to get my younger brother water when he demanded it. When my older brother walked towards me in his solid footsteps to "discipline" me I'd plead Mem for help and she would often stay silent.
So, to say that I received mixed messages from Mem is an understatment. Perhaps she could do without wearing purple dresses easily enough, but she didn't like playing the submissive role to Datt. She, too, was getting mixed messages. On the one hand, she was supposed to be submissive to Datt, but when we were small children, she was not getting any help from Datt to provide for the family. and she also wasn't getting any help in her domestic chores. I often wonder how she managed to feed and clothe the seven of us, while still playing the role of both parents. She was being asked to be submissive to someone who was not capable of playing the role of husband and father. And she was not getting any support from the community to help make ends meet.
In this environment, it may seem trivial to have a desire to wear a certain color. Perhaps purple was a symbol of something more important, such as being authentically who I was meant to be, without restriction. It is the color of my soul and I felt deprived of purple in my childhood.
Anyone who knows me, knows how much I like wearing purple. Sometimes I look at my color palette in my closet and think I should diversify a bit. But I feel at home in purple, bright blue, turquoise, teal, and black.
I was thinking about all this as I was braiding my latest rug. When I was done, I realized I had braided at least one strand of purple thoughout the whole rug, until the very last row of black. I am very pleased with the result. I now have it in front of my bed, where I see (and feel) it when I get up in the morning. I feel like I have given myself a Christmas gift. One that represents me being truly who I am, without external restrictions.
David really likes this rug. My son, Tim, says it's too purple for his tastes. He likes the one I made a while back in earthtones. Now I know what color to make a rug for him someday. I learned from my mistakes on this rug, and so you'll notice it's a little misshapen.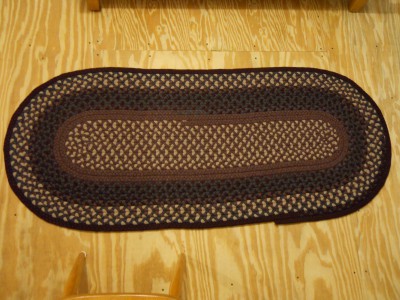 My attic studio, where I braid rugs: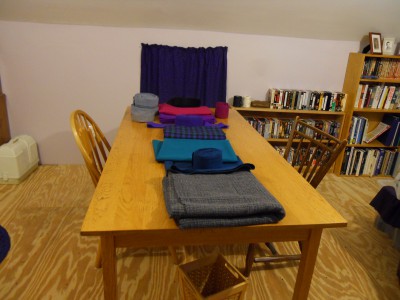 Do you have a color you feel reflects your soul? Why or why not?