Some years ago, my husband bought several fabric gift bags to wrap my gifts. That gave me an idea, and I began making them myself, in all sizes. For years we haven't used any paper. It is so nice… when you are done unwrapping gifts, you don't have any waste… only fabric bags and satin ribbons that you can fold and put in the drawer for next year.
Once every few years I need to replenish these bags because we tend to give them away with the gifts we give. This year I've made 56 bags, of all different colors and sizes. Here is a glimpse of what I now have (that little blue and white one on the right is one of the originals David gave me):
Yesterday when I was sending out book orders, I decided to include a free gift bag with each order. And then I realized that I can offer that to everyone. There is still time for people to receive books before Christmas. So, here is what I'm offering:
With each order, you will receive a free bag and satin ribbon. As always, I will inscribe the books to whomever you like. Also, you pay shipping only on the first book… it is free on any additional books you buy. Here is an example of what the bags will look like (the one tied with a white ribbon or the one to the left of that one):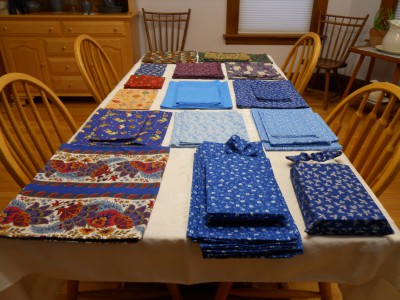 I can send both Why I Left the Amish and Bonnet Strings out the same day I receive the orders for them. That means that ordering online is your best bet to receive the books before Christmas.
This offer is good until December 31.
Also, don't forget that each of my publishers are offering my books on sale at their online stores. Herald Press is offering free shipping until December 20. For all ordering options, you can go to my purchase page.
I hope your holidays are filled with peace, joy, warmth, love, and good cheer!