My parents always said that winter will not set in until the creeks and rivers are full. Last Saturday it seemed that Mother Nature was attempting to fill up the Connecticut River all in one day. We had downpours nearly all day long. What she didn't achieve on Saturday she is doing today. We've had another day of constant rain, with torrential downpours part of the time. And winter is about to set in, at least if we get what is predicted.
For the first time in my life, I don't mind this gray, rainy weather (what the Amish call 'dreab'). I realized the other day, as I was sitting on the top story of our home, braiding rugs with the smell of ham and bean soup cooking in the crock pot two floors below, that I feel more introverted in my life now than I ever have before. While my hands move as I practice one of the homespun arts I learned from Mem, I have been pondering my life — first my childhood, then my young adult years out of the community, starting a life with David, and then our parenting years (from expectant parents all the way through the time when our sons went out on their own), and eventually our life as it is now, living together in a home we enjoy. In the autumn of our lives, we no longer feel like we have a whole lifetime ahead of us, so we cherish these days, weeks, months, and years we have together.
This summer I felt compelled to write about my relationship with Mem. That took the form of writing a letter to her. At around page 140, I stopped. I don't know why. And now I seem to be taking a hiatus from my writing, as my creativity is expressed in the form of braiding rugs. I've made four of them in the past three months. And I have two more that I want to make in the next while.
One of the things I had to overcome in order for me to practice this art, is my resistence to sewing on the machine. I need to be able to sew the strands of wool together because sewing them by hand is not nearly as effective or efficient. Before when I would sit down at a sewing machine, my back would begin to ache, and I would feel anxious. Inevitably the machine would not cooperate. And then I would get frustrated, which would add to my sewing anxiety.
Back when I was fifteen, there was a sewing incident that I've always thought was the source of my anxiety. I wrote about this incident in my letter to Mem this summer.
I was aware that many of the young girls would wear their dresses without their aprons. I knew you had no intentions of allowing me to do that. For me to think that I could get away with what I wanted to do was unrealistic. But that didn't keep me from trying.

One day I was cutting a dress from nice turquoise material. I asked you how to make side-closing dresses. You told me it didn't matter, since I wouldn't be making it that way. You insisted I needed to wait until I was seventeen.

Secretly, I figured out how to make a side-closing dress myself. I was proud and pleased with the way it looked on me, as I pinned it in front of the mirror. I turned this way and that, amazed how much it looked like I was wearing an apron when I wasn't. I thought about occasionally wearing my dress without an apron, the way other girls often did.

You insisted on pinning up the hem of my dress, so that you could decide the length of it. That was another point of contention between us. I wanted it shorter; you wanted it longer.

I stood on your sewing chair, so you wouldn't have to bend over. I made sure I had the apron on, so you wouldn't see the way I had made the dress. You had several straight pins between your lips, as you made your way from the back to the front. I held one side of the apron up so you could pin my dress. All of a sudden you looked up and jerked up my apron. By the look on your face I knew I was in trouble, but I had no time to react. You punched me in the stomach and sent me flying off the chair and onto the floor. I got a glimpse of you as you still held the pins in your mouth. You took them out and said, "You know better! Now go take off that dress and give it to me!"

It is funny how our minds work, especially around trauma. I still remember getting punched in the stomach, but I don't remember what it felt like to hit the floor. If I remember right, I think I fell on my shoulder.

I went upstairs and lay on my bed and listened to you pumping the treadle sewing machine. You made even the sewing machine sound angry. When you were done, you had not only moved the seam to the front, but you had taken about four inches of extra material and sewed it in as well. Now there were two seams in the front, one right in the middle, and the other one off to one side. You put no pleats there, so when I wore it without an apron it was downright ugly. It felt like you had made the dress as ugly as you could, just to show me you were boss.

I hated sewing on the machine after getting punched off the sewing chair. I used the sewing machine only when I had to make my own dresses, so that you would not make them for me.

From my perspective this happened because I wanted to feel good about the clothes I wore. Perhaps from your perspective it had to do with forcing me to give up my own will. If so, you succeeded. Your will overpowered mine, which added to the feeling that I couldn't change anything about my life, even though it often felt so senseless and bleak. I didn't even know what to hope for or how I would have changed my life, if I had the power to do so.
Seasons come and seasons go. This summer I needed to write about these expereinces. This fall I must have needed to work out some of these things, and braiding rugs seems to have become that medium. When I took up rug braiding in September, and I couldn't get the machine to cooperate, for the first time ever I actually read the instruction booklet that came with the machine when I bought it back in the 1980s. It was a Singer that was 75 years old back then. And guess what? It worked! Instead of fighting the machine, I started working with it.
This moving meditation has allowed me to do hours of reflecting on Mem's life as well as my own. I realized the other day that I am the age that my mother was when I left home for the first time. At that time, she still had all four of my sisters and my younger brother living at home. Here I am, braiding rugs as she did. Sometimes when I am in the midst of interlacing the braids together, I notice that my hands move just about like Mem's used to. Even the click of the interlacing needle against the table takes me back.
And yet my life is so different than Mem's was. I can practice my craft in the solitude of the finished attic of my house. Mem craved solitude, and by virtue of having had a big family, she could rarely find it. Datt had his when he worked out in the woods, cutting and splitting wood for the house and for "sugar wood" for making maple syrup in the spring. He spent many hours out in his beloved woods.
Solitude and privacy is a luxury that big families cannot afford. I don't think I ever learned how to be alone. For most of my life I was an extreme extrovert, so it didn't seem to matter. Now I wonder if I just never knew what I was missing.
I don't know how much longer I need to work through whatever it is I'm processing. I also don't know how much longer it will take for me to go back to my writing. My guess is that I will have a different perspective when I do. It feels as if I am braiding a strand of forgiveness into my remembrances of Mem. And the product is one of simplicity and beauty.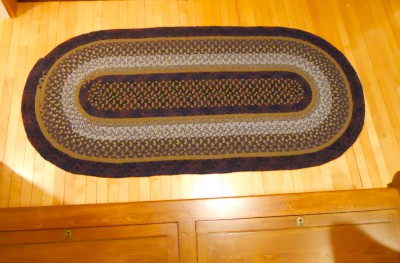 My October Creation