At this time if the year when the nights are so long and so dark, I sure do enjoy sitting quietly in our living room, with Christmas lights all around me, I am so thankful for the celebration of light in the Christmas season. It seems in all the holiday traditions, lights are involved. In the darkest time of the year, the spirit often has little to give, and so we turn towards the light to restore our souls. And that is what David and I like to do when we sit in our living room, often with a cup of tea in hand.
Back when I was still Amish, I found this time of the year so dark and bleak. We were not allowed to decorate for Christmas, which meant no tree. Just like so many things, because I was deprived as a child, I am appreciating my deocrations more because of that. I suppose you could say I now have former Amish Christmas celebrations.
Below are a few photos of our living room this season. David made this ark for the boys when they were growing up. We've had it on our bookshelf for a while. When David was stringing up the lights, he had the idea to light up the ark… here is the result.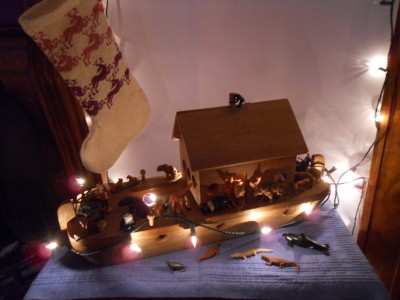 David made this creche some years ago. I just love the rustic beauty of it. I always add knomes to the scene. Somehow it adds to the wonder and mystery of Christ's birth story.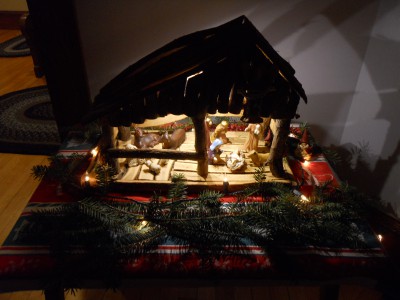 Here is the desert scene that David created a few years ago that we've been re-creating ever since.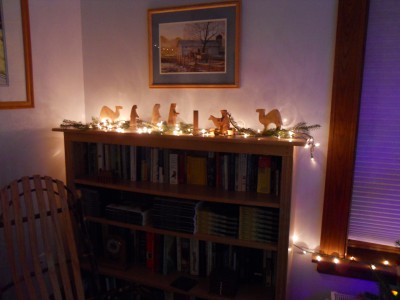 And here is the village scene on our mantel. I'm realizing how all these scenes represent David's talents and creativity.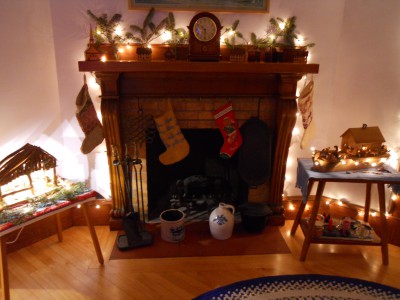 At least I decorated the tree and sewed the gift bags for the presents.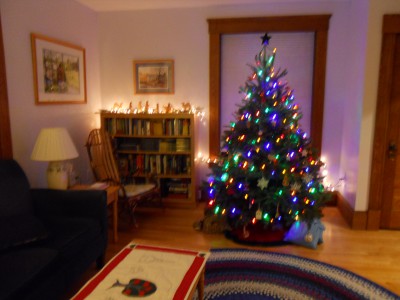 I still have some Christmas shopping to do, but most of the gifts are either on their way or packaged and under the tree. I've decided not to send out Christmas cards or letters this year. Some years I have the energy for that, and others I don't. My hope is that my friends will stay in touch via blog and email.
I've also been spending time in my attic, braiding rugs. I finished another rug today. I wanted a companion rug to the one I already had in the front hallway. I actually made two… one small one for the bottom of the stairs, and one for in front of the door. Here is what they look like.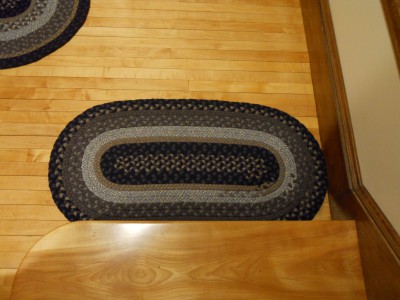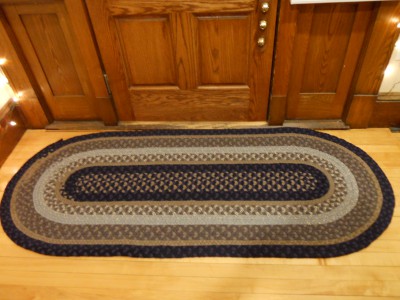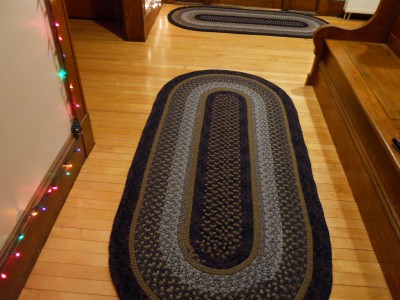 I plan to braid two more rugs in the near future, and then I'll likely be taking a break from making them. One of these days I hope to get back to writing. For now I find it a good distraction from the winter that forces me to go inward.
How about you? Do you find this time of the year stressful or restorative? How do you cope with the darkness and cold of winter?