Yesterday David and I drove up to Essesx Junction, Vermont for Leo Lalancette's 90th. birthday party. Those who have read Bonnet Strings, know about the family who "adopted" me when I had first left home and thought I wouldn't have anyone to spend Thanksgiving and Christmas with. It turns out I did. The Lalancettes welcomed me into their midst and made me feel at home.
Barbara, who married Rick, the second son in the family, was my introduction into the family. She has become a lifelong friend. Here is a photo of her at the party yesterday: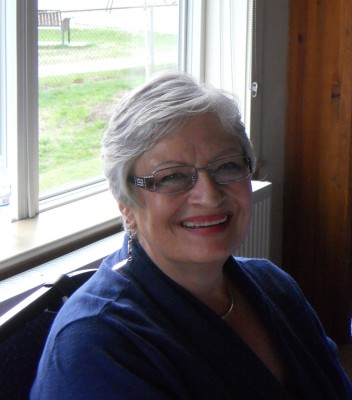 Barbara Lalancette, heroine in Bonnet Strings
The patriarch of the Lalancette clan, Leo, (affectionately known as "Chief") was well-celebrated yesterday. All four of his sons and his three daughters shared memories of their father. Some humorous, some more serious, but clebrating a life well-lived.
Those who helped plan this party thought for a while they would have to cancel. Leo had fallen several weeks ago and fractured his skull. Even last week they thought they might have to cancel, but he made a comeback. He reveled in the festivities yesterday. When David and I went to greet him, he was ecstatic that we were there. He said with a look of delight on his face, "Where did they find all these nice people?"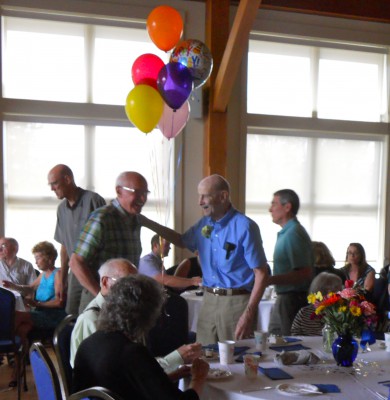 Leo Lalancette is to the right of the balloons in the blue shirt
It was really great to catch up with what each of the members of the Lalancette clan has been doing in the years since we've last seen one another. I hadn't seen Denise since 1978, when I returned to my Amish community after my first four months in Vermont. We used to get together to do all kinds of things. We quilted, we skated, we square danced, we cross-country skiied, and we walked all over Burlington together. When I saw her yesterday, I realized how much I've missed her. She lives in New Mexico with her family, so it's not so easy to get together as it used to be when we were young and both living in the Burlington area.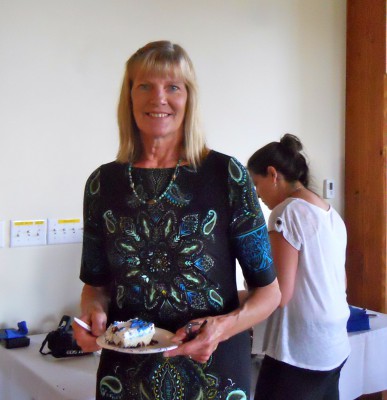 Denise, looking as young as when we first met…
The party was well attended, with around 100 people showing up. I felt honored to be a part of this gathering.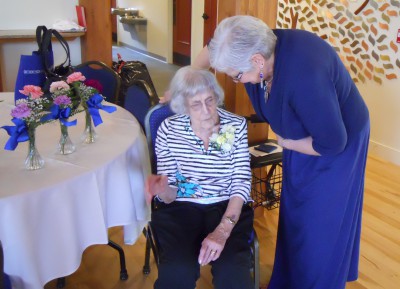 Sal Lalancette, the matriarch of the Lalancette clan with Barbara
When we lived in Vermont when Paul and Tim were growing up, David and I used to love to take a drive around the Vermont countryside this time of the year. Yesterday as we drove up to Vermont, we were reminded of just what a special place Vermont is. Each scene: mountain vistas; little villages in the valleys; open fields turning green with vistas in the background; and clouds skudding across the vast blue skies was food for our souls.
On the way home we saw bright, crooked cracks across the sky in a spectacular lightening storm. This was followed by a beautiful rainbow, and then sunshine.
It was a restorative day for David and me to reconnect with Vermont friends and see the Vermont countryside in all its spring glory.