David had his surgery a week ago on Wednesday. The surgeon said that David really "blew his knee apart." Not only did the surgeon have to reattach the patellar tendon, he also had to repair the tendons on both sides of David's leg. The physician's estimate is that it will take David at least six months to heal, given it was such a major repair.
The first three days after surgery were really rough. When the surgeon told me that this same operation used to require a three-day hospital stay, it put into perspective what we were dealing with. I felt like we got dumped on our duffs and told to deal with it. A friend dubbed this kind of outpatient treatment a "drive-by surgery." That is just about what it felt like.
We made it through those first few days, though, thank goodness. David is getting stronger every day, though he cannot stand to be upright very long before his leg gets achy. He was on the heavy pain medication for less than three days, which is pretty remarkable. Now he takes Tylenol and ibuprofen alternately every three hours.
David goes back to see the surgeon on Tuesday to have the staples removed. That is just about enough to make me faint — the idea that David has 40 staples in his knee. I've had to brace up and talk myself out of fainting several times. After a whole lifetime of being squeamish, this is not easy.
David has been in good spirits. Only a few times has he gotten frustrated for not being able to do more, like last night when I was trimming the bushes by the front porch. Last Saturday he was really wanting the lawn to be cut, so I did it. When I looked up, he was grinning from ear-to-ear and he gave me a thumbs up. As I moved around to the various parts of the lawn, I'd look up and there was David, watching every move I made from inside the window wherever I was. When I was done and came inside, I said, "I feel like you mowed the lawn."
David said, "So do I. You did it just about like I do it." I couldn't believe how happy this made him.
David is being philosophical about the accident and realizing that whatever changes need to happen are meant to happen. For one thing, we are feeling like we need our heads examined for having a bathroom only on the second floor, and for having three sets of stairs in our house at our age. Seven years ago, we were still young enough that we were not thinking of this.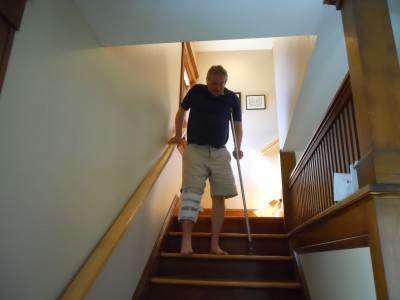 Our roles are being turned upside down and we're having to figure out how to put them back. David used to have his domain and I had mine in our contributions of keeping up with our house and home. Cooking was my domain. As he gets better, I am asking him to help me think about and plan meals, since that is one thing he can do from his computer. This takes effort for him, because he would think so little about food preparation before. And I was taking for granted that he would do so much of the outdoor lawn and garden work.
David had been working long hours for his job before his accident. He had no time to read or recreate. So he is now getting caught up doing much more of that during his long days of having a horizontal perspective. He has also gotten out the German CDs and flashcards that he hasn't touched in several years.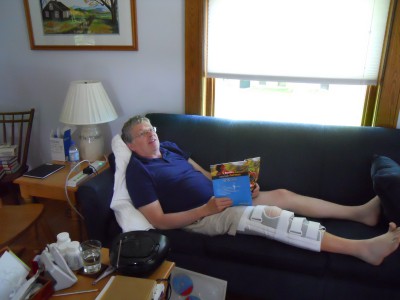 David has not yet taken up a new hobby, but my guess is something will emerge as time wears on.
So David and I are becoming accustomed to our "new normal" day by day. I give thanks every day that I still have David to share my life with. Given that I still have this daily gift I can become used to a lot — even doing double duty on household chores and having to face things that used to make me faint.
I know one thing — when David gets well and contributes his share of the work, it will take a long while for me to take this for granted again. I'd like to say I never will, but I also know how easy it is to fall back into that.
I find being grateful is the opposite of taking something or someone for granted. What I am learning from this new normal is to remember to count my many blessings and to be grateful for each new day with David.