When the Koch family was here, I asked Miriam about several traditions that I have often associated with being unique to the Amish, at least as compared to the mainstream culture in this country. I am discovering that some of these are traditions carried over from the old country. Here are some of the discoveries I made.
Dampfnudel: When I was growing up, Mem used to make white bread at least once a week and she would sometimes use part of the bread dough to make what she called "Dampfnip" for our midday meal. When I was in Germany for a semester abroad, I discovered in the student cafeteria that they had Dampfnudel, which were much like what Mem used to make. We used to eat them with brown sugar and milk, but in Germany they were offering a delicious poppy-seed sauce to go over them. Miriam is very familiar with Dampfnudel.
Morning Work: When I was growing up, we had a morning ritual, what we called Maia Aivvet, and it consisted of doing breakfast dishes, shaking out the carpets in the living room and kitchen and sweeping the floor in the two rooms. Then we also made all the beds. Miriam said this is still a morning ritual in Swiss households.
Saturday Cleaning: Every Saturday we did a weekly cleaning of the whole house and we baked bread and pies for the weekend. Miriam said that cleaning on Saturdays used to be common in Switzerland, but now many people do their cleaning and shopping on Fridays so that they have a day off on Saturdays.
Popcorn on Sunday Nights: One of the lesser-known Amish customs is the practice of eating popcorn on Sunday nights instead of dinner or supper. This is often accompanied by pie or cake that was baked the day before, and in our house we often had homemade grape juice as well. Miriam says that in Switzerland it is common for people to eat popcorn on Sunday nights.
Spring Cleaning: I know it was more common even a generation ago for people in this country to engage in the ritual of going through the house and deep clean. I was getting out of the habit of it, but this spring was different for me. Perhaps it was after that long, hard winter we endured, and partly because I knew I was getting company staying for eight days and they would see into every corner of my house, but I had a need to clean out all the cobwebs, clean the windows, the floors, move furniture, and the like. Okay, so I didn't clean out every drawer and cupboard in the kitchen, and I didn't take everything out of the closets when I changed from winter clothes to summer, but I did a deeper cleaning than I do on a routine basis.
I asked Miriam if the Swiss still do spring cleaning every year. She said they do. After a particular festival day in February, people start cleaning out their basements. And then each room is spring cleaned, and the windows are done last, once the pollen season is over. This made me feel like I hadn't done spring cleaning at all. I hadn't done anything with the basement, for example. I tell myself that this is David's domain, given he has his woodworking shop down there. But I also know that wouldn't have stopped an Amish woman from cleaning her basement. And it probably wouldn't have stopped a Swiss woman, either.
A Lullaby: I have a friend who grew up Amish who once made the connection with a Swiss man when he started singing a lullaby that she grew up hearing, called "Schloff, Boppli, Schloff" (Sleep, Baby, Sleep). Miriam knows that lullaby.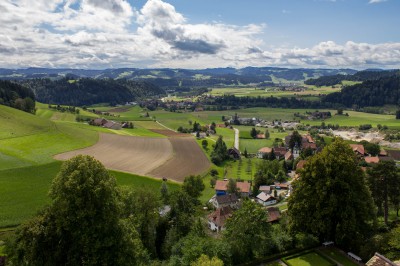 The Swiss Countryside: Photo by Marco Koch
I find this amazing. The Amish began leaving the old country back in the 1740s. For most of us, there are at least seven generations between the generation who immigrated and our own. And yet there are so many things that got passed down through these generations. I'm sure some of these are done subconsciously, or without really thinking about why we do things the way we do. It's like that story of the woman who used to cut the ends off her roasts. Her husband asked her why she did that. She said, "Because my mother did it that way." So the husband asked his mother-in-law, why she did it that way, and he received the same answer. So he went to his wife's grandmother and asked her. She said, "So it would fit into my roasting pan."
Following traditions for their own sake has its benefits and drawbacks. I believe following traditions is central in the Amish culture — it shapes who they are. But the traditions I named here are not nearly as important as their religious traditions. When they sing those age-old German songs in their church, wedding, and funeral services that were written by our ancestors when they were imprisoned for their faith, the Amish are remembering who they are. right down into the very fiber of their beings. Perhaps this isn't on a conscious level for everyone, but it is one of the traditions that give their communities cohesion. Everyone, regardless of their apptitude for singing, can join in and become part of this "remembering."
There are days when I miss the sense of community that the Amish have. Today is one of those days. I look out my window at this glorious day in early summer, and my heart sings for all that my life is. Mixed in with this sweetness is a tinge of longing for what I left behind when I stepped out of my original community nearly 35 years ago.
Have you ever looked back and realized there was a price to pay for walking "the road less traveled by?"