Her name is Hadassah. Look at that sweet face… wouldn't you have adopted her?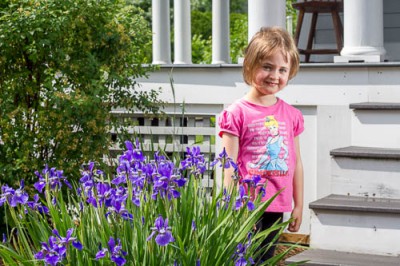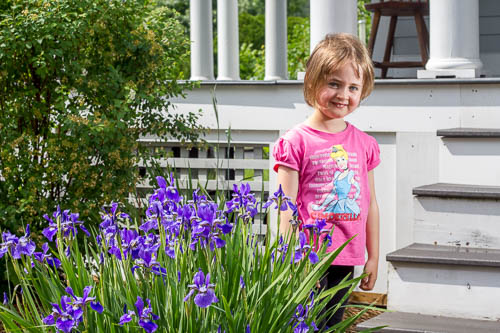 Photo by Marco Koch
The Koch family, who I wrote about in an earlier blog post, were visiting from Switzerland for nine days. The second day into the visit, I asked Hadassah, who is five, if I may adopt her as my granddaughter. She enthusiastically nodded her head. Then she told me that she now has three grandmothers. She named her first two, and then she said, "and now you!" as she pointed to my chest. I asked her if that was too many, and she said, "No!" quite emphatically. So that is how I have come to have my first grandchild.
Hadassah did many things for the first time during her visit. She and her family climbed Mt. Sugarloaf with David while I was at a Smith College event.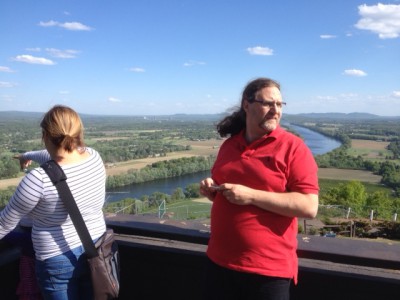 Photo by David Furlong
We visited the dinosaur tracks in Holyoke, Massachusetts. (You can see one of them next to the boy's knee.) Hadassah is observing, something she did well.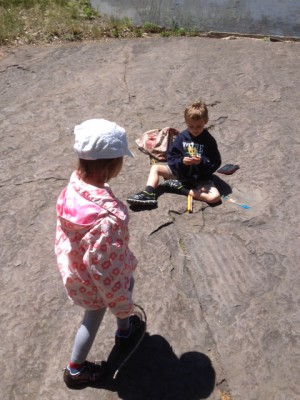 Photo by David Furlong
We visited the seashore at Plum Island. I don't have a photo for that yet, so I will describe it instead. At first Hadassah was deathly afraid of the water and the waves. She later was able to tell her mother why. She thought that the waves would wash people out into them and they would drown. She observed young people going into the water (and believe me, that water was COLD!) and she saw that they didn't get carried out. Then David got her involved in building a sand castle down near the waves. She kept a close eye on them, but as they got closer, she realized that the waves were not going to grab her, and she went out to meet them. A while later, we adults were all sitting a little way from where she was playing, and the waves were starting to lap at her castle. She yelled at them, "Hey, hey! Achtung! Pass uff!" In Swiss German she was telling the waves to "Watch out!"
We walked along the shore and collected seashells for Hadassah's friends. She already knew which ones she was going to give to each friend.
We had a picnic on the beach. Hadassah didn't really eat that much until we were on the way home. We thought that she would fall asleep immediately, but she was like a little munching machine as she ate potato chips, apple, rice crackers, and whatever else was in sight. She had worked up an appetite at the beach.
I was able to practice my German with Hadassah and her parents. She is trilingual — Swiss German, high German, and English. Her parents are fluent in a fourth language, which is Hebrew. They were volunteers in Israel for several years before Hadassah was born.
While Hadassah and her family were visiting, we had an infusion of young life in our home. It reminded David and me of what it was like when Paul and Tim were little. I did many of the things that I used to do with my own boys, like letting Hadassah help me cook, reading books with her, and running around the circle in our house, chasing one another. I also learned I am not as nimble as I used to be… she could catch me pretty easily! Tim was here for dinner one night, and I asked him, "Do you remember when I used to play this with you?"
He answered, "Unfortunately I do. I've had to talk with counselors about it for years." That made Marco and Miriam laugh.
I learned so much from Hadassah. What it's like to overcome fears. How refreshing it is to be so wonderfully open to life's adventures. How nimble a young mind and body can be. How joyful and grateful for each new meal before her. She would choose a song to sing as grace before each meal and she sang so beautifully. And I also learned how well Hadassah follows her instincts, which her parents foster carefully. What a wonderful reminder how well our instincts and as we grow older, our conscience, work for us when we follow them.
I also learned how to be contented with my stage of life. It felt good to acknowledge that I am old enough to be Hadassah's grandmother. I do not wish my whole life were before me. Instead there is some relief in knowing that I am entering my elder years, and I don't have as many miles to go before I sleep. And I am also grateful that I still have the capacity to love as deeply as I always have. My arms are open — to wrap around Hadassah when next I see her. I miss those Hadassah hugs already. But somehow I know I will get more of them. Her affectionate and lively spirit will be in my heart always.
In the meantime, we will continue to Skype with Hadassah, Marco, and Miriam. And remember what a wonderful time we had together. Till next time! Auf Wiedersehen!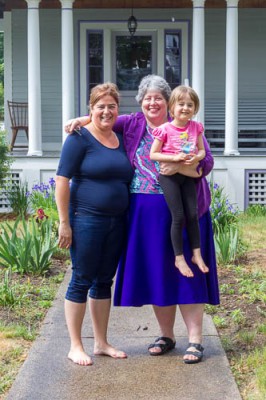 Photo by Marco Koch