By the time I awoke this morning, we had already had our Good Friday rain. You may be wondering what I mean by this, so let me explain.
When I was growing up, my mother claimed that it rains on every Good Friday, even if it is just a few raindrops. She said this rain is God's teardrops falling from the heavens, in remembrance of Jesus' crucifixion.
You can imagine my disbelief when I was a teenager. I argued there is no way to know if it rains all over the world on that particular day. Mem just calmly told me to notice whether it rains on Good Friday in the years to come.
I have not kept track of every year since then, but I have never seen a Good Friday go by without some rain in the years in which I was paying attention. The fact that I still remember this means something.
Believing in what Mem told me is like believing in the story of the fairy stones. (David had given me one of those years ago when we parted as I returned to my Amish community.)  According to legend, fairies were dancing in a circle when a stranger brought them the sad news of Jesus' crucifixion in a faraway land. The fairies, so saddened by this story, began to weep. Their tears fell on the earth and crystallized in the form of crosses. Here you can read a more detailed version of the fairy legend.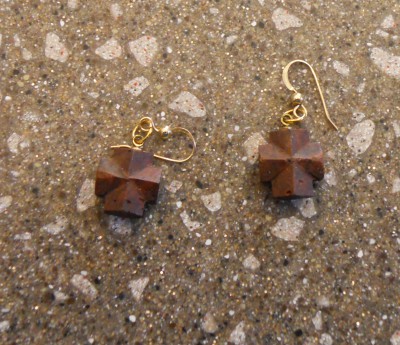 Fairy Stones
When I heard this legend, it was born into my imagination, as was the story Mem told me all those years ago about rain on Good Friday. Both have empathy as their central theme. This is fitting in light of the stories we know of how Jesus showed empathy for others' suffering on so many occasions. It is in these stories of Jesus' empathy that I most recognize his holiness.
Last night I did something I've never done before. I attended a Maundy Thursday service at our church. The Amish did not really celebrate Maundy Thursday, though they did celebrate Good Friday as a holy day. Church members did not work on that day, but spent the morning fasting, praying, and reading scripture in their own homes. It was considered a solemn day. The service I attended last night reminded me of the solemnity.
Here in our part of the world, darkness gathers at this time of the year between 7:00 and 7:30, especially when it is cloudy as it was last night. People gathered in the church sanctuary at 7:oo. Nine candles were lit at the front of the church. Nine people, all dressed in black, sat in the front row. First we prayed and sang hymns. Then one person at a time, from the front row, read a part of the passion story. As they finished, they snuffed out one candle and then sat in a pew further back in the sanctuary.
After all the candles had been snuffed, we solemnly sang that evocative hymn "Were you there when they crucified my Lord?" with only a dim overhead light. We sang it sitting, without accompaniment. Four verses, "Were you there when they crucified my Lord", "Were you there when they nailed Him to the tree?", "Were you there when they pierced him in the side?", and "Were you there when they laid him in the tomb?"
As the last notes of the song faded, the sanctuary darkened. We recited the Lord's prayer, and then all left the church in silence and in darkness.
The service had lasted only half an hour, but I found it to be so powerful and so moving. Usually when I've heard the passion story, it was followed immediately by the resurrection story. Leaving the story in the sad, dark part was so poignant to me because it felt like we were allowing a time and space to fully enter into the story of Jesus' suffering.
Last night something from the passion story really struck a chord for me. When Jesus was alone in the garden, he prayed to God that he may be delivered from his hour of suffering. This is so human, to want to avoid suffering and sorrow. Jesus then concluded his prayer that God's will be done. Even in his darkest hour, Jesus had the humility to accept as God's will the suffering he knew awaited him.
I know that on Easter Sunday we will hear the story of Jesus' resurrection. It will be more uplifting than the story we heard last night. Likely it will be even more so because of the sorrow we honored in the darkened sanctuary last night. But it is important for me to remember that without the crucifixion, the resurrection would not have happened. Jesus' story reminds me that without suffering and sorrow, one cannot fully experience joy and enlightenment. I often think about spring as being the time of new beginnings, but rarely do I take time to honor the sad endings that often precede these beginnings. That is what it felt like we were doing last night.
Perhaps Mem was right that the rain falling from the heavens on Good Friday is God shedding tears for Jesus' suffering (and perhaps human suffering in general). I certainly found myself thinking about the rain this morning in that way. And last night I found myself wearing my fairy stone earrings. It seems both these stories have not only entered into my imagination but that they will remain there for the rest of my days.