The Fulbright decision came through on Tuesday, and it was not the one I was hoping to read:
"Dear Ms. Furlong,
"The J. William Fulbright Foreign Scholarship Board has asked the Institute of International Education to inform you that you have not been selected for an award for the 2016-17 Fulbright U.S. Student Program."
When I read the first line, I just let out this audible "Ohhh noooooooo!" For the rest of Tuesday, I was in shock. I had been so confident that David and I would be going to Germany this September.
Wednesday morning when I awoke is when it sank in. I felt keenly the loss of the dream that I'd been waking up to for the last year. To think that it would not be realized was almost unbelievable.
After getting showered and dressed I sat down at my computer, and I found a message from David with the subject line, "Love your spirit!" The message read:
Good Day
I'm thinking of you and the unhappy news of Fulbright. This is but another test of character and spirit which you will make into a positive. So my love and admiration is with you today in turning this over to understand where you must go from here. I love you!
David
These few understanding and simple words dissolved me into tears. I was overwhelmed with gratitude that I have David in my life. I knew it is because of his enduring spirit that I have a chance of turning this into a positive.
I am not sorry that I applied for the Fulbright. I learned so much in the process. I made amazing connections during my networking. And my advisers at Smith College, Donald Andrew and Ryan Lewis, could not have been more supportive. When I discovered the Fulbright answer in my inbox, I also found an email from Donald Andrew that said, "We tried our best. The only reasons I can think of is that you are over-qualified as a student applicant, and have not really been a student for too long, as we discussed was the danger for non-selection. I just wish there was a way to get you there." I asked him whether he thought I should apply again next year. His answer was, "I think your efforts are best directed elsewhere, not Fulbright. Obvious to me it cannot be about the quality of your proposal, which could not be bettered. So it is other factors which will remain against you for the Student Fulbright."
I respect his advice. Over the past decade, Smith has won more Fulbright awards than any other liberal arts college in the country.
So all the stars seemed to have been aligned, which is why I had my heart set on studying in Germany. I knew I had one big hurdle, and it turns out I couldn't traverse that one. In German culture, there is a tendency to award these kinds of opportunities to the younger generation. I actually understand that. All those young people who are going to be studying in Germany this year have their whole lives and careers ahead of them. I had hoped that my life experience would compensate for the fact that I am older than they are. Apparently not.
So now David and I are adjusting to this development. Because of the job promotion he was offered last week, we may be driving straight ahead at that life crossroads I mentioned last week, instead of selling our home and moving.
I have some clues about what my next step may be, if we do end up staying here in the Pioneer Valley. Lately I've had the urge to write another book. I had started one two summers ago, and then set it aside. I'm feeling like it's time to open that file on my computer and read what I've written as a way to get back to it.
I have a dear friend, Marie, who has recently asked me if I am writing another book. I said I wasn't at the moment, but I am feeling the urge to get back to it. She said, "Saloma, you must. God gave you the gift of writing, and you may not squander that gift." She said the last part quite sternly. She is a generation wiser than I am, so I think I need to pay attention to what she is saying.
My first reaction to Marie's advice was to deny that I have a God-given talent. That is the Amish in me. It would have been considered "hochmütig" (arrogant or proud) to think of possessing a God-given talent. And being considered proud was one of the worst things you can think of in that culture. After thinking about Marie's advice, I realized that to accept my gifts is actually more humble than to deny them because I am following God's will. To deny them is to act as if I know better, which is arrogant.
This afternoon I will sort those last two bins in my attic and then go for a walk. I will give thanks for this beautiful spring day. I don't know what life has in store for David and me, and I don't need to know that just yet. For now I will rejoice in this day and be glad in it.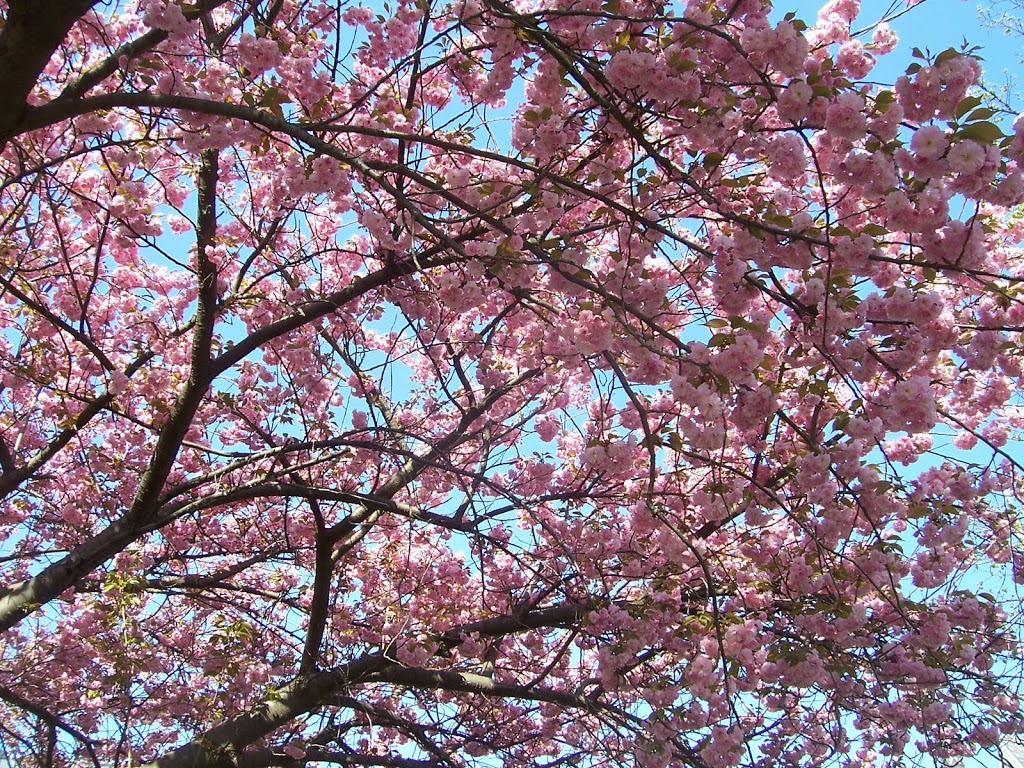 Photo by Saloma Furlong, Northampton, Massachusetts, near Smith College