Being in The Emmental Valley, sitting inside an open window breathing in the fresh mountain air and hearing the birds singing in the pines while Miriam, Hadassah, and Baby Michael David are sleeping is like waking up from a beautiful dream to find out it's real. I feel truly blessed to be here at  the "Little House on the Farm."
I hear doves cooing in the barn loft, and a chain saw off in the distance. I see several jet streams across the blue sky, and I see the snowman melting that Hadassah and I built in the pasture below the barn. It feels like an early spring day.
Experiencing Hadassah's world is like being inside the world of Heidi. She and I plan to be in the barn when they milk the cows tonight. She has already shown me around the farm several times. I've been introduced to the cows, the chickens and rooster, two little goats, guinea hens, cats, and dogs. It's as if Marco and Miriam have stepped back in time to raise their two beautiful children.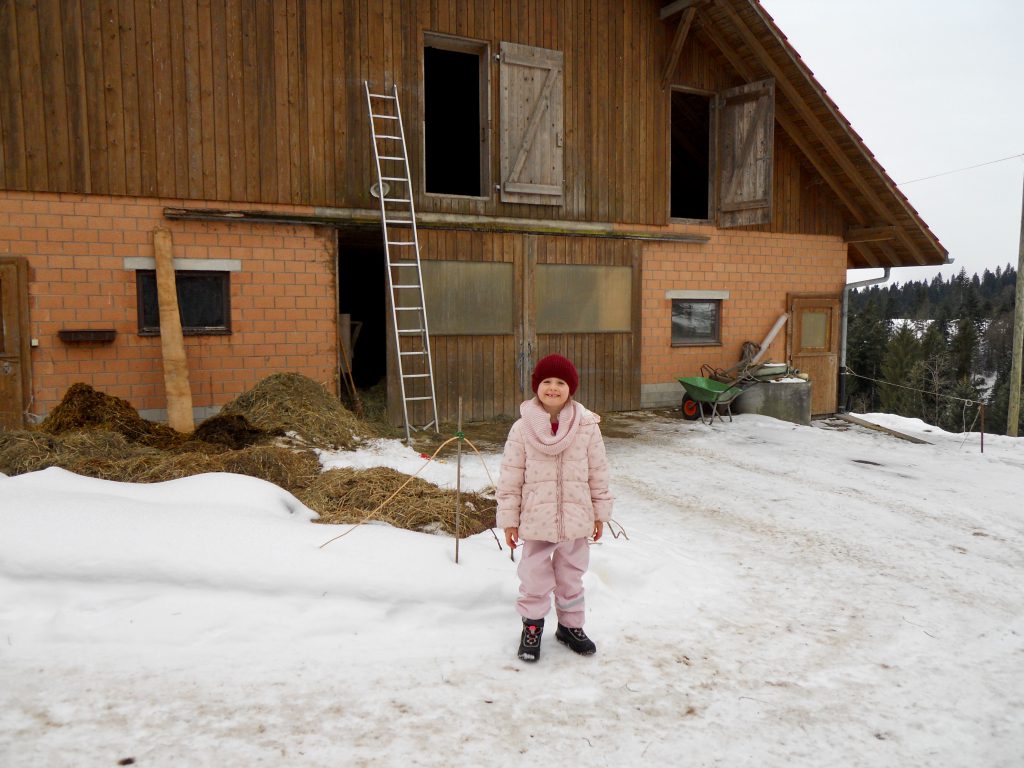 The living arrangement here is like a match made in heaven. I cannot tell who is happier about it — the landlord family or the tenants. The family who has lived here all their lives are happy to have the Kochs here and from what I can tell, Miriam and Marco are equally happy to be here.
The hospitality I am receiving could not be better. Miriam and Marco have made me feel right at home — like a grandmother here for a visit.
We are all missing David. Today when Hadassah and I were building a snowman, she said she wishes David was here, because he would really enjoy building a snowman with her. I was wishing he was here the other day when Hadassah was showing me around the farm and she wanted to stay out longer than I did. I've always been bothered by animal smells, and David doesn't mind them. He is usually wondering how it is that I grew up on a farm and yet I'm so finicky about such things.
Missing David is the only drawback to being here in Switzerland. I am making incredible discoveries in Anabaptist history. I will share them in future posts.