I returned home this past Sunday evening from the conference I mentioned I would be attending. It was fabulous! What a weekend of inspiration and renewal… I hardly know where to begin.
I stayed with a kindred spirit, Violet Dutcher, who is a professor of rhetoric and composition at Eastern Mennonite University. It was like going back to my childhood and staying with my cousins out of state. Vi can "talk Dutch" sometimes better than I can. Her parents both grew up Amish, and she picked up Pennsylvania German from listening to her parents using their language when they didn't want the children to understand what they were saying… and Vi's mother used to talk with her Amish relatives on the phone. At some point Vi realized she understood what her mother was saying.
The first night I arrived at Vi's, we stayed up until 1:30 AM, gabbing and laughing until we realized if we wanted to function the next day, we had to get some sleep. It was just the beginning.
I awoke the next morning and went out on Vi's patio. She has created a little garden of Eden right outside her kitchen door. She is a tenant to the Showalters. Shirley is also a good friend of mine, and she writes the blog Magical Memoir Moments.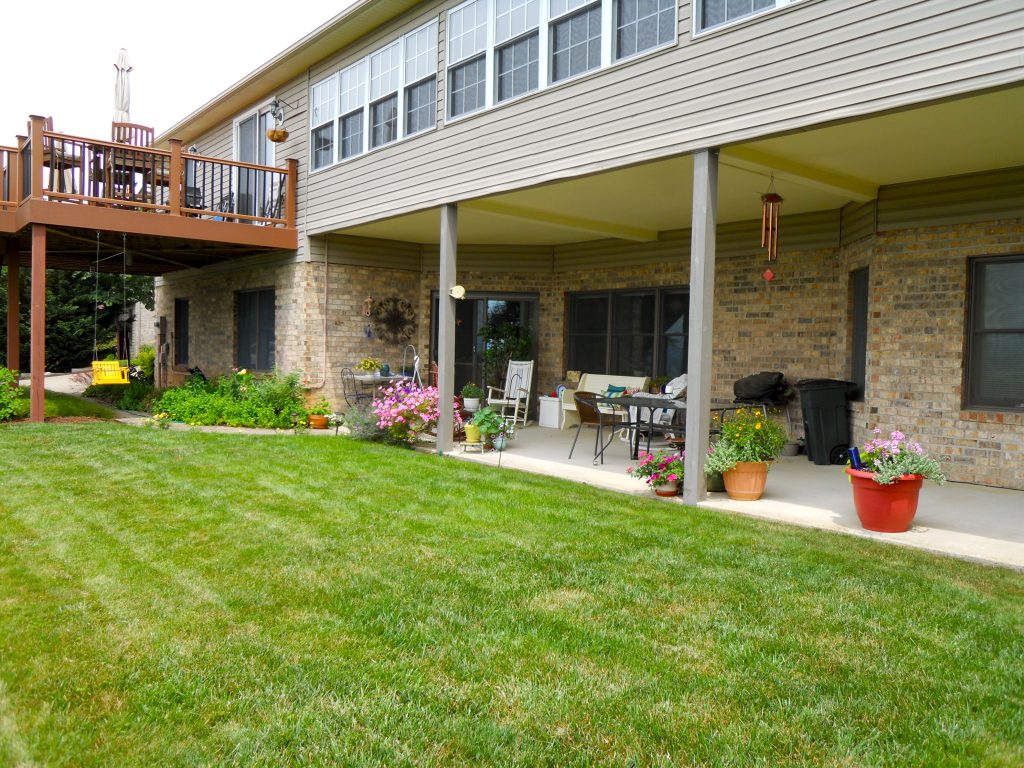 And oh, the view they have! I realized how much I am going to miss seeing mountains when we move to Ohio, so I just drank in that view!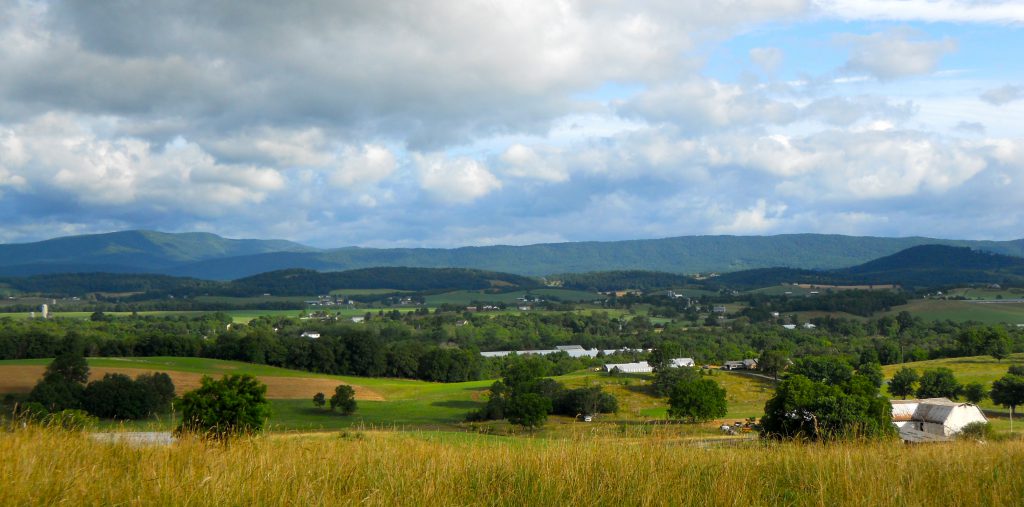 Allegheny Mountain Range: Photo by Saloma Furlong
That evening, Vi and I attended a gathering that Julia Spicher Kasdorf organized. She was one of the organizers of the conference as well. That is when networking began. I made so many connections this past weekend that my head is still spinning.
Then for the next three days, I attended talks. It was often hard to choose between one wonderful session and four others happening at the same time. I presented a talk called, Stepping out "Into the World" and Developing a Voice. I may share that talk in parts on this blog at a later date. I was in the same session with Esther Stenson, who talked about how four generations of women in her family have negotiated the borders and boundaries they experienced. Also, Sabrina Voelz from northern Germany did a presentation on "Ex-Amish Memoirs," which included mine. Later, she and I asked someone to take a photo of us, and we realized we were standing in front of a portrait of Menno Simons. We had to laugh at that, given she lives not far from from Menno Simons' printing cottage in the north of Hamburg.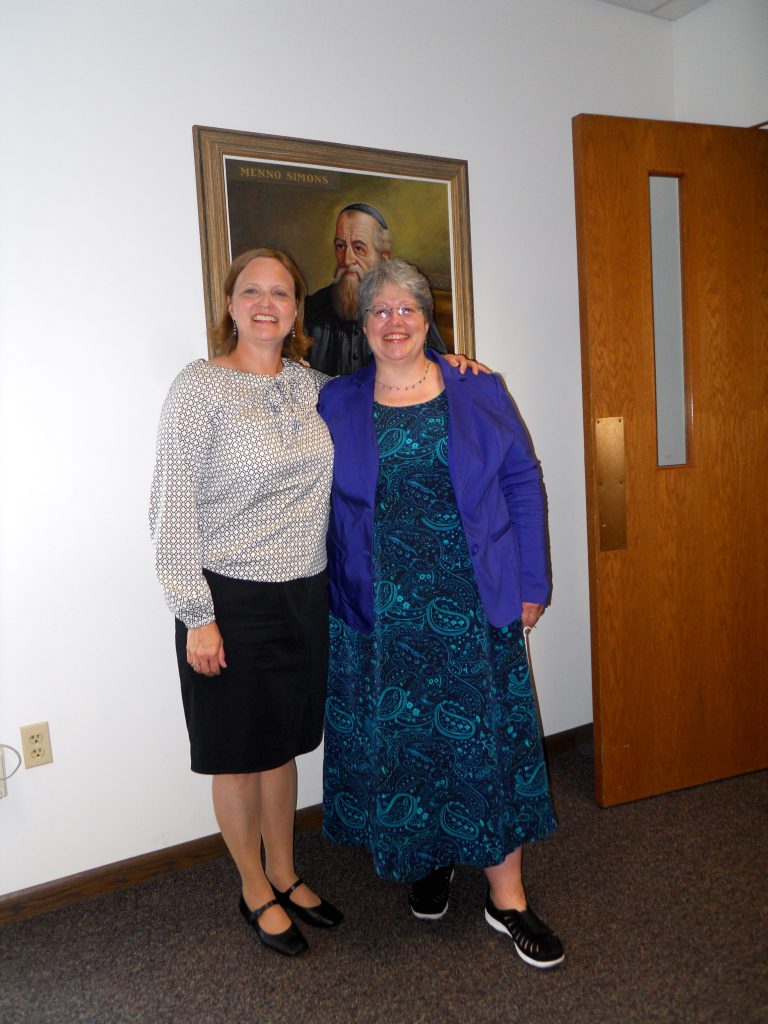 Sabrina Voelz and myself
Vi Dutcher did a talk called "Amish Women Writing Themselves" about their literacy practices. She is doing her research in the community I came from. Her talk was really well written and presented.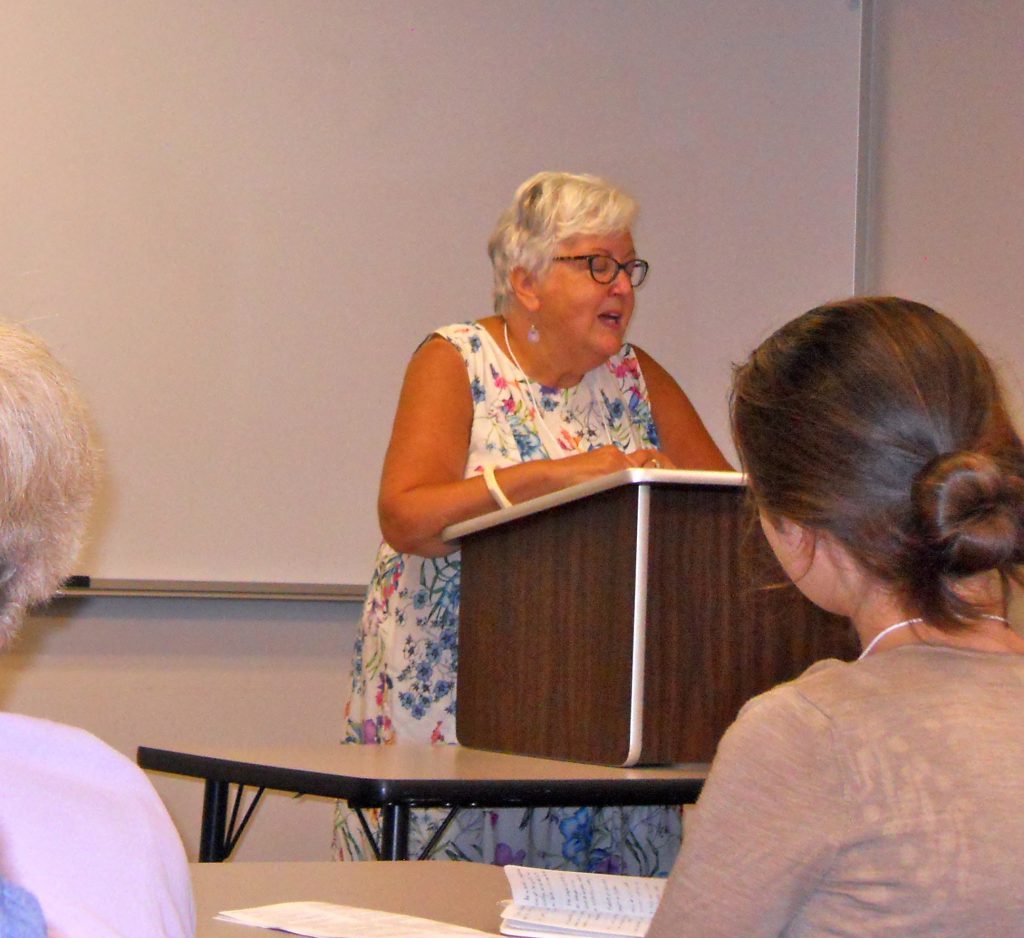 Dr. Violet Dutcher at Eastern Mennonite University
Vi delivered a comic moment when she described how someone who had an Amish background went to see the movie "Witness." This person was carefully watching to see if the outside world had finally "got it right." The next morning she reported her take on the film to a group of women who had not seen the movie. She said, "I've never seen so many skinny women around a quilt before!"
Vi's talk prompted a lively discussion about Amish people's writing practices, mainly the fact that most often they do not tend to revise their writing. Then I remembered what it was like for me when I had written a letter I wasn't happy with, and I said, "In the Amish way of thinking, it would be almost dishonest to rewrite something… it's as if they would be trying to be smarter than someone else." That really surprised people. Later someone reported that they overheard an attendee say under her breath, "Must be Trump is Amish."
Another comic moment came when Vi was making a remark about the fact that the Amish call those who write for their publications "scribes." Shirley Showalter said, "… and Pharisees." Needless to say, that brought laughter from the group.
I could go on for a long time about the various talks I attended, but I don't want this post to become too long. Let me just give a little synopsis on the connections I made.
Hasia Diner: She did the plenary session on Thursday night. I kept trying to remember, all during her talk, how I knew her name. Then it hit me… I'd read her contribution to the book Strangers at Home, which is a book about the last conference of this kind called "The Quiet in the Land?" Diner wrote an article called, "Insights and Blind Spots: Writing History from Inside and Outside." I found her questions and assertions to be provocative, especially as it pertains to the Amish culture. This made me realize that the Amish will never become scholars of their own culture, which leaves the interpretation of their culture and religion to others — those who may never be privy to Amish ways of thinking.
Anna Wall: During coffee hour the first night, a young woman came up to me and introduced herself. She said she grew up in an Old World Mennonite colony in Mexico. Over the course of the weekend, we became friends. She had a friend with her who was also from Mexico, but I'm not remembering her name. These two amazing young women have stories to tell. Anna is already well on her way. I'm reading her blog, and I'm just in awe. She was illiterate when she left Mexico when she was sixteen years old, and now she has quite a vocabulary. If you want to read her story, it starts here.
Rosalind Andreas: I also met a woman who used to live in Burlington, Vermont, at the same time I did. I said, "You must know Roddy Cleary." She said, "Do I know Roddy…. I worked with her at UVM!" Roddy was married to Bill Cleary, and they were the family who offered me a home after I left the second time. Bill was a former Jesuit priest, and Roddy a former Maryknoll nun. Rosalind now lives in Newton, Kansas. We had a great time commiserating about Vermont.
I also met a woman named Evie, who was at my book talk in Madison, Wisconsin several years ago. This was the book talk where they allowed people to come in to the already packed room. The room usually seated 100 people, but I counted somewhere around 170 people. I wrote about that in this blog post.
The last night of the conference, I went on a Heritage Tour with a busload of conference attendees. We visited, among other sites, an Old Order Mennonite meetinghouse. Our guide at the meetinghouse was one of the ministers. Then near the end of the evening, we had the pleasure of eating in the home of an Old Order Mennonite family. The food was delicious. Here are several photos of the event.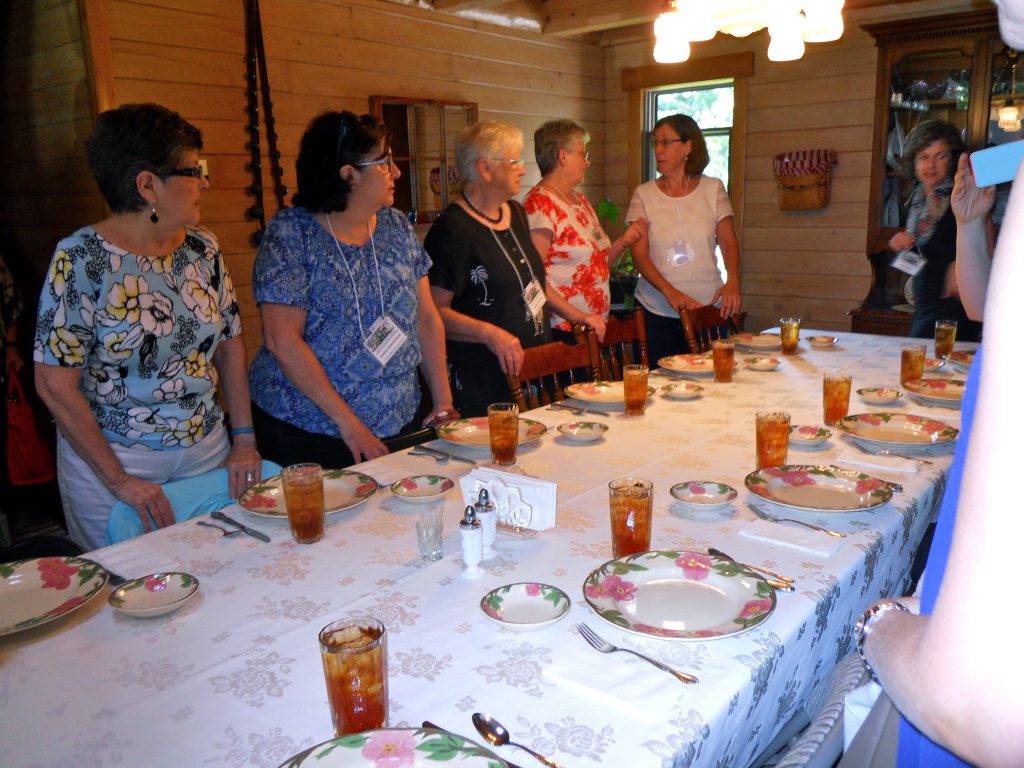 Just before dinner… Photo by Saloma Furlong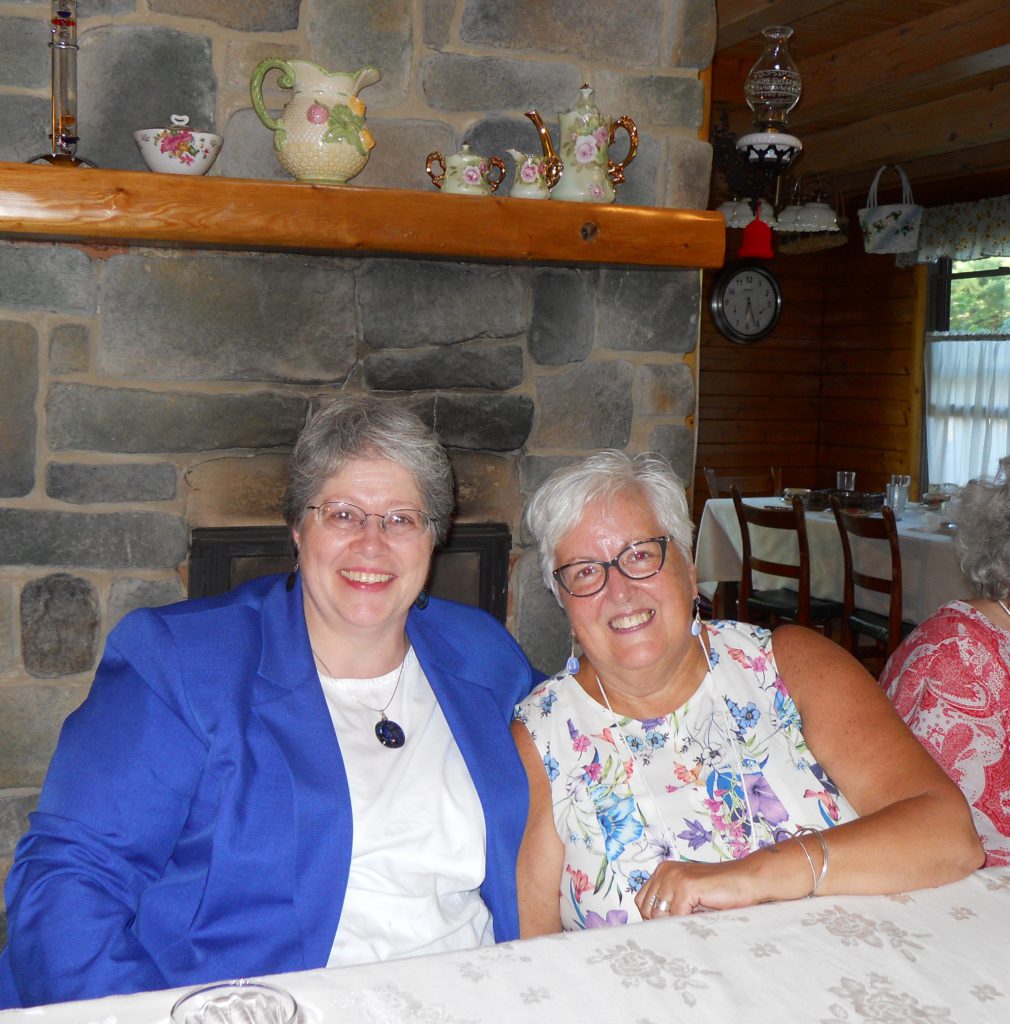 Vi and me after dinner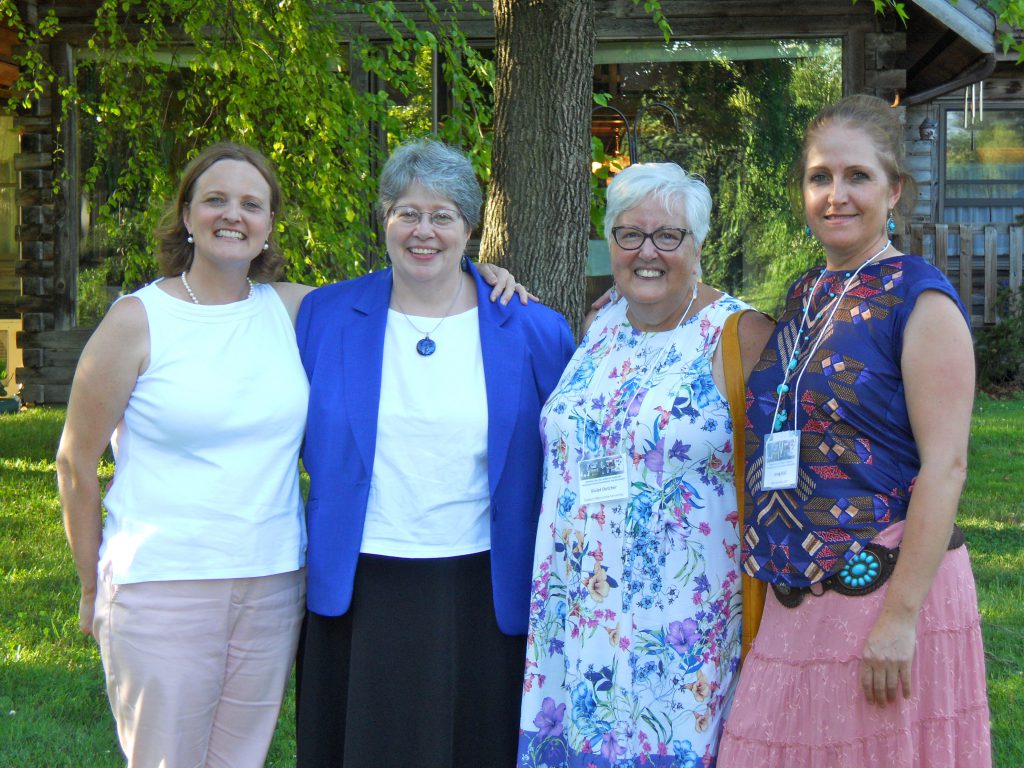 Sabrina Voelz, myself, Vi Dutcher, and Anna Wall
On Sunday morning, before I set out on my long drive home, I attended a church service at Park View Mennonite Church. Oh, can that congregation sing! I didn't want to mess it up with my own voice. I just wanted to close my eyes and hear. The message from the pulpit by Loren Swartzendruber, former president of  EMU, was a thought-provoking one about the search for truth, and how we need to be careful about thinking we have found the truth… because then the search is over.
I am still savoring memories of this past weekend, and I'm sure I will for a long time to come. Saying good-bye to Vi was tough… we just didn't want to let go of one another. Oh, how we had fun together!
I want to extend my gratitude to Professors Mary Sprunger and Kimberly Schmidt for organizing this inspiring conference.
A while ago, I said I didn't want this post to get too long, and now it is. I could edit it, but in deference to my Amish upbringing, I won't. This is the way it came out, and so I shall keep it this way.
If you want to know more details about a particular aspect of the conference, feel free to ask.