This morning David kissed me awake and wished me a happy birthday. Yesterday was his, and we took the day off from working so hard to reflect on the new beginnings on our horizon and to have dinner at a nearby restaurant. A few minutes later when I really awoke, I was hit with the realization that I am 60 years old today. It's not like I didn't know it was coming, but actually turning 60 is different from being 59 and knowing I am going to turn 60, which is how I saw myself yesterday.
This is not a bad realization. All it means is that six decades ago today I "came to earth." This is the German way of saying being born, I found out when I was visiting the Kochs in Switzerland on the farm, the day Elizabeth came over from next door to announce the birth of a baby calf. I didn't hear the conversation, but Hadassah jumped up and down for joy with delighted squeals. Then she came and excitedly said to me, "Ein Baby Kuh ist zur Welt gekommen!" (A baby cow came to earth).
I feel gratitude to Mem (or her spirit, since she is no longer of this earth) for bringing me to this world and for the bond she formed with me when I was a baby and small child. According to Alice Miller and others, this bond a baby forms with her parents (most often the mother) becomes the basis for who we are to become. Mem gave me a good start in this life.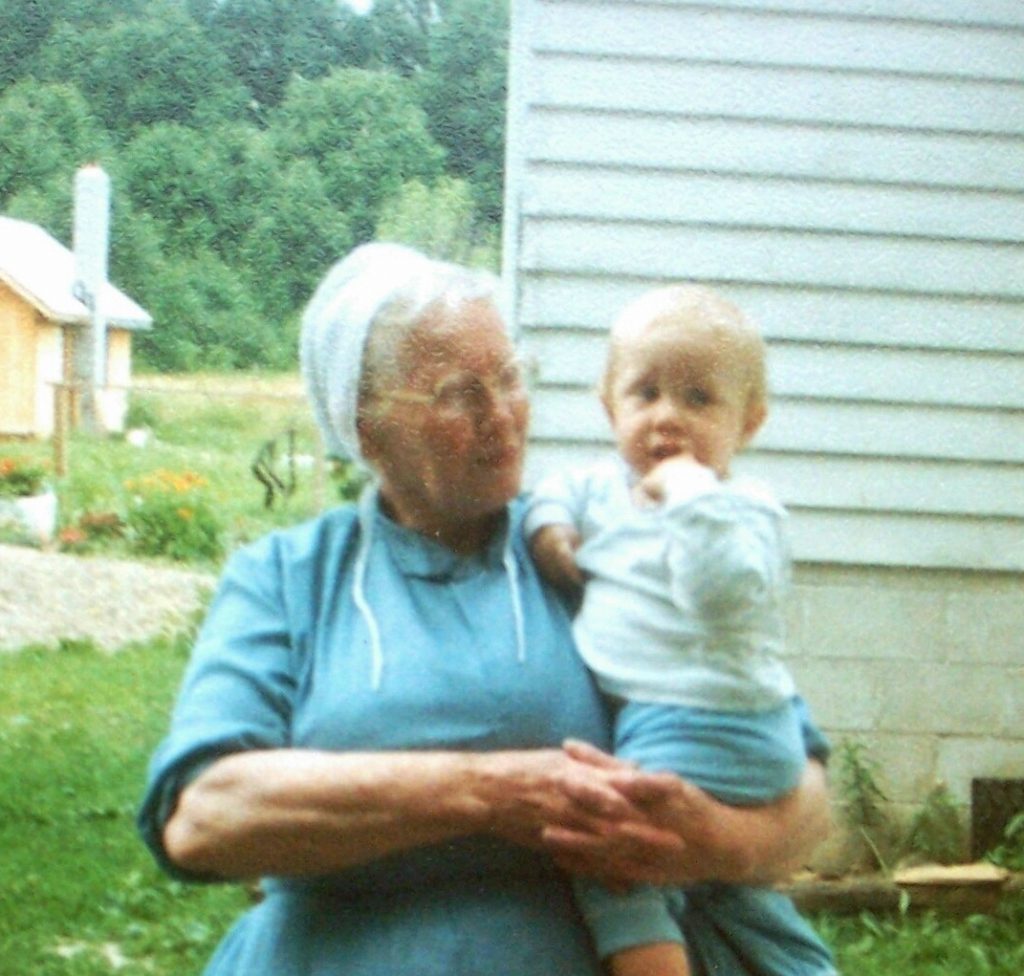 Photo of Mem with our son, Timmy in 1987
I write what I know about the day Mem brought me into the world in my new book, "A Martyr's Myth: Discovering the Truth About My Amish Mother. Here is an excerpt:
I was born at an Amish midwife's house. Mrs. Yoder, the midwife, put me in a tiny basket, all wrapped in blankets, next to Mem's bed. Mem said I was a beautiful baby, with the thickest head full of dark hair she'd ever seen on a newborn.

I was born the day after my parents' fourth wedding anniversary. Mem once told me it was the only anniversary she ever celebrated. But from what she has told me, it sounds more like a family crisis.

My father's stepfather was leaving the world as I was entering. In a letter to me when I was a young mother Mem wrote:

The day that I was to come home was the funeral of dad's stepfather and didn't come to pick me up untill [until] late and remember how impatient Mrs. Yoder got. She said to me, "Must be he thinks more of his mother than he does of you." Which pretty well upset me for awhile.

It sounds like it was with a heavy heart that Mem returned home to her other two children, three-year-old Joey, and one-year-old Lizzie.

As was typical for Amish mothers in my community, Mem cared for me pretty exclusively for the first few weeks while a young woman in the community came and took care of Joey and Lizzie and the household chores, so that Mem could get some rest.

I can only imagine that my first months of babyhood were good. Mem wrote this to me years later:

You were a contented baby. I could sit you on the high chair, tied on, so you couldn't fall off, put the tray down and give you things to play with and you'd play for a long time. Sometimes by the east window and sometimes by me wherever I was working.

I can just imagine this. Even in the years I can recall, I often stared out over the field to the east when I was daydreaming.
So I strive to live a meaningful life in gratitude for being brought to this earth. I hope that Mem and Datt are smiling down from the heavens today and seeing that I am smiling up at them in gratitude for bringing me into the world.
Today I am preparing to travel down to Harrisonburg, Virginia, for a conference called "Crossing the Lines: Women of Anabaptist Traditions Encounter Borders and Boundaries." I will be presenting there on Friday morning in a session called "Crossing into Worldliness: Leaving the Amish" with two other presenters. This conference seems like just the right venue to reflect on what my life has been, and on my hopes for the future from the perspective of being 60 years old and 60 years wise.