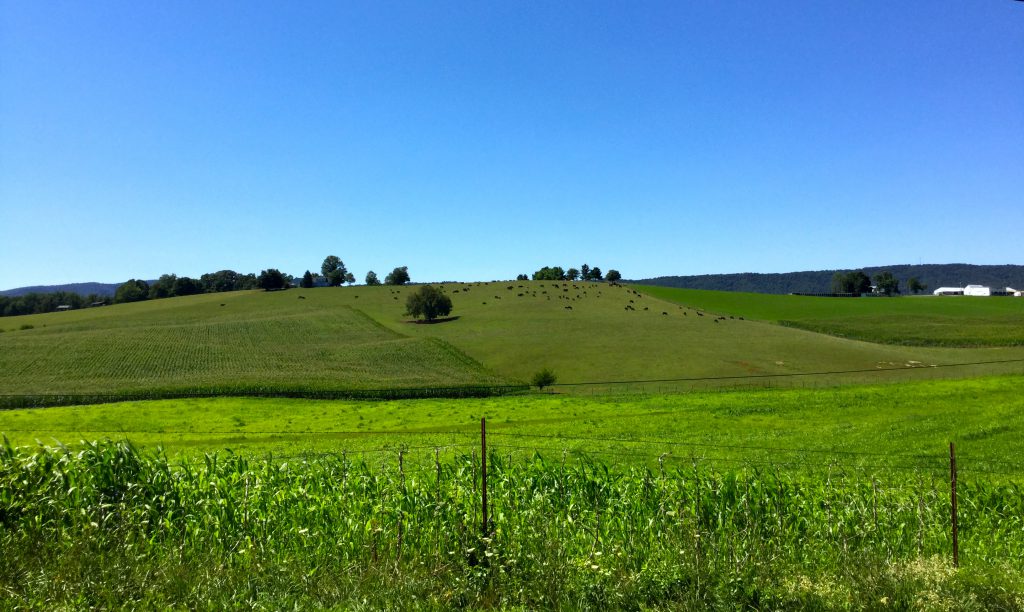 Photo by Saloma Furlong: "Taking the Long View"
Whenever I travel, I gain new perspectives. The trip David and I just returned from is no exception. We started our trip a week ago last Saturday, driving to Harrisonburg, Virginia that first day. We enjoyed visiting Park View Church the next morning. The singing in that church is just so beautiful. I was sitting with Sadie Showalter, who has the singing voice of an angel. It was intimidating — I didn't want to open my mouth and spoil what I was hearing. This is one of 60 Mennonite churches in the Harrisonburg area, and it's known for its beautiful music. Then we heard from several people in the congregation who had just returned from a worldwide Mennonite conference. It is always amazing to me how the Mennonites have a worldwide presence. This is quite different from the Amish, and yet I feel a kinship with these fellow Anabaptists.
I was surprised to see Rolando Santiago in the service. He lives in Lancaster, Pennsylvania and is the director of the Lancaster Mennonite Historical Society. It turns out he was at Park View to make a presentation at one of the adult Sunday School classes. David and I consider Rolando a good friend, and we had a chance to meet his wife after the service during coffee hour, where we were greeted warmly by the parishioners. Then, David and I had a chance to sit in on Rolando's presentation about the mission and purpose of the Lancaster Mennonite Historical Society. We both have a great deal of respect for Rolando and the LMHS.
David and I drove around Old Order Mennonite farming country on Sunday afternoon, and then we went to Harley and Sadie Showalter's for supper on their outdoor veranda. We were joined by Vi Dutcher, and Stuart and Shirley Showalter. Stuart and Shirley had just returned from a trip to Scandinavia, and they were preparing to travel to Pittsburgh to become granny-nannies to their new granddaughter. We all enjoyed good conversation among the flowers, birds, and butterflies before the sun set.
Sadie and Vi both have Amish origins. Sadie was born Amish, then her parents left when she was a young girl. Vi's parents were both Amish, but they left before they had children. Vi learned Pennsylvania German when she was a child by listening to her mother talk on the telephone with her Amish relatives. So Sadie, Vi, and I have much in common, including some of our ways of thinking. It's always fun to exchange "Dutch" words. The gathering at the Showalters' was a wonderful way to end our Sunday and our first day in Virginia.
Over the next four days, we saw a lot of countryside in the Shenandoah Valley. We drove west through the mountain pass and crossed the border into West Virginia. We visited Old Order Mennonite stores. We drove all around the countryside and took photos. We kept returning to Mole Hill to drink in the panoramic view of the Allegheny Mountains, spread out before us. The photos are beautiful, but being there is far more spectacular.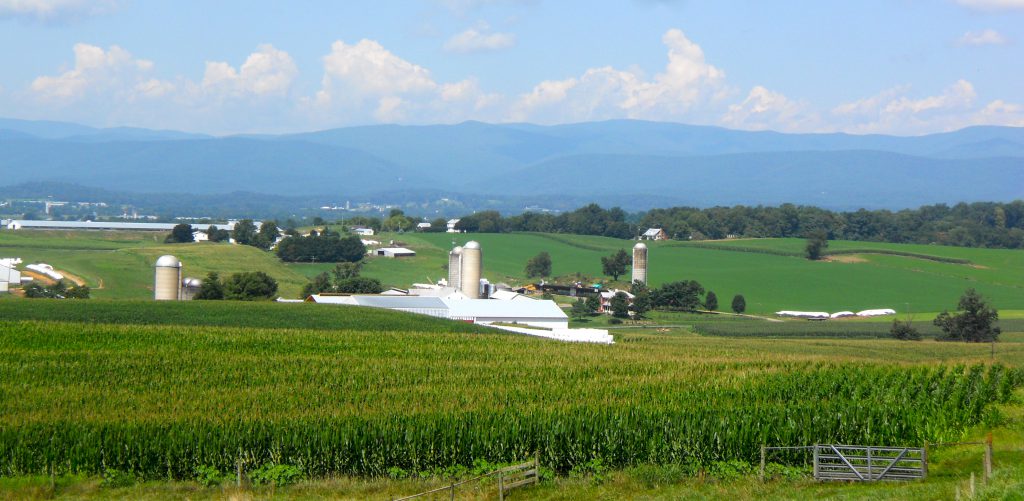 Photo by Saloma Furlong: "Making Mountains out of Mole Hill"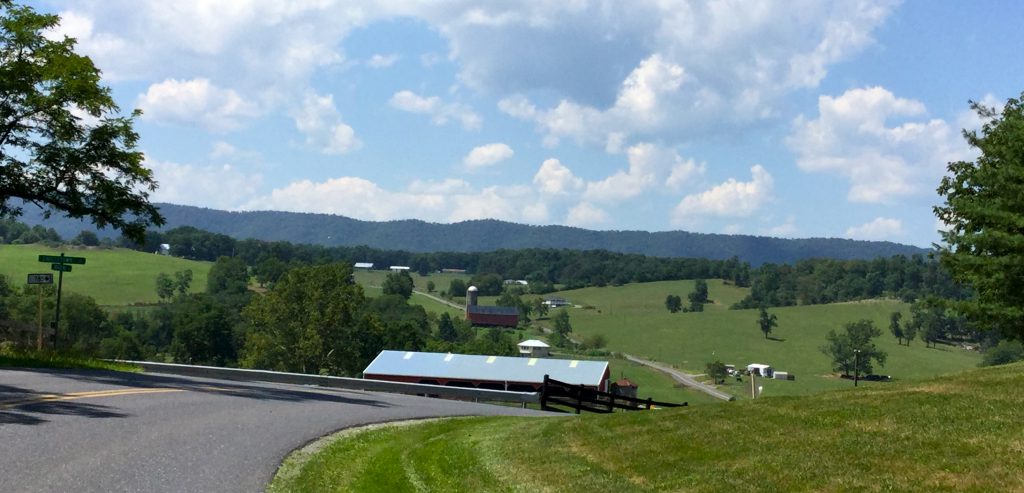 Photo by Saloma Furlong: "I Lift Mine Eyes unto the Hills"
We had dinner with Ann and Paul Yoder on Wednesday evening, followed by a very stimulating after-dinner conversation in their living room that was hard to leave. They are wise people who have a lot to share with others. We always love spending time with them.
Thursday evening, David, Vi, and I went out to dinner at an Indonesian restaurant. The food was delicious, and as always, Vi and I shared stories about our childhood that made us laugh and cry. I so love my Sister Vi!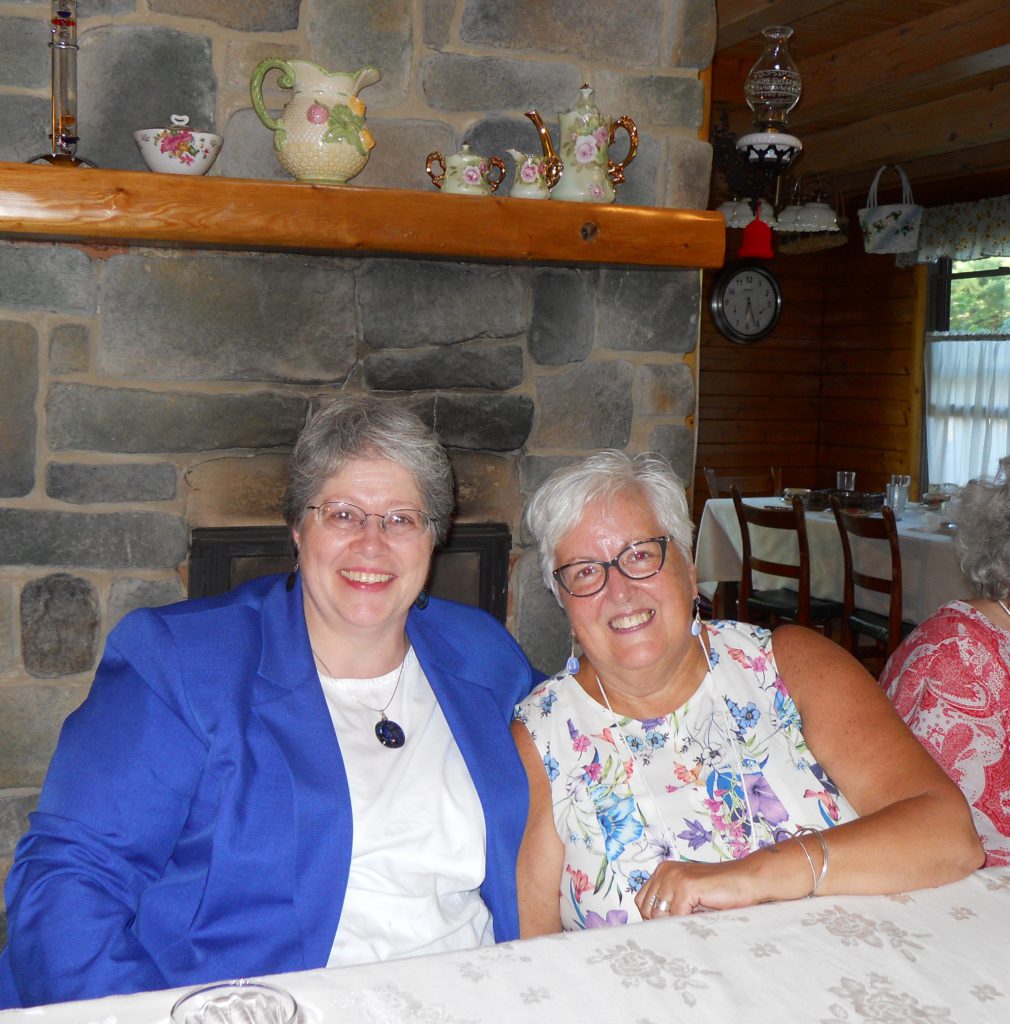 With Vi, Sister of my Heart
Friday morning we headed off to North Carolina to join the wedding celebration for my nephew, Nolan Mast, who married Ruth Hammond. I will write about the wedding and that segment of our trip in a separate post.
While I was away, I thought of Marie often, but now that I'm home, it seems there are reminders of Marie everywhere I turn. We used to sit in her living room with our feet up, with insulated tumblers of ice water next to us, and talk about what was in our hearts and on our minds. I loved hearing stories of her life. Now I have those same tumblers, and every time I drink from them, I remember sitting in her presence. I inherited hand towels and dish towels from her, and so I think of her whenever I use them. And whenever I hang laundry on my clothesline, I remember she shared my love of bringing in fresh-smelling laundry from the line.
I could so use a dose of Marie-love right now! I feel the presence of her spirit many times a day, but it's not the same as hearing her Marie-voice, seeing her whole face smiling, or feeling one of her warm embraces. She used to be the first person I'd want to tell about my travels and what was going on in my life. For solace, I listen to songs such as Soft Goodbye by Lisa Kelly. I also look at photos of Marie and read the poem that she had requested be included in her memorial service:
Miss Me But Let Me Go
When I come to the end of the road
And the sun has set for me
I want no rites in a gloom-filled room
Why cry for a soul set free?
Miss me a little–but not too long
And not with your head bowed low
Remember the love that we once shared
Miss me–but let me go.
For this is a journey that we all must take
And each must go it alone.
It's all part of the Master's plan:
A step on the road to home.
When you are lonely and sick of heart
Go to the friends we know
And bury your sorrows in doing good deeds
Miss me but let me go.
                                                                             ~Author Unknown
Missing Marie comes naturally: letting go doesn't. And yet that is what is required to move on. So I allow the tears to flow as often as they come, and think of them as a healing balm in my grieving process. I consider it all part of letting go.
It is so good to be home. Mem used to say that the best part of going on trips is coming home. I thought she was so wrong, but as I get older, I feel like coming home is at least as good as the traveling itself. The best part of the return home for me is the new perspectives I've brought back from the journey. I see my life with David and our home with fresh eyes. I realize how much I have to be grateful for. And so I am.