As promised, I am back to tell about our visit to Charlotte, North Carolina for my nephew's wedding. We attended both the rehearsal dinner on Friday evening, and the wedding on Saturday. Before anything else, I will introduce you to my sister, Susan, and her family. She and Bill had four daughters and one son. In order by age: Sarah Marie, Nolan, Leanna, Katy, and Grace. The photo below was taken at Grace's high school graduation.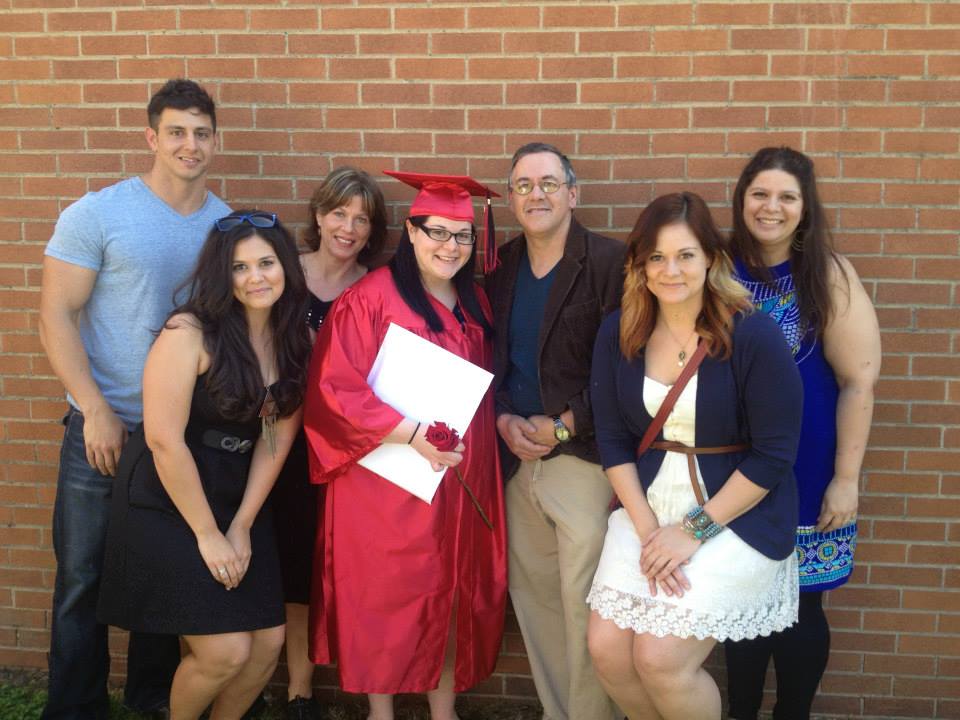 From left to right: Nolan, Katy, Susan, Grace, Bill, Leanna, and Sarah Marie
(Photo from Kate's Facebook)
You've probably guessed this by now: it was Nolan's wedding festivities we took part in. He married Ruth, an intelligent and kindhearted high school English teacher. Here is a photo I took of them at their rehearsal dinner… what a lovely couple!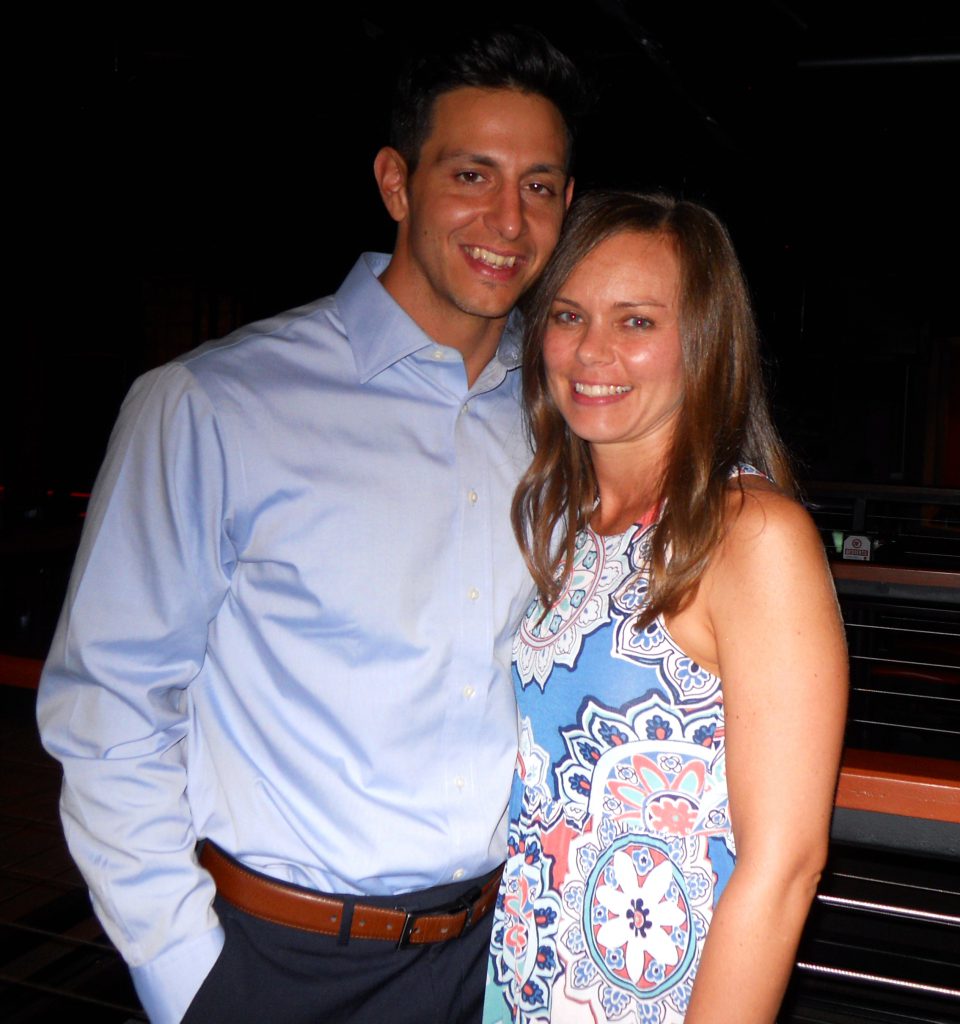 Nolan's family, plus David and Leanna's beau, Mack.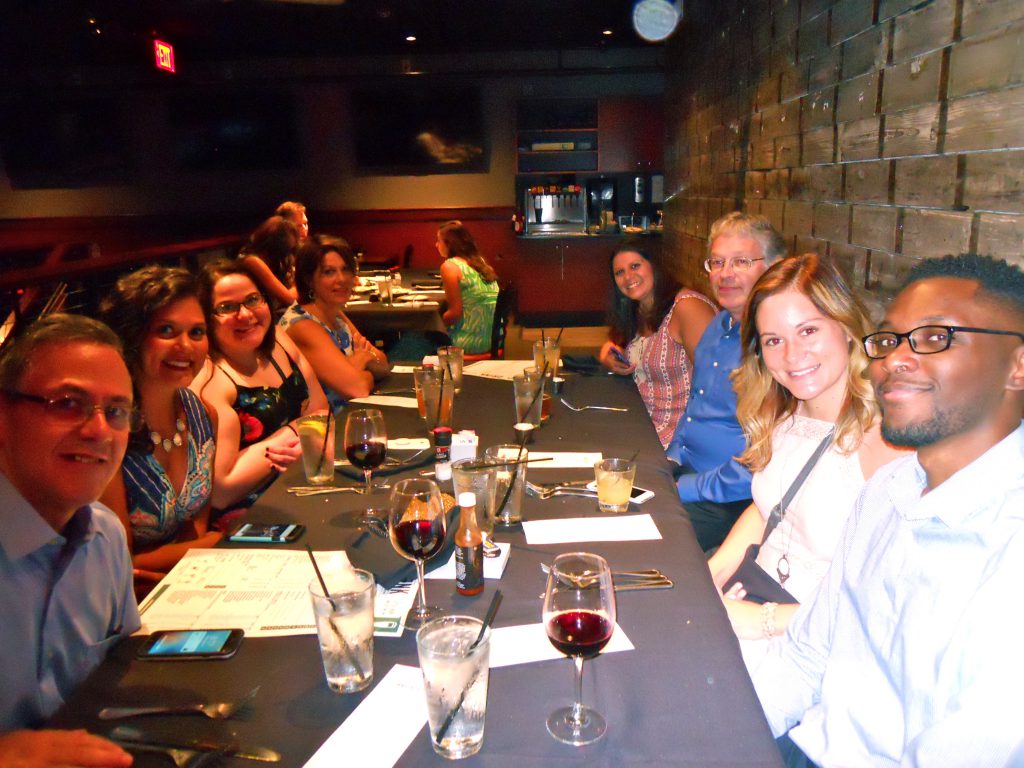 Sarah Marie and her husband, Tim: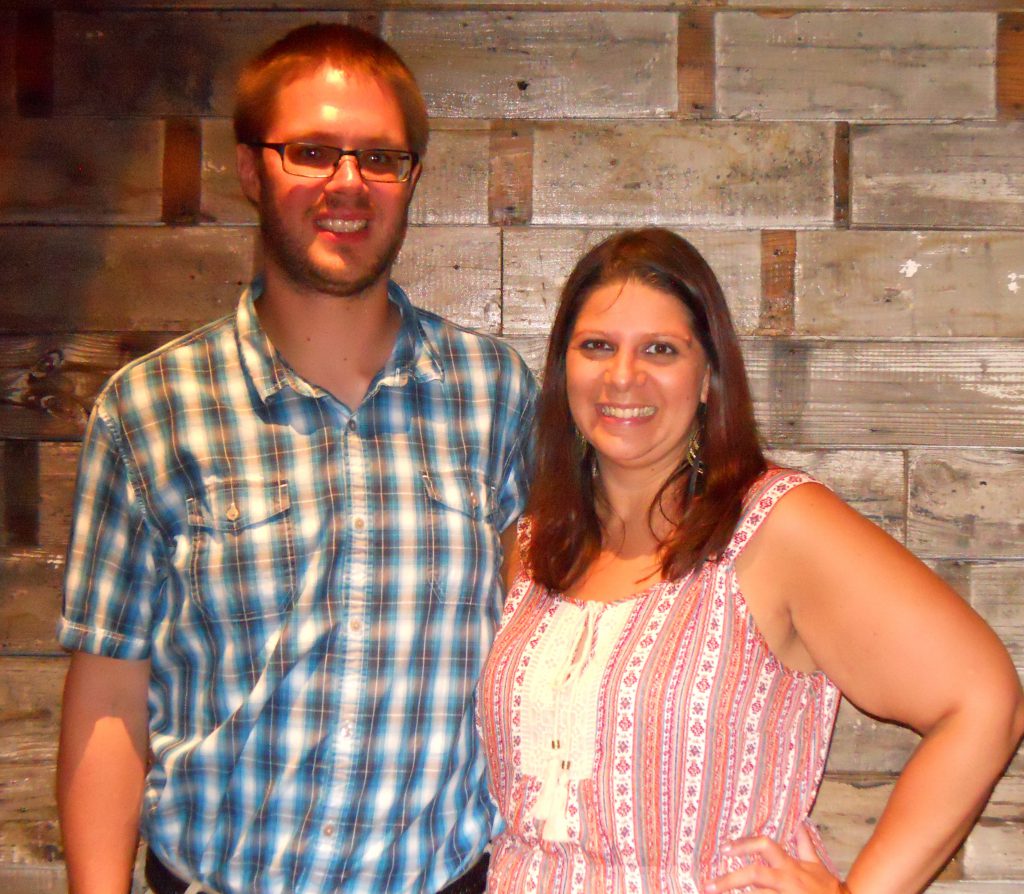 Leanna and Mack: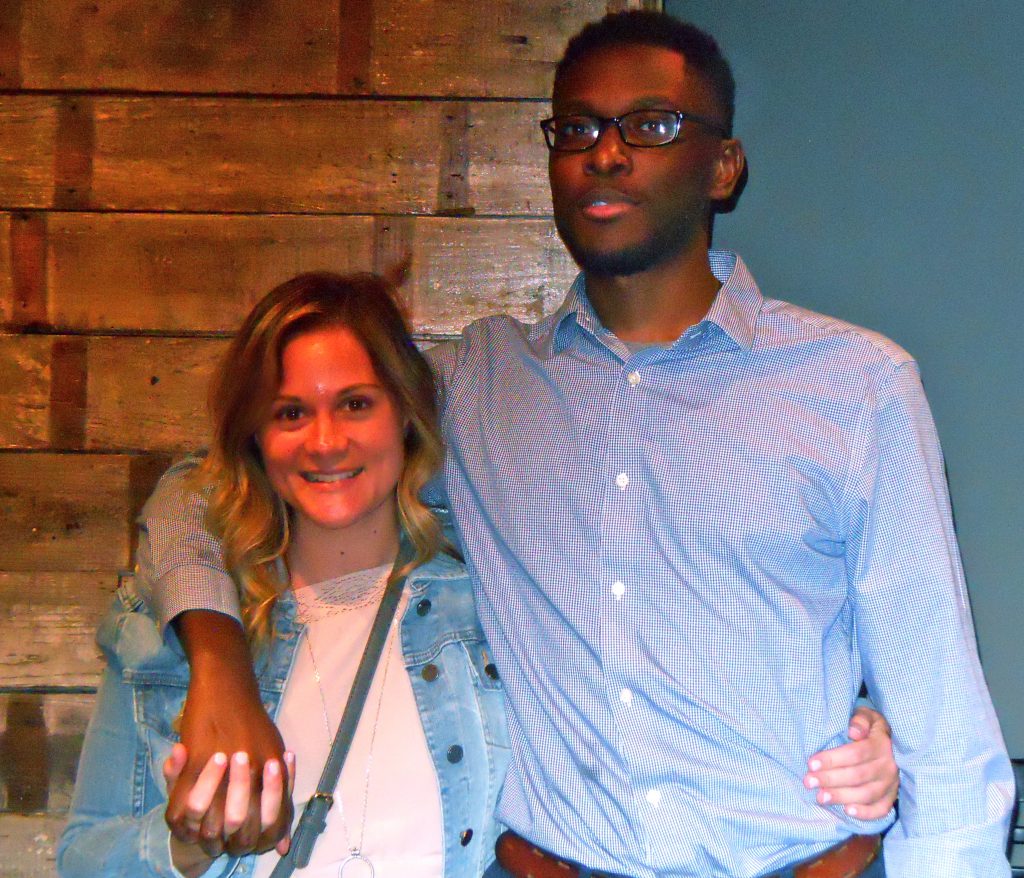 Kate giving her father a lesson in technology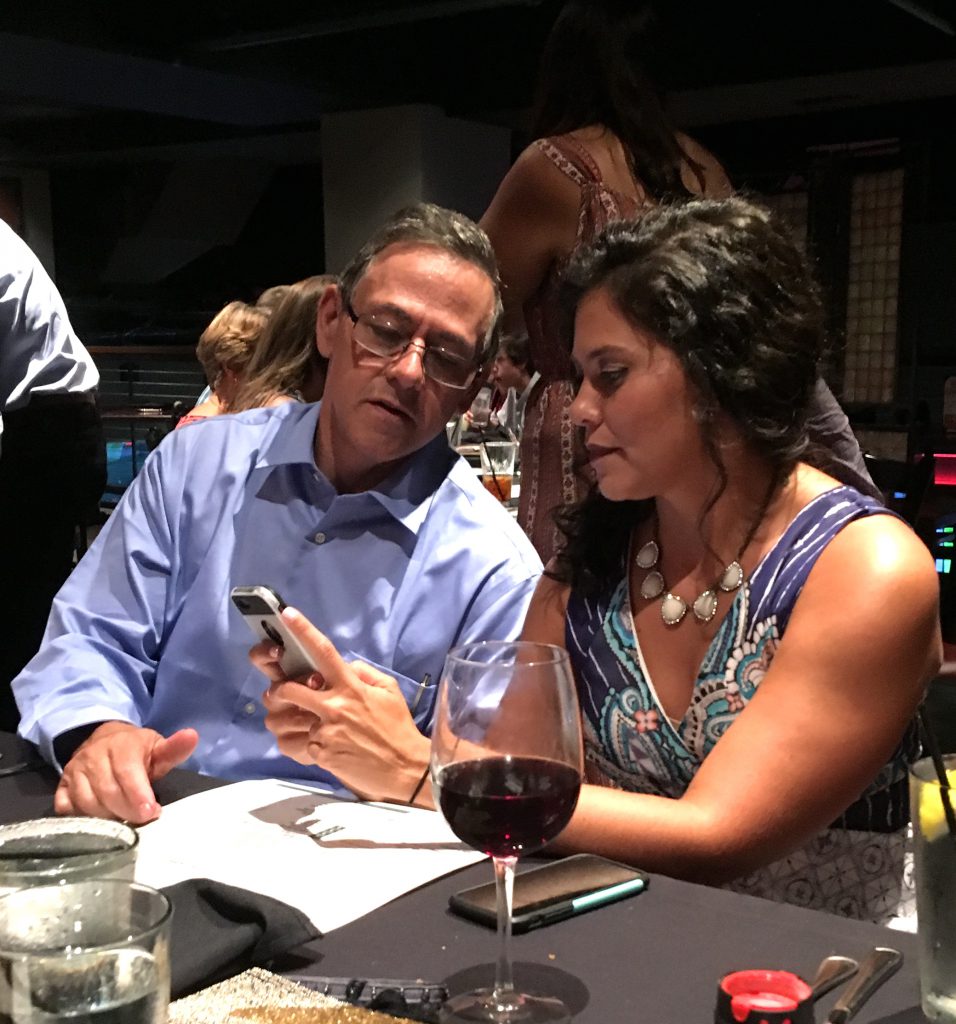 David and me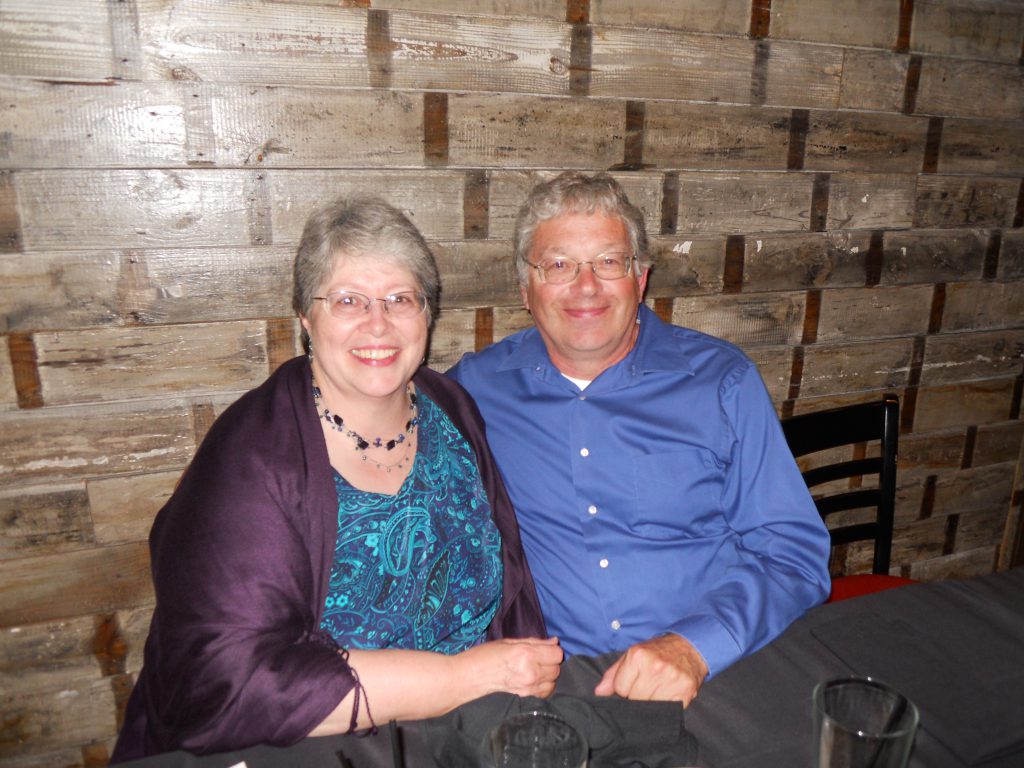 And then there was the wedding on Saturday. The ceremony was outdoors, and we were looking into the sun, so it was hard to get good photos. Here is one of David's: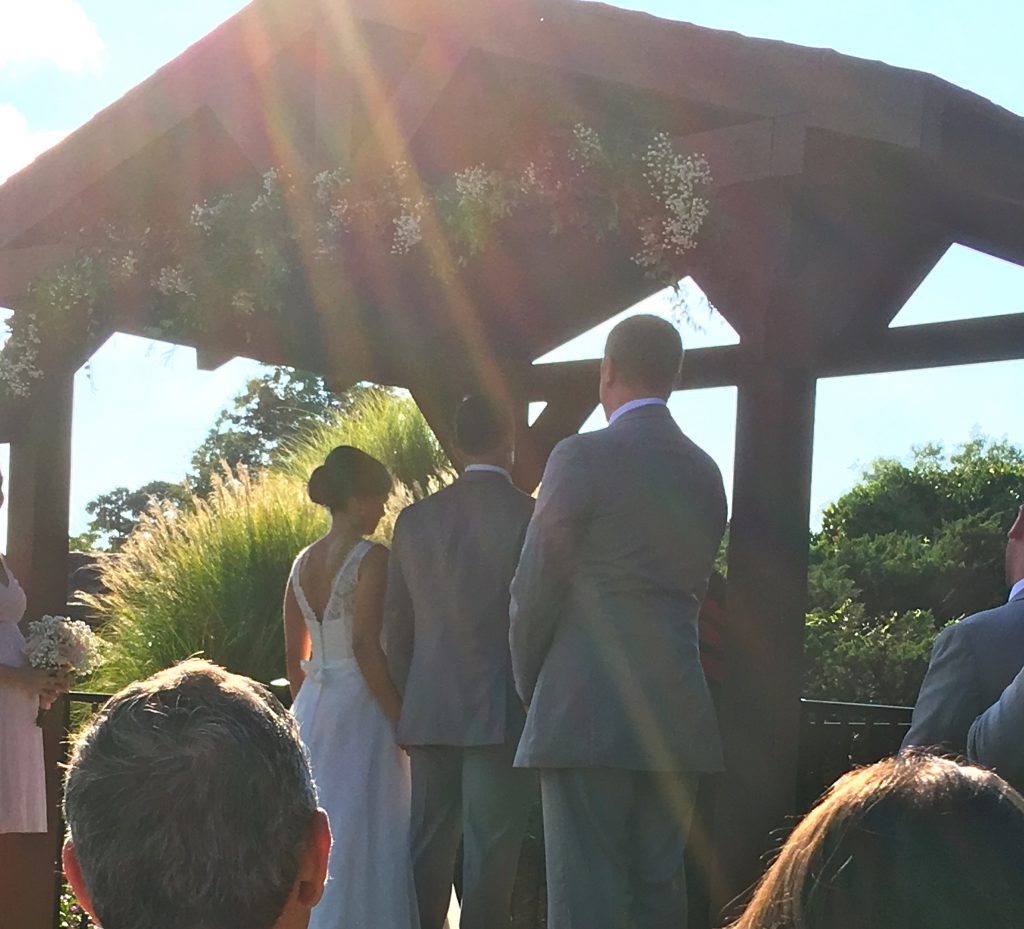 And one of mine: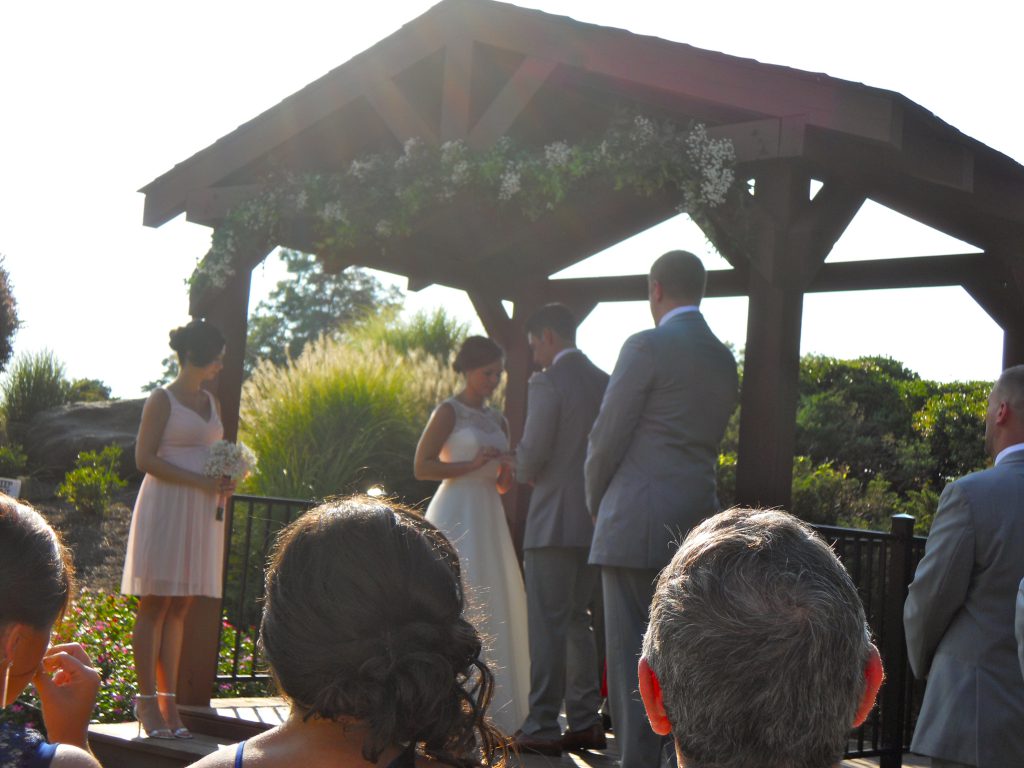 When the bride and groom came inside, the dancing began: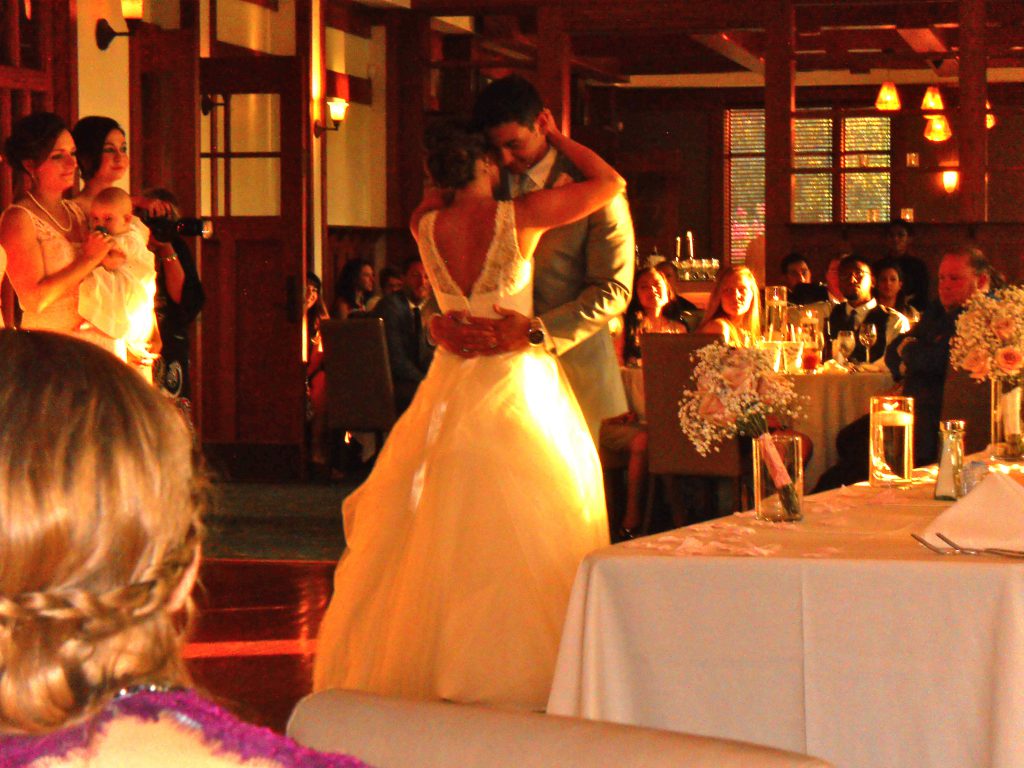 Leanna was in the wedding party; what a gorgeous smile!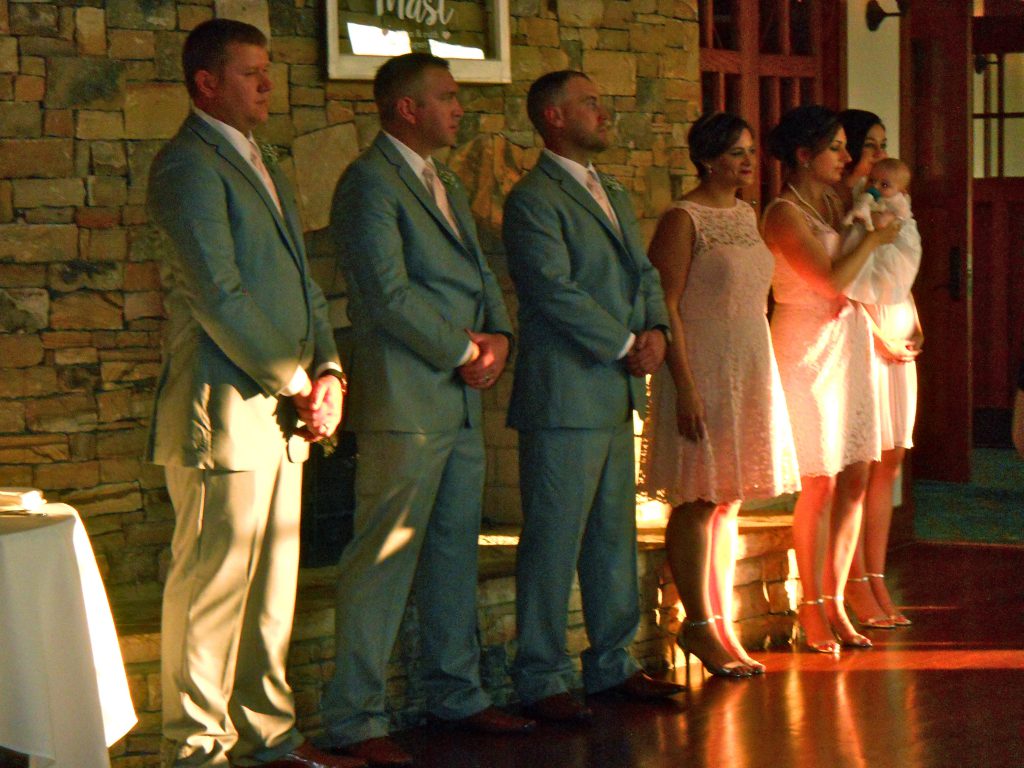 My sister, Sarah and her husband John attended the wedding with two of their daughters. Here is a photo of Sarah, Susan, and myself.
Sarah's daughter, Alexis (Lexy):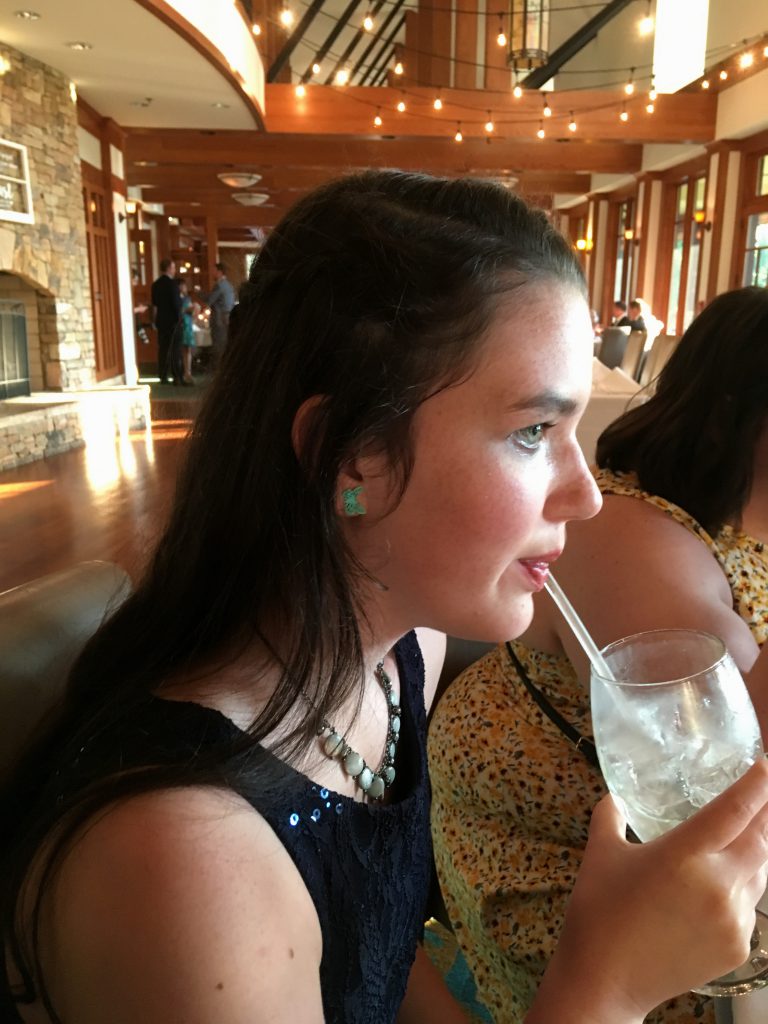 Another one of Sarah's daughters, Suzy: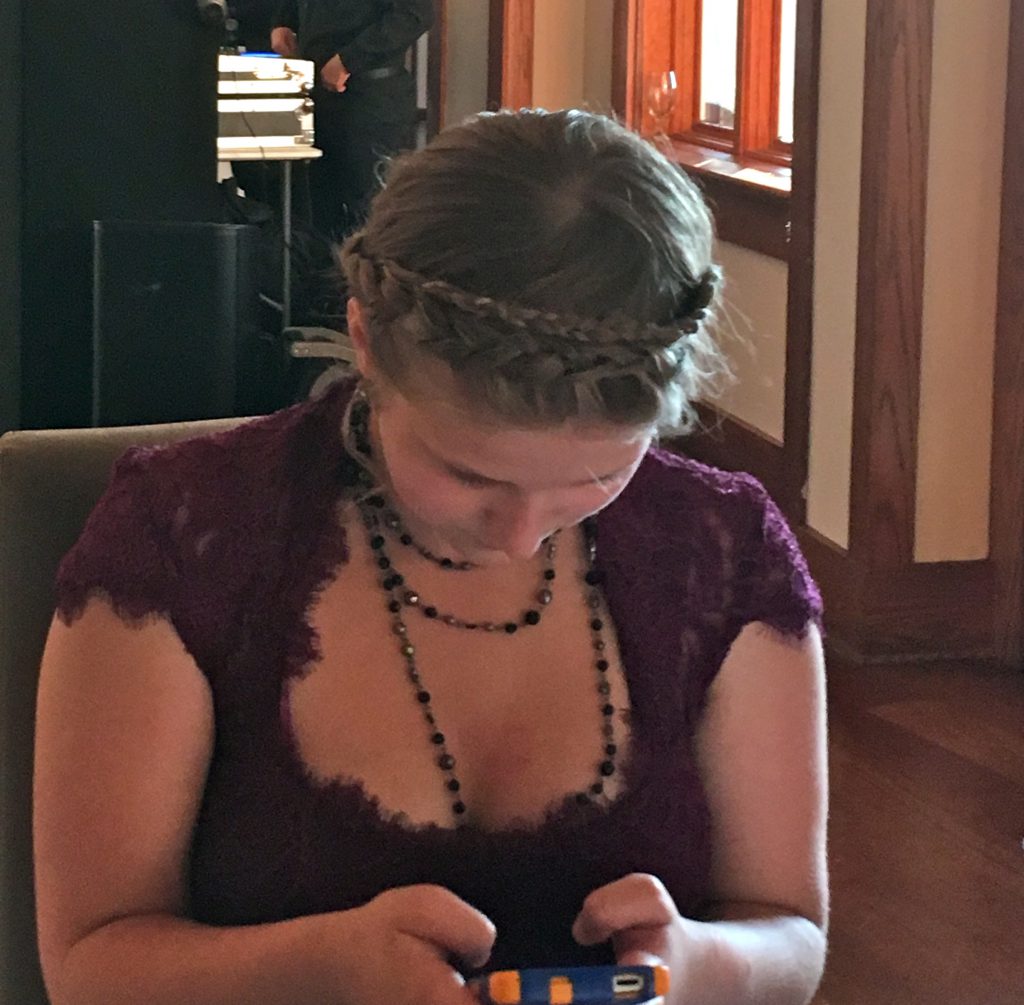 And six of my gorgeous nieces: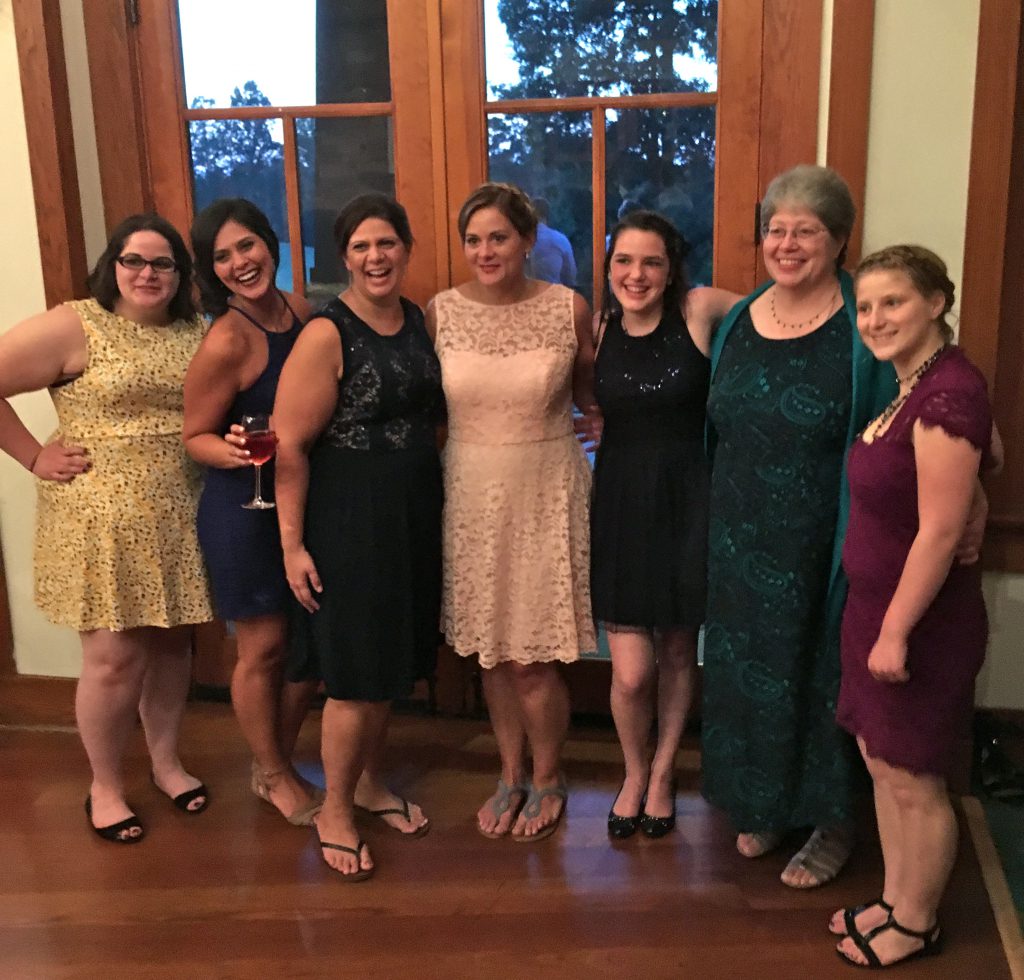 From left: Grace, Katy, Sarah Marie, Leanna, Lexy, myself, and Suzy
What a jolly bunch!
Here is Susan with her youngest:
And her eldest: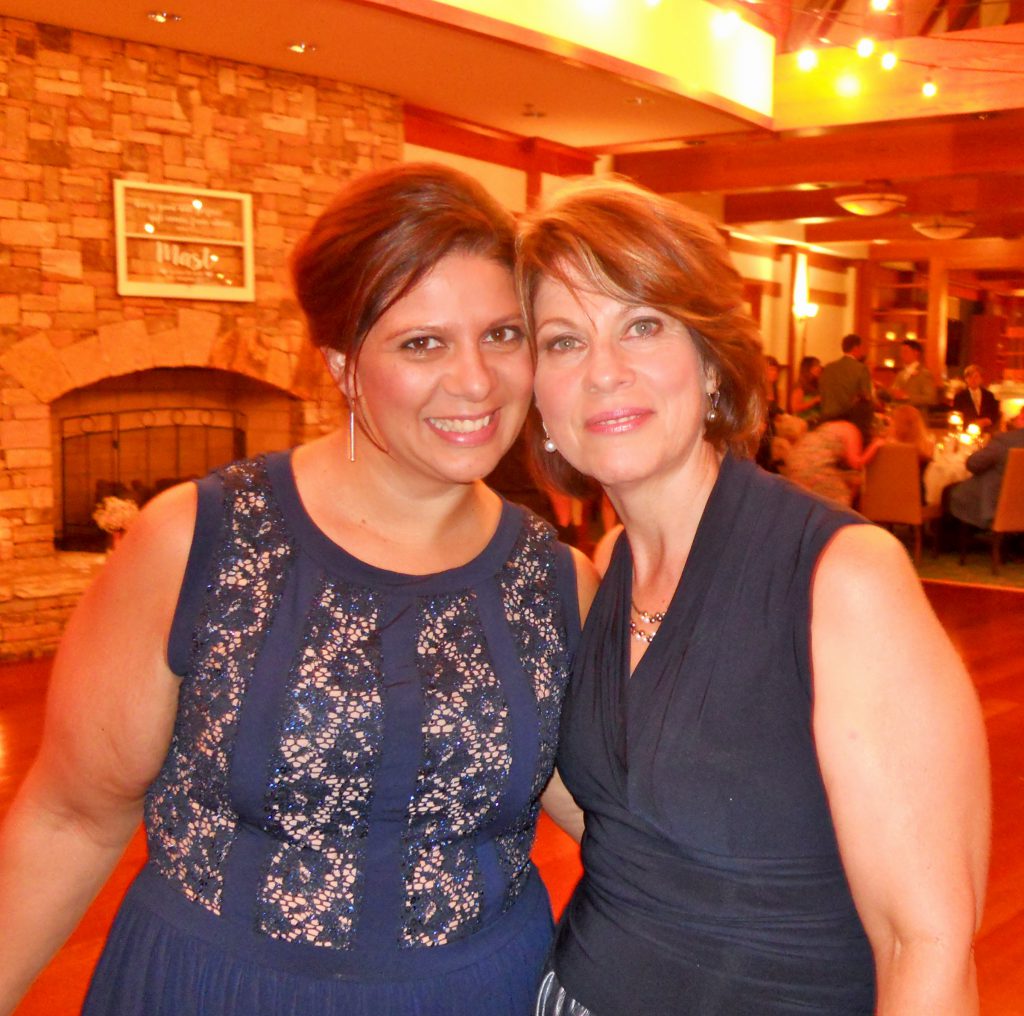 Dancing with my sisters with the wedding couple on the right: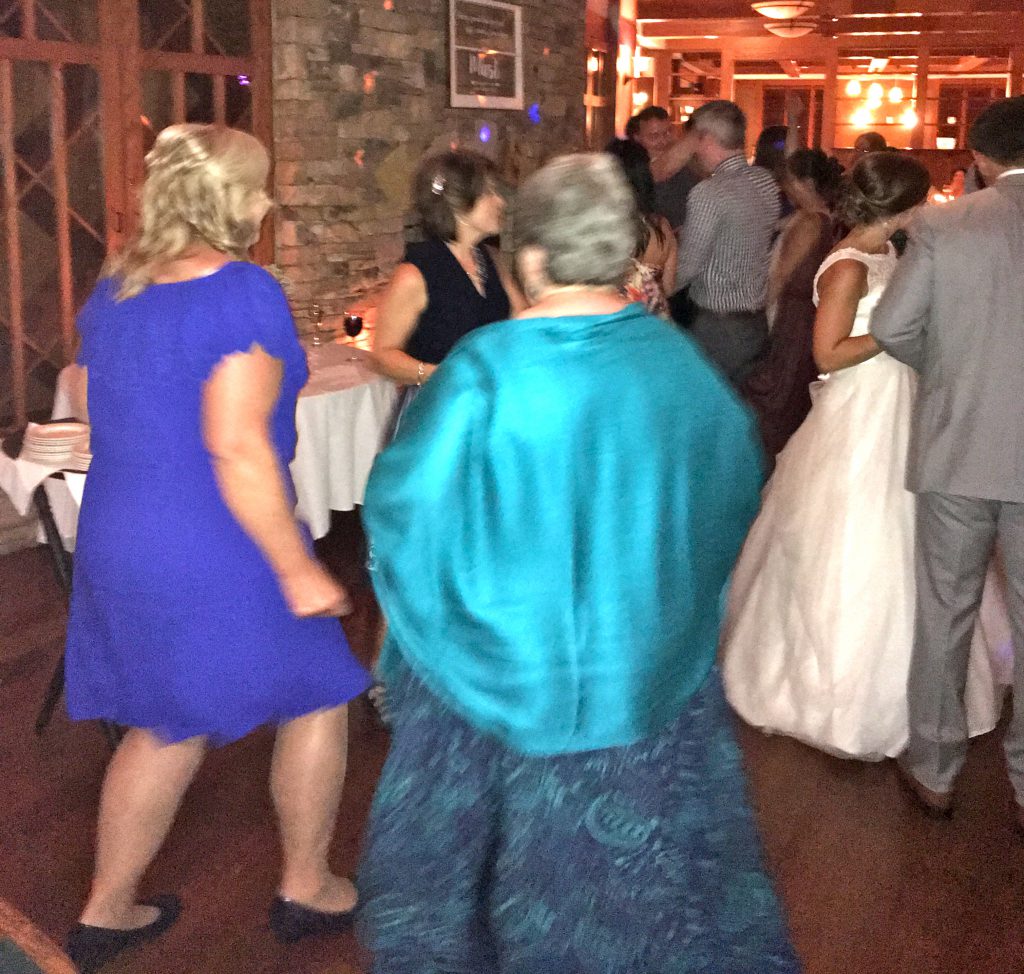 David and I enjoyed Nolan and Ruth's wedding a great deal. To me, weddings represent such hope for the future, and they create occasions for families on both sides to come together to celebrate this optimistic look into the future. No wonder it is customary to dance at weddings — it is a way to have one's whole body enter into that joy.
During the last dance, Ruth came and danced with me. I told her I thought I saw her dance all through the night. With a grin from ear-to-ear, she said, "But I am just so happy!"
What a joyful way to end the evening! When David and I left, we recalled our own wedding, 35 years ago. To this day, I still say it was the happiest day of my life. I imagine Ruth and Nolan will be saying that when they attend a wedding in the family 35 years from now. By then, David and I will probably be smiling down on them from the heavens. And perhaps that is what makes weddings so joyful… they make me think beyond my own future to the coming generations. There is nothing more hopeful than that!