It's been weeks since last I posted here. Life is full, so there has not been a dull moment.
David and I just signed an offer on our house… hurray! When I let my long-time friend in Vermont know that we were signing this offer, she wrote, "Wow! Your life must be spinning right now and gypsy that you are, your heart too is aflutter with joy and anticipation."
Does she ever know me well! I hardly know which way to turn with so many things to do.
Now comes crunch time for packing and making our move. Between David and me, the hardest decisions have to do with what to take and what to leave behind. David's the keeper, and I'm the one wanting to shed all but the essentials. He thinks I win most of the time, and I think he does. (And I have photos of the basement to prove it.)
You might want to know where we are moving to. Over the last months, we considered Ohio, Maine, Vermont, and Virginia. We're moving to Virginia for the winter. During this time, we'll consider places in the Champlain Islands in Vermont and in Harrisonburg, Virginia. We have several dear friends there. Eventually we'd like to have a winter place in Virginia and a summer place in Vermont.
Now that we know we're leaving, we're realizing how much we've enjoyed our home the last eight years. Below is a photo that shows one small sample of what we've put into it.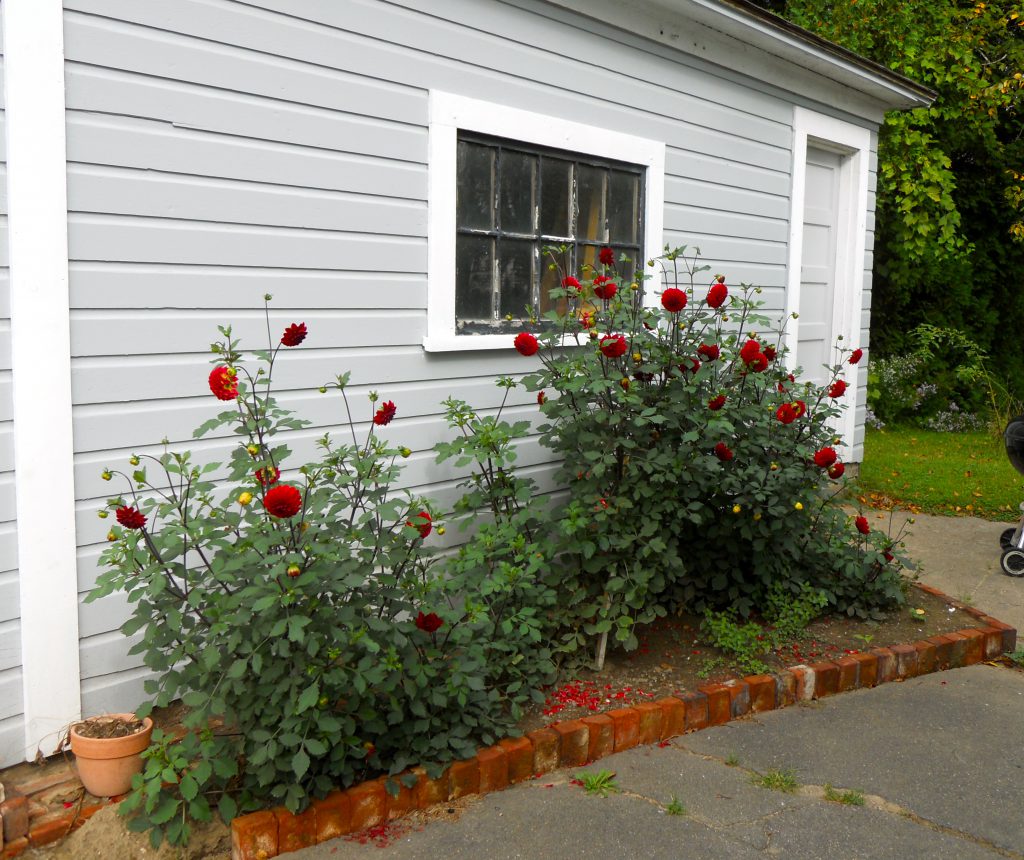 Photo by Saloma Furlong
This summer, David stripped the lead paint off this side of the garage. I painted it and planted the dahlias. Then David had the idea of using the bricks we had stored under our front porch to make the border, both behind and in front of the flowers. I had painted the door on the far end of the garage several summers ago. This is how David's skills and my own complement one another. Now if only we can agree on how much to load onto that moving van!