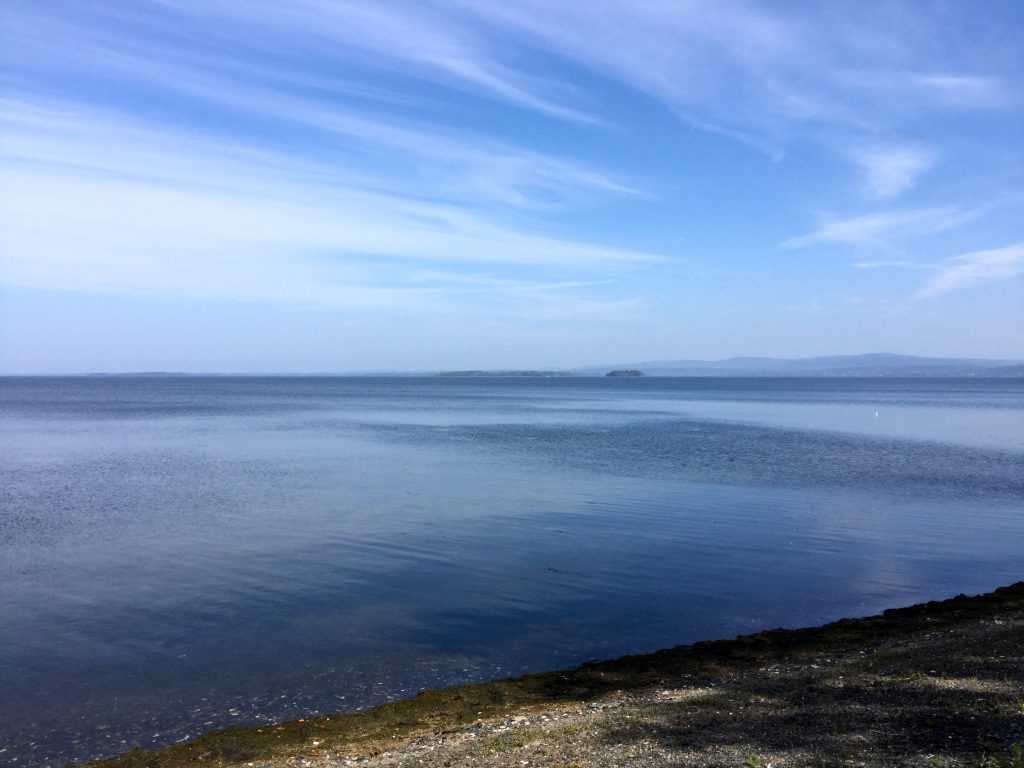 View of Lake Champlain: Photo by Saloma Furlong
Yesterday David and I signed the Purchase and Sale agreement on our home. When we first signed the offer on our house, we were thinking it would take us a few weeks to find a place to live… it ended up taking less than 24 hours. What a relief! We'll be moving to a condo in Harrisonburg, Virginia. As Providence would have it, friends there own a condo that became available right around the time we needed it. So they offered it to us, for which we are most grateful.
I'm packing up a storm. I packed a whole lot of glassware yesterday. Even though we have purged many items from our household, I realize I'm still pretty Amish when it comes to liking pretty dishes and glassware. I packed four boxes of it yesterday, and I still have three sets of dishes to go. As I meet up with my cousins and nieces younger than myself, I will be offering them the pieces that have been passed down through the generations.
David and I so enjoyed our soul-restoring trip to Vermont a few weeks ago. We had temperatures in the 80s, so we went swimming in Lake Champlain, watched the sunsets over the lake, and gazed at the stars at night. And we enjoyed observing nature.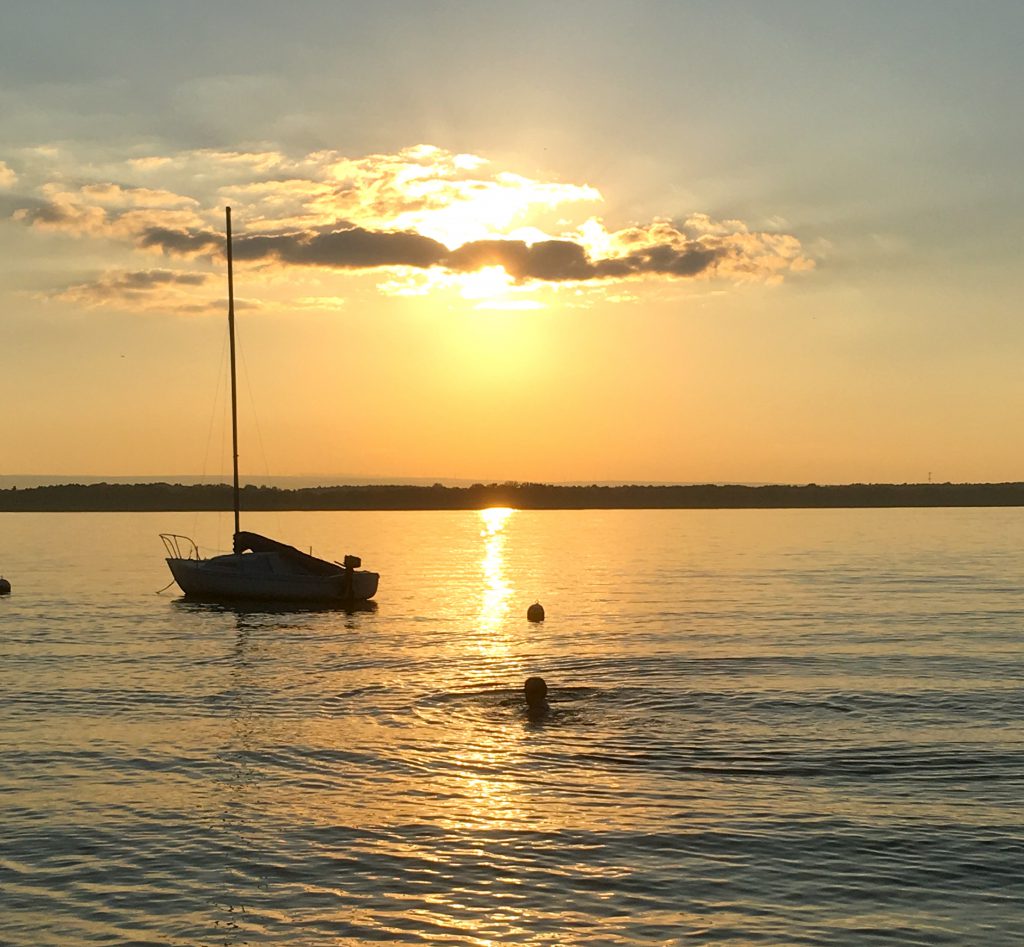 There is a buoy to the right of the sunbeam. That other buoy with ripples around it is my head.

We watched young ducks skimming across the top of the water, as if they were playing a game. A great blue heron stood by and watched them.
There is a beautiful place on the western shore of Isle La Motte that feels like it's heaven-blessed. It's called Saint Anne's Shrine, and it even has an outdoor cathedral. It actually feels like a sacred space, and it has several little shrines, where one can sit in candlelight and be contemplative. Right across the street is a beach, where people may swim in the lake. There is also a monument of Samuel de Champlain, the explorer who the lake is named after. I thought I took photos, but I'm not finding them. So you can see photos of the shrine and surrounding area by going to their website.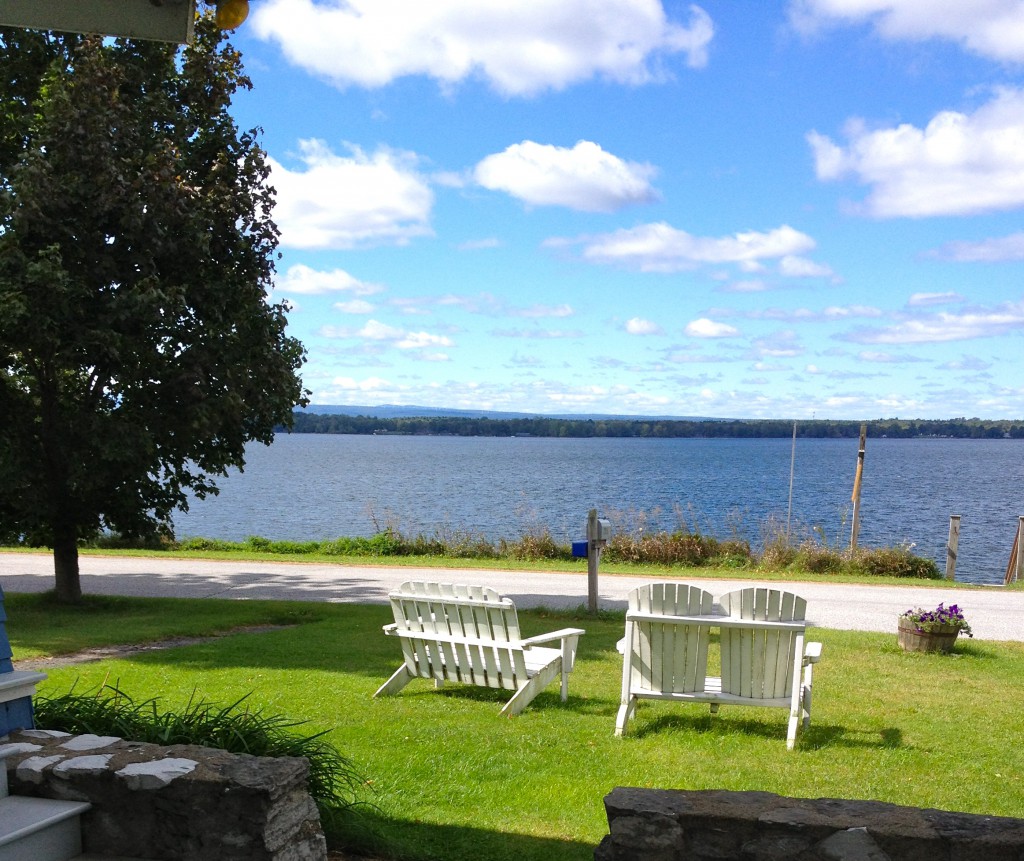 Inn at the Isles
We stayed at a cottage at the Inn at the Isles, owned and operated by our friends, Paul and Janel Gamm. This inn dates back to the days of the stagecoach. They have kept the rustic feel of the inn, while offering their guests modern amenities. And the inn is on a spot of Lake Champlain that is truly magical. So we returned home feeling restored and ready to take on the challenge of making this move. Since then, I've had lots of moments of push and pull. It's hard to say good-bye to this home that we've put so much into, but I'm also very much looking forward to integrating into our new community and exploring a whole new part of our big country. I'm finding as I get older, I'm less agile when it comes to making major life transitions. So this one is taking me some time to become acclimated to.
I read an article this morning that felt like it was written for me. The term for de-cluttering over time in one's life is called "Swedish death cleaning." A quote from the article is, "The ultimate purpose of death cleaning is to minimize the amount of stuff, especially meaningless clutter, that you leave behind for others to deal with."  As I've been sorting through our belongings, I've often had Paul and Tim in mind as we decide what to keep and what to let go of. I can never know which items will bring back memories for them, and which ones they will consider clutter to be gotten rid of, but I can make some good guesses. Keeping the next generation in mind is realizing that we are pilgrims on this earth for a time and we cannot take our earthly treasures with us. So our decisions of what to keep and what to let go of is like choosing the legacy we leave.
---
On a different note, I wanted to link to an article I read this morning that I found heart-warming. It's called America's Amish Refugee Town Faces Fresh Challenges. I did not know that these people in Lancaster are welcoming refugees. Bless these Mennonites and Amish for giving back what America gave to our ancestors centuries ago… a safe place to carry on their religion and culture.
And one more article: I've been extremely worried about our relations with North Korea, and I kept praying for Divine Guidance towards a peaceful resolution to what seems like a dire (and sometimes hopeless) situation. I kept looking around for wise leaders to step forward to steer this ship out of troubled waters. And then I read this article about Jimmy Carter offering to help defuse the tensions. Time will tell whether the Trump administration will allow him to do so. God, I hope so! Perhaps there is a reason Jimmy Carter still walks this earth, even after his cancer diagnosis. Thank God for the wisdom Carter has accumulated in his 93 years. May our prayers for Divine Guidance be answered, so that we may be delivered from the consequences of an outcome beyond our comprehension. May future generations and the life of the planet prevail.