As things here in Harrisonburg become more familiar with each passing day, I've been reflecting back to our move. We had several unusual encounters with nature, all within a week before we left Massachusetts that felt like more than coincidences.
One day we were traveling south on Route 116, about a mile from our home, when a little bear cub went running across the street just ahead of us. David stopped the van, and we watched it run off into the woods, and then disappear down into a little ravine. We looked around, wondering if Mama Bear could be far behind, but we didn't see her. We had never seen a bear in the nine years we lived in Sunderland, so that was pretty special.
Then one day, we had a visitor via the living room window. We had never before seen a praying mantis on our property, so that was another unusual occurrence. Later, David found a larvae of a praying mantis, which we left behind for the children.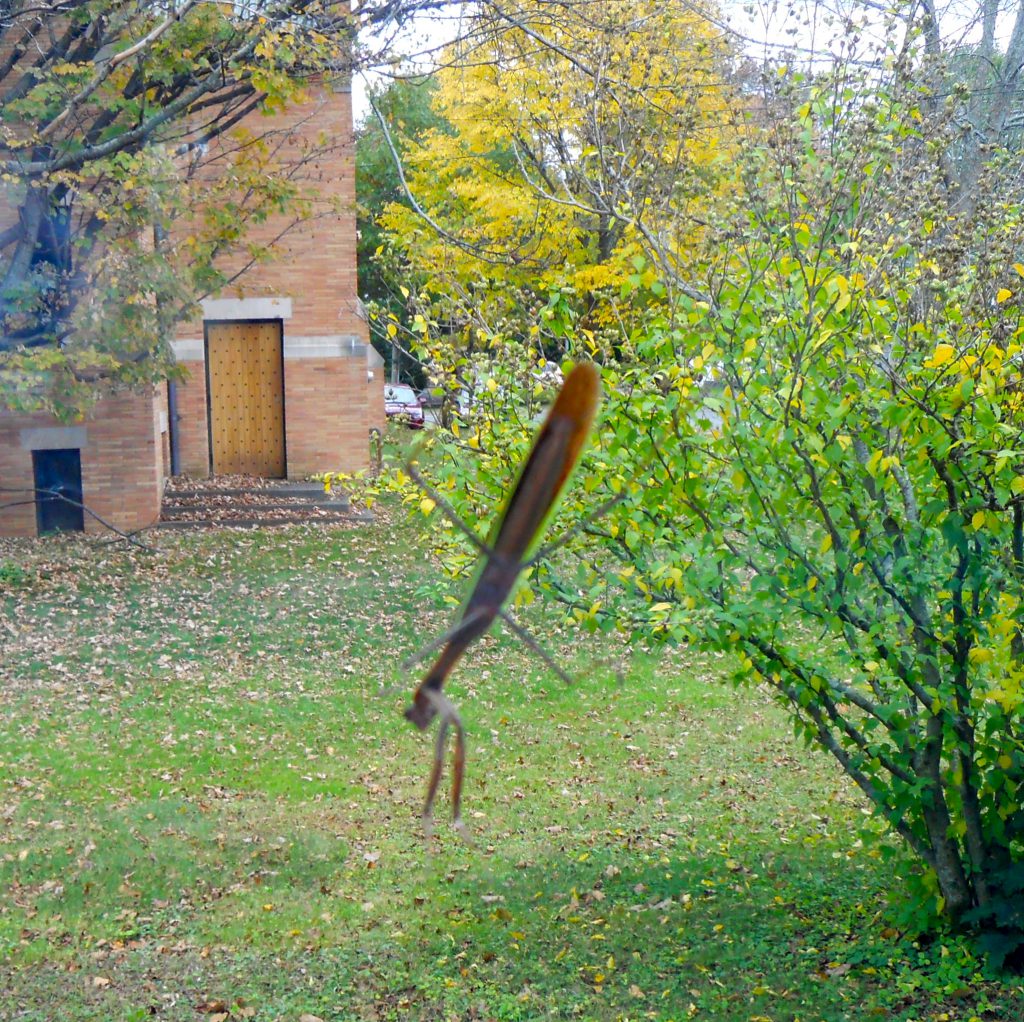 The morning of our closing, a praying mantis made another appearance as David and I were fitting the last belongings into our moving truck. David came up to me with it perched on the palm of his hand. It flew up to my chest, and sat there for a long moment. Then it made as if it was going to crawl down my shirt. That was a little much, so David put it back into the garden where he'd found it.
Because we lived right under Sugarloaf Mountain near the Connecticut River, we saw a wide variety of birds, including hawks and eagles. David and I often slept with our window cracked open, and over the years we wondered why we didn't hear owls at night. For several summers, I kept hearing a mockingbird making all kinds of calls around midnight, but no owls. Wouldn't you know, on our very last night in our home, we heard an owl. It actually woke me up, and I usually sleep so soundly, I wouldn't wake up for something like that. David was already awake, trying to figure out what it was he was hearing. By listening to owl calls on All About Birds, we've identified it as a Northern Saw-whet Owl. The call that sounds just like the one we heard is labeled "whine-like call."
Owls seem to appear at crucial times in my life. Back in 2011, the night before I was to give my first book talk in Burlington, Vermont, we were staying with our friends, Carol and Kevin McQuillen. I couldn't sleep, so I went downstairs to their family room and sat quietly, to still my soul. And then I heard an owl… whoo-whoo-whooooo…uuu. Then I knew I would do all right. More then 140 people showed up for that talk. The person who introduced me said they hadn't had that big a crowd since Ambassador Galbraith spoke there. I almost had the shakes before I stepped out on that stage. Then I had a stern talk with myself. "Saloma, you did not wait 17 years to publish your book and tell your story to lose your courage now. This is your audience, now you get out there and talk to them." So I took a deep breath, walked out, and did my first talk. It broke the ice for all my other talks.
David and I accepted the owl calls on our last night in our home as a gift from Mother Nature herself. We felt like the owl, the bear cub, and the praying mantis were all good signs for the move we were making.
As always, I appreciated all your comments on my last blog entry. I enjoyed your stories about moves you've made in the past. They reminded me that no move comes without its challenges. The truth is, I feel good about the community we're integrating into AND I miss our old home. A lot. I keep telling myself that not everything will be this new forever, that we'll find a home that is right for us, and that we'll get settled and feel familiar in our surroundings again someday. It is only natural that we'll miss the home we put so much into for so many years.
Meanwhile, I am enjoying spending my days with David. I love how he makes me laugh. A few days after our move, we were headed to the Sheetz station around the corner to get gas. We were waiting in a line of traffic and there was a dog sticking his head out the window of the pickup in front of us. It was one of those dogs with big jowls, like a boxer or pit bull. As semi-trucks rolled around the corner, the dog glared at the tires going by. His head would actually pivot from right to left, and his jowls twitched, like he could barely contain himself. David made a low growling noise and included in the growl, "Well, I oughta!" As I looked at the aggression emanating from that dog, I burst out laughing. I said, "That is exactly what it looks like he's saying!" I could not stop laughing. David could not figure out why I was laughing so hard, and I couldn't explain why it struck me so funny. Every time I thought I was done laughing, a whole new set of giggles would bubble up from within.
Today we had another reminder of why we love living in the Shenandoah Valley. My niece, Kate, visited us on her way from the DC area to Charlotte, North Carolina to visit her family for Thanksgiving. It was so great to see her, and we look forward to seeing her again in a few weeks when she comes to visit for the weekend. I promise to post some photos of her visit. (I admit to having had so much fun with her today, that I forgot to take photos). Kate took a photo of our lunch table: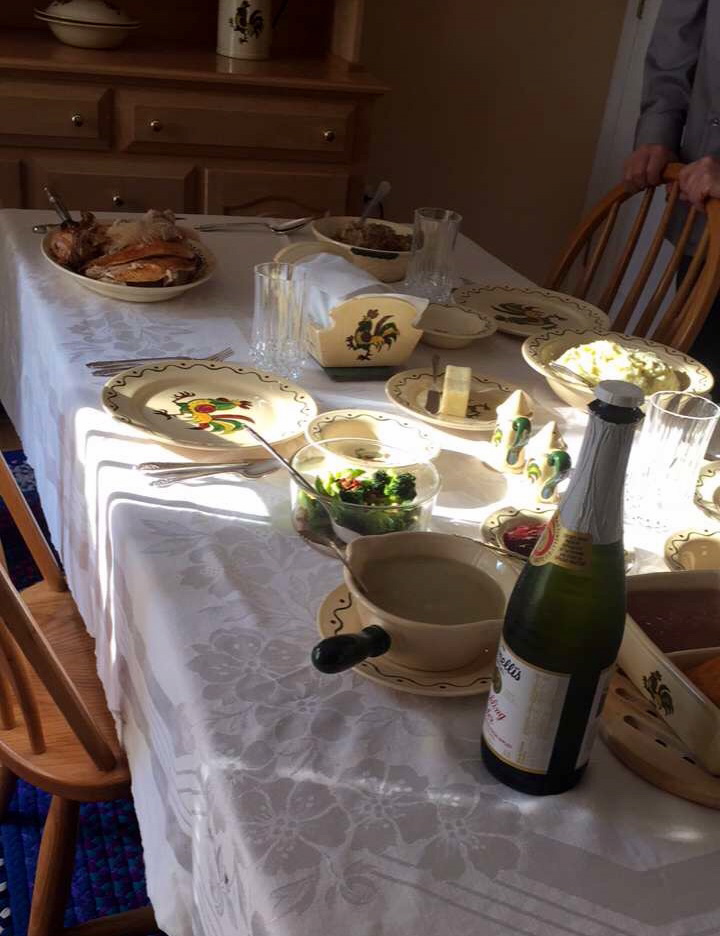 I close wishing everyone a Happy Thanksgiving. May you be surrounded with loved ones and enjoy delicious food and lots of good cheer.