Well, we've moved. Eleven nights ago, David and I were putting our bed together for our first night in our condo in Harrisonburg, Virginia. Then the next day we began the process of settling in, one room at a time.
I have to correct something I posted earlier. I was feeling so confident that we had purged enough of our belongings that we could get everything into a 20-foot truck bed, including David's machines and tools. I grossly underestimated how many belongings we still have. David ended up taking out a 10-foot by 10-foot storage unit for his machines, tools, and other belongings we couldn't fit onto our truck. We packed and re-packed the back end of our moving truck. On the morning of the closing, we managed to fit our mattress into the very back of the truck, strapped it in, and we had not even an inch to spare to slide the door closed. When the packing just went on and on and on, I realized I had underestimated by a long shot. So I am truly humbled.
Our moving took two long days. Friday morning we met in our lawyer's office to sign the closing documents, and a few hours later we heard from his office that the house was officially no longer ours. In Western Massachusetts, the sellers, buyers, their attorneys, and the real estate agents no longer get together for the closing… rather the sellers sign with their lawyers, the buyers with their own lawyers, then the lawyers get together and exchange documents. The buyers' attorney then records the deed, and that is when the transfer of property officially happens. It was a funny feeling, walking through the house, taking photos and saying farewell to each room, knowing we no longer owned this house that we were so intimately familiar with. It was especially strange because we hadn't visited the condo we were moving into.
Here are a few of the photos of the emptied out house we called home for almost 9 years.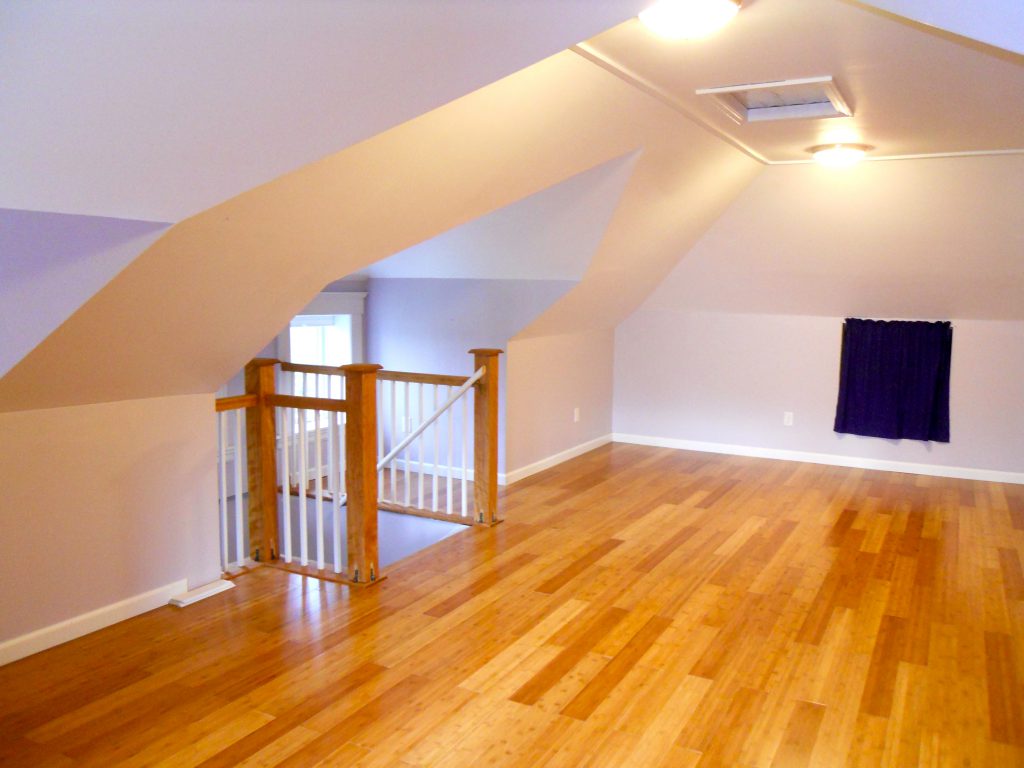 In the top room of the house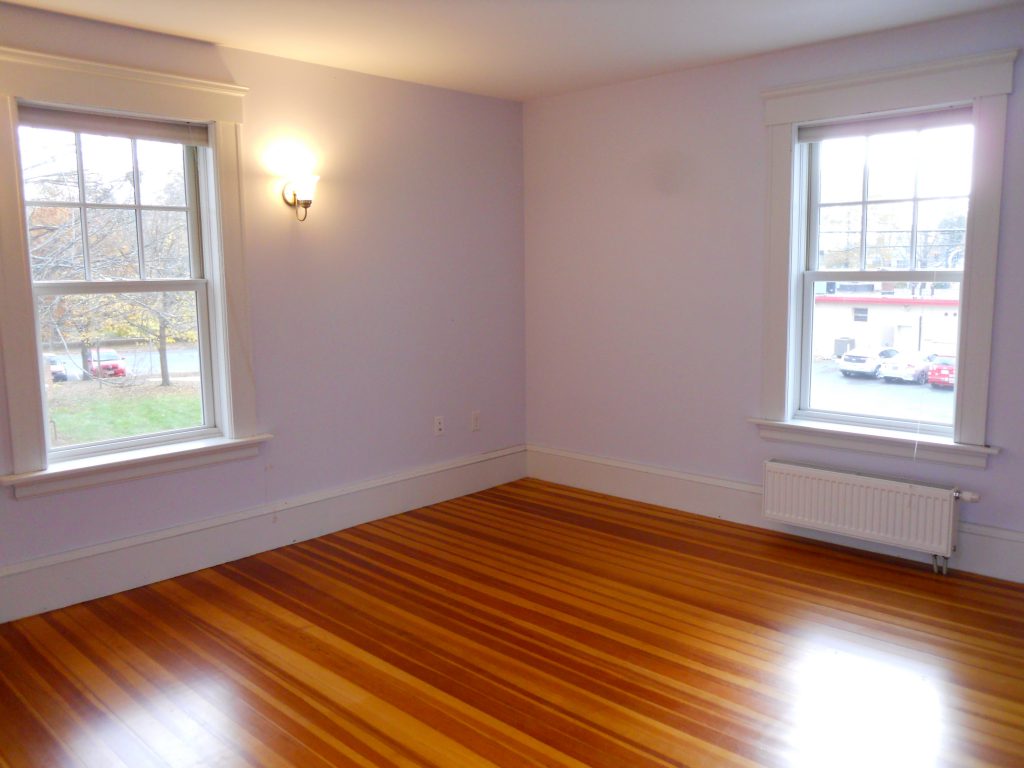 What was the second-story guest bedroom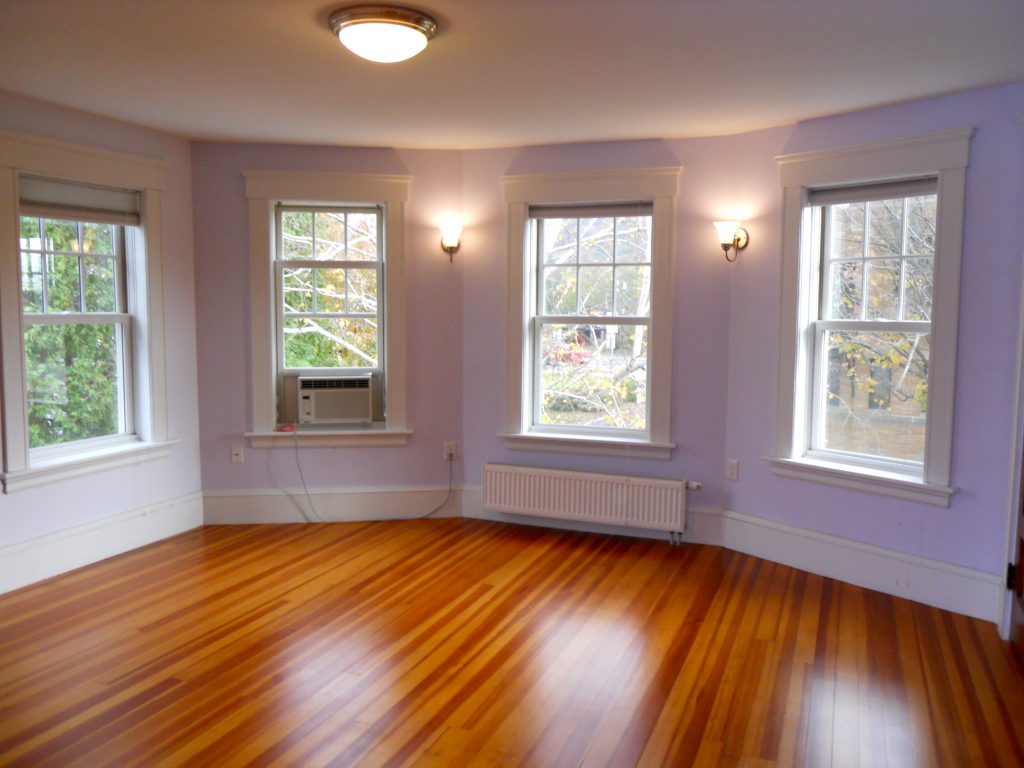 Master bedroom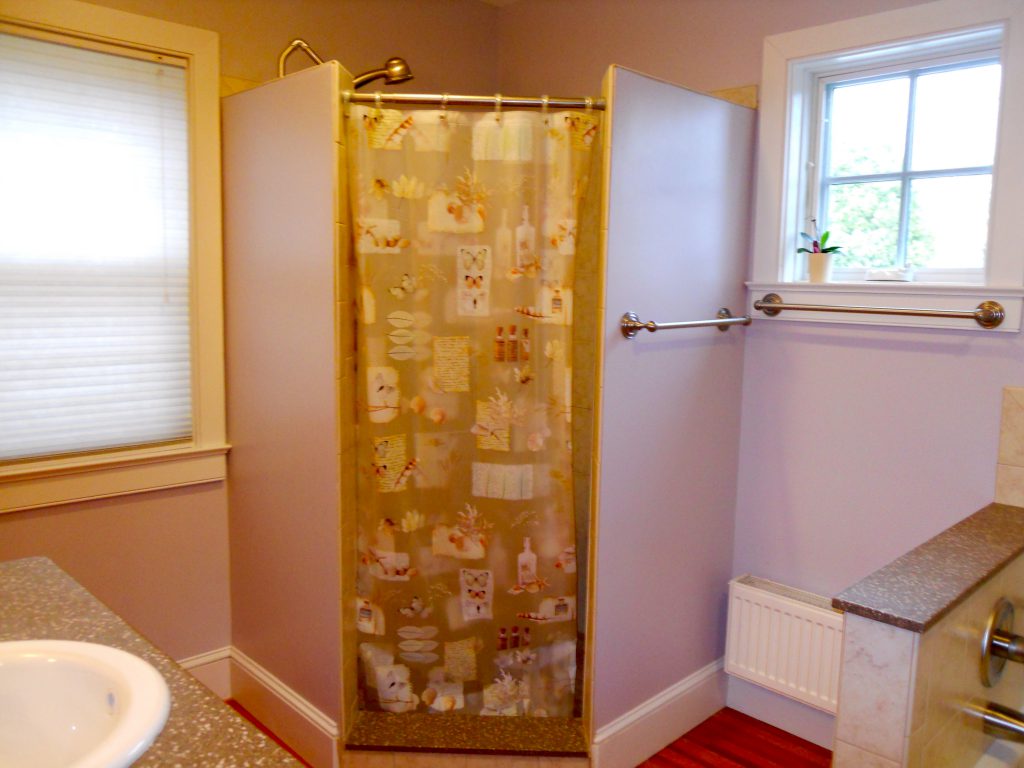 Oh that comfortable shower! Many a morning I would get out, wrap myself in a big warm towel and repeat my mantra: Life is sweet, Life is bliss… when you have a shower like this!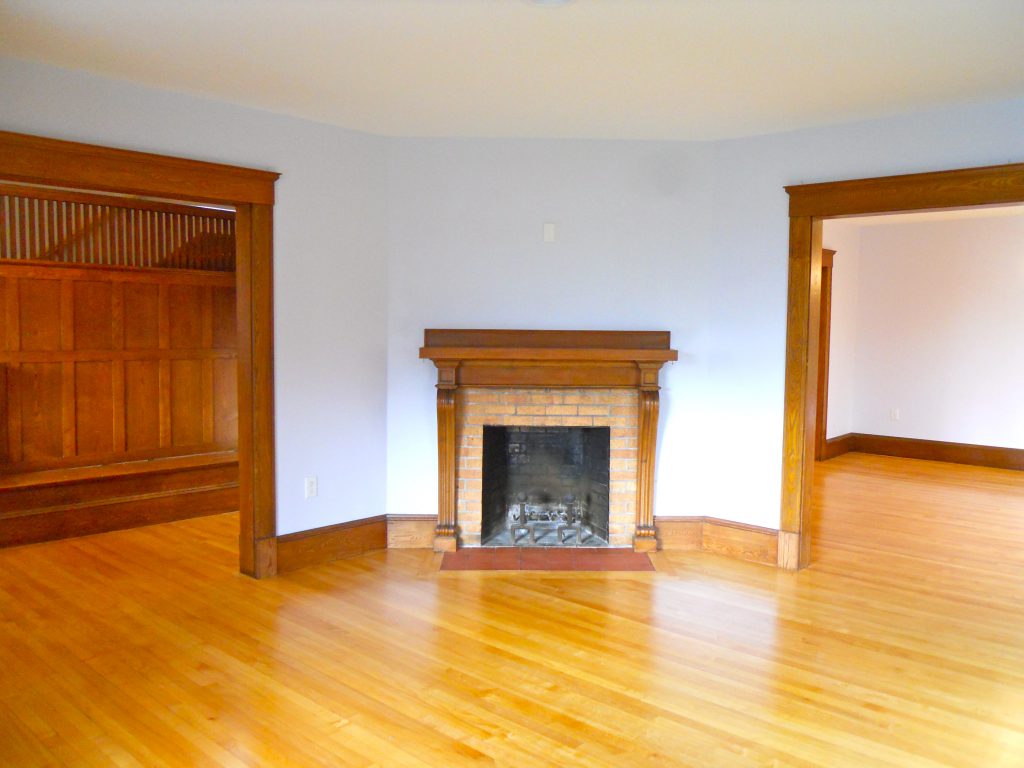 The chestnut woodwork in that house is truly beautiful. And the maple floors…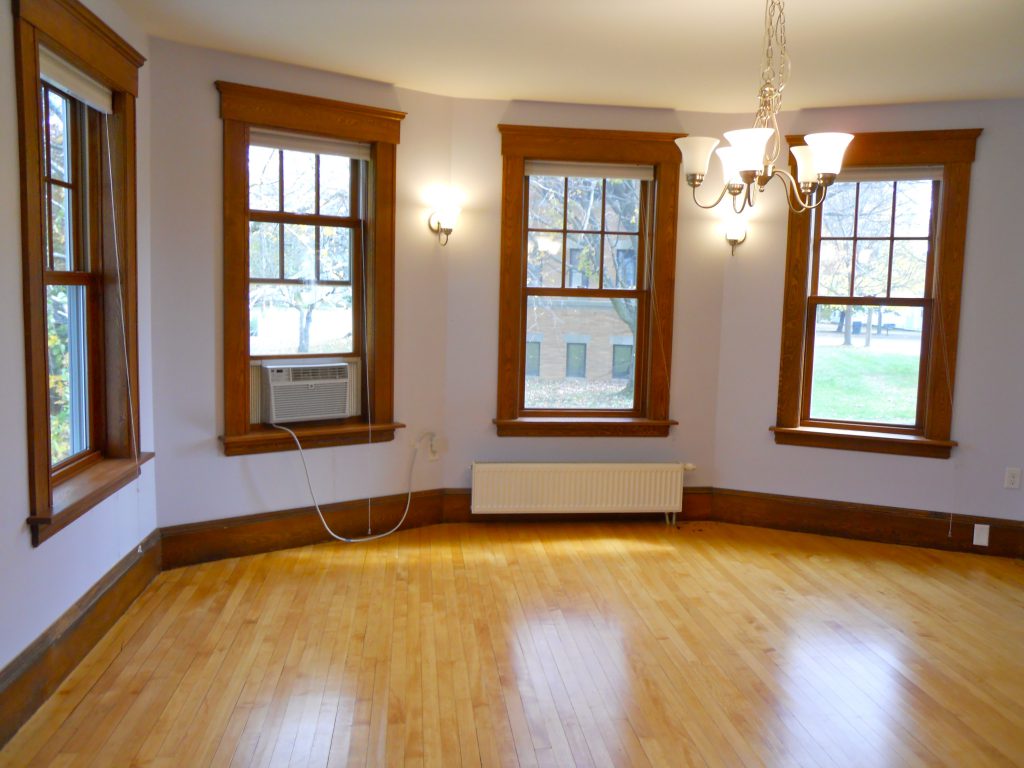 All those meals we ate in this dining room…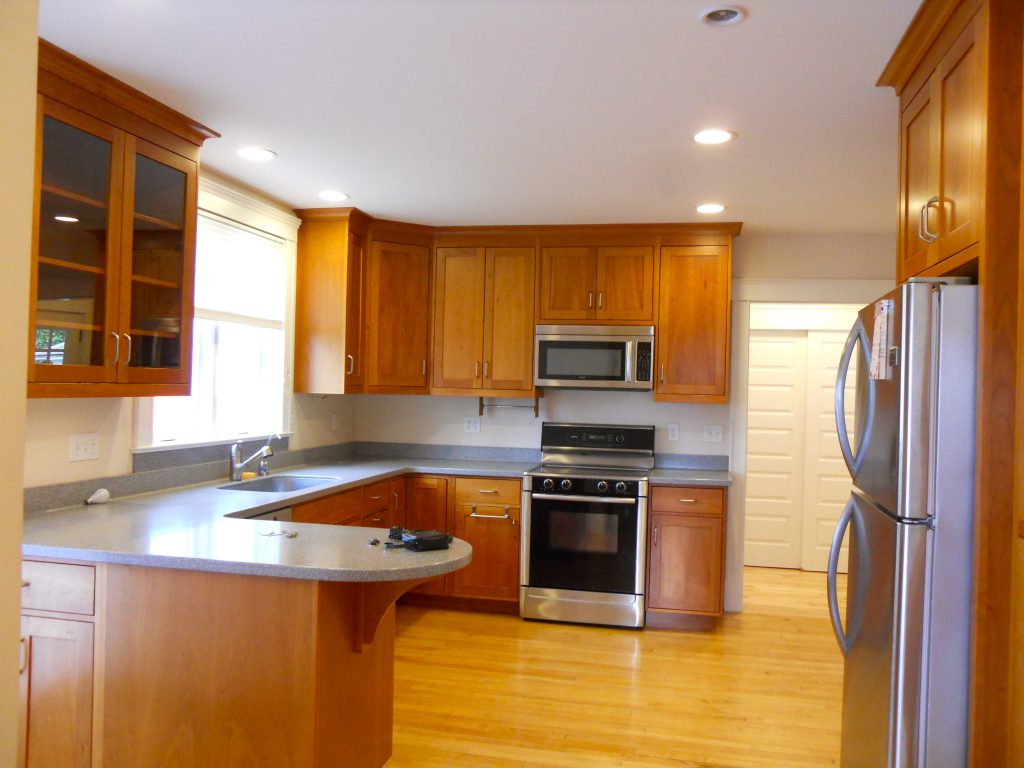 Oh, how I miss my kitchen… those lovely cabinets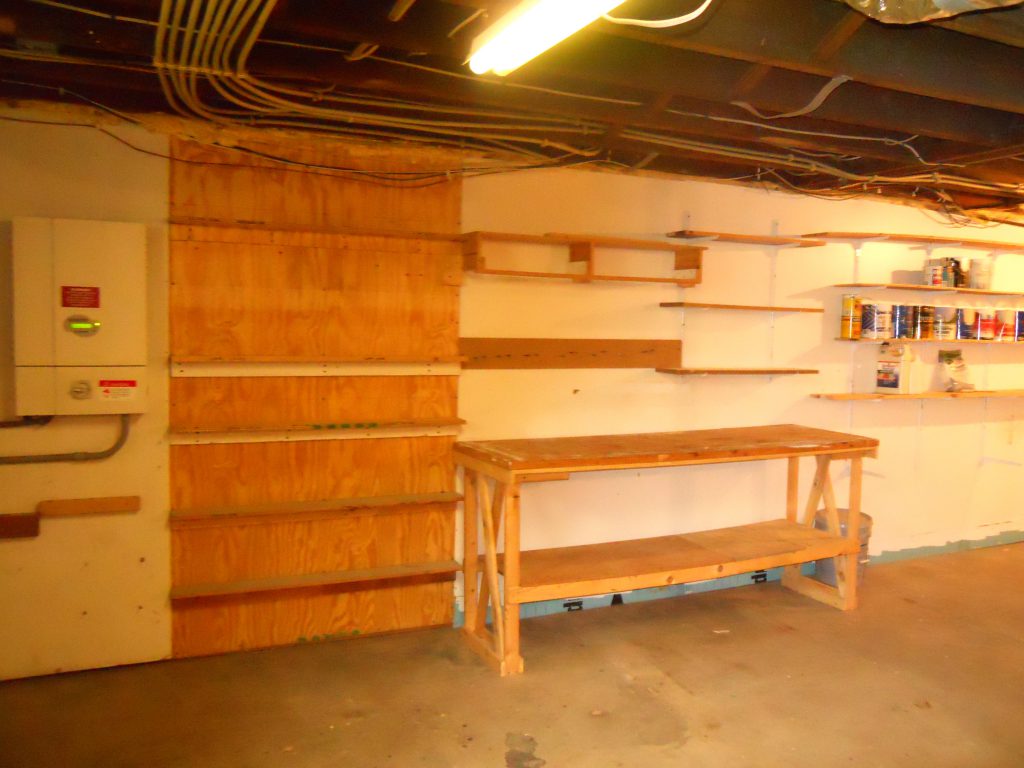 I could not believe how different the basement looked after it was emptied!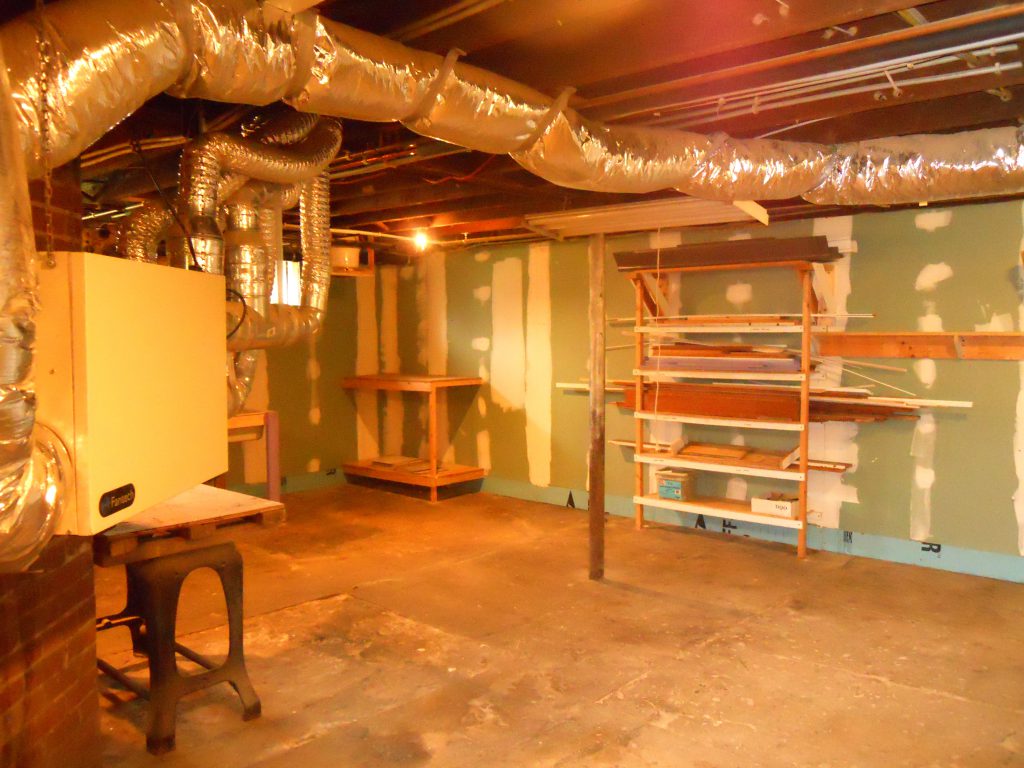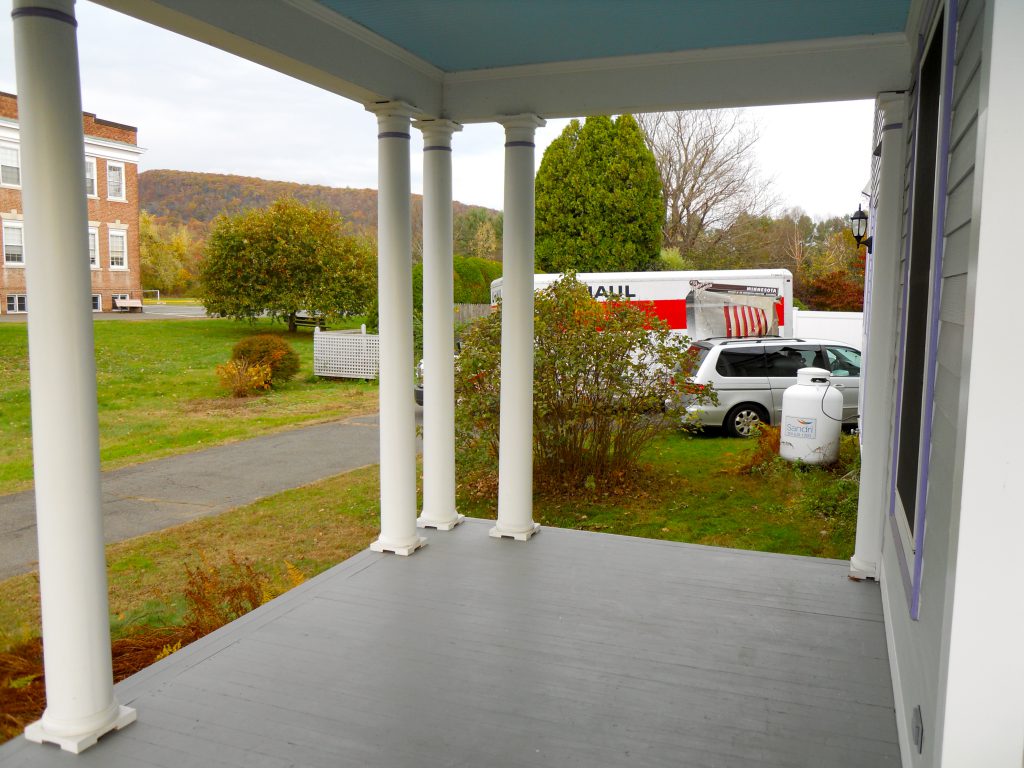 Loaded and ready for the journey…
After the official business of closing on the house, David and I had lunch at Panera's, and then we headed south on Interstate 91 towards our new home. I drove our van, and David drove the moving truck. We made it as far as Binghamton, New York that night and stayed at a hotel. We headed out early Saturday morning to drive the rest of the way. Our friends, Ann and Paul Yoder, who we're renting from, were waiting for us at the condo. We stayed in touch with them about our timing because they had coordinated with three strapping young lads to help us unload the truck. We were so grateful to hire them, and were they ever good! David, Paul Yoder, and these young men had the truck unloaded in an hour and a half. Then everyone left around 4 PM, and David and I found ourselves in our new home, facing the daunting task of fitting our belongings into a house we'd never seen before that day. Below are a few photos of us settling in.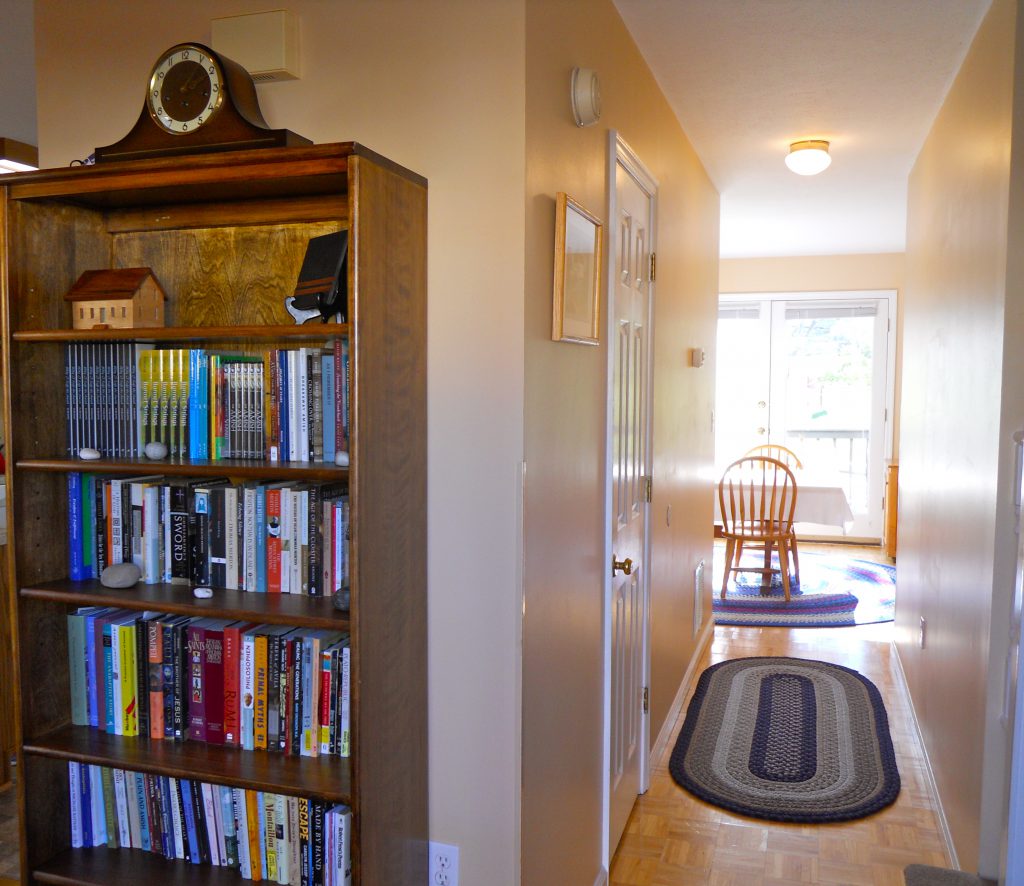 The front hall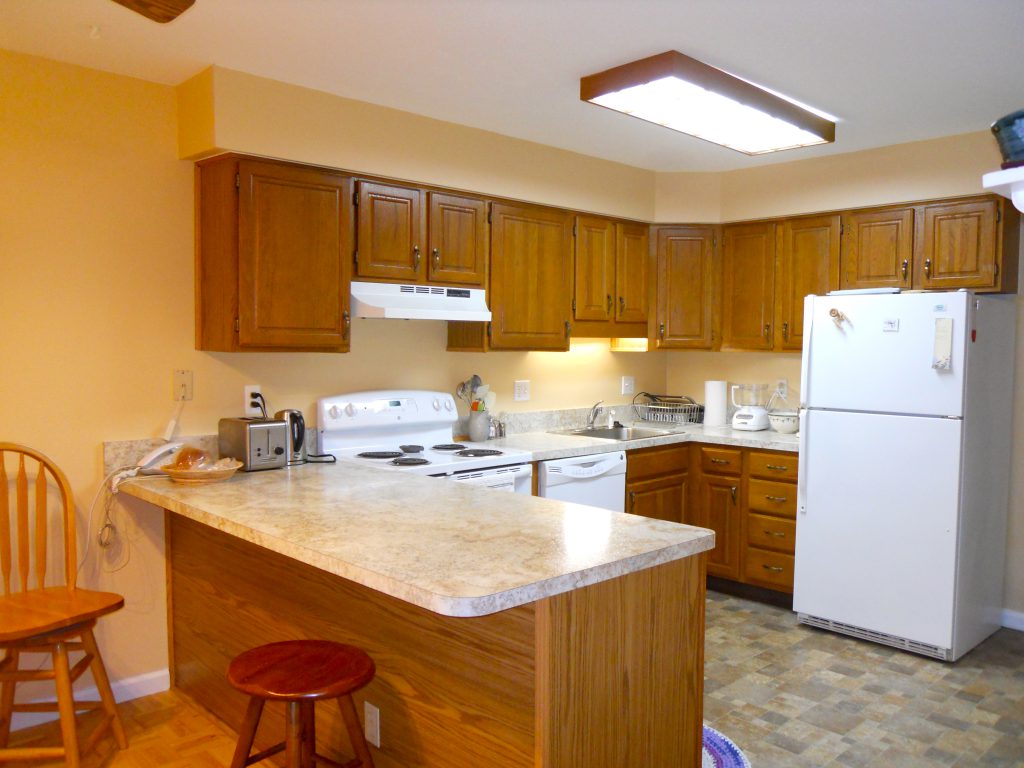 Kitchen
Our breakfast nook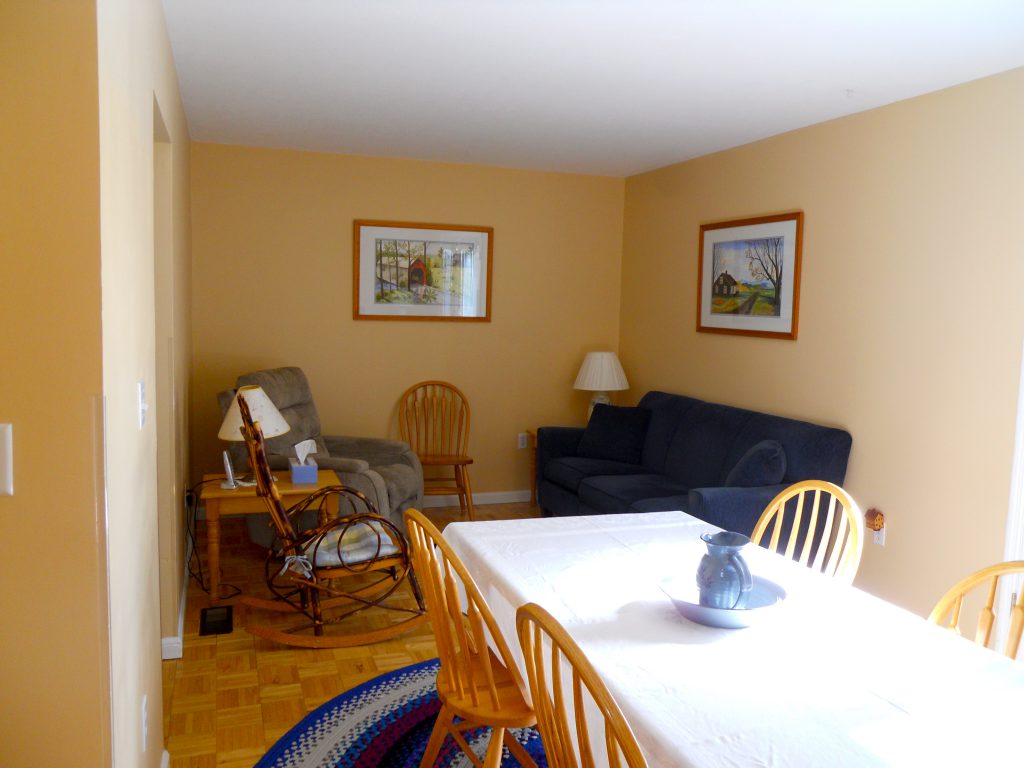 The living and dining room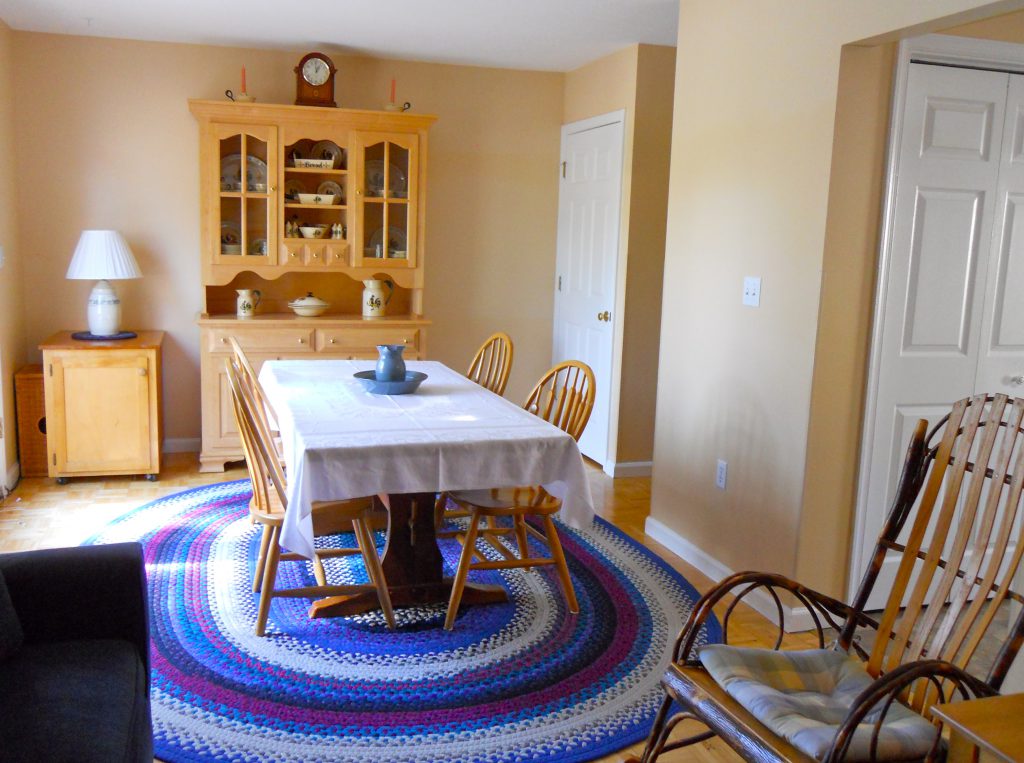 Dining area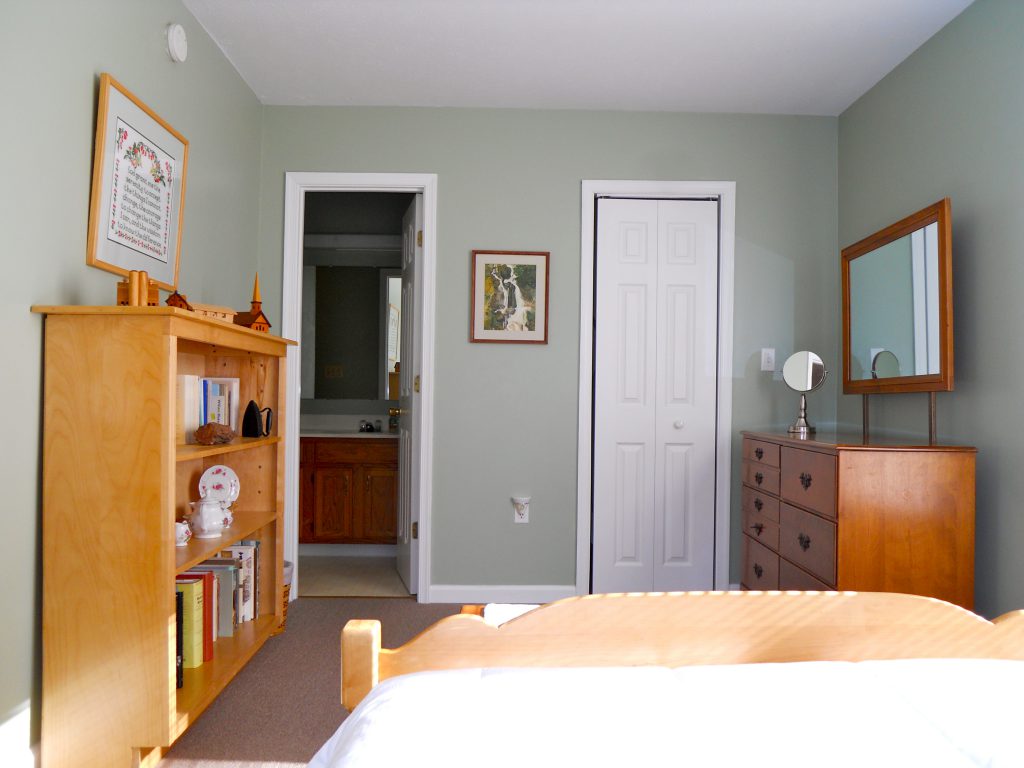 The guest bed and bath
Thankfully, there is a huge family room in the basement that serves as storage for our extra furniture and belongings, and a place for the tools David brought with him.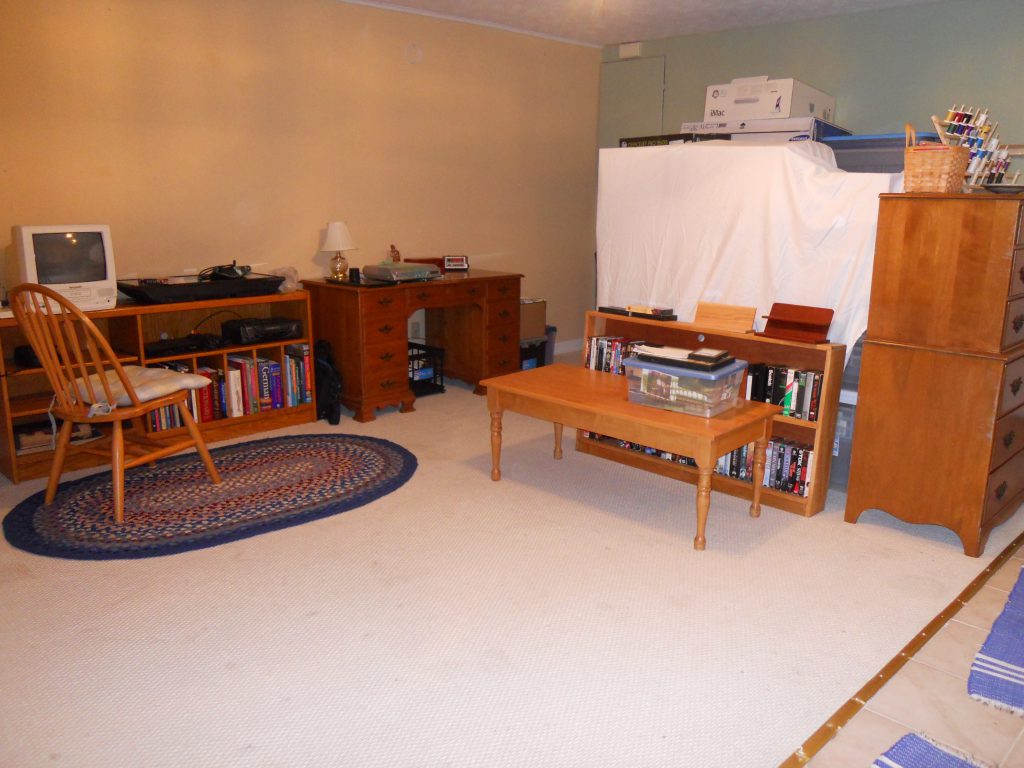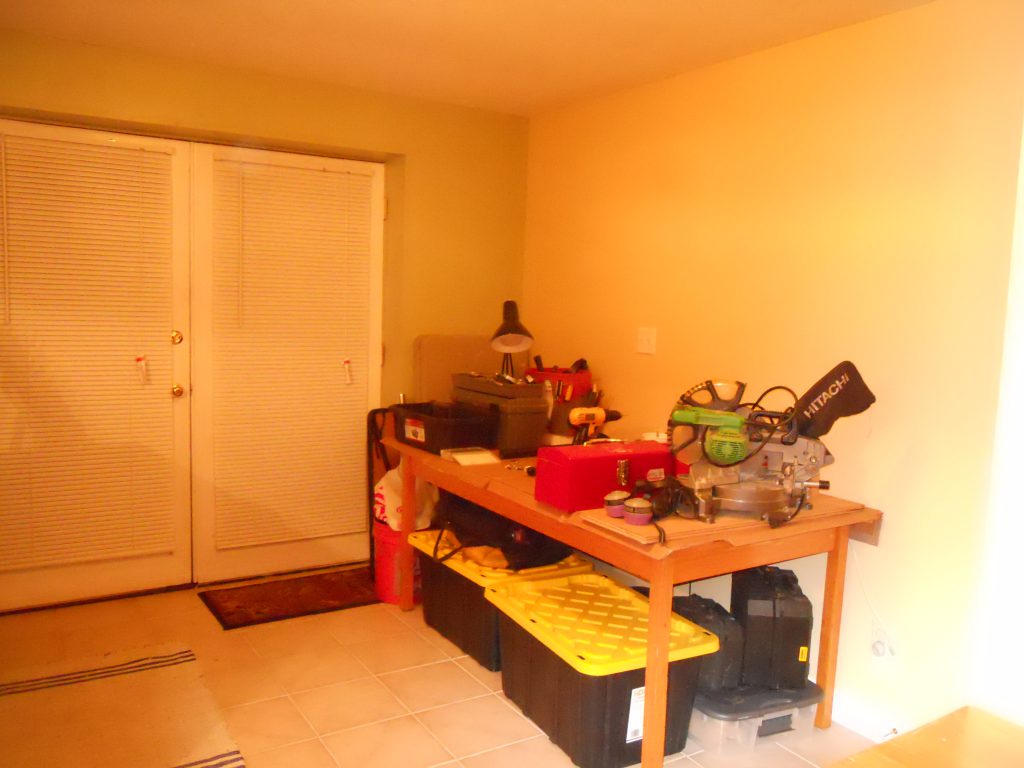 So this is a photo tour of the house we left and the home we are living in now. This is a temporary home while we find one we want to purchase in this area next spring. I miss the house we left in Massachusetts, but I am so glad we moved to Harrisonburg. On my eleventh day here, I feel like we made the right choice. There is a reason why Harrisonburg has been named "The Friendly City." It helps that we have friends here to start with. David and I've already had two meals with Vi Dutcher, and I've been to the movies with her. I had lunch with Sadie Showalter yesterday. Two nights ago, we attended an event with new friends, Wayne and Kathie Kurtz, and then they came here for cookies and tea afterwards. Paul and Ann Yoder have been here for a meal once and dessert another night. We've attended a Lifelong Learning class with them in a course about climate change and renewable energy. We attended Park View Mennonite Church on Sunday morning. So our social calendars have been filled up, with a social event every day for the past week. If anything, I have to watch that I don't overbook. But after feeling so alone in my beautiful home in Sunderland, Massachusetts for the past eight years, this is a wonderful feeling. I feel like I am among my people, surrounded by Anabaptists of all stripes… former Amish, Old Order Mennonites, Conservative Mennonites, and liberal Mennonites. Here I feel I can bring together my intellectual quest with my spiritual one. I cannot emphasize enough how important that is to me. I feel like I've landed in a city of kindred spirits.
Today I posted our guest bedroom on Airbnb. If you, or anyone you know, is traveling through the Shenandoah Valley and need a place to stay, I hope you take a look at our "Stay in Shenandoah" option.
I need to close for now, but I plan to post more often as we get settled in. I have lots to write about. I thought it was high time to post about our move. I'd love to hear about moves you've made. I find it both challenging and exciting. How about you?