As usual, I am reflecting on the year that is coming to an end (in just a few hours) and looking forward to the new year, wondering what it will bring. The year 2017 has brought many changes to my life. I am not labeling them good or bad, but merely thinking about their ramifications for what they mean in the coming year for David and me. I still have pangs when I think about the home we left, but open to finding a home here in the Shenandoah Valley. I try to keep the long view. This photo I took on our way to Charlottesville the other day helps me to keep my eyes on the horizon. In this case, it was a beautiful view, with all the colors in the sky that day and the mountains off in the distance.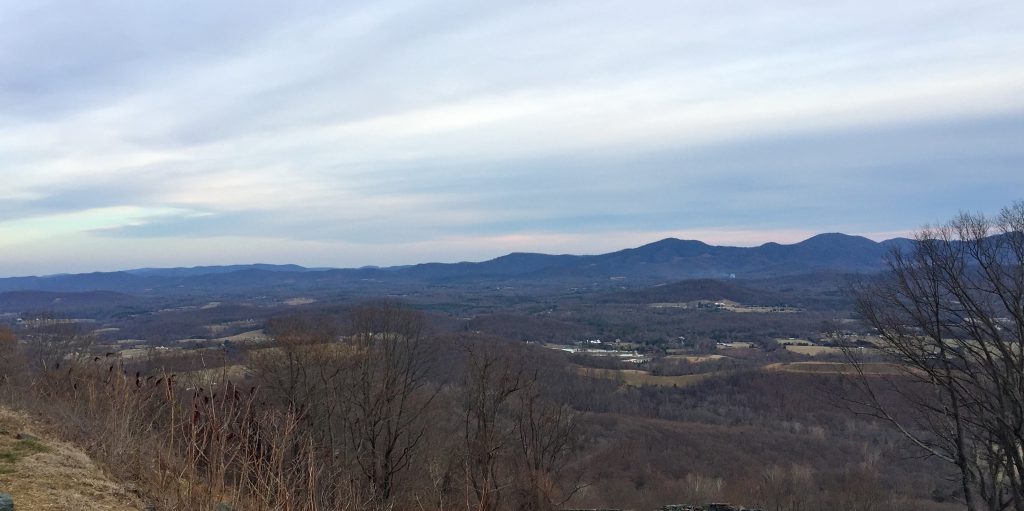 Photo by Saloma Furlong: Scenic overlook near Waynesboro, Virginia
David and I traveled to Vermont for Christmas. I did not keep my promise of taking photos as I'd planned. In fact, I never even pulled my camera out of my backpack. It seems David and I were in survival mode the whole trip. Our plan was to leave in Friday before Christmas, but I happened to look at the weather predictions on Thursday afternoon. I said, "Oh, oh, we better leave today." We hurried up our packing and headed out at 5:30 PM and drove all night to arrive at our son, Paul's place in Barrie, Vermont before sunrise on Friday. We had dry roads the whole trip, and after midnight we had the roads pretty much to ourselves. We traded off driving and pulled over to sleep a few times. Were we ever travel weary when we got to Paul's place. So we went right to bed and slept five hours. When we awoke, we were snowed in. Interstate 89 was closed between Montpelier and Burlington for part of the day, it was so dangerous to be on the road.
Paul owns an all-wheel drive vehicle with snow tires, and he was able to drive us around for the first two days. Then when we could drive out the van, we did and stayed at a hotel in Burlington for the next two nights. Tuesday, after visiting with David's siblings and our sons, we then headed south and drove all night again. We were so glad to arrive home safely. And was our car ever a salty mess! Yuck! We cleaned it at a self-service car wash the next day. I've never seen so much grit and salt come off a vehicle before.
David and I enjoyed visiting with three of his four siblings and their spouses for Christmas Day and the following day. We hadn't been to a family gathering for several years. It was also good to spend time with Paul for two days. We saw Tim and his girlfriend, Niina, for just a few hours before we left to drive home. We'll be seeing them next week when we travel to New Jersey. We'll be staying with them for the first time since Tim moved to New Jersey.
So overall, David and I were glad we went to Vermont, but we're also glad to get back to Harrisonburg, our new home.
Upon our arrival home, I discovered a nice surprise in my email inbox. It was from Tucson Festival of Books, and the first word in the email was "Congratulations!" I read on to find I have won first place in their literary contest in the category of nonfiction. Wha… I could not believe my eyes! Then I could not stop smiling for the rest of the day. I just kept saying, "Oh David, I am so excited!" (I think he got tired of it after about the tenth time).
In March I'll be heading off to Tucson to accept my prize an to attend the Masters Workshop offered to winners. David will travel with me, and we plan to visit the Grand Canyon while we're in Arizona. Neither of us has ever been there before.
David and I continue our search for a new home. For us there is a question of whether to settle within the city limits or in the countryside outside Harrisonburg. We're leaning towards the countryside, so David has plenty of room for gardening.
David and I will head off to First Night here in Harrisonburg tonight. We need to bundle up… it is cold out there for Virginia. It is predicted to go down into the single digits here tonight. Predictions are for Barre, Vermont to get temperatures of -18 and windchill factors of -32 tonight. Good thing Paul is rugged. I hope he manages to stay warm. We'll do our best to do the same.
I'll close this last post of 2017 wishing you all a Happy New Year. May you realize your hopes and dreams and find tranquility in the little things. I also want to thank all of you who have read my posts and commented over the past year(s). Without you, there would be no point in writing these posts. I am grateful for your readership.