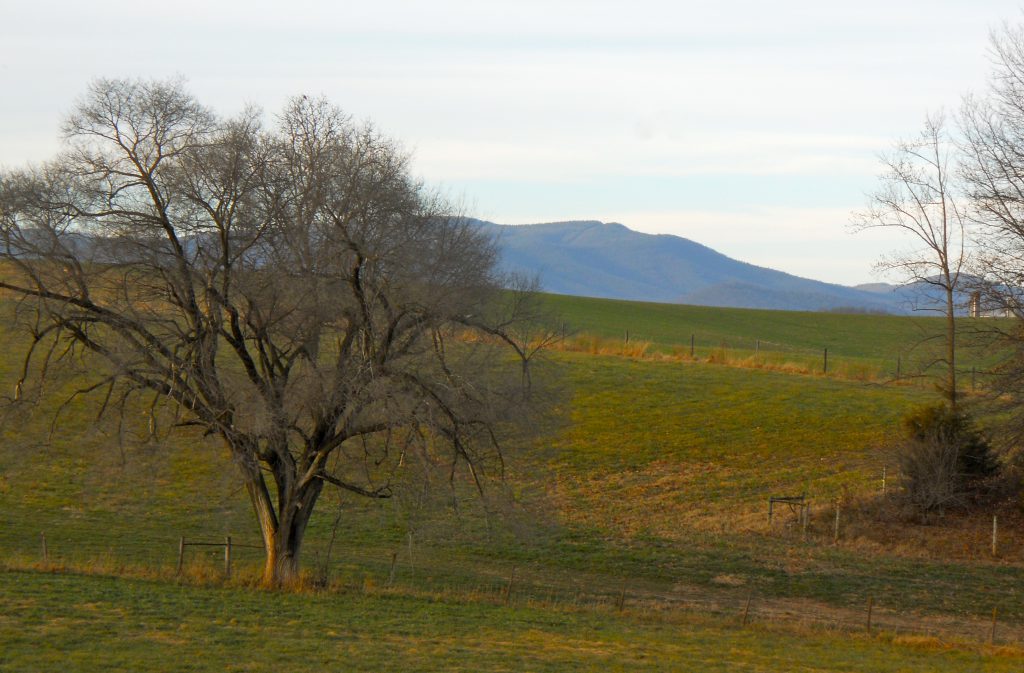 Photo by Saloma Furlong, Dayton, Virginia
For some time now,  I've been meaning to share photos of my world. Yesterday I actually had my camera with me when I wished I did, so I made use of it. I just love this old oak (I believe it's oak) tree with the mountain in the background. And green grass in December… how nice is that? Actually, a local woman I spoke to said she was hoping it would be cold for Christmas. We've had temperatures in the high forties and low fifties these past several days. At night it's still mild. I'm hanging sheets out to dry, and they come in smelling like fresh winter air. Love that!
Here are two more photos: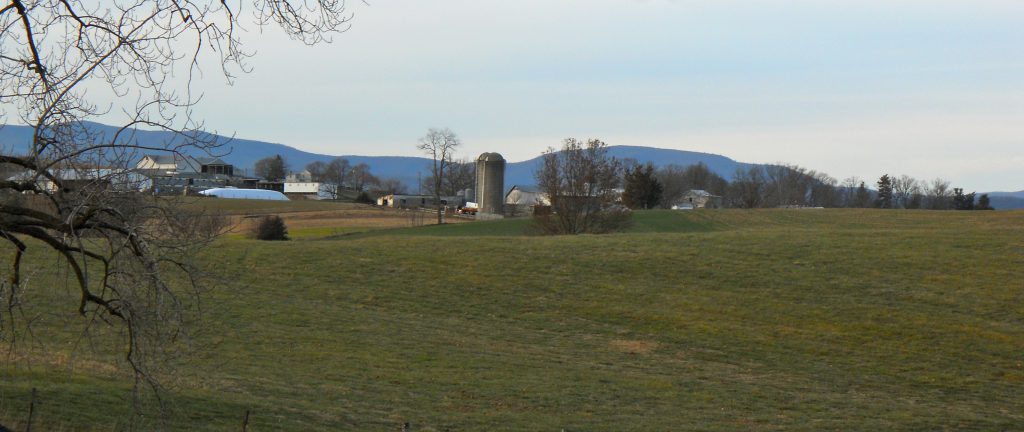 Photo by Saloma Furlong: Dayton, Virginia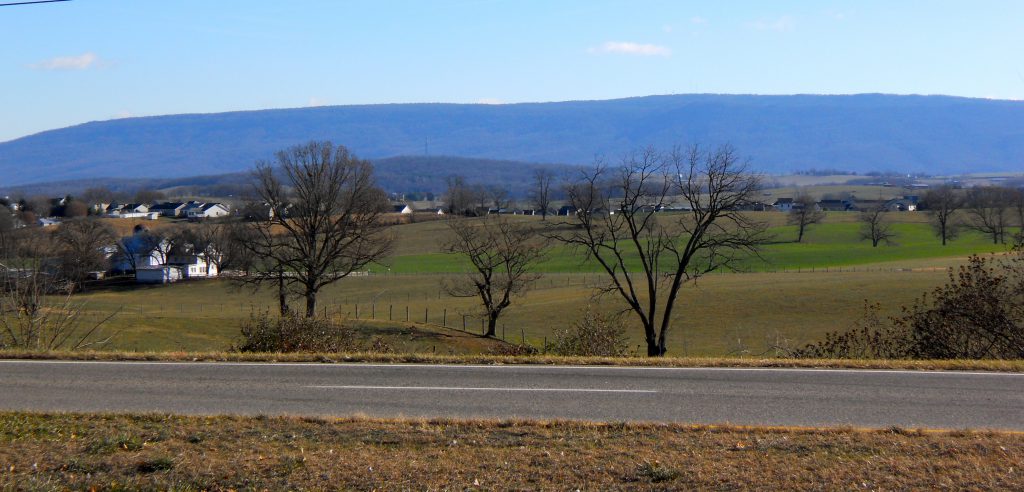 Photo by Saloma Furlong: In Timberville, Virginia
David and I have started looking at houses in the area. So far the inventory in the Harrisonburg area is not great, but I understand the real estate market will pick up in late January. We're still trying to decide whether we want to locate within the city limits, or outside the city limits in Rockingham County. David wants to have a nice garden to grow some of our own food, and he'd also like to have a few animals. And yet we also like the idea of living in close to things, including our new Mennonite church community. We're as interested in where we'll land as you might be!
Our circle of friends is fast increasing. I met a woman who is quite famous for her braided rugs. She is 89 years old and she's still making rugs. She is quite the character. When a friend introduced us, she said, "I've been wanting to meet you, but I didn't know you braid rugs. They say those of us who are braiders are kindred spirits." She and her husband invited us to their retirement home for brunch after church on Sunday and she showed me her work in progress, her wool, and her portfolio (impressive). After the holidays, I want to get together with her to braid and visit.
David continues to network with people in Harrisonburg who are wanting to get energy-saving program in place. The energy auditing program is in its infancy here, whereas Massachusetts has had one in place for thirty years. So David's skills are needed here, and he is getting involved on a grass-roots level. He also signed up at the local gym and is working out four days a week. His stress level as decreased significantly.
We are heading to Vermont for Christmas. Paul just moved there for a new job at Vermont Mutual Insurance Company. Tim will join us the day after Christmas, and we'll all be getting together with several of David's siblings and their families. I'll share photos of our time there when I return.
Tomorrow is the Winter Solstice. The next day the daylight will begin to lengthen. I used to look forward to that so much when I was in the North. This year I don't feel so light deprived because the days are longer and there are more sunny days here than in New England. And I go out a lot more often here than I did up North. I know we'll have to make up for this in the summer when it gets hot and humid and we'll want to stay inside with the air conditioning. Then we'll wish for the cool hills of Vermont!
David and I decided not to put up a tree this year, for the first time in ages. We don't have much space for it in our condo, and so we put up a few decorations. Here are photos of our little displays: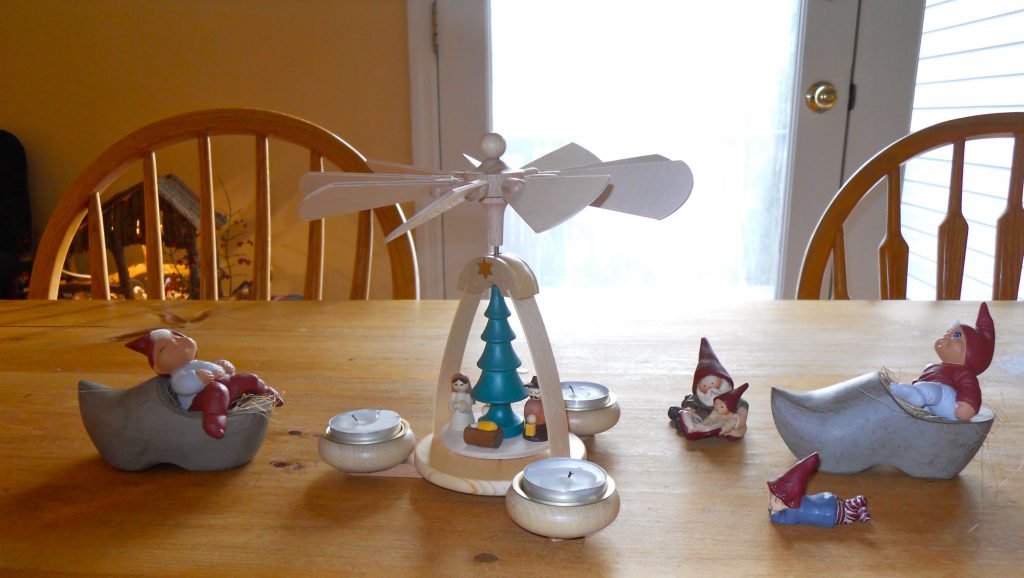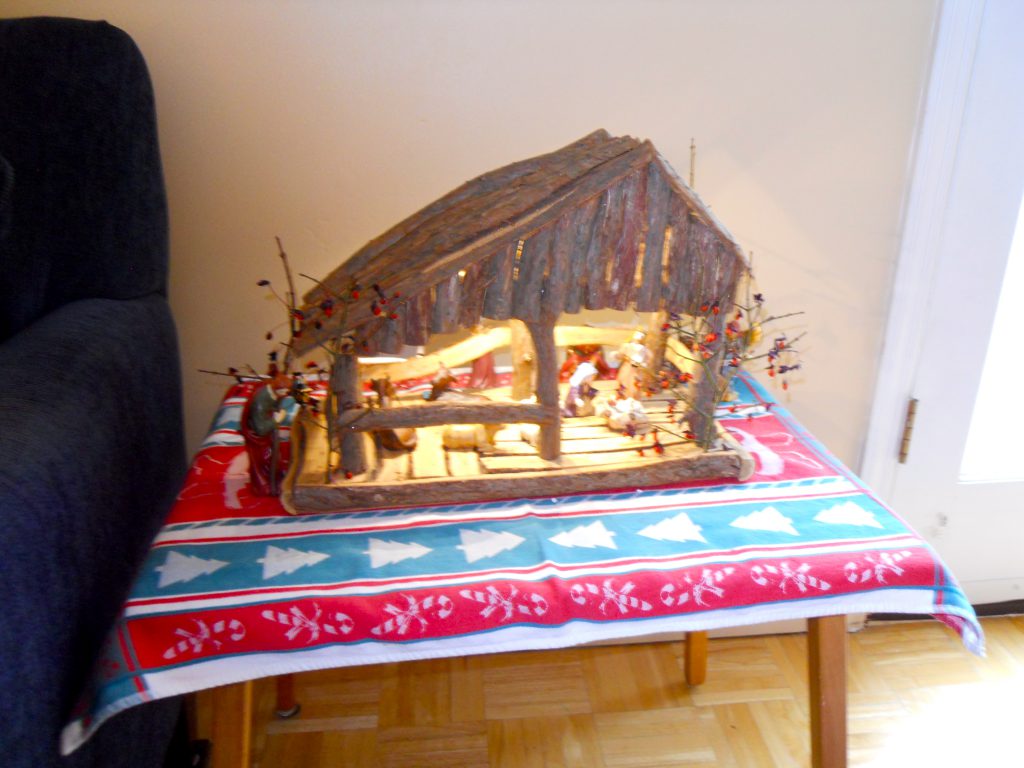 May you have a Blessed Christmas filled with love, laughter, light, warmth, and good cheer.