I hope all you mothers out there have enjoyed this beautiful spring day. Here in the Shenandoah Valley it has been so awesome. David and I have so enjoyed our day. We first attended a church service at our beloved community at Park View Mennonite Church. David then offered to take me to Lexington, Virginia, an hour south of here to eat at one of my favorite restaurants. Of course I said yes. I was given a long-stemmed rose by the restaurant staff to wish me a Happy Mother's Day.
Ever since David and I've been married, we have always enjoyed driving around the countryside in the springtime. Today we had a wonderful opportunity to do that. We know this was a little break from the hectic schedule of packing for our upcoming move that starts in nine days, so we enjoyed this to the fullest.
On the way home from Lexington, I asked if David would drive up the Blue Ridge Parkway. He was happy to, so we spent some time in one of God's cathedrals on this beautiful Sunday. We spotted an indigo bunting at two different stops along the way. What a treat! They are so beautiful when the sun hits their feathers. We saw numerous yellow butterflies, and heard many other bird calls. Getting out into nature on such a gorgeous day was like attending a second worship service. Here is a photo David took of me on my Happy Spring Day!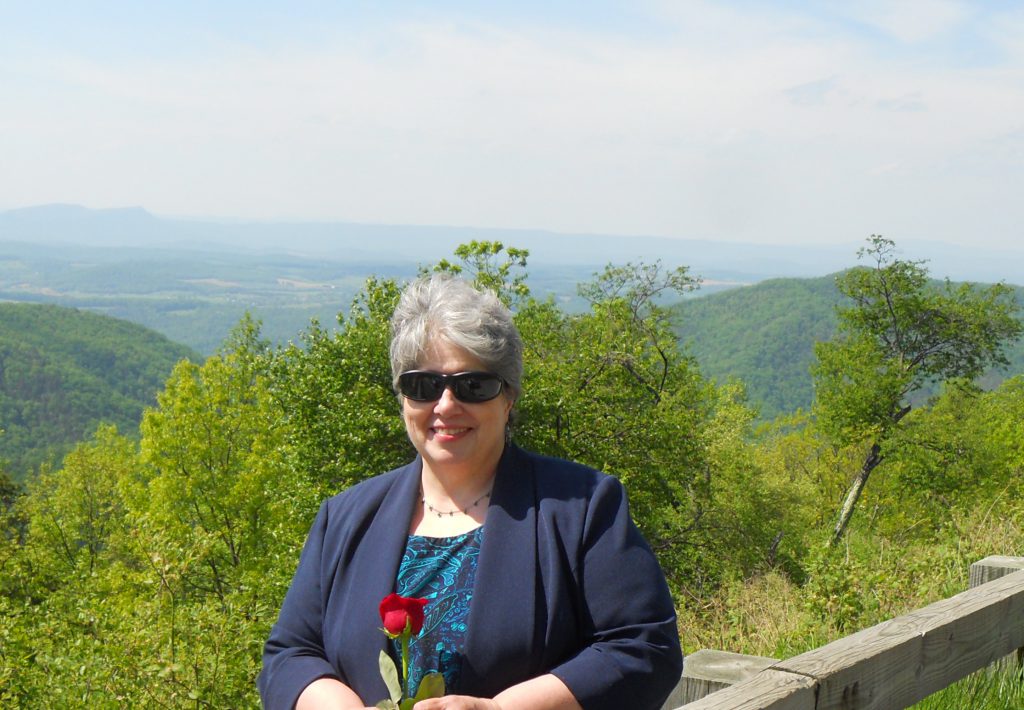 And one that I took of him: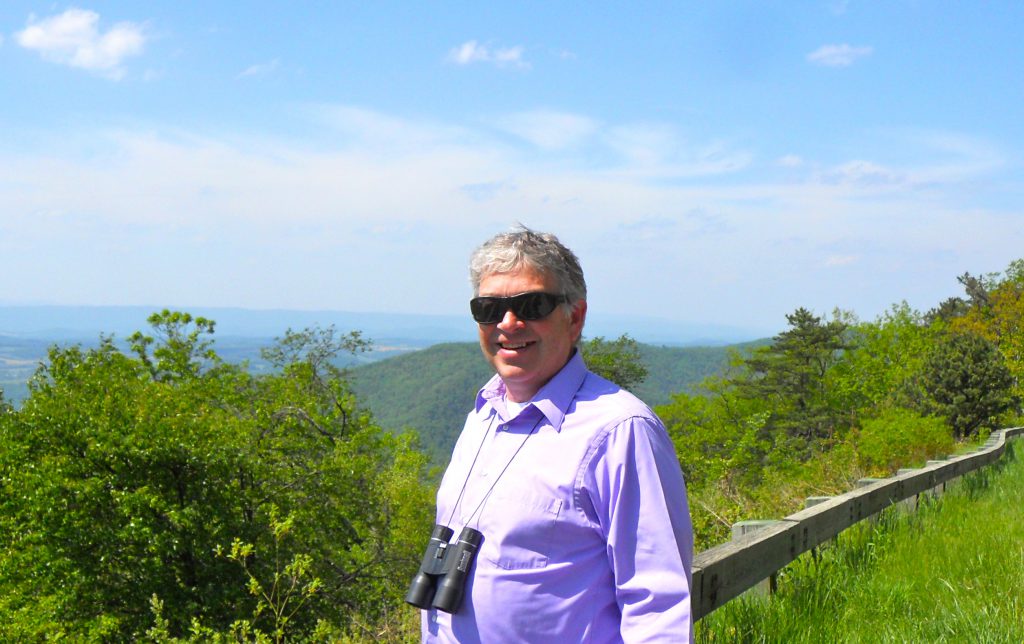 I took this shot at one of the overlooks. When I took it, I didn't see that this pine tree is perched atop a big boulder. It's roots had to reach around the boulder to find soil to nourish it. Nature is so amazing!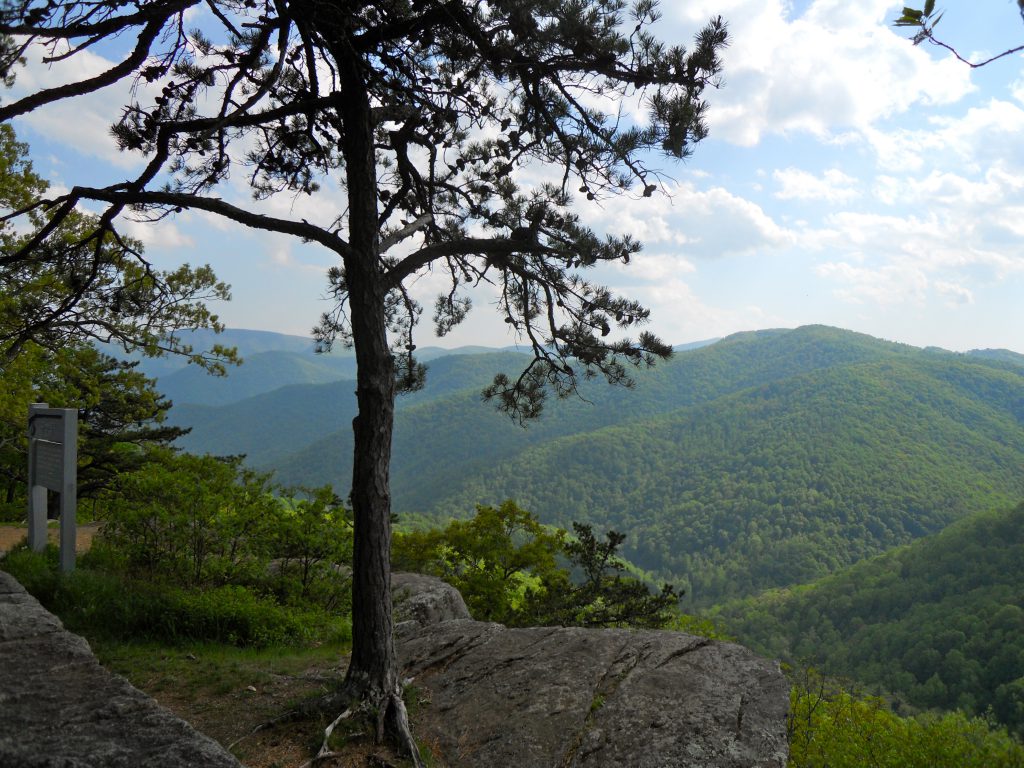 This was the third time David and I have driven through the Blue Ridge Mountains in recent weeks. We've driven two different sections of the Skyline Drive, and today we drove a section of the Blue Ridge Parkway. Below are a few other scenes from those trips. Of course photos cannot capture the beauty of these views, here are a few attempts.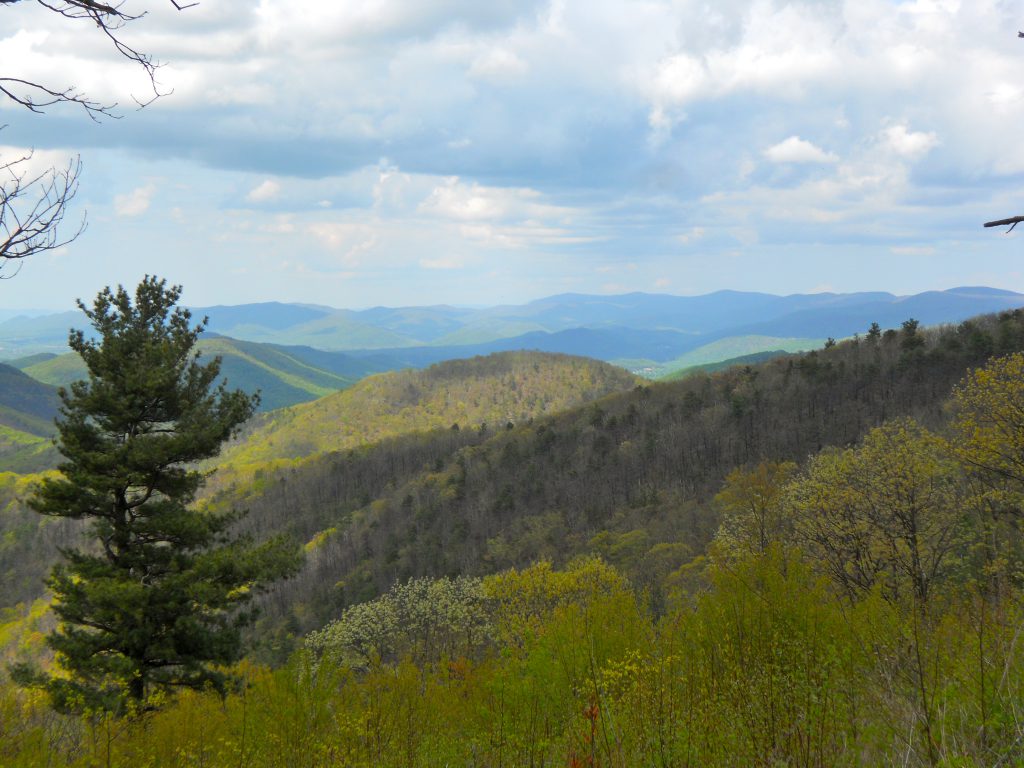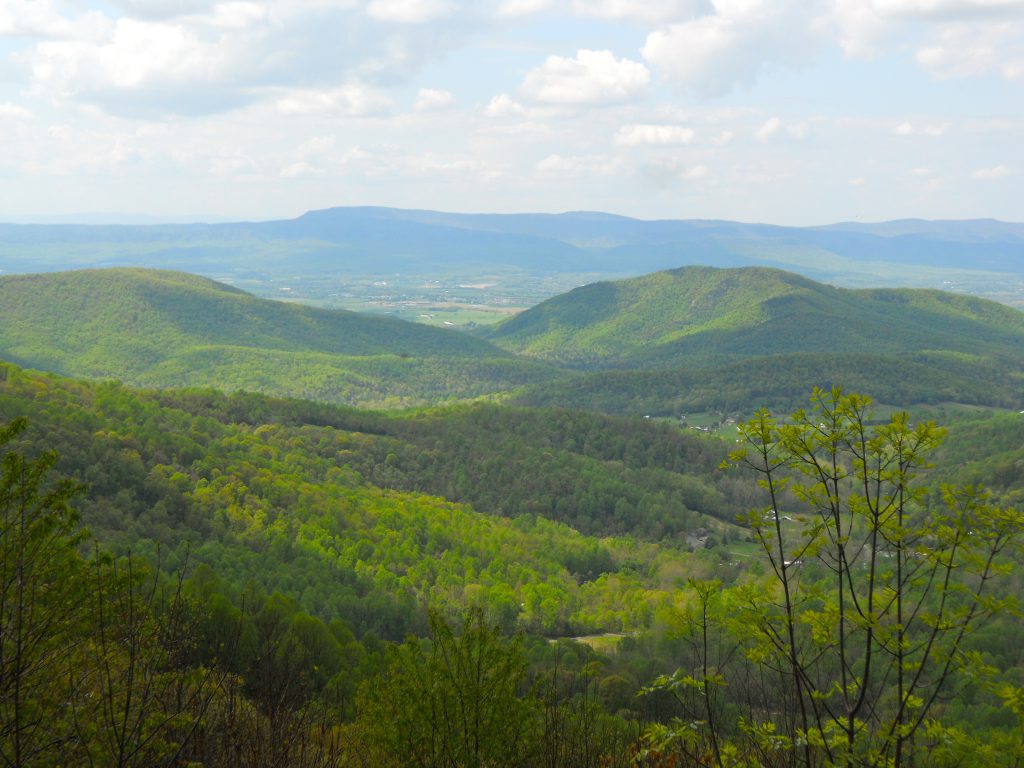 And last but not least, David and I were out in the Dayton area for the Mennonites in the Valley course last Monday. We visited a cemetery that has historic significance here in the valley. It has people from all walks of life — civil war soldiers, slaves, Mennonites and others from many generations who are buried here. While we were talking in the cemetery I was taking photos, when one of my classmates pointed out this photo-op of an Old Order Mennonite young woman driving a pony and cart.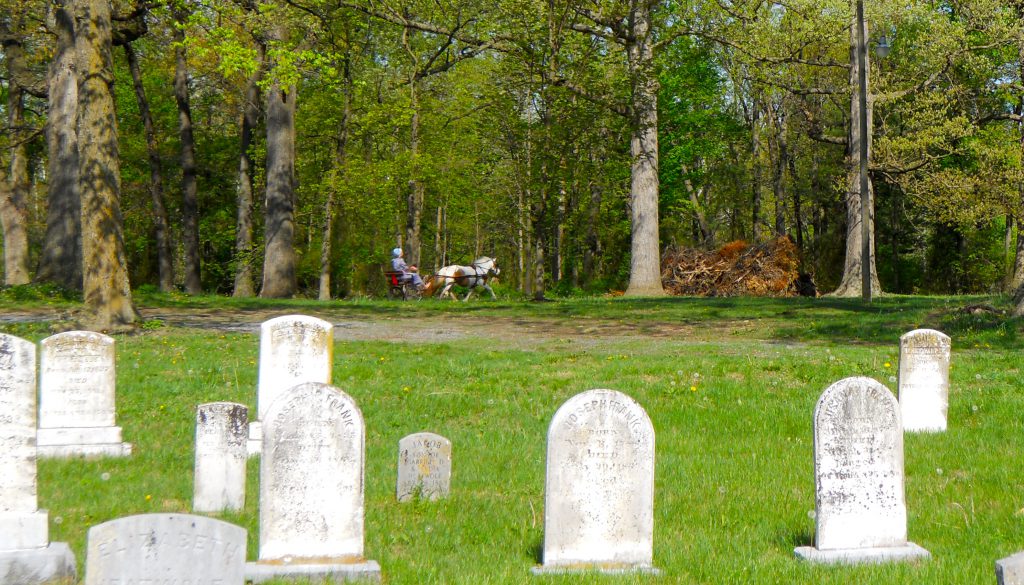 We visited the Bank Church right next to the cemetery and learned some about the teachings of the Southeastern Conference Mennonites from the pastor there. They are more conservative in many ways than the Virginia Conference Mennonites, which is the group we have joined. They drive cars black cars, though they still maintain many of the ways of the Old Order Mennonites, such as women sitting on one side of the church and men on the other. Some of the members at the Bank Church are former members of the Old Order Mennonites from the area. The Southeastern Conference Mennonites tend to be more evangelical than the Old Order Mennonites.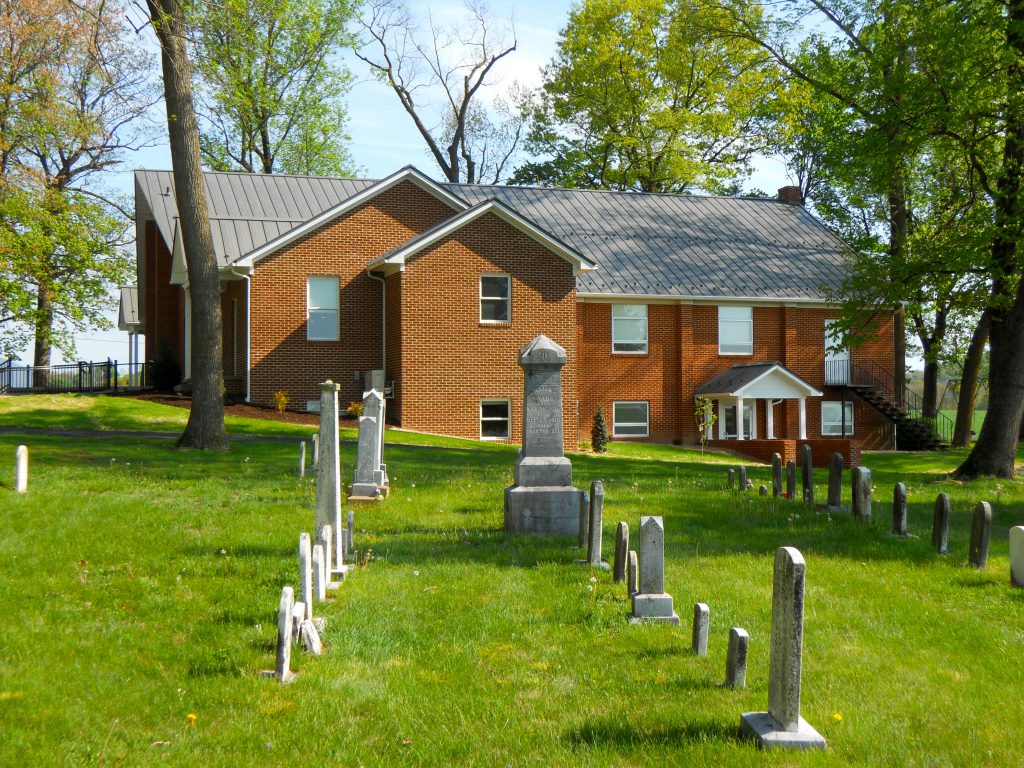 I also took pictures of spring in farm country. I so love living in this beautiful valley. When we look to the west, we see the Allegheny Mountains in West Virginia, and when we look to the east we see the Massanutten Range and Blue Ridge Mountains. This first photo is one taken from the same spot where I took a photo around Christmas. This is right by the Sunrise Deli, which is Mennonite owned. Here is the spring version of it.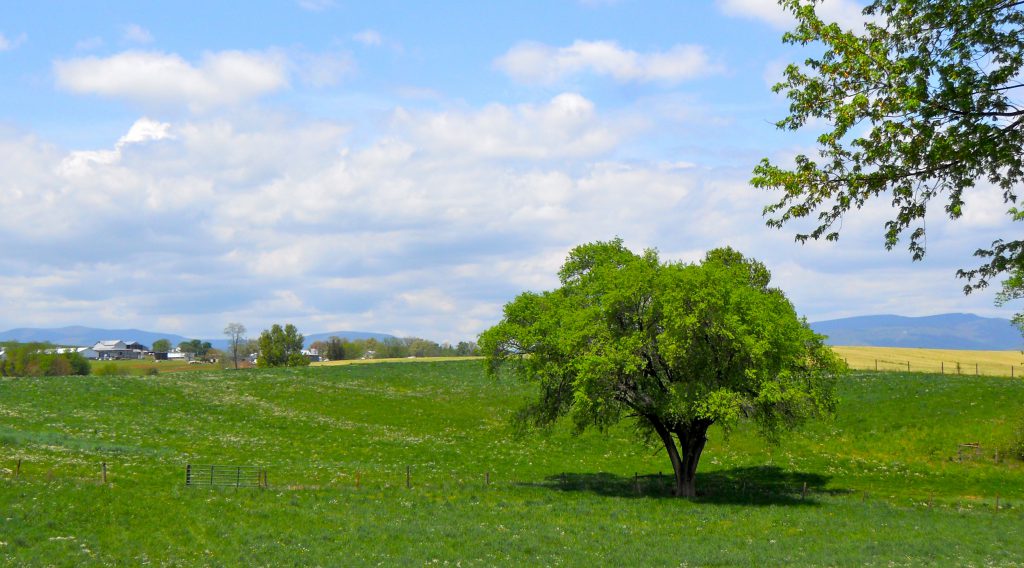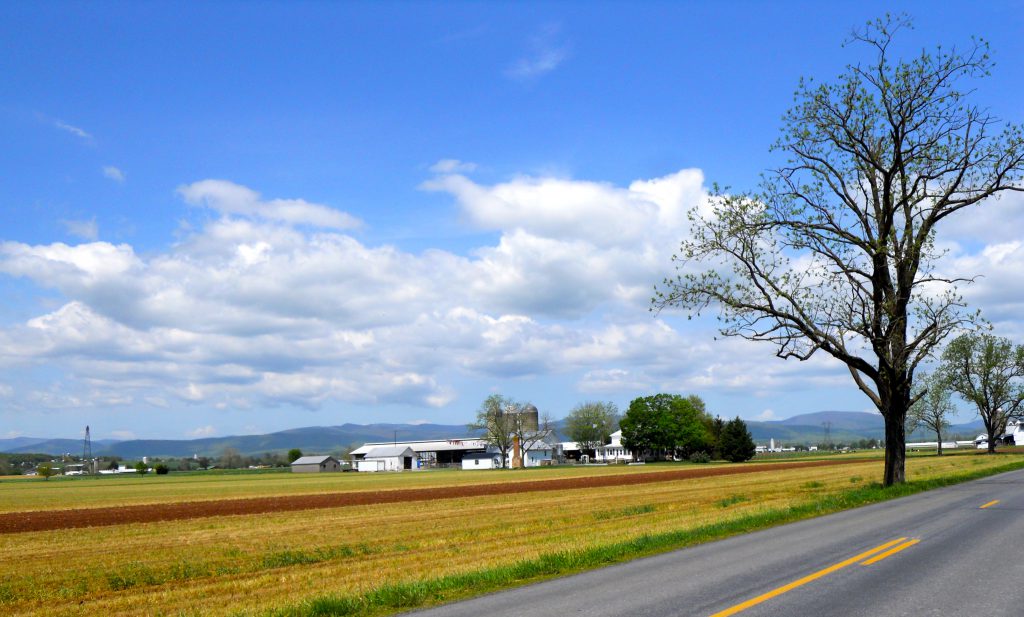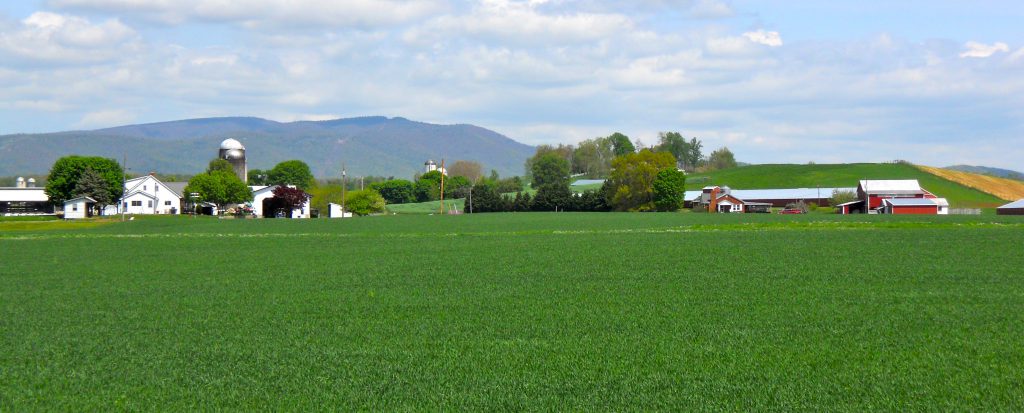 While I'm posting photos of spring, I'll include this one of a dogwood tree near our church. Dogwoods are my favorite blooming trees. I longed for them when I lived in the north, so I'm enjoying them immensely. We saw quite a few in the mountains today. They have sort of passed their peak here in the valley. I took this photo two weeks ago.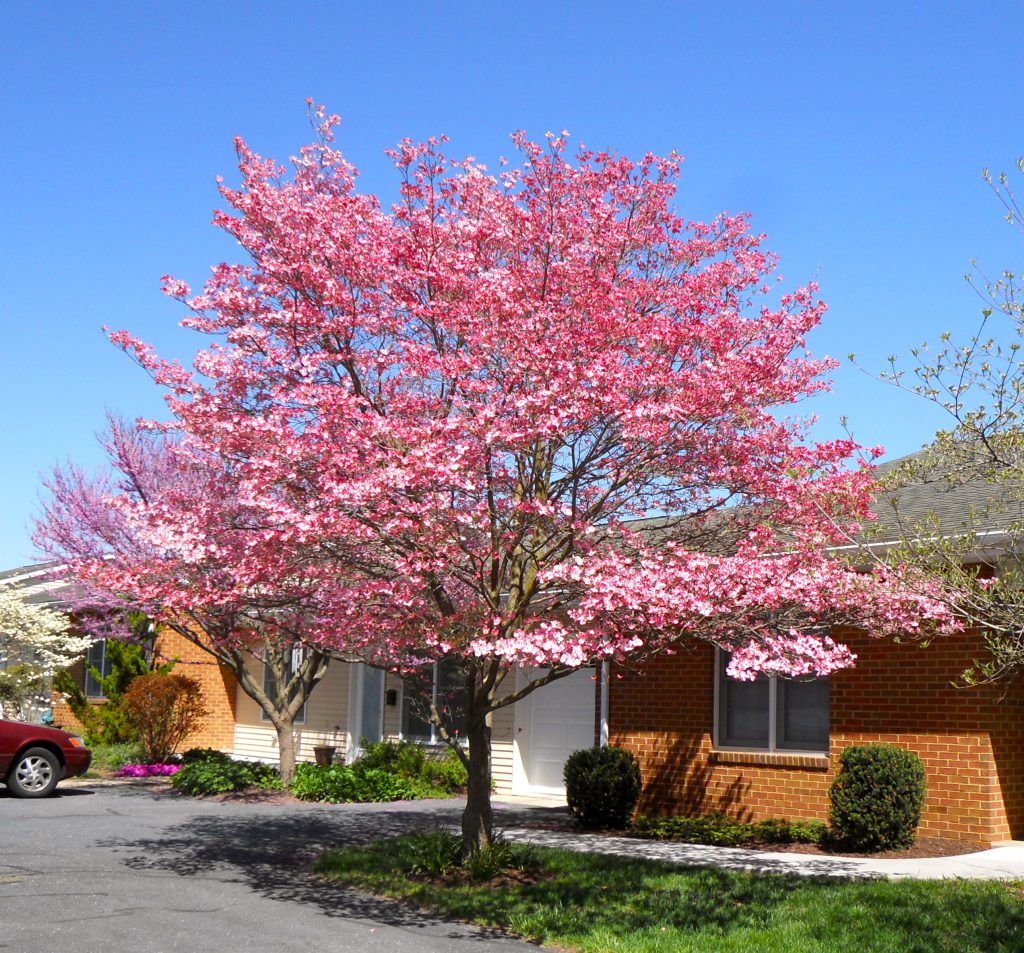 Whoever came up with Mother's Day was smart in setting it in May when Mother Nature is renewing Earth with the richness of new life and blooms. I hope you're enjoying blooms in your part of the world, and I hope mothers everywhere are feeling cherished and loved.