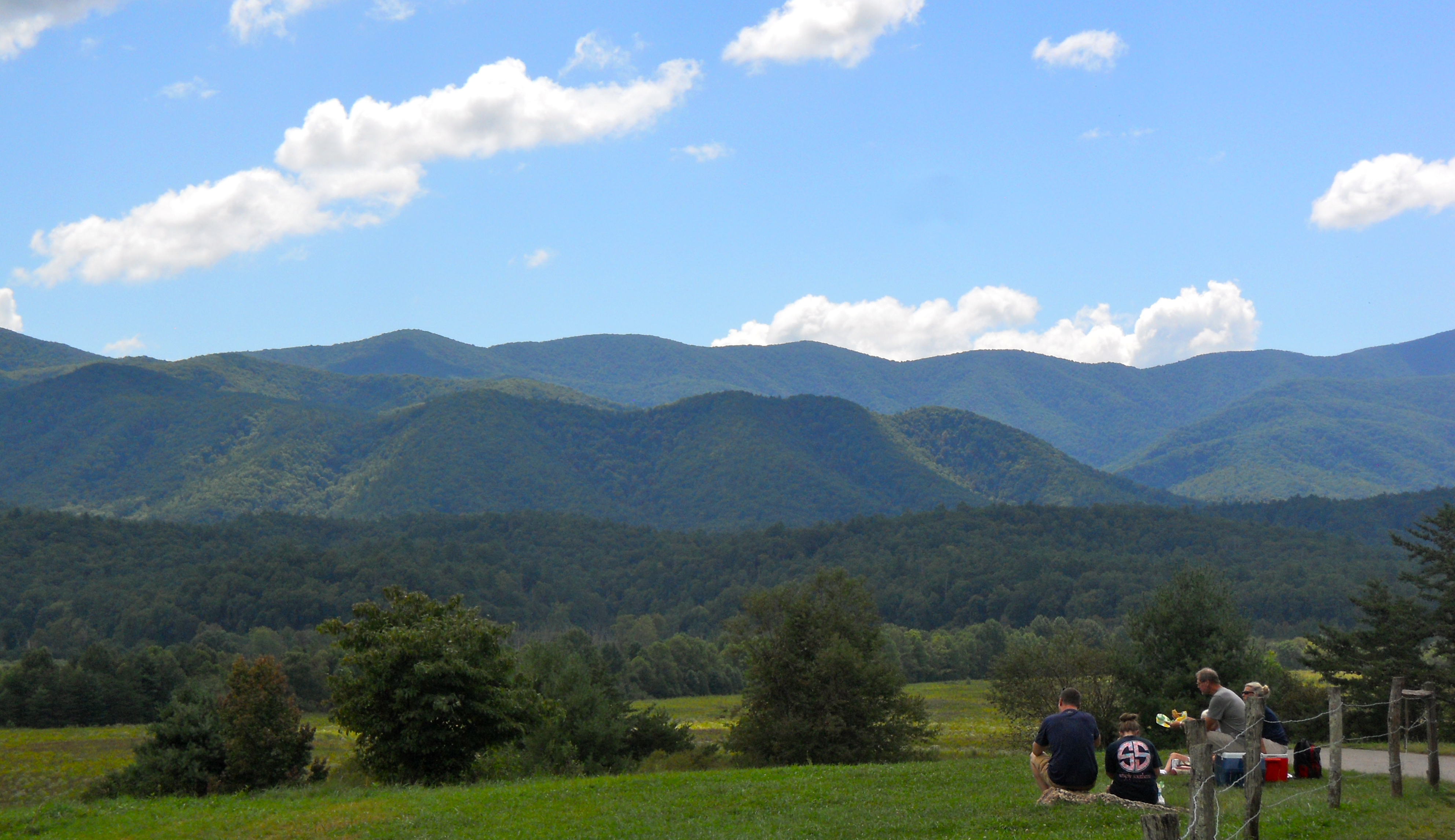 I have always wanted to visit The Smokies, ever since I was an Amish teenager. For some reason or another, it never quite worked out for me to visit these ancient mountains until this past weekend.
David and I headed off to Asheville, North Carolina without planning what we were going to do during our three-day vacation. It was the first time we've traveled this way. There are pros and cons to being spontaneous, but it left us open to exploring, and we did plenty of that.
We decided to take the Blue Ridge Parkway part of the way. We got on in Fancy Gap, Virginia, and took it all the way to Asheville. The sights along the way were just so awesome and stunning. I could not capture the beauty of standing at one of the overlooks with a panoramic view spread out before me, but here are several attempts.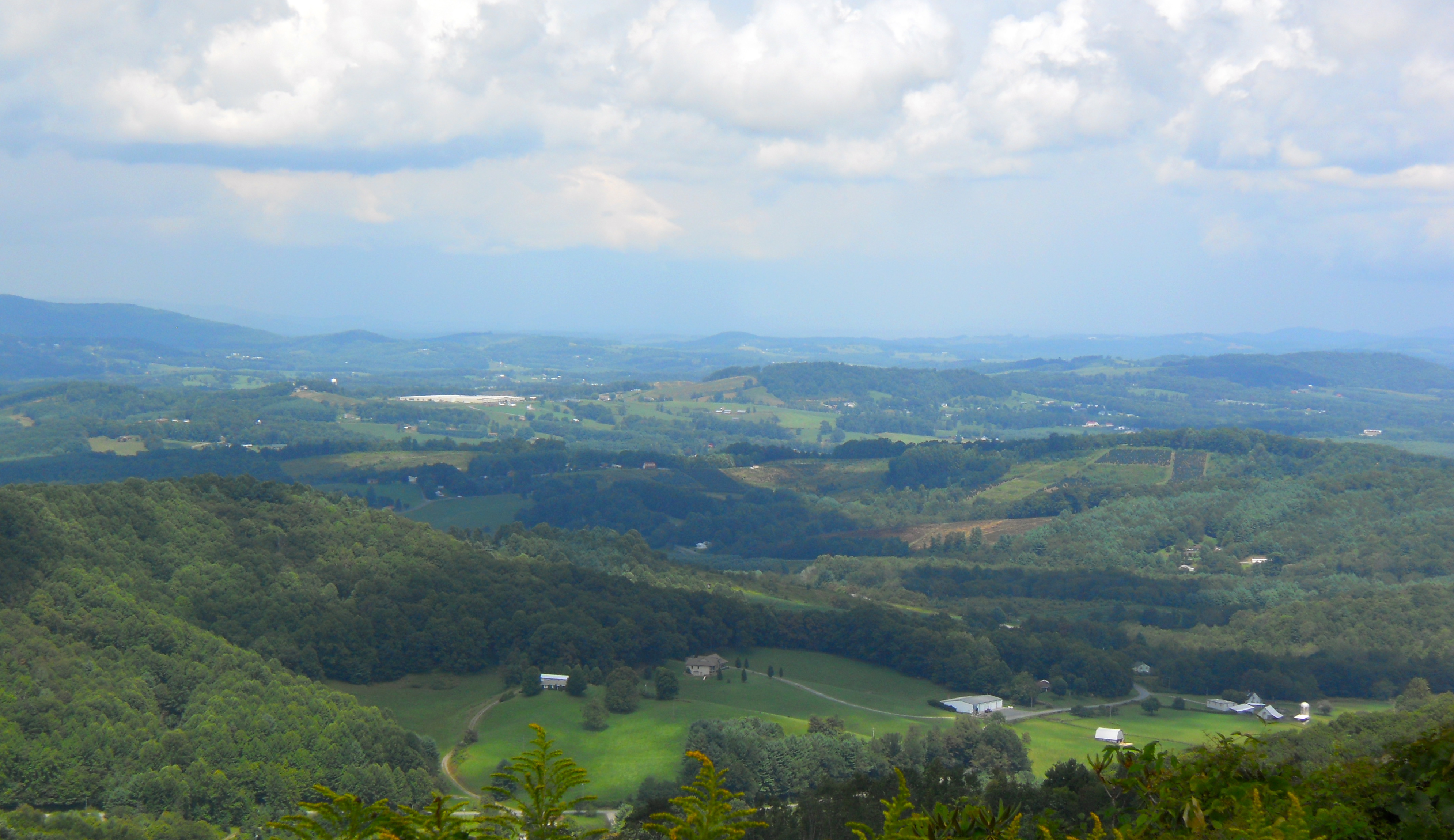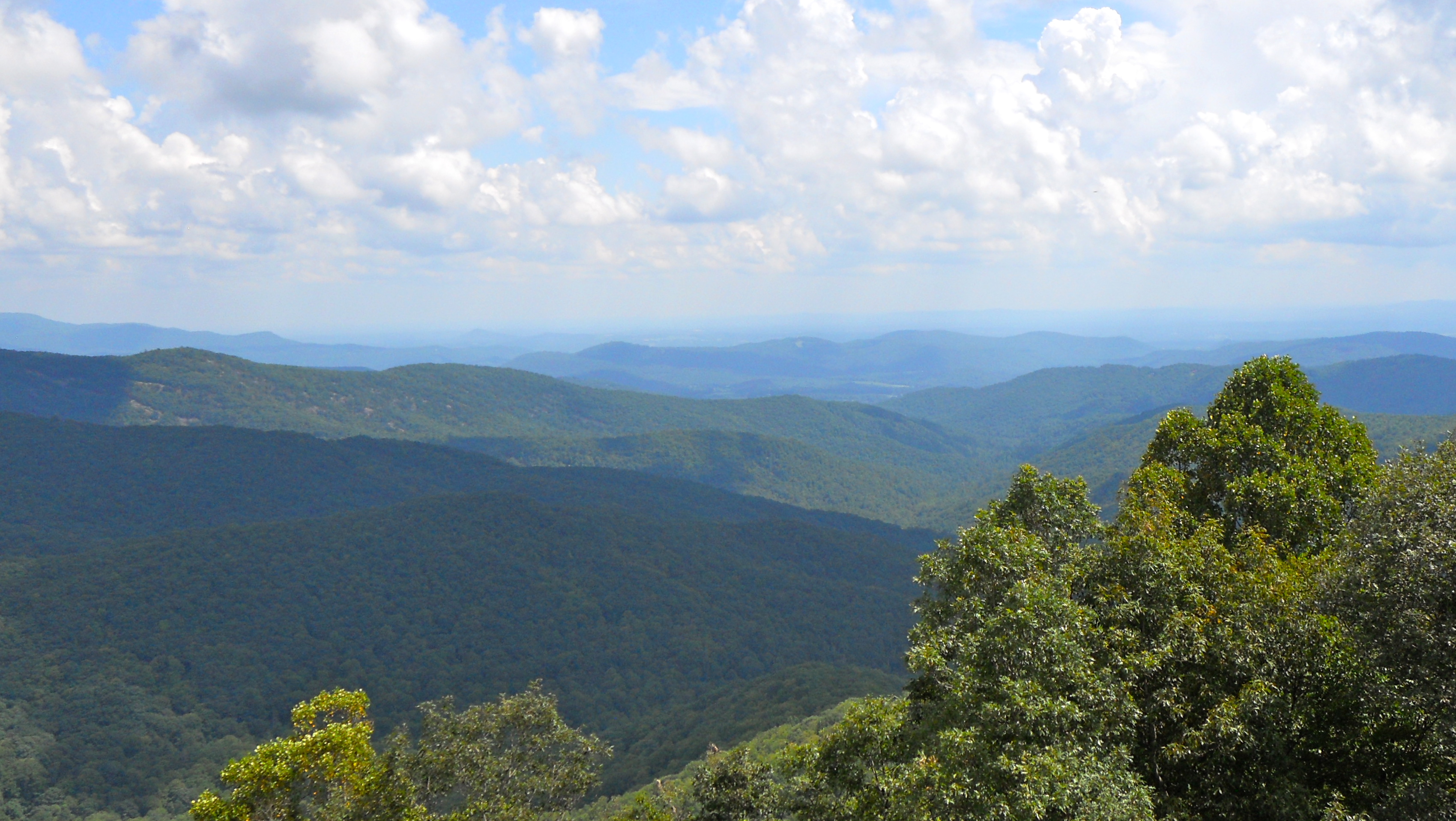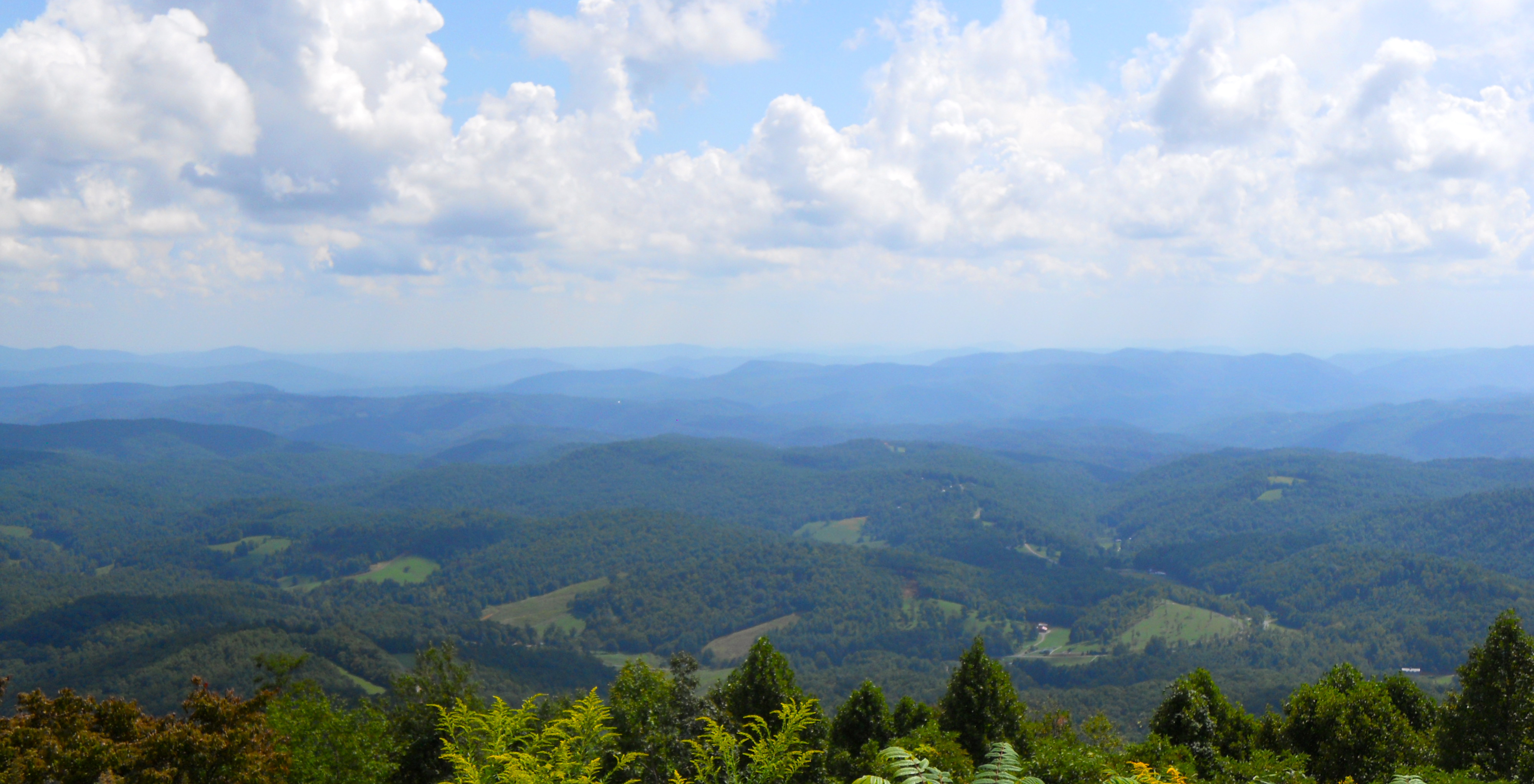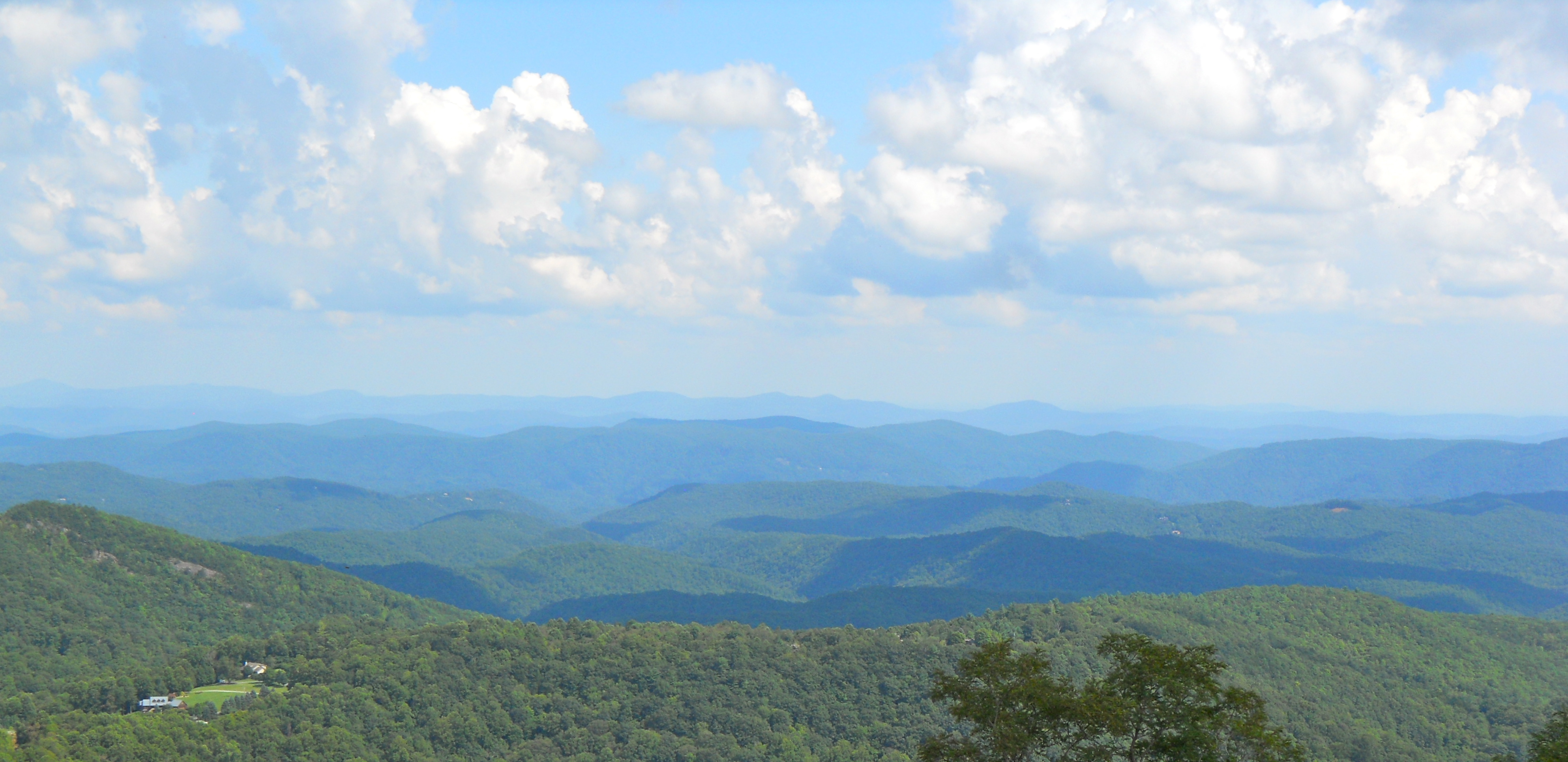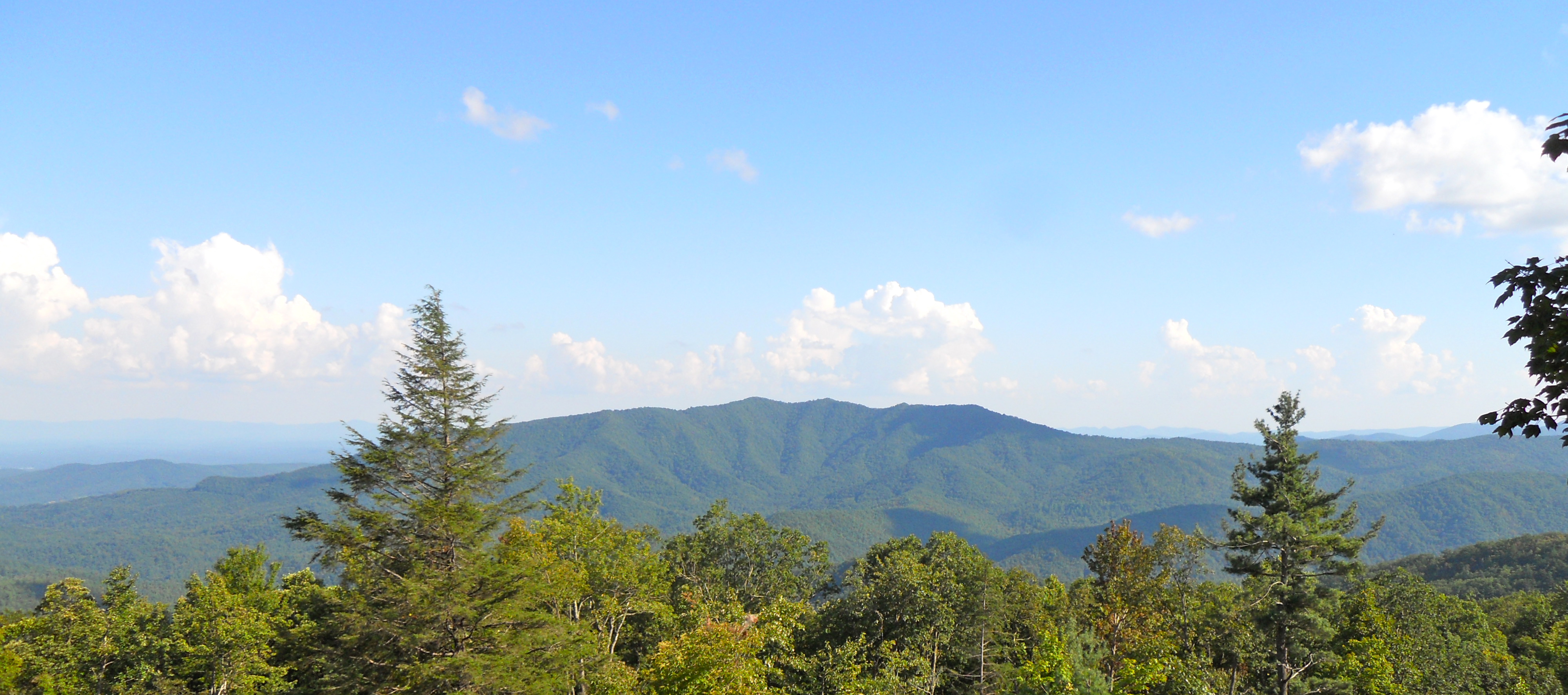 Traveling the Blue Ridge Parkway gave us a chance to breathe out in nature without being surrounded by throngs of people, commercial establishments, or traffic jams. It took us a lot longer to get to Asheville than it would have going a more conventional route, but it was an experience in and of itself. We could get out and enjoy the views along the way. We found a picnic table under a tree at one of them, where we spread out the food we'd packed and enjoyed a leisurely lunch surrounded by Beauty.
We'd been hearing about Asheville for years — including from friends and acquaintances in Vermont and Massachusetts. Most people raved about this city. In fact, we'd never heard a bad word about it. When we came off the Parkway and onto a mainstream highway, we realized we were leaving the alternative world we'd been in for hours. As we headed into the city of Asheville, we thought it looked like Anywhere USA. It was quite a shock from our afternoon experience, with throngs of people walking through downtown. David dropped me off by a restaurant called Curate, which we'd had a high recommendation for, and he went to find parking. Lo and behold, Curate had no more openings for that evening, or for the following evening. But they did have an opening for lunch on Sunday, so I made reservations and waited out on the street for David. About twenty minutes later he came driving by. He was unsuccessful in finding a parking space. We finally found one in the parking garage. Locating a restaurant with space for dinner was even more difficult. We finally sat at a counter and ordered a light meal at one of them before heading off to Hendersonville thirty minutes away to an Airbnb, where we'd booked a room.
Sunday we went back to Asheville and had lunch at Curate. Eating there was an experience. The food is served Spanish style (as in Spain), to be shared with the people at the table. David and I ordered three dishes: chicken croquettes, meatballs made from beef, pork, and lamb in a tomato sauce, and lamb skewers with moorish spices and pickles. We had cheesecake with strawberry compote and whipped sheep's milk for dessert. We felt nourished and satiated when we finished our meal.
We spent the afternoon walking around the park where they were having a veggie fest. We browsed through the art and crafts tents, then sat near the pavilion, listening to music and watching children playing in the water park.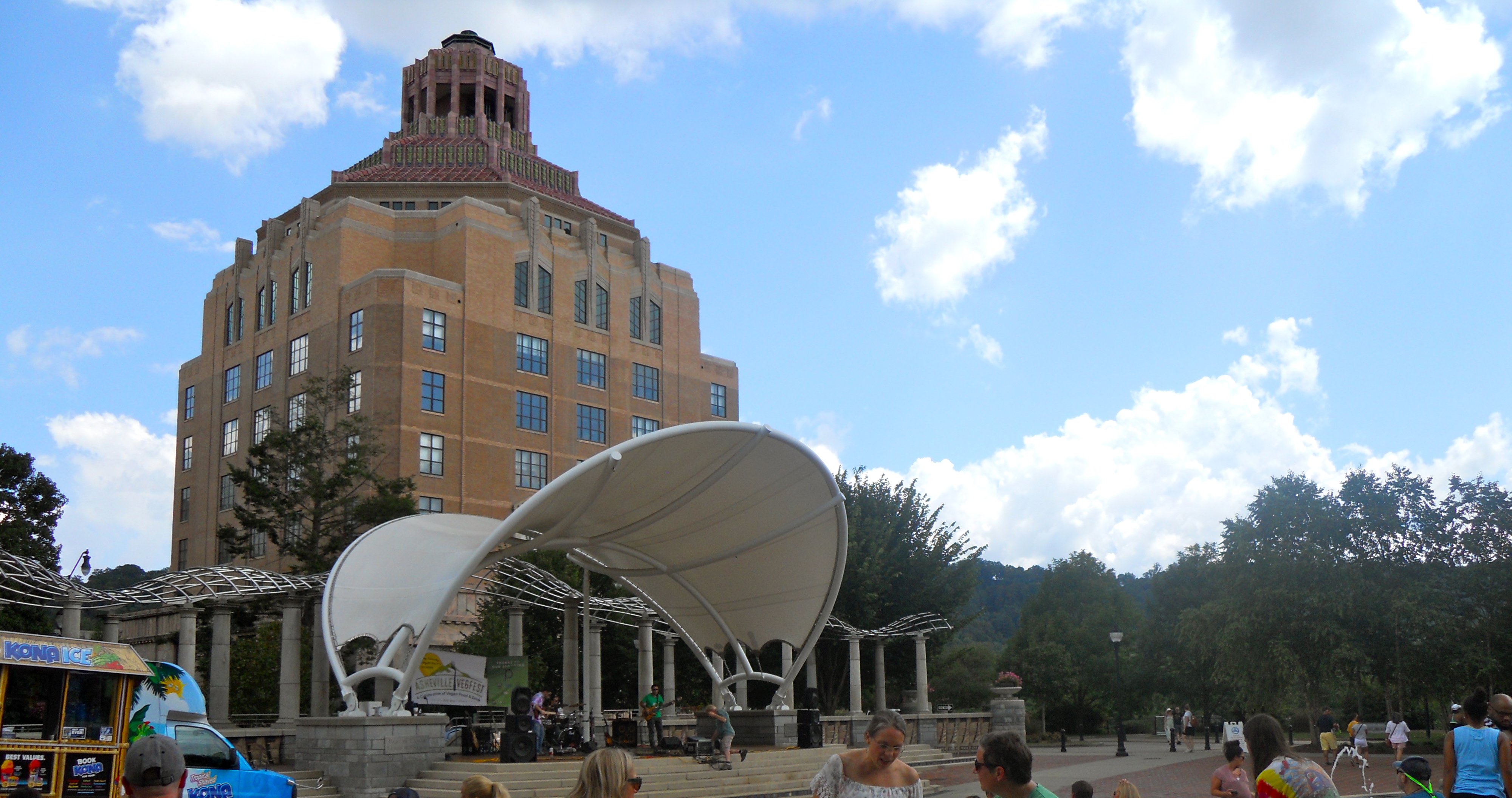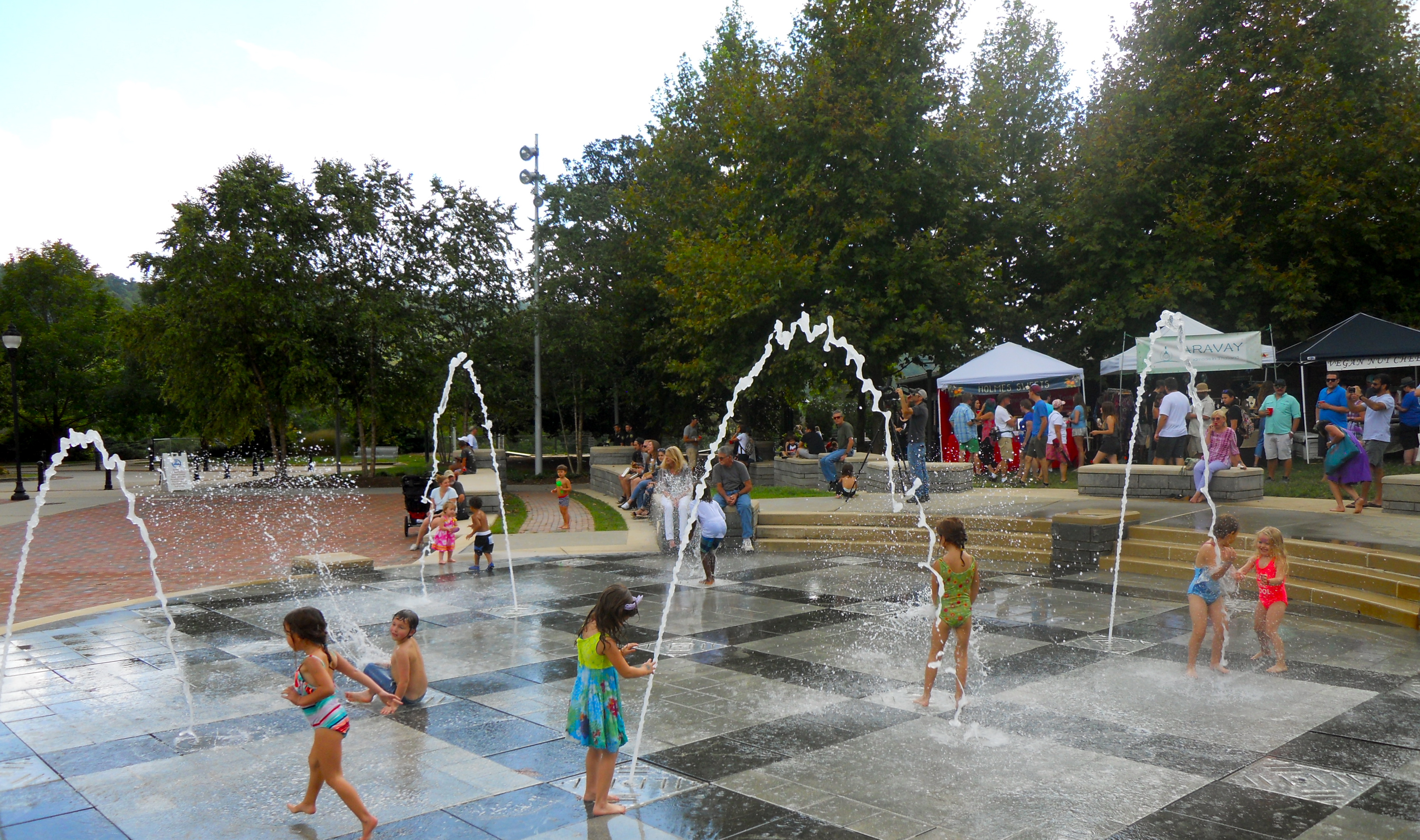 We browsed in shops in town that afternoon, but then decided to go back up into the mountains. We went south of Asheville on the Blue Ridge Parkway, and again there was just so much to see. Here are a few photos, including of "Looking Glass Rock."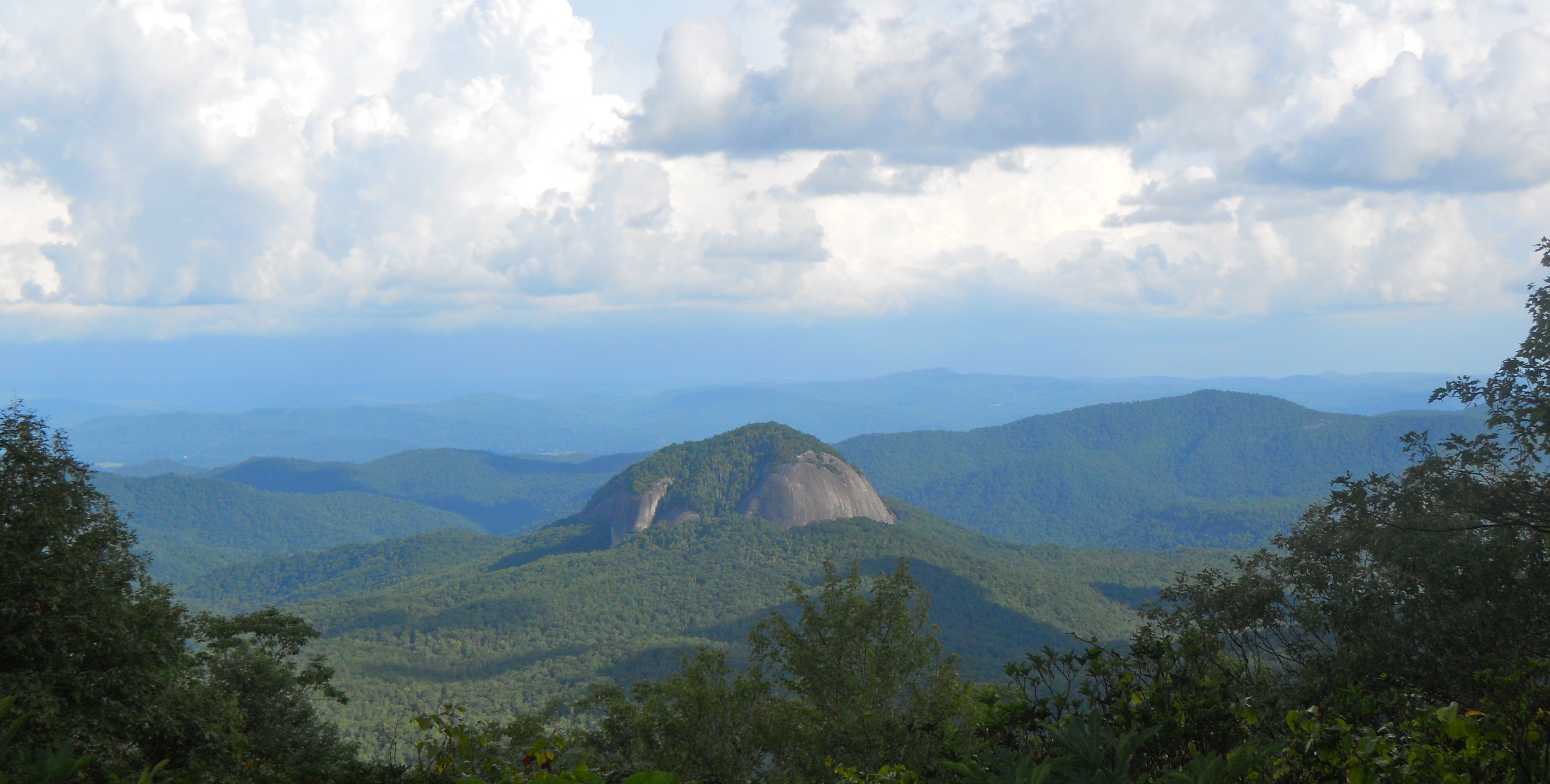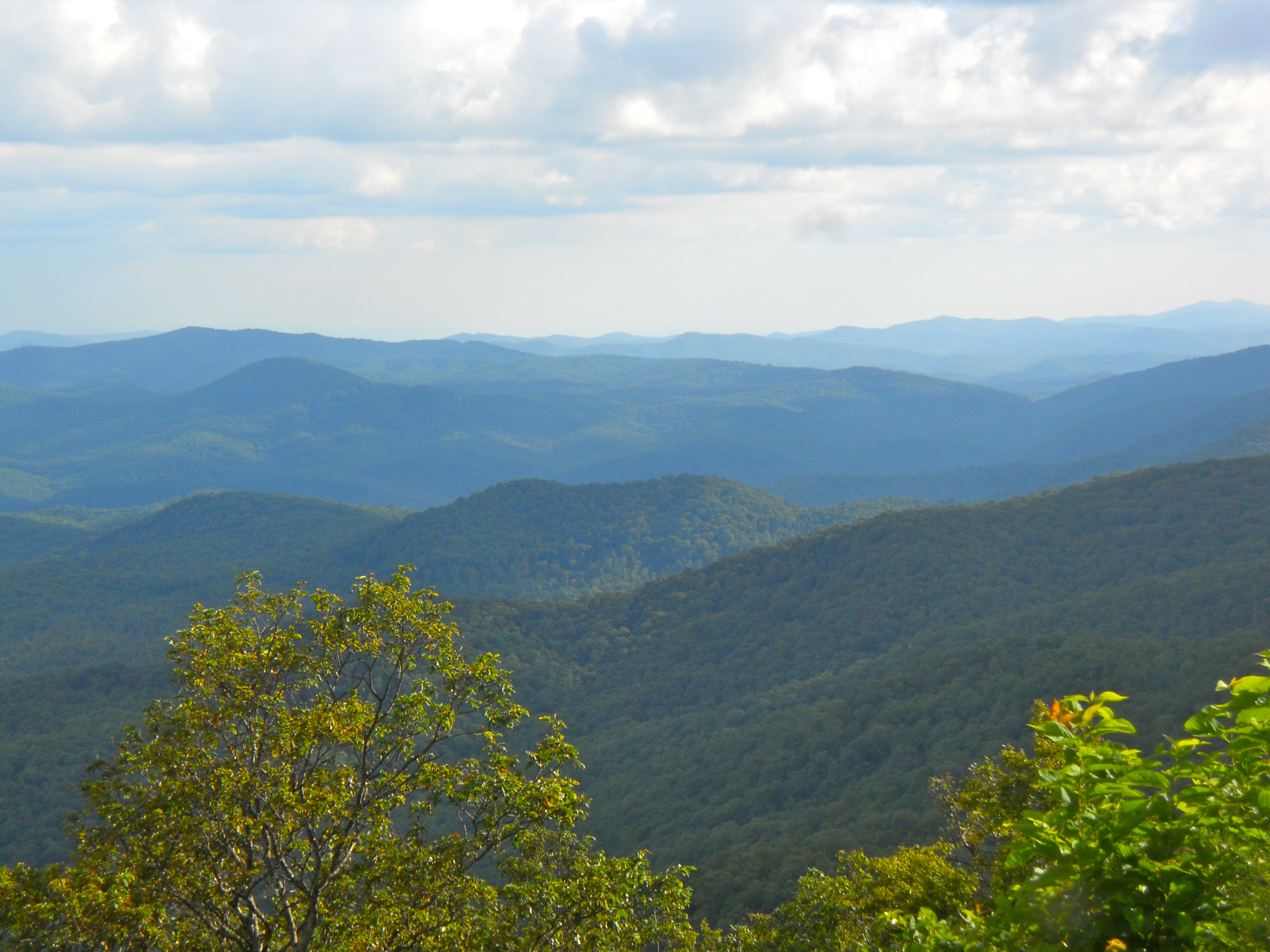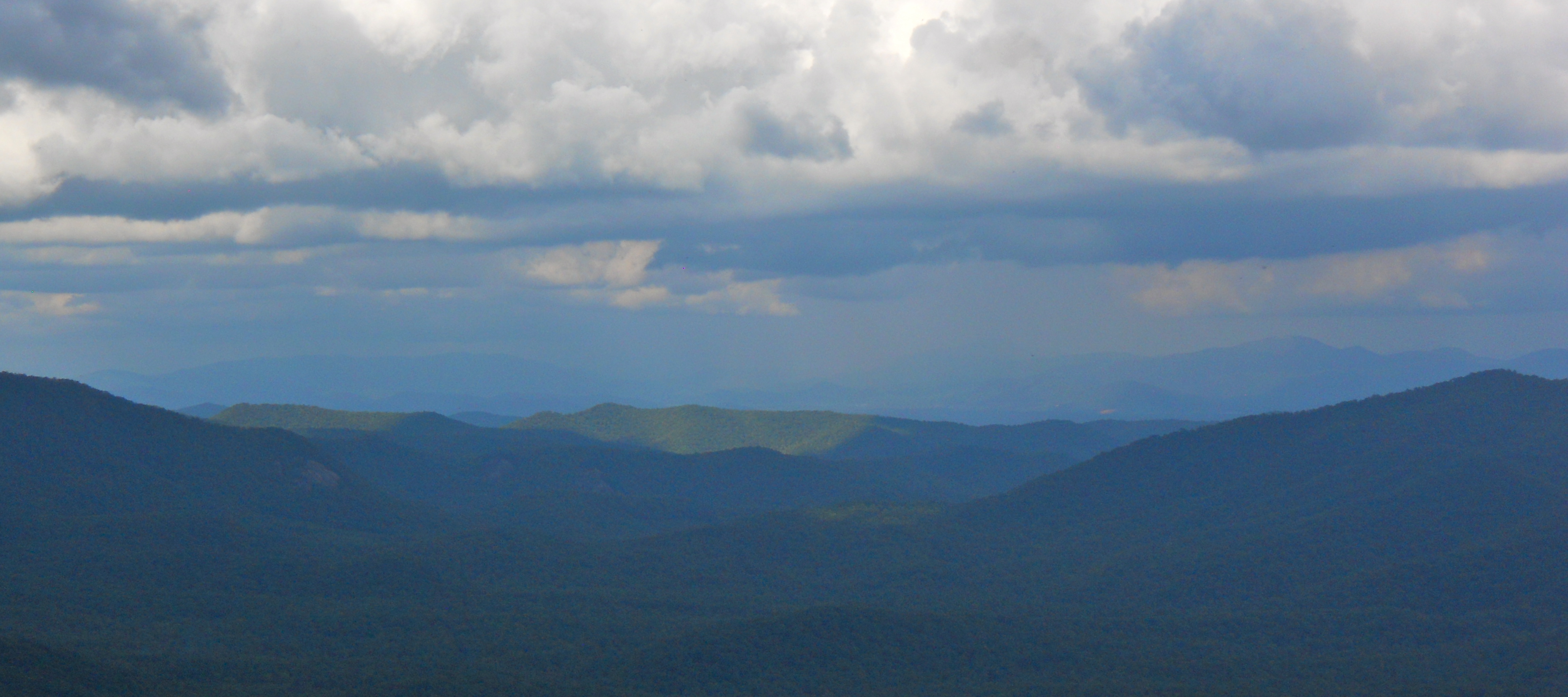 As you can see, the clouds gave us quite a show on Sunday afternoon. Below is a photo of something I'd never seen before. I can only guess that these were sun rays coming down through the clouds at the same time it was raining in that spot.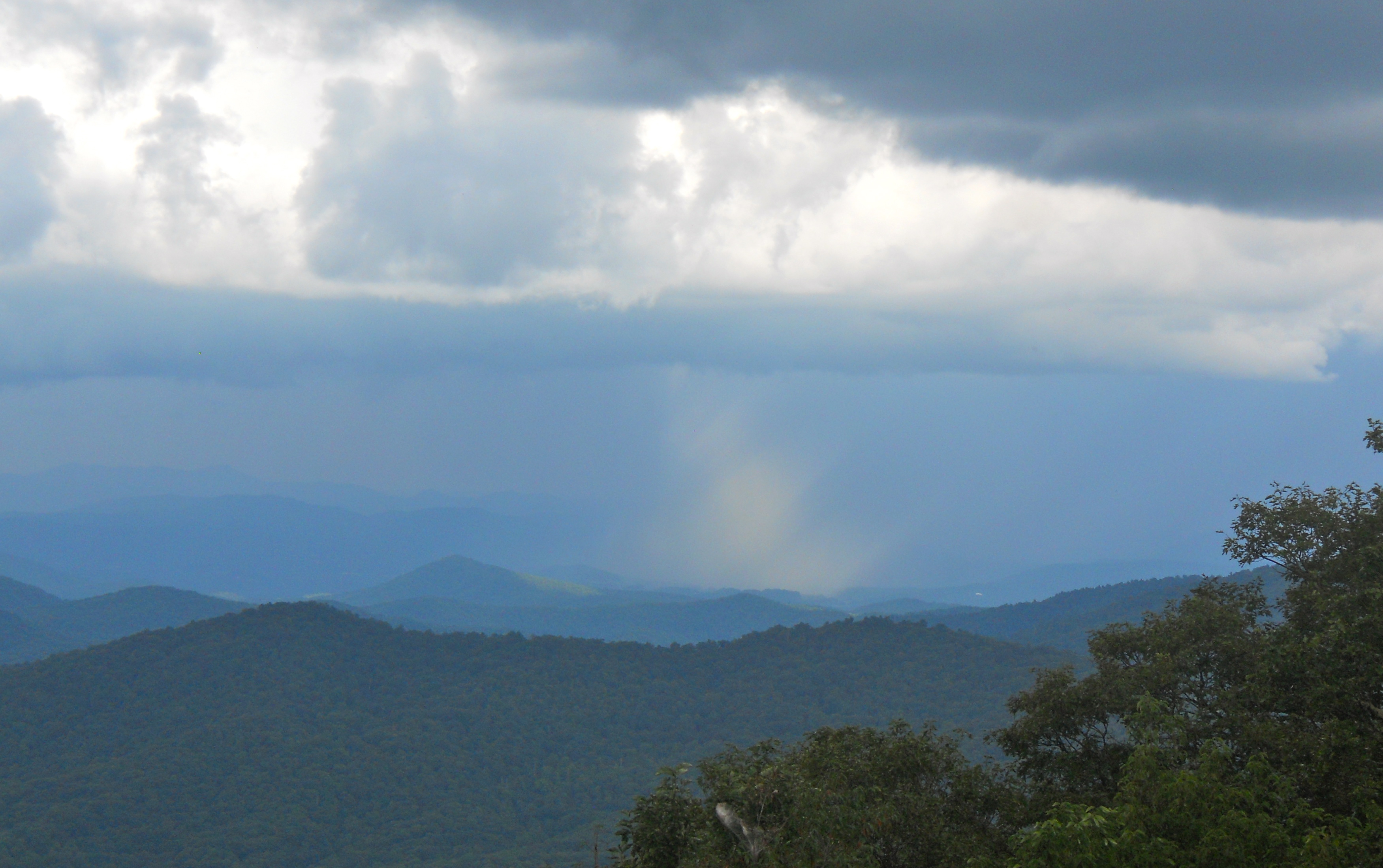 Soon thereafter we saw a rainbow, followed by a shower, and then mist in the mountains.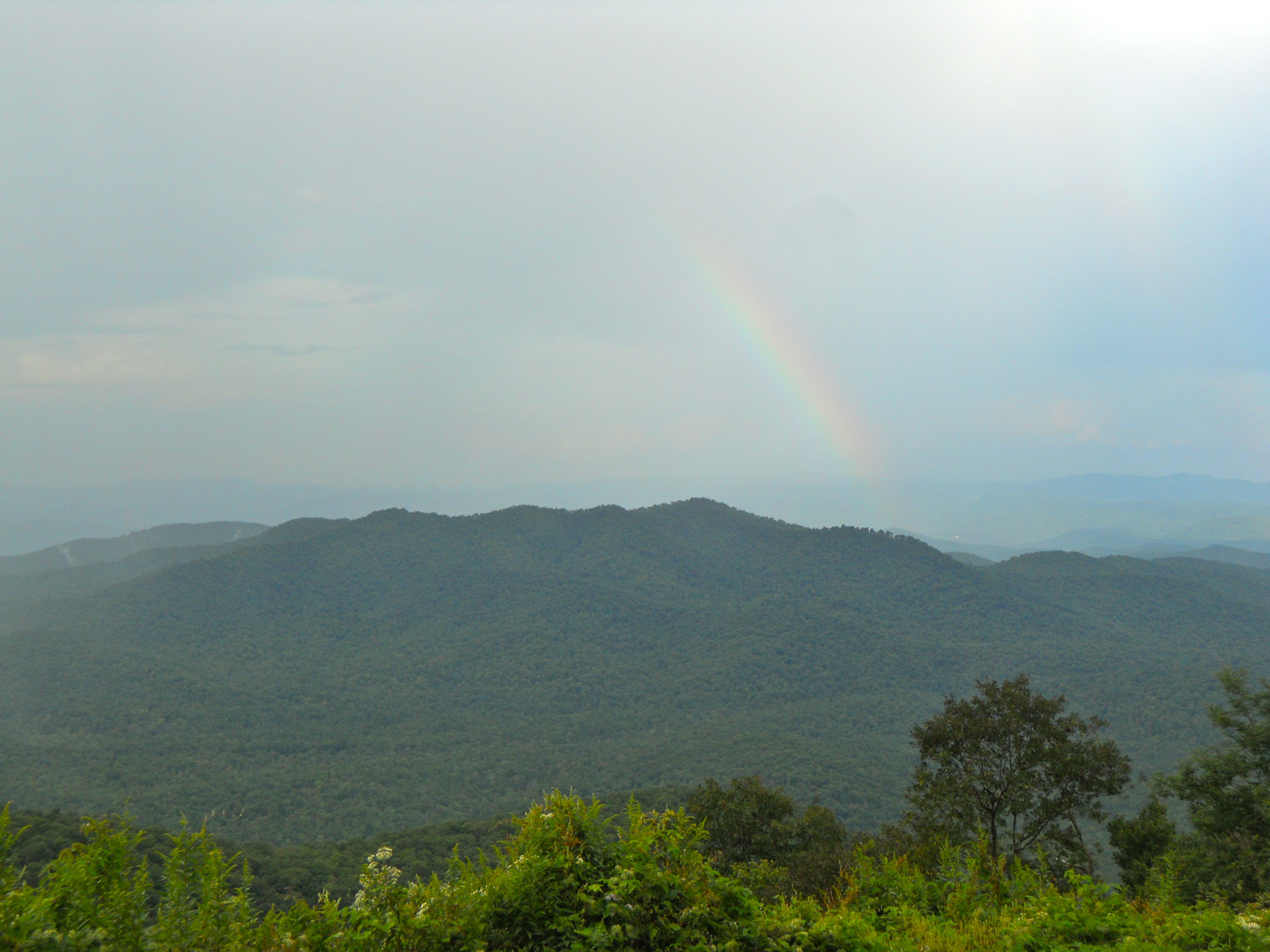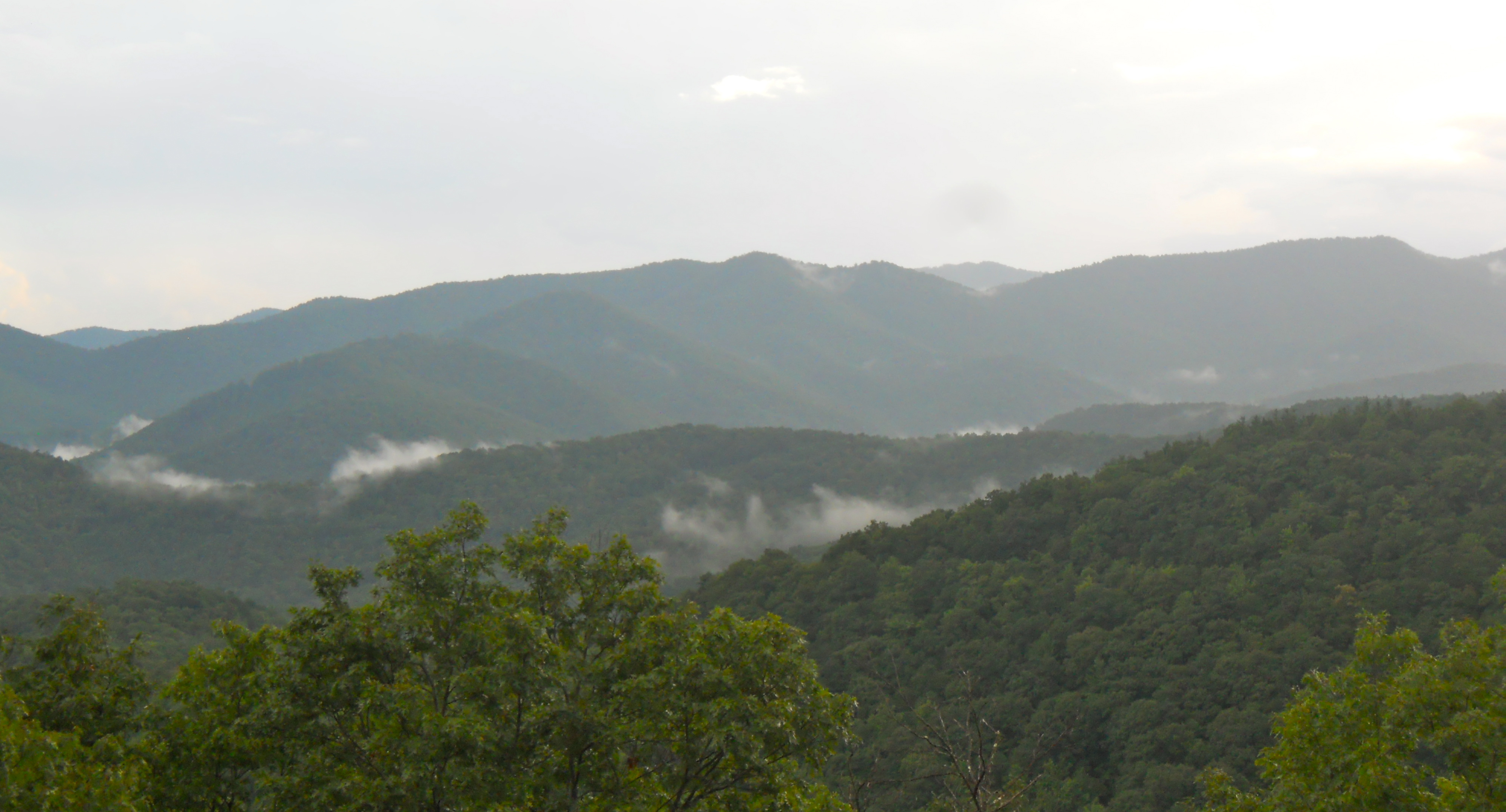 Some scientists want to claim the Smoky Mountains are older than life on earth. I've taken one geology class, and I remember my geology teacher saying that scientists disagree about how the Smoky Mountains were formed, but they do agree that the mountains and rocks in this region are ancient. Being there, one FEELS these mountains and rocks are old. If I were a geologist, I wouldn't begin to know how to interpret these rocks. There just seems to be so much going on here.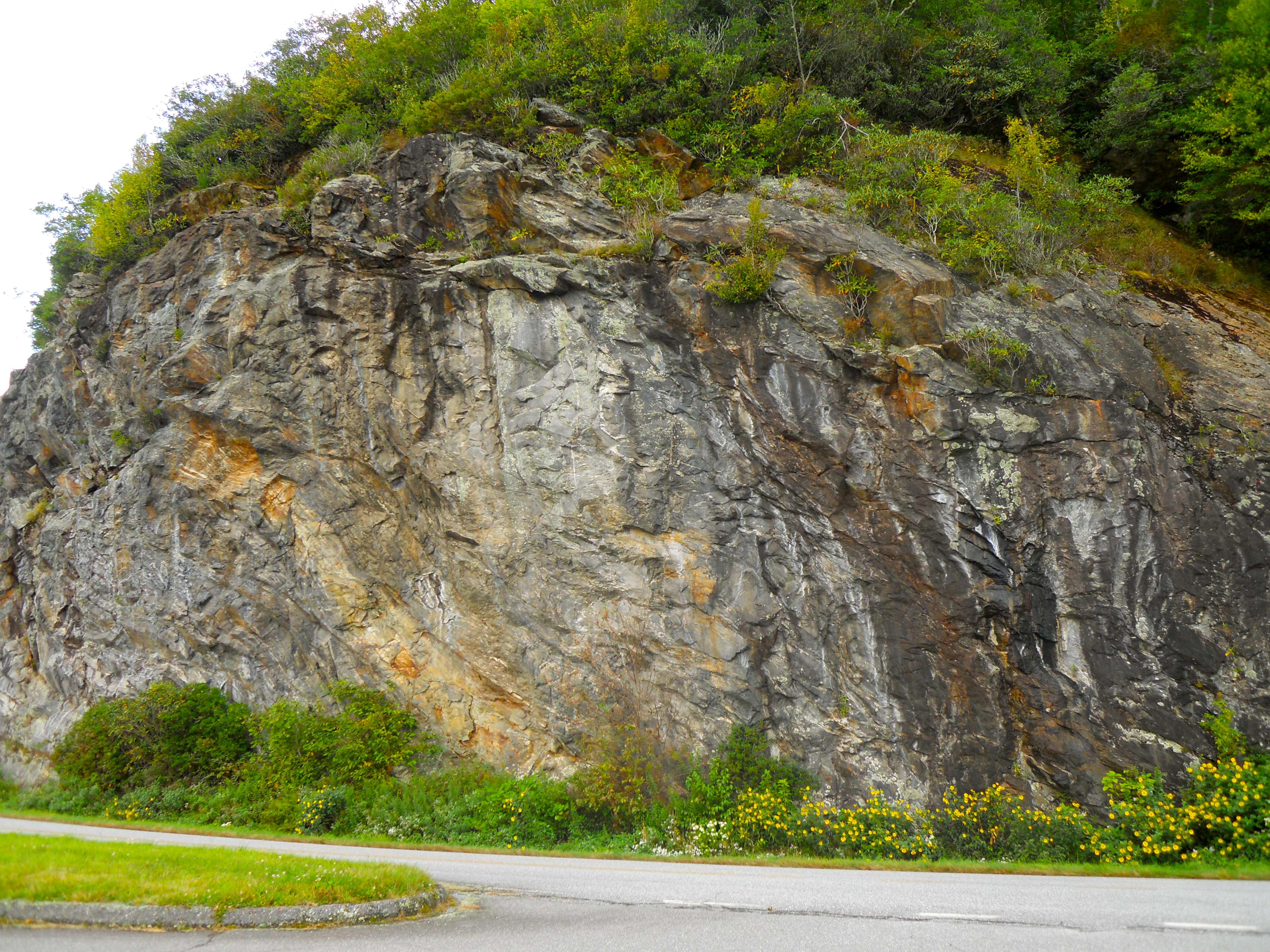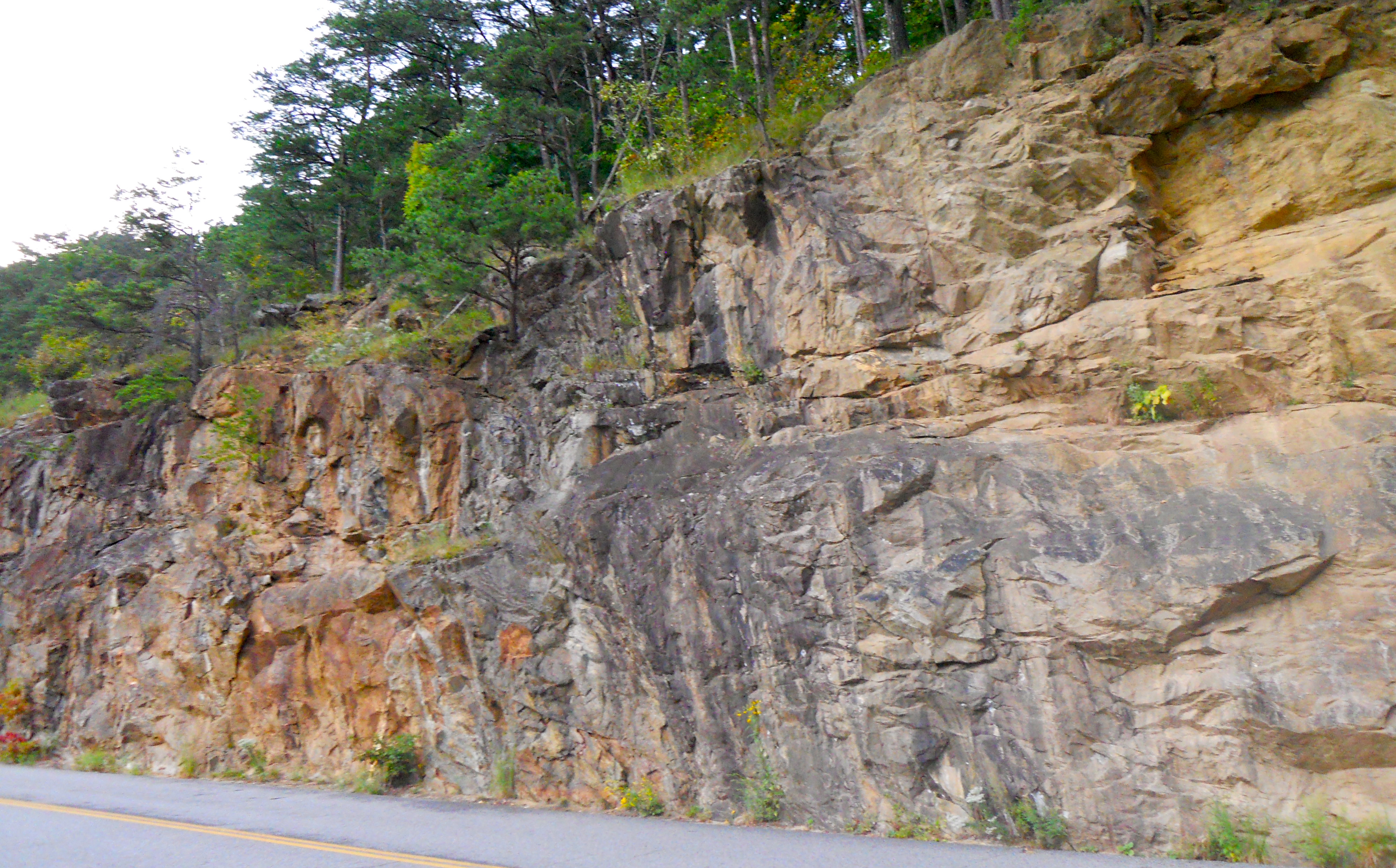 David and I agreed that Asheville was too intense for us, at least this past weekend. Our assessment is that perhaps too many people love Asheville, causing rapid growth. This changes the nature of a place all on its own. However, there is still a lot of emphasis on supporting the arts in the city, and there are many good restaurants. Perhaps we made a mistake going there on a holiday weekend. If we go there again, we'll have to go during the off-season, which someone local told me is January, February, and part of March.
We did not visit the Biltmore Estate, home of the Vanderbilts. We thought about it. We heard the gardens are spectacular. I couldn't find the cost of tickets until I actually tried to book them online. I found they were going to cost $75 each. So we didn't go because we couldn't afford it. As it turns out, we had a good time in Mother Nature's Garden, one that took hundreds of millions of years to become what it is. And we got to enjoy this out away from the hordes of people going to the Biltmore. Someday soon, we'll visit the National Arboretum in Washington, DC, which is free.
Monday morning we headed for the Great Smoky Mountains National Park. We drove to Gatlinburg, Tennessee, where we picked up a mountain road that led up to the Park. We thought Asheville was commercialized, but it was tame compared to Gatlinburg. There was so much hype there, it's as if the town has become a great big amusement park. I snapped a few photos as we drove through town. Here is one: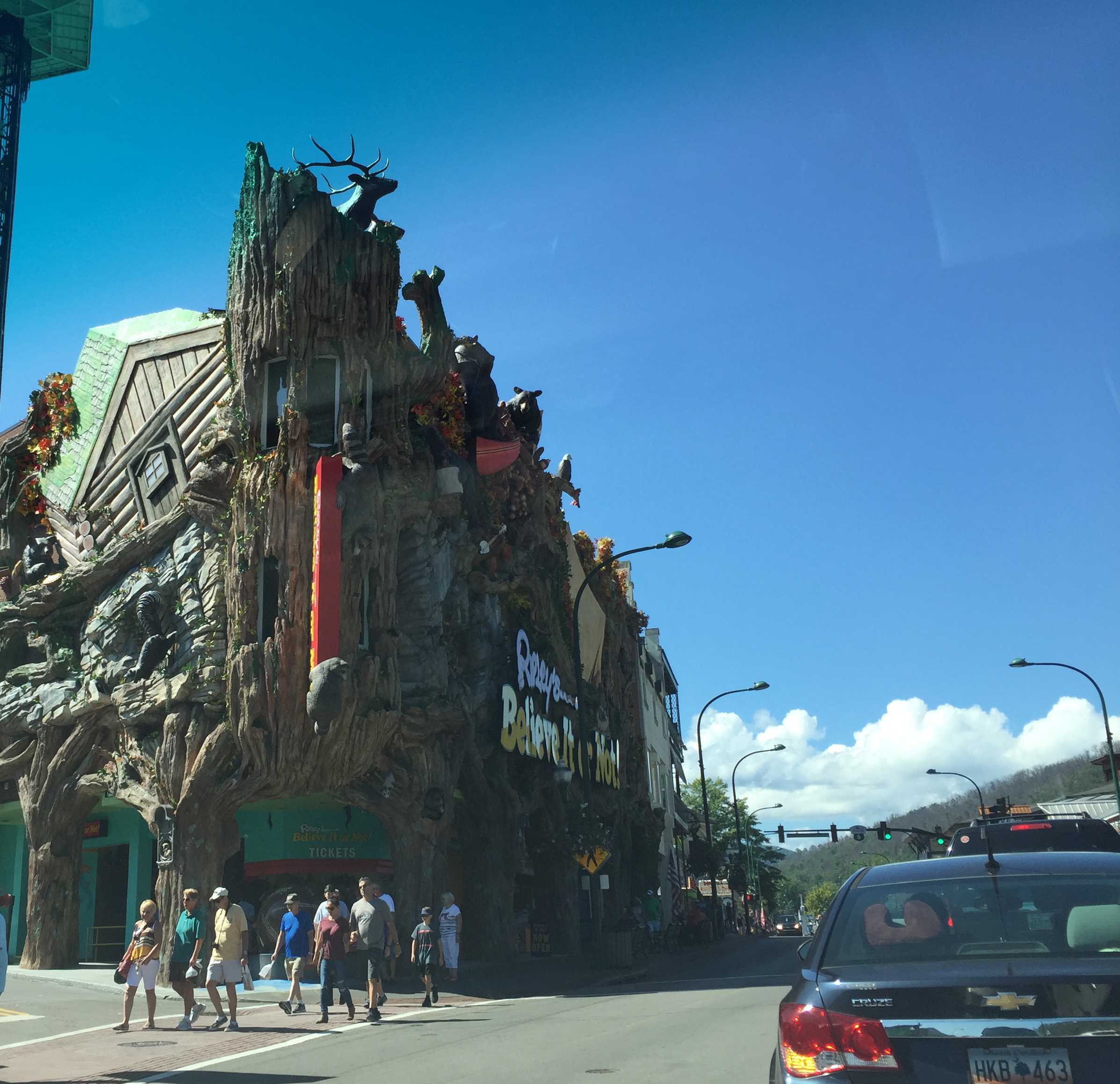 Compare this to the photos of what we found when we were up in the mountains. There was a stream running alongside the road for most of our way through the mountain pass. At some point, we stopped by a waterfall and cooled our feet.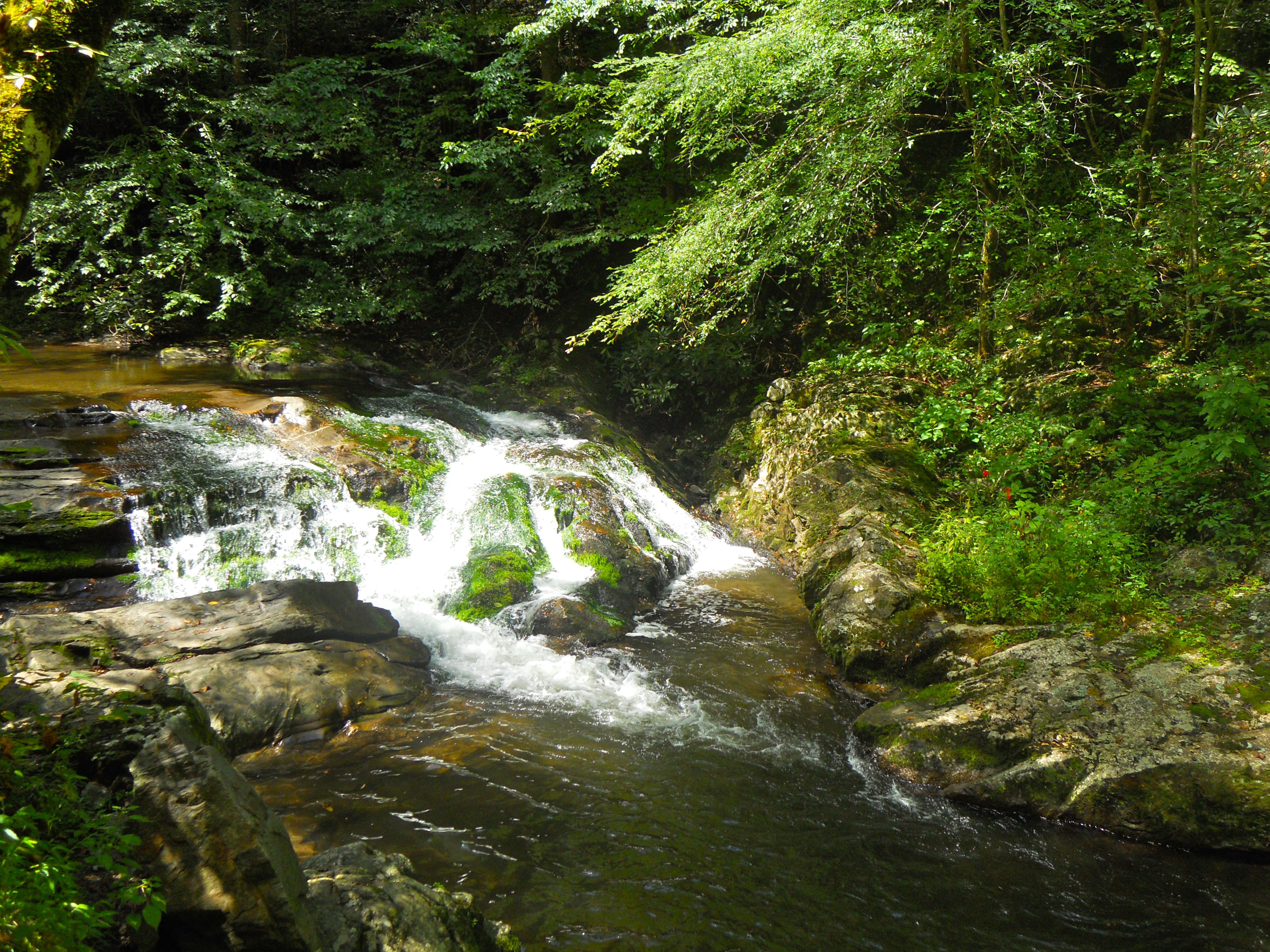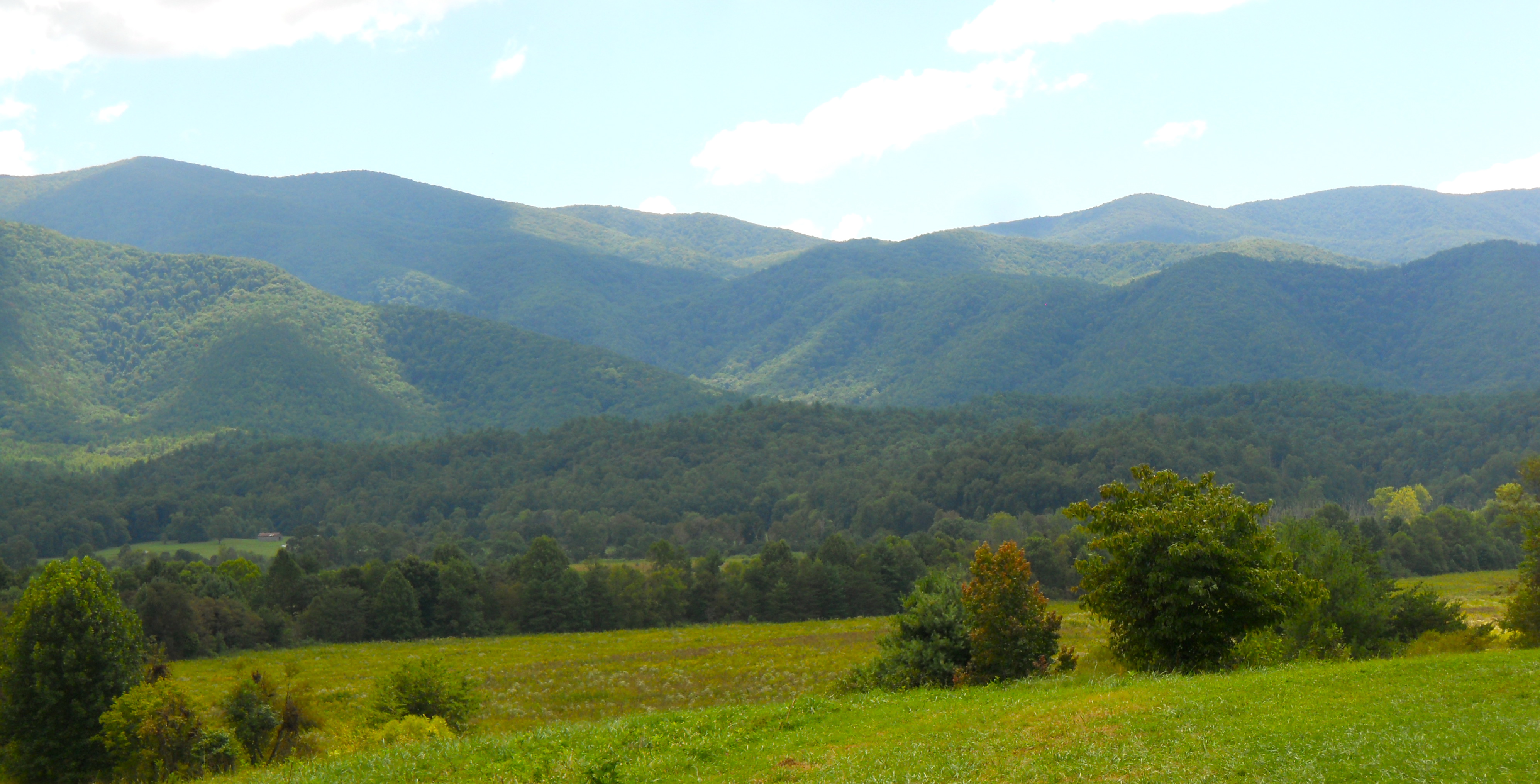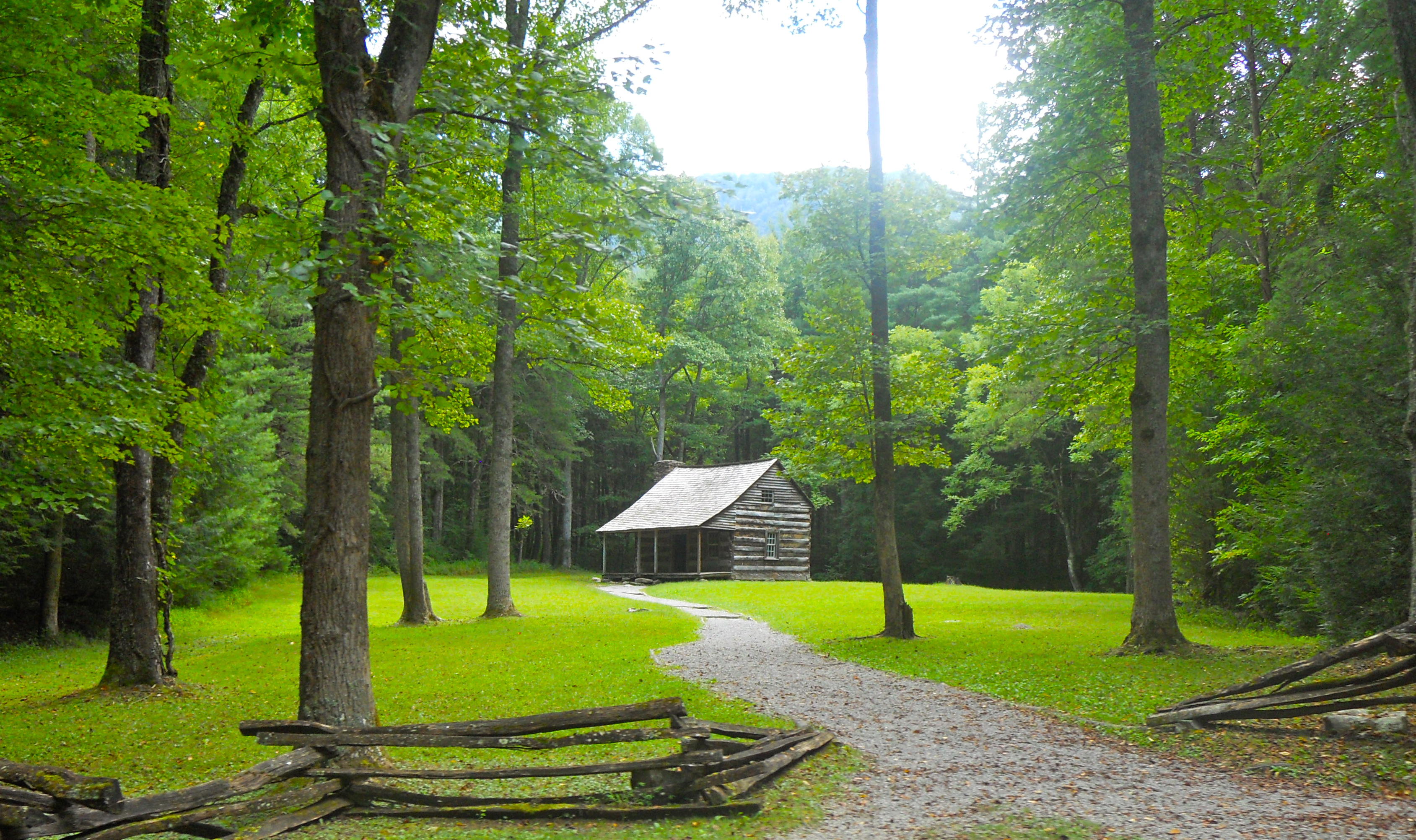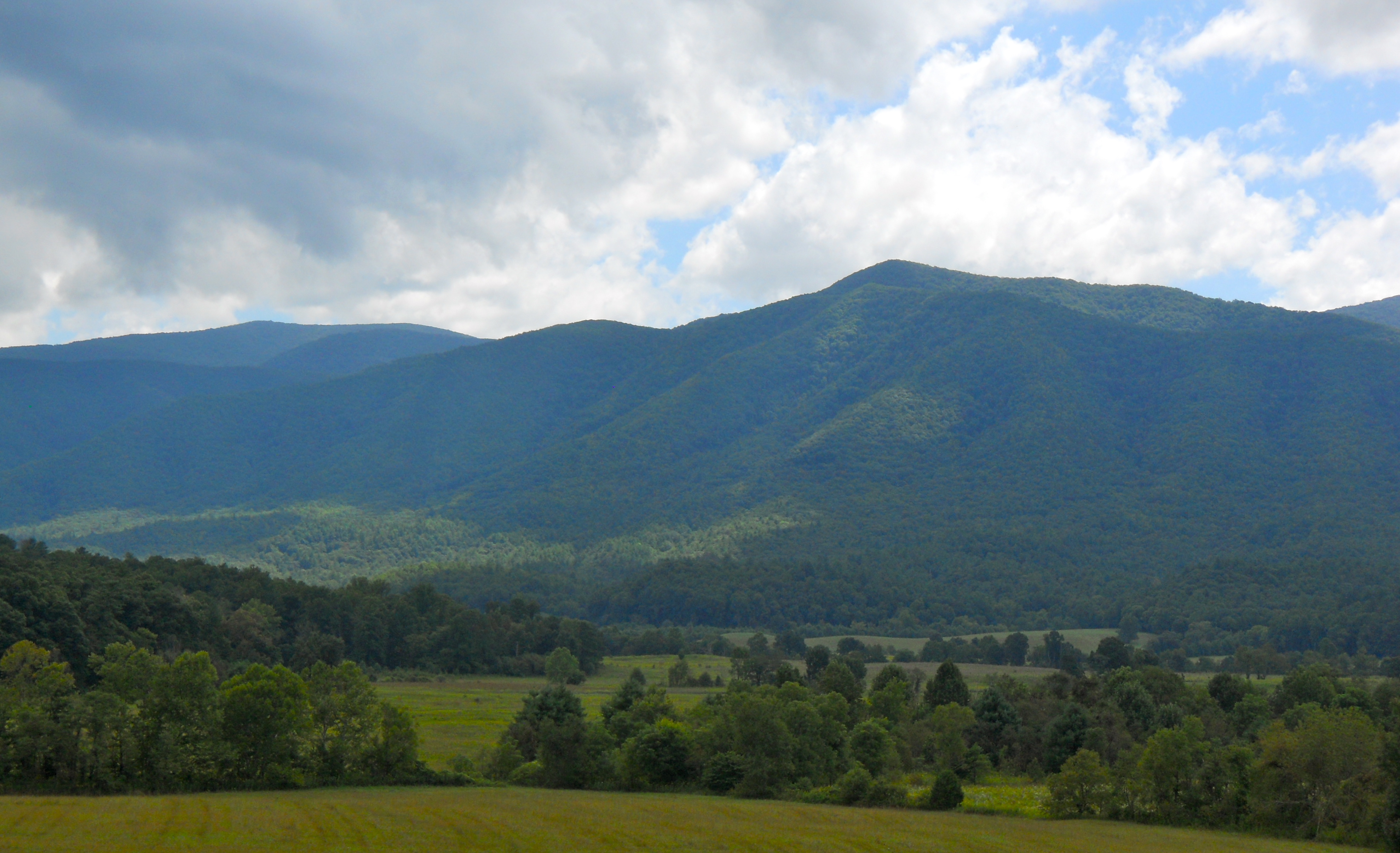 Reluctantly, we realized in mid-afternoon that it was time to head home. We took a route that went through Knoxville, and then we picked up I-81. Even though this is a major artery, there was very little traffic in Tennessee and southern Virginia. Around Roanoke the truck traffic picked up, but most of the return trip was stress-free. As we drove through Virginia, we realized it's beautiful here too. We were seeing that with fresh eyes.
Even though we drove a lot more than we'd planned, overall we found our trip soul-restoring and awe-inspiring. New horizons inevitably bring new perspectives and this trip was no exception for me. I will share more about this at another time.