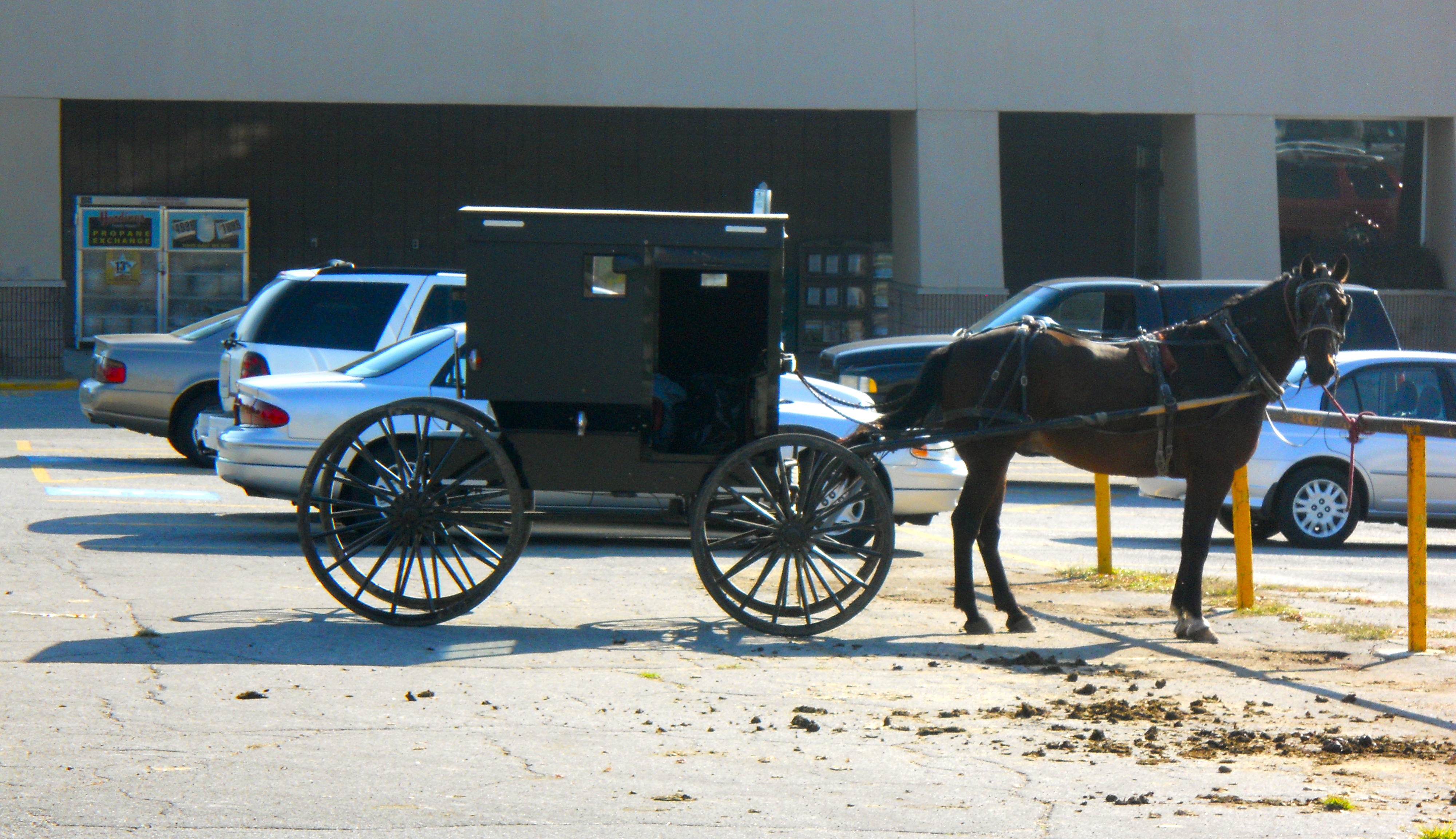 Of late, there have been many stories in the news about conflicts between the Amish and the surrounding culture in which they live. Because the Amish population is increasing faster than the population in mainstream society, these issues are not going away — unless good sound practical solutions are implemented.
One of these issues concerns horse manure on roads that some people find offensive. In August there were several stories in PennLive concerning the Amish in Lycoming County, Washington Township, Pennsylvania here, here, and here. Apparently there are those who want the Amish to be required to license their buggies so they can be regulated. There are complaints about the horse manure, and also about the damage to roads caused by the horses' shoes, which creates a groove in the middle of the lanes, sometimes called "troughing." Those calling for the changes are asking that the Amish equip their horses with "bun bags" or horse diapers, that they fashion the horseshoes out of rubber as opposed to the metal currently being used, and that they display licenses on all four sides of the buggies.
I have not been able to ascertain whether this Amish community is relatively new, or whether it's a more established community. It is in the area of the Big Valley, which is home to one of the oldest Amish settlements. However, it may be that Washington Township is home to a newer settlement. There is mention in this article that many of the Amish in Washington Township are second generation of those who migrated from Lancaster, Pennsylvania. This suggests this is a newer settlement. I've noticed that the manure issue is more likely to crop up in newer communities where people aren't used to dealing with the Amish. It usually only takes one person in a given community to cause a stink about horse manure for it to become an issue.
I've written about this issue before. Back in 2015, I wrote an Op-Ed piece for the Cleveland Plain Dealer. I don't believe the Amish should have to equip their horses with bun bags, nor do I think it is safe for them to stop and clean up after the horses on roadways. Cleaning up parking areas is another matter because the horses are tied to hitching posts. I know this is already being done in some Amish communities. Horse manure makes great compost. Why not make good use of it?
The horseshoes do cause grooves in the roads. In fact, there is a civil engineer at Ohio University working on how to engineer asphalt to withstand the beating of the horseshoes in areas with heavy buggy traffic. He is also working on redesigning horseshoes that will not cause as much damage. These seem like creative solutions to the issues around damage to the road surfaces.
Then there is the issue of requiring licenses for buggies. Perhaps there are good reasons for such a requirement, though not for the reasons cited in the articles about what is happening in Washington Township, Pennsylvania. I have for a long time been concerned about the danger of Amish children driving pony carts on roads alongside motorized vehicles. Children simply don't have the discretion or judgment required for driving on public roads. There is a good reason for an age requirement for driving cars on public roads, and it seems these would be the same reasons for requiring an age limit for driving a buggy or cart on public roads.
What do you think? Should the Amish be required to license their buggies, clean up the manure from roads, and put rubber shoes on their horses? Or should they be left alone concerning horse and buggy matters?