On Friday David and I attended the sentencing of David Smucker in Lancaster, Pennsylvania, along with several other victim advocates. So often in court cases involving perpetrators among the Plain People, community members will show up in support of the perpetrator, leaving the victims feeling alone. We wanted to ensure this didn't happen. This was a particularly horrific case because of the severity of the abuse, the soul-wrenching circumstances of the victims (including their age), the abuser had not admitted his crimes, and he had been housed in an unlicensed and unsecured facility (Whispering Hope) since March of last year.
People gathered in two groups outside Courtroom 8 in the Lancaster County courthouse on Friday morning, ahead of the 9:00 sentencing. One group was dressed in Plain clothes, and the other was not. Those of us who were not gathered near the courtroom door. At some point when I looked at the crowd of Amish people surrounding us, I felt a bit claustrophobic. I had not been surrounded by Amish folks since my mother's funeral in 2005. This gathering had the same somber feel to it as a funeral.
When David Smucker was wheeled in to the hallway area, I noticed his face was devoid of any expression. I did not expect that. I was expecting him to play the martyr with a sorrowful face, possibly even crying. But there was none of that. He was wheeled behind a column and shielded from view by those around him.
Some of us had arrived ahead of the Amish folks, thinking we were securing our chances of getting in. But when an usher opened the courtroom door, he invited "the family" in. All the Amish (dozens) filed right past us. The usher came out and counted our group. When he went back in, I muttered under my breath that "there better be enough seats for all of us." When he came back out, he said that we would need to sit in the jury box, and that not all of us would be able to be seated. I was among the first to go in, and the usher motioned three of us to fill the spots left on one of the benches. Thus, I found myself sitting right next to an Amish man. When the seats in the jury box filled up, the usher had the rest of the advocates leave.
A few minutes later, while the usher was not in the room, an Amish couple came walking in. They stood there and surveyed the room, looking for a place to sit. Suddenly, the Amish sitting behind me scooted over to make room for them and they sat down. I looked at David and whispered, "That is not right!" It was everything I could do not to stand up and say something about the injustice.
Once everyone had settled in, everything became so still, I could hear myself breathe for several long minutes. Then the usher came back in and said, "All rise!" and Judge Reinaker walked in. After everyone was seated, the Assistant District Attorney, Fritz Haverstick, called a case worker to the stand for questioning. She described how the victims were exhibiting "sexual reactive" behavior and how it had become instinctual for them. The girls have been separated from one another, their families, and all other children. They are eleven and twelve years old (the three younger ones are triplets). They can no longer go to church or school because they cannot be around other children. They are conflicted — on the one hand, they don't want to be around other children because they know they will find a way to act out on them and they know that they cannot help themselves. On the other hand, they miss their family and and their church.
ADA Haverstick then provided testimony. It was excruciating to hear how the girls' lost their mother before the abuse started, making them especially vulnerable to being taken advantage of. It was gut-wrenching to hear the details and severity of the abuse, starting from the time the girls were four and five years old, and continuing for years until it was discovered in 2018. Haverstick said David Smucker will not show any remorse for what he has done, even though he used his four granddaughters as sex toys. He added that these four victims are not the only ones affected by Mr. Smucker's abuse, and that the number of victims and the damage he has done cannot be measured because this has affected the whole community. Haverstick requested that David Smucker not be granted any leniency because there is no sentence long enough for him to atone for his heinous crimes.
Defense attorney, Christopher Sarno, was asked if he had anything to say. Mr. Sarno proceeded to list Mr. Smucker's ailments, including an hours-long back surgery he'd gone through, heart problems, and prostate problems. He then described how the Lancaster prison was unable to care for him because Mr. Smucker was not able to help himself to the bathroom, and so he had fallen in his own waste and hit his head. (This is why Mr. Smucker was then transferred to Whispering Hope, the facility I mentioned earlier.) He requested that Mr. Smucker be transferred to a hospital or other facility until a space in state prison becomes available. He also said Mr. Smucker was a farmer for many years, and that he had been generous in helping others with his money. Mr. Smucker has been married for fifty years. He has ten children and 65 grandchildren.
I am sure I am not the only one in that room who shuddered at the number of grandchildren. I cannot imagine that these four girls were his first victims. Most sexual predators begin abusing long before they are 69 years old, which is how old he was when these girls were four and five.
The judge asked Mr. Smucker if he had anything to say. With his elbows resting on the arms of the wheelchair, and his head hanging low, Mr. Smucker shook his head and said a barely audible "No."
Judge Reinaker began addressing Mr. Smucker in a measured, firm voice of authority. He said that in the fourteen years he has been sitting on that bench, he has had several other members of "your community" in the courtroom for similar offenses, but in every one of those other cases, the offenders had admitted their guilt and shown remorse for what they had done. He said, "But you, sir, have not once admitted what you did, and you have shown no remorse." He said that when an offender admits to what he did, there is some small measure of healing for the victims, and by not admitting his guilt, Mr. Smucker was depriving his granddaughters of even that small measure of healing.
Judge Reinaker was not done yet. He said that Mr. Smucker knew that what he was doing was wrong because he had asked the girls not to tell anyone and the judge reasoned that if Mr. Smucker didn't know this was wrong, he wouldn't have made those requests. Judge Reinaker said he could not imagine "anything more offensive or evil than the conduct you have perpetrated." He went on to say that because of the nature of Mr. Smucker's crimes, he does not get a discount for age, nor does he get a discount for health. Judge Reinaker said he is sorry for the issues Mr. Smucker had at the prison, and said he would call and try to get Mr. Smucker a spot in the state prison (where they can accommodate infirm inmates) as soon as possible, but Mr. Smucker would have to go back to the Lancaster Prison until a space in state prison became available.
Judge Reinaker then read the details of the sentence for each count, ending with a total of 38 to 76 years, which is essentially life in prison for Mr. Smucker.
After the sentence was read, two female officers snapped on their gloves, handcuffed Mr. Smucker, and wheeled him from the courtroom. His face showed no more feeling on his way out of the courtroom than it did on the way in. The only time I saw anything but a blank look in his face is when the judge delivered his verdict. At that point, Mr. Smucker turned his head a bit to the right with a grimace for just a moment. Then he looked back down towards the floor in front of him.
I was both relieved that Mr. Smucker did not get off with a light sentence and in shock from hearing the details of the abuse and the effect it is having on his victims.
In retrospect, it may have been a good thing that all of the Amish who attended were sitting in the courtroom. Judge Reinaker's decision is a major departure from other court cases involving Amish perpetrators. Most often they get away with lighter sentences than perpetrators with similar crimes in mainstream society. Perhaps this decision sent a message to them that they are not above the law, just because they are Amish. There is another reason why it was good for them to hear it. I wished the victims could hear and understand what Judge Reinaker had to say on their behalf. I would venture to guess that his ten children (or most of them) were sitting in the courtroom. If they were victimized by Mr. Smucker when they were children, it was good for them to hear Judge Reinaker's admonitions. All victims need to hear "it was not your fault."
In examining why the outcome of this case is different from most among the Plain People, I would venture to guess these were factors:
The heinous nature of Mr. Smucker's crimes.
In most cases, Amish men will admit their guilt when their crimes are uncovered. David Smucker did not.
David Smucker may not have had the support of his whole family and community for the same reason… he would not admit his guilt.
The article in Cosmopolitan raised awareness of the breadth and depth of the abuse issues among Plain People.
The letters Judge Reinaker received from victim advocates (which he mentioned during the proceedings) were influential.
The presence of members of the press and victim advocates.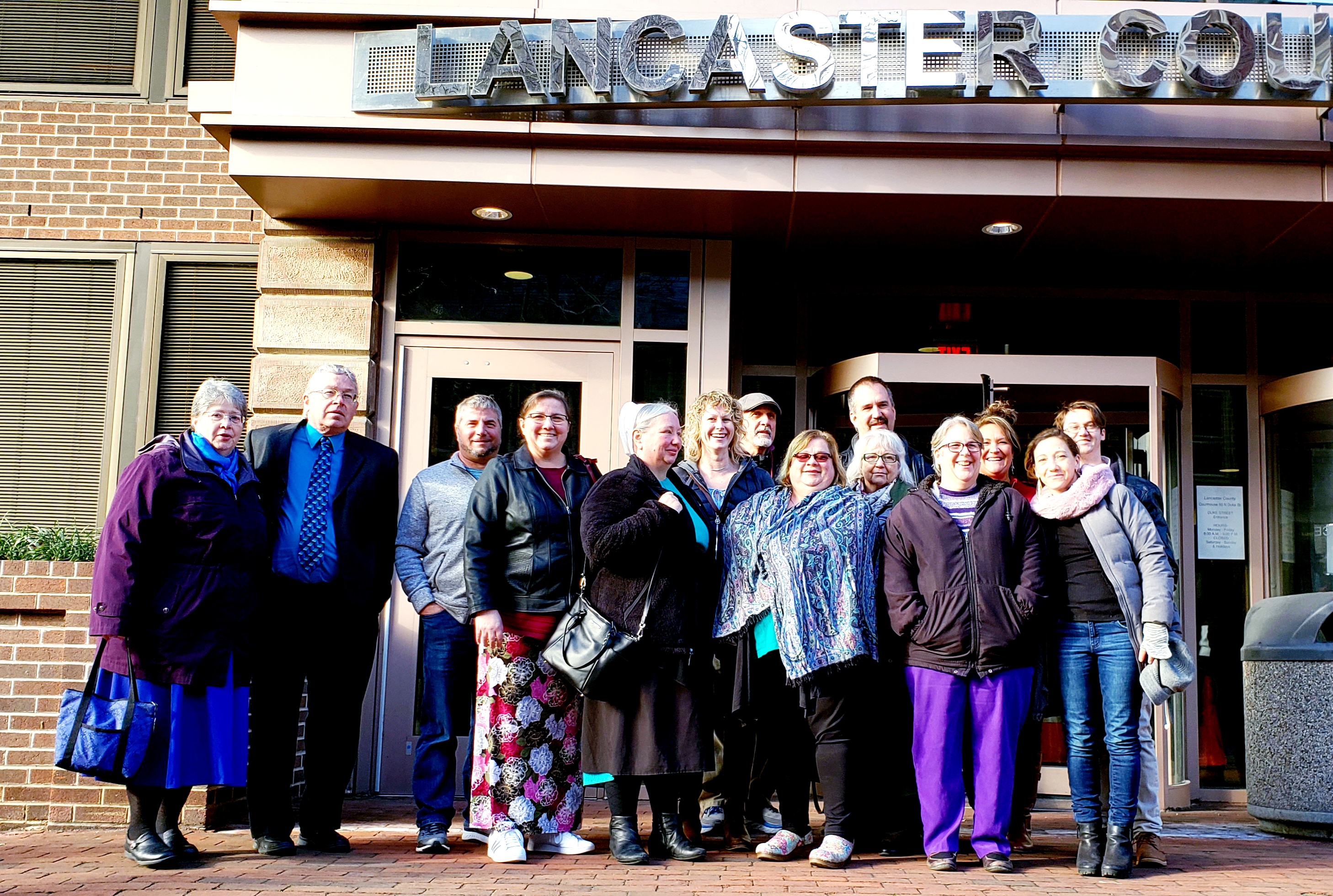 I forgot to count how many advocates showed up for the sentencing, but I will guess there were between 20 and 25 in all. We crowded into a corner of a coffee shop for the next several hours to "debrief." Peter Smith, from the Pittsburgh Post-Gazette wrote an article about our group that includes photos.
Peter Smith also wrote a report about the sentencing.
Hurubie Meko from LancasterOnline wrote a report about the sentencing,  a report about Whispering Hope, where Mr. Smucker had been staying since March, and another more detailed report about that center and others like it.
These are all worth reading. The last one is important because it relates to the mental health centers mentioned in the Cosmopolitan article by Sarah McClure.
The David Smucker case certainly substantiates the problem of sexual abuse among the Amish as reported in the Cosmo article.