I hope you have all had a good start for our new year and decade. David and I enjoyed our holidays, and I hope you did too. Our sons, Paul and Tim came to visit us, along with Tim's girlfriend, Niina.We found the visit to be short, but meaningful. Our holidays are officially over after we put away our decorations and took down the tree last night that we enjoyed for several weeks. I realized this morning I forgot to take photos of our decorations, which I normally do.
The weather here in Virginia has changed overnight to a dramatic effect. Yesterday was sunny, balmy, and autumn-like, so I hung out several sets of sheets that dried nicely in the afternoon sun. We awoke to a blanket of snow. It kept snowing for several hours. It seems to be done now, leaving our landscape covered with a fresh, white blanket.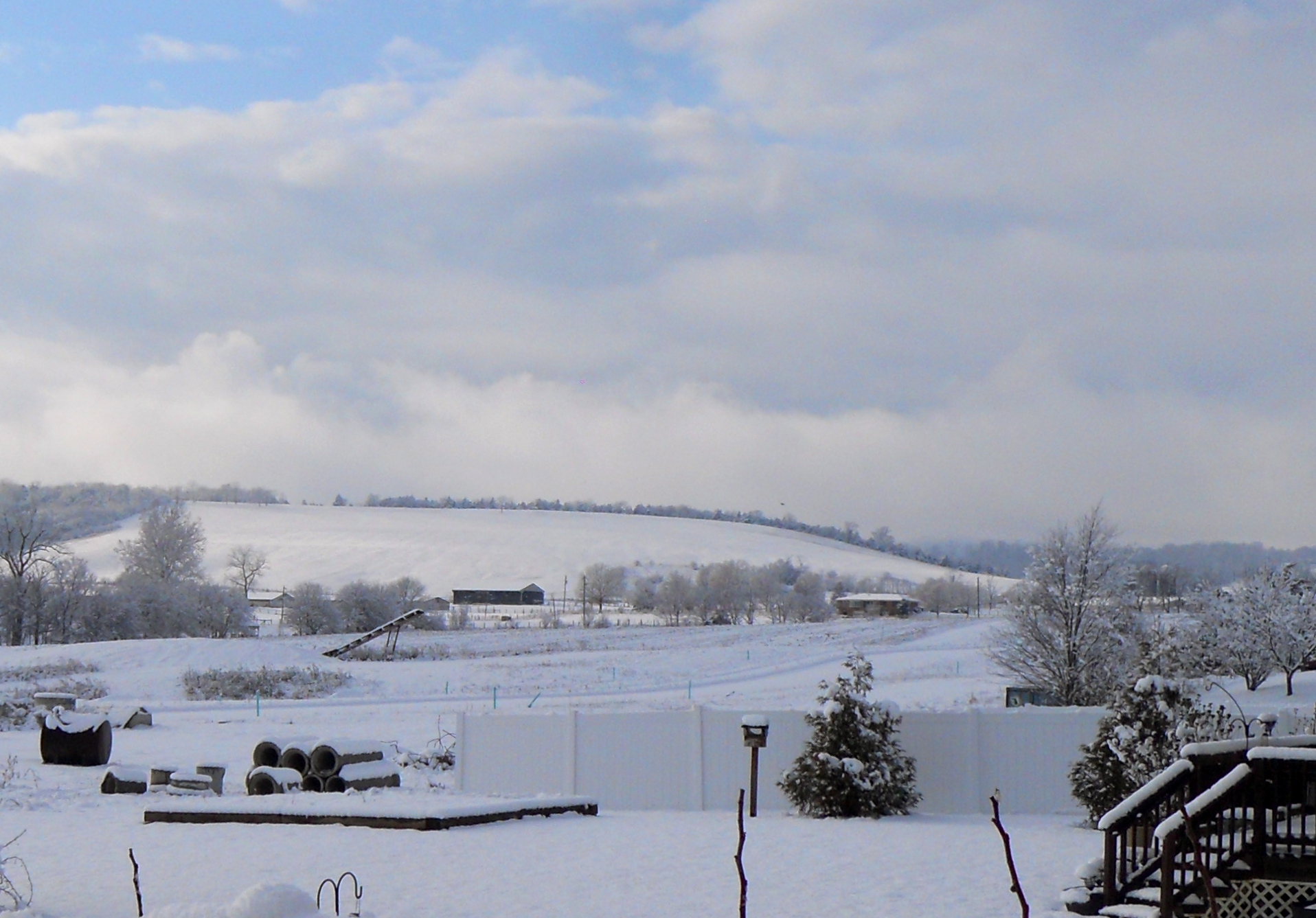 I never thought I would say this, but I love snow. In Massachusetts I felt the opposite. Given its a novelty here, and knowing it's not going to stick around all winter, it is nice to look out and see how it brightens up our landscape.
This new beginning has me thinking about this blog. Given I have been blogging for a whole decade, I find I am sometimes at a loss for topics to write about. I realized when Pamela Lakits asked several questions in this blog post that I have not been asking my readers what you would like to know about the Amish. So in my next blog post, I will answer several of Pamela's questions: "…why there are no more Amish in Europe? Could it have been possible that they all found their way to America? Did those left behind give up their faith and their way of living or were they imprisoned or put to death? In other words totally wiped out?"
These are great questions, Pamela. I look forward to answering them. If any other readers would like to pose questions about my perspective on Amish life, please ask.
I look forward to the decade ahead of us. I know that is optimistic in the face of the dangers in our world but I still believe in the good of humanity, and I hope and trust it will win out. I cannot allow myself to succumb to the fears of imminent threats as I look across the street and see a father out shoveling snow in the slanted light of late afternoon, surrounded by his three young children playing in the snow.
snow
[snō]