David had the idea of creating audio files of excerpts of my memoir. I decided to include an audio file in this post. I would love to know if you enjoy it.
Preface
There are frequently irreconcilable conflicts between loyalty to our parents and being true to ourselves. —Alice Miller
In the first telling of my childhood stories, I wrote about the abuse I endured at the hands of my paternal grandmother, my father, and my older brother. The summer after I published my second memoir, Bonnet Strings, I began asking myself why I had omitted the abuse I endured at the hands of my mother (Mem). I realized I was still under the spell of believing that she was a martyr and a saint — a martyr for putting up with my father as her marriage partner, and a saint for being the "good parent" to her children. She had promoted this view of herself for as long as I could remember. Nine years after her death, I was finally ready to take an honest look at what really happened. If You Promise You Won't Tell is a retelling of my childhood with this honest look at my memories of Mem.
Mem also claimed that she had a happy childhood, surrounded by a loving family and a father who, in her opinion, could do no wrong. I could not believe the happy-go-lucky story Mem portrayed. And yet as many times and in as many ways as I asked for Mem's family history, she refused to relinquish her stories. At some point in her later years, I came to the realization that Mem had every intention of ensuring her history and pain would be buried with her. I also realized that I would be left with the daunting task of reconciling my relationship with her (or my memories of her) on my own.
Not only did Mem refuse to relinquish her stories, but she also made repeated requests that I "forget about my childhood years" and "leave it buried forever." This chasm of difference in the way we approached our lives — Mem's determination to bury her pain, and my need to voice mine, her attempts to silence me and my attempts to draw out her story — could well have been at the core of our longstanding battle of wills. This major difference was never to be resolved or reconciled and remains the chasm between my worldview and the one Mem retained to her death.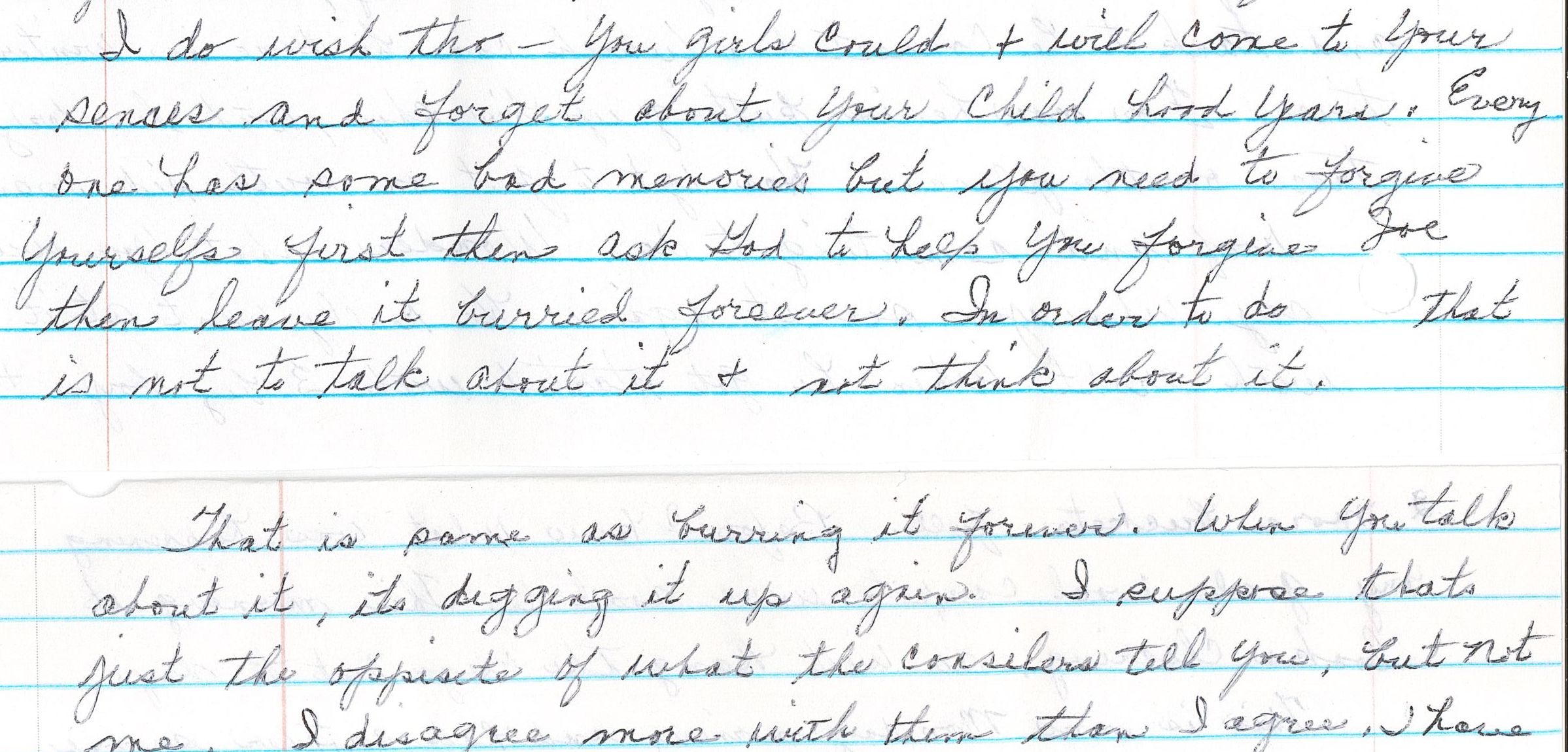 Back in 2014 when I engaged in the process of trying to reconcile my memories of Mem, I began writing a letter to her soul as a means of coming to terms with her and with the hope of eventually forgiving her. I often had to stop writing to allow myself a good cry when I came to another traumatic part. But I didn't stop writing until my letter grew to one hundred and fifty pages long. This letter concluded naturally — at the point when I'd left home at twenty years old, forcing several degrees of separation from her.
After writing this long letter to Mem, I decided to braid a rug for a young friend who was getting married. Braiding rugs was one of the homespun arts I had learned from Mem when I was growing up. After I finished this rug, I braided another…and then another. I kept braiding until I had braided seven rugs in the span of several months.
One day I was sitting in my attic room, braiding and looking out over the neighborhood with the bridge that spanned the Connecticut River in the background. I felt Mem's presence as my hands folded in the edges of the three soft yielding strands of wool. At that moment, I realized that I was exactly the age Mem had been when I left home. I reflected on the two very different lives she and I had lived. I could have lived a life much like Mem's, had I stayed and married someone I didn't love, discovered he suffered from mental illness, and had to find the strength to raise a brood of children pretty much on my own.
On the flip side of that, Mem could have had a life of her own choosing had she mustered the courage to leave and strike out on her own. Instead, I often felt like Mem secretly coveted my life, even while condemning my choices to others in her community.
I wondered why I struggled with forgiving as I had been taught I should do. The Amish definition of forgiveness is to forgive and forget. It seemed to me that Mem wanted to skip the forgiveness part (which first requires an admission of committing a wrong) and go directly to the forgetting part, but I could not choose which of my experiences to remember and which ones to forget. Amish women were expected to bear their struggles in silence. This expectation to be the "silent in the land" was handed down through the generations from mother to daughter as part of our cultural heritage. Growing up in this context, I don't understand where my compulsion came from to give voice to my experiences as a means of understanding my life and my world.
As I kept braiding in the attic room of my home, I longed to reach a point of understanding Mem's life, forgiving her, and letting go of the past. Over and over I folded — right, then left, right then left — while creating a braid of dark purple and gray. I thought of each strand representing three parts of forgiveness — honesty, humility, and compassion. By braiding these three together, I felt I was braiding my way toward forgiveness. Then I realized that forgiveness does not include bearing the burden of silence as Mem had done. By remembering and writing my stories, I forgo or give up the guilt of revealing what happened. Instead of forgiving and forgetting, I am remembering and relinquishing.
Here is the audio file I promised. Please let me know what you think.
https://soundcloud.com/user-773018022/part-1-if-you-promise-you-wont-tell-a-memoir-1?si=7b136b3bf7c8455f8563edb06e6b4a95