It has been three and a half months since last I wrote a blog post. Thank you, Pamela Lakits, for asking me where I've been and why I've not been blogging. Ever since I read your email, I've been thinking about all the reasons why I've not been actively writing.
Since I took the job of office manager at Park View Mennonite Church, I've been using my creativity in different ways. I am the editor of the church newsletter, From across the Fence. I also develop and publish the church bulletin every week, along with weekly churchwide emails. Protocols at the church continue to change and evolve to accommodate for the pandemic. This means what I do in a given week continues to change. Even though my job is part time, I often feel like my creative energy is spent when I get home at the end of my workday.
David and I took a trip to Vermont and Maine in August. We spent a week on the coast of Maine with our sons, Paul and Tim, and Tim's girlfriend, Niina. We hadn't been together as family since Christmas of 2019, so it was good to relax and recreate together. We so enjoyed Popham Beach. Who knew there were such lovely sandy beaches on the coast of Maine?
David and I vacationed at the Outer Banks (aka OBX) last week. By far the highlight of our week was going on a dolphin tour from Nags Head. When we sent videos to our sons, one of them responded with, "So you finally got to see your dolphins." They know that I've longed to see dolphins in their natural habitat my whole life. It has taken 64 years, but those dolphins gave me great joy!
The day was mostly clear with fluffy clouds over the shore. The waters in the sound were calm, and the dolphins didn't disappoint. We saw between 25 and 30 of them. They were as curious about us as we were about them. And playful — several swam belly up during their antics.
Below is a link to one of the videos I took.
Recently I've been finding energy for making rugs. In the last month, I've braided one rug for a friend, plus I crocheted three for our two bathrooms. Below is a photo of the braided rug.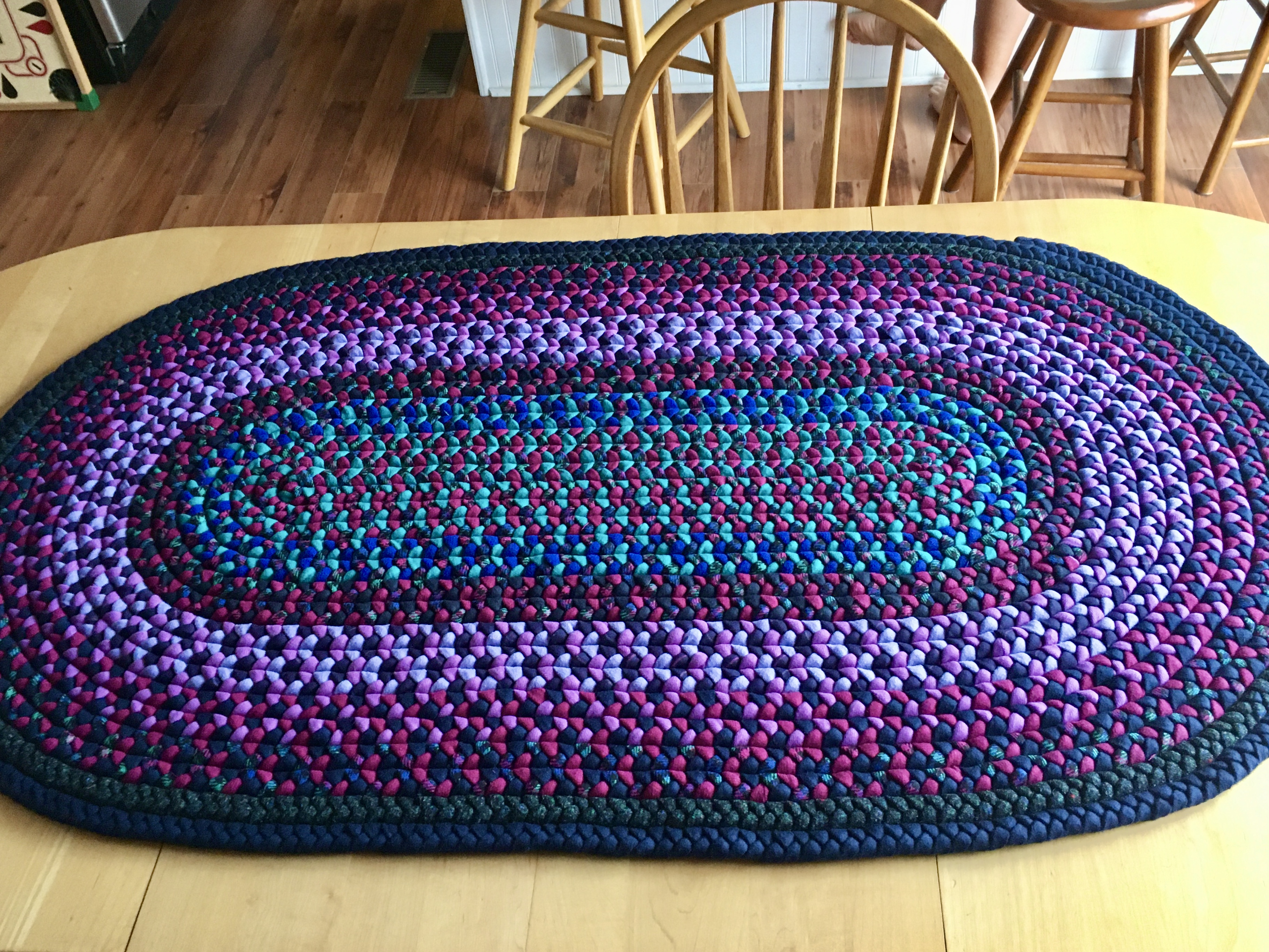 I've been feeling stuck with my writing lately. The path to publication is not clear to me right now. In January, I ended the contract with Michigan State University Press by choice for Why I Left the Amish. Then this summer I discovered that Bonnet Strings was no longer in print, and the folks at Herald Press forgot to let me know that they'd taken the book off the market. That threw me for a loop. It was for financial reasons, which I understand, but it would have been so much better for me to know that before it was no longer available. We negotiated a way of moving forward. They put the ebook back on the market, and I have quite a number of print books I can sell. This means that Why I Left the Amish is only available through my website as a print book, and Bonnet Strings is only available through my website as a print book, and as an ebook through Amazon until the end of 2022.
All this leaves me in a place of unknowing around the publishing of my book. I am slowly letting go of the idea of finding an agent and a big publisher. This means I need to either self-publish or go with a smaller press. If I go with a smaller press, I'll need to help promote my books, which is not easy in a pandemic market. So I'm thinking I may as well publish them myself. Yet I see myself as a writer and not a publisher.
So my work, vacations, braiding and crocheting rugs, spending time with David, getting together with friends, and feeling ambiguity around publishing my writing are all reasons why I've not made it back to the blog. But the truth is there are deeper, more unconscious reasons for my absence from this blog and from writing in general.
My perspective has shifted a lot in the last ten years since I published my first book, especially my view of Mem. I no longer think of her as the good parent — the savior parent even — as I used to. I now see her as one of the perpetrators of the abuse I endured as a child. That shift has earned me a very unpopular place in the family. None of my siblings will have anything to do with me. Four years ago two of my sisters let me know in no uncertain terms that they were done communicating with me because of this. I've been telling myself that this has nothing to do with feeling stuck in my writing. I most certainly did not want to say this out loud because I didn't want to give them the satisfaction of knowing they hampered my writing process. But like so many other things in my life, I realize that hiding the truth in my unconscious holds so much more power than if I admit it to myself. This was the first step for me to be able to tell the truth of it out loud.
Pamela, since I received your email, I've been thinking about my writing, my blog, and telling my blog readers the truth. I realize that what means more to me than money is having folks read what I write. Putting all this together, I may have found a method for publishing my writing. I will post a piece of my writing each week here on my blog. These will be in sequence, as I have it written for my new book entitled If You Promise You Won't Tell. I look forward to reading your questions and comments in return for providing my "serial memoir." If you know of others who might enjoy reading my chapters, please send them a link to my blog.
I thank you, dear readers, for your loyal readership. I look forward to seeing you all more often. Please accept my apologies for my absences.
I'll schedule these to go out every Sunday at noon, starting next Sunday, October 24.
Oh my.
I just realized that next Sunday is the 16th anniversary of Mem's death. That's powerful.