In my last post I mentioned that there is a network of advocates who are supporting those who have emerged from Plain communities, and how I hope to join in their efforts. I am taking a first step in that direction by attending the Voices of Hope (VOH) conference in Berlin, Ohio later this month on March 24th and 25th. I asked the VOH founders, Dena Schrock and Lizzie Hershberger, to write a guest post about Voices of Hope.
This is from Dena Schrock, author of Behind Closed Doors:
When Lizzie and I started Voices of Hope back in 2018 our vision was simple. We realized that there's a need for women to share their stories. I began by asking those who I knew who would want to share their story to be able to bring hope to others. I was able to identify with other people's stories and realized that I'm not alone. As I was talking to my friend Joanna we came up with the phrase "Your Story Matters." You are not the only one going through trauma, abuse, financial hardships, or making hard decisions.
We held our first conference in April 2018 in Berlin, Ohio with about 80 women in attendance. We continue to have a conference once every spring in Ohio. Our next one is coming up this month on March 24th and 25th.
It is with great honor that we have seen many women grow stronger and more confident in their journey of life by coming to these yearly conferences and they go on to do great things for the kingdom which brings me great joy.
This is from Lizzie Hershberger, author of Behind Blue Curtains:
We held our most recent conference in February 2022 in Berlin, Ohio during the worst snowstorm in recent years. Despite that, nearly 100 women gathered for the conference and 18 men. This was the first time that we offered the men's session, held separately from the women's.
I know we are doing the right thing when I hear what a difference it makes in the lives of attenders. One woman has attended nearly every one of our conferences. She writes that what keeps her coming back is the atmosphere of love, care, and acceptance, and the feeling that she is not alone. She writes: "VOH has helped me feel safe in finding my voice, which is what it is all about!" She describes how she has come to a place in her journey where she realizes God loves and accepts her for who she is and who she is created to be. Another attender describes her experience this way, "When I first heard of Voices of Hope I didn't know what to expect, and for a few years I didn't go. But finally I told my daughter we are going. These were two days of feeling free to talk and know that [what is shared] is not leaving those four walls. If you have been abused in any way and you need to talk, this is one place where you can feel free to talk and know you are not alone." Another attender describes the reluctance she had to overcome to attend, "Voices of Hope is not a place I wanted to go. I was dragged there. I had experienced so much abuse in so many different forms in my life and while I told myself and everyone else I was healed, I knew I truly wasn't. I learned quickly that VOH is a safe space. It's a place to cry, to laugh, to be vocal and bring your story to the light. It is stretching and hard to be vulnerable and to tell your story. So even though I was initially dragged there, I now look forward to the conference. This is not a journey that we have to walk alone."
I'm also encouraged by others who hadn't ever held conferences before who used our conference as a model as they began organizing their own circles of healing.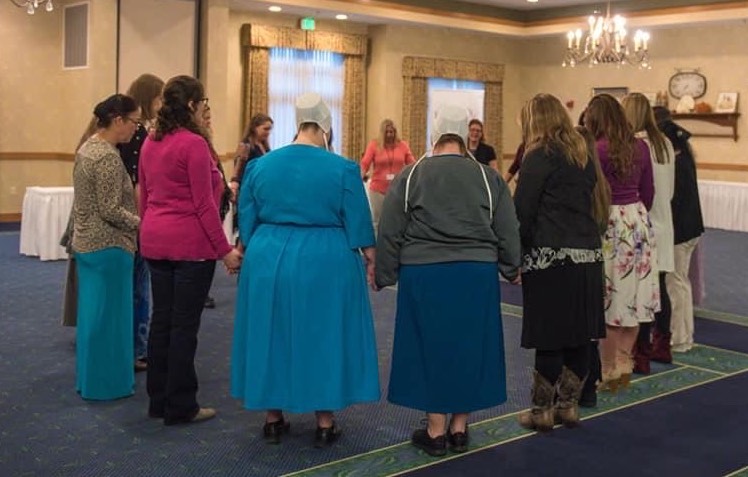 When I see the diversity of women who come to the conferences, I know that our vision for Voices of Hope has been realized. There are those who are practicing Amish as well as those of us who have left our Amish communities, and then there are those who haven't ever lived an Amish life — all coming together with the purpose of supporting one another in the process of overcoming our trauma. It is heartening to know that word keeps spreading as I realized when I was asked by a local church to come and explain what a VOH conference is about. I look forward to the conference on March 24th and 25th.
Dena and Lizzie invited me to be a panelist at the conference, and so I will be on a panel with four others on Friday, March 24 at 3:40 PM. I will be selling my books alongside Dena and Lizzie and other authors for the duration of the conference.
You are cordially invited to attend the conference and I look forward to seeing you there! Here is a link to more information.
At a glance:
United Dayspring Mennonite Church
5641 Township Road 362 • Millersburg, OH 44654
Friday, March 24, 2023, 1:00 PM to Saturday, March 25, 2023, 4:00 PM.
---