So much has happened since my last post, back in early November. I'll give a brief synopsis of some of these events, and then share my thoughts on the future of this blog.
I'm back in communication with two of my long-lost sisters. I've had no communications with any of my sisters for the past five years, and no communications with either of my brothers for the past fourteen years. My youngest sister Kathy, who is cognitively challenged, had been living in a Christian home in Kentucky for the past thirty years. It became clear to another sister, who has been her nearest caregiver, that this home was not able to meet Kathy's needs as she is aging. Even though she is 58 years old, she is more like a 75-year-old in her aging process. In Kentucky, she was experiencing chronic pain in her back and legs, and was barely able to walk. So my sister took her to North Carolina, where she lives, to find another home for Kathy. She reached out for my support at that time. We were able to find an appropriate assisted living situation for Kathy.
For years, I hadn't had any contact with Kathy. For reasons still unknown to me, she avoided communicating with me. Perhaps she felt she needed to take sides in the family strife. Nowadays she calls me daily. She visited David and me for a week in December and watched us put up our Christmas decorations and we gave her gifts before returning her to North Carolina.
We celebrated Christmas at New Years with our son in Vermont. Because of the weather events around Christmas, David and I decided to travel to Vermont a week later to celebrate Christmas, which we did with our son, Paul. Our son, Tim, was sick with bronchitis and so he and his girlfriend, Niina, decided not to travel. I was reminded why I don't want to live in Vermont through the winter. Even though they were having a thaw while we were there, the days were drab and gray. I missed the sunshine of Virginia. I was reminded how long, deep, dark, and cold those Vermont winters are. From now on we'll travel during the other half of the year.
I experienced a crisis of meaning. I've been reviewing what I've done so far in my life, and wondering what I will do with my remaining days on this earth. I had no desire to market my book, after all that effort to write and publish it. I know that David or I eventually need to find paid work, but I have no desire to do that either.
I've been contemplating ending this blog. I started it back in 2009, and I was wondering what else I have to say. A few weeks ago I was sure I was going to. I've been so discouraged by the fact that many of you who want to receive my blog notifications are not receiving them, despite our best efforts. I'm in touch with my website manager, and he is thinking about other options for delivery methods for the blog.
I experienced a health scare. Several weeks ago, I awoke with a weird headache. It felt like someone was poking their finger and holding it in one spot on the back of my head near the neck. The next night, when I was swishing water in my mouth after brushing my teeth, water kept squirting out of my mouth, despite my best efforts to seal my lips. The day after that, my headache worsened, and David noticed my eyes weren't blinking in sync with one another, and one side of my face was drooping. We were thinking stroke, but I still had all my strength in my arms and legs. We thought about years ago when David's mother had Bell's palsy, but of course we didn't know for sure. We considered going to the emergency room but the roads were icy that night, so we decided to wait until morning. I had a restless night of sleep, and David admitted the next day he didn't get much because he was observing me. At six in the morning, David said, "I think we should go to the emergency room, otherwise we're just in denial." By then my off-and-on headaches were excruciating. Long story short, I was indeed diagnosed with Bell's palsy. I had never before realized how important blinking is for eye health. David applied an antibiotic ointment into my right eye four times a day, and I used artificial tears to keep my cornea from drying out and getting scratched. Because my eye wasn't closing all the way, I had to tape it shut at night. Eating was also a challenge with one half of my mouth not functioning properly. Around day ten, I was experiencing marked improvement, and about three weeks to the day, I was again able to seal my lips when swishing water in my mouth. I have a few leftover symptoms, including tightness and aching on the right side of my upper body. However, I am grateful that I didn't have a stroke, and that I healed fairly quickly.
Then I had a conversation with my friend, Lizzy Hershberger, author of the memoir Behind Blue Curtains. Lizzy came to one of my book talks in Spring Grove, Minnesota back in 2011. (She is the one with the tan hat in the back.)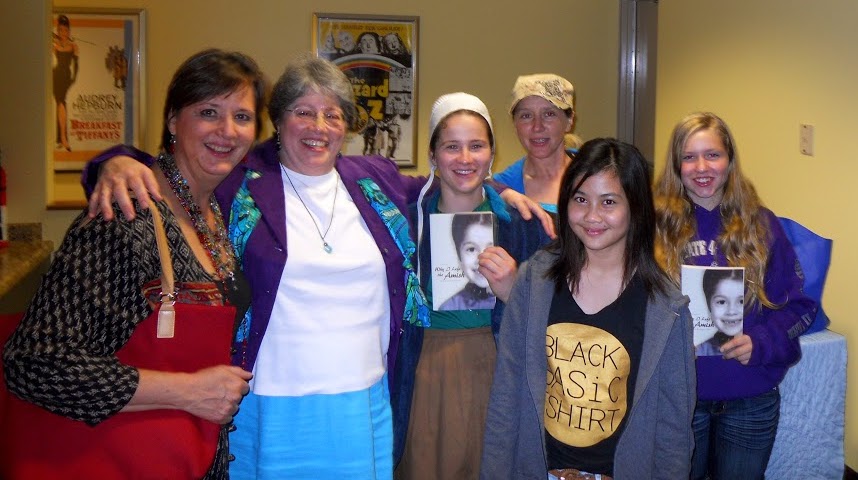 Now Lizzy is planning to speak in Spring Grove on March 15. I was humbled when she told me during our recent conversation that I had inspired her to write her story. Her book has become more of a sensation than any of my books ever were. Not only does she inspire me with her story, but also by her advocacy work for victims of abuse. I wrote about how she sent her perpetrator to jail in Minnesota, and how she became an expert witness in a pollution case. More recently she was an expert witness in a domestic and sexual abuse court case in Iowa.
Lizzy has given me a new vision for my future. I hope to advocate for those in Amish or Plain homes who feel they have nowhere to turn if they are being abused, and for those who have fled their abusers and seek help for their safety and well-being and encourage them to find their voices and tell their stories. Even though the path isn't yet clear to me, I know this is the meaning I seek in my life. Perhaps I will not be writing blog posts as regularly as I would hope, but I will keep posting — at least for now.
---