Just a reminder that Peggy, a long-time follower, will be choosing the name of the winner for the
Little Village Giveaway at my appearance at Odyssey Books in South Hadley tomorrow evening.
If you have written a review of my book, and you have not let me know you'd like to enter, please do. If you have been meaning to write something and haven't, you still have time.
I wanted to mention that I had a radio interview on the 9 O'Clock Show with Bill Newman yesterday morning. You can listen to that here. (Click on the link for 3/23/2011).
Also, I've been meaning to share pictures of our travels to New Jersey and Virginia. While we were in New Jersey, I got to meet Lynn Kimmerle, who was the very first person to do a review of my book. She is a wonderfully insightful person who was a delight to meet, as was her husband. They hosted us in their lovely home, which we appreciated and enjoyed immensely. Lynn had me choose a winner for a giveaway of my book on her blog.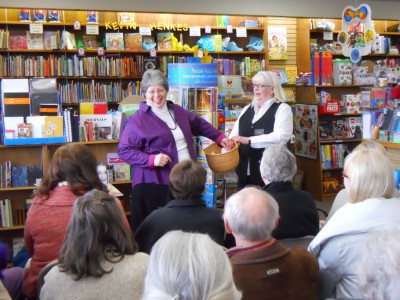 I also got to reconnect with some old friends, who David met for the first time — John and Pat Anderson. Pat wrote a wonderful story of our long-ago connection, which you can read here. They could make anyone feel at home, which David and I did when we stayed with them. They have five grown children and "twelve and a half grandchildren," as they put it. (There is one on the way.) They are two lovely people, and we thank them very much for their hospitality.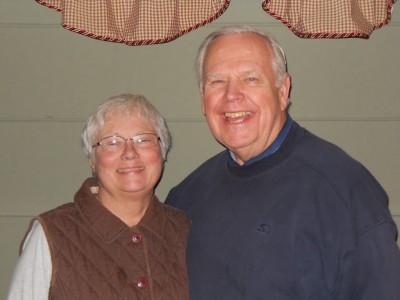 From the Andersons, we drove to Arlington, Virginia, where we stayed with a good friend, Deborah Elkinton. We had a break before we headed off to Charlottesville, for the Virginia Festival of the Book. I spoke on Thursday in a venue I shared with two other memoirists, Jasmin Darznik and Andrew Park. Approximately 90 people attended the venue.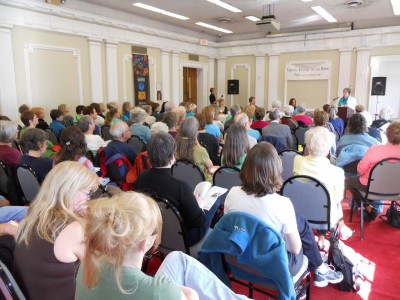 In the McIntire Room at the Main Library in Charlottesville
I cannot believe David and I forgot to take pictures of our first glimpses of spring this year… Charlottesville was gorgeous, with fields of daffodils everywhere, flowering trees and shrubs, and that green, green grass that one only sees in the spring. The days we were there, I was wearing summer clothes. I was so glad I was thinking positively when I packed my clothing.
One experience competed with another for us in terms of highlights of this trip. On Friday, we traveled out to Harrisonburg, where we had a lovely dinner at the home of Sadie and Harley Showalter. Two other couples joined us: Shirley and Stuart Showalter (Stuart and Harley are brothers) and John and Vi Dutcher. What made this evening so incredible was the stories we had to tell. Sadie grew up Amish until she was in fifth grade, when her parents left to become Old Order Mennonites. Vi also grew up Mennonite, but she had many Amish relatives in my home community. Shirley grew up Mennonite in Pennsylvania, while Stuart and Harley grew up Mennonite in Virginia. So our ancestors were all Anabaptists somewhere along the line. It seemed we already knew one another before we even met, and the stories we told! It's too bad we didn't record them. David and I made many fond memories during our stay in the Showalter home. They were such gracious hosts, and they made everything look so effortless. And of course we were having such a good time that we forgot to take pictures. I suppose we will have to rely on our "Amish pictures" (memories) to record this one in history.
We returned to Charlottesville for Saturday and Sunday. Another fun event was the "Afternoon with Scott Simon," in which he talked about his book, Baby, We Were Meant for Each Other. He is an even more compelling speaker in person than he is on the radio. I would share a photo of him that David took, but I'm not sure what the rules are around posting photos of celebrities, so I will refrain.
Overall, we had a wonderful trip with many, many highlights. I look forward to many more travels with David for promoting the book.